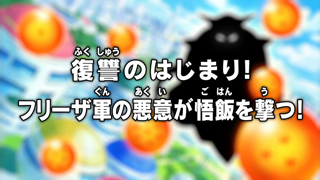 復讐のはじまり!フリーザ軍の悪意が悟飯を撃つ!
Fukushū no Hajimari! Furīza Gun no Akui ga Gohan o Utsu!
The Revenge Begins! The Freeza Army's Malice Strikes Gohan!
Episode Information
Episode Summary
As Freeza's ship comes down and his 1,000 soldiers pour out, the Z Warriors land nearby and assess the situation. Following Bulma's orders, Gohan says he did not inform Goten or Trunks about the situation because they are prone to do something reckless. Tenshinhan agrees, saying he left Chiaotzu behind as this was too dangerous for him. Sadly, Boo is sleeping and cannot be woken up. Kame-Sen'nin has brought over some Senzu from Karin's. Though Gohan has not been keeping up with his martial arts training, he thinks he can still become Super Saiyan… probably. Jaco's spaceship lands nearby, and Bulma hops out. She informs everyone that she hasn't managed to get in contact with Goku or Vegeta, and she successfully guilt-trips Jaco into fighting along with the others.
Hovering above in his pod, Freeza recognizes Jaco as a member of the Galactic Patrol, and also remembers Piccolo as that Namekian he met before. Seeing Kuririn, he remembers killing him once before, and assumes that he was likewise brought back to life with the Dragon Balls. No matter how many times he may come back to life, however, Freeza vows to just kill him again. Killing all of Goku's friends will be sure to make him despair. While Bulma assumes that this battle will be a piece of cake for Gohan, he tells her that he can handle the soldiers but not Freeza himself, who has powered up to the point that he's practically a different person than before. Hearing this, Bulma tries to sweet-talk Freeza into waiting for Goku to arrive, but he only promises to wait for ten seconds. As Freeza counts down, Gohan and the rest brace themselves for a fight.
Kame-Sen'nin points out that with six of them there, they need to handle about 170 soldiers each. Though they're determined to do everything they can to hold out until Goku and Vegeta arrive, Gohan asks everyone not to get injured. Piccolo teases Gohan for worrying so much about everyone else when he can't even find his own dōgi anymore. Sorbet expects the fight to be a one-sided bloodbath with his army victorious, but Freeza seems doubtful. And indeed, the Z Warriors seems to have no trouble against the horde of soldiers. After all, Freeza explains, his current army has been reduced to merely a hodge-podge of second-rate warriors. Watching Gohan fight, Freeza recognizes him as Goku's son, all grown up now. He's grown up to be as gentle-hearted as his father, and though strong is purposefully avoiding killing his opponents, which Freeza finds disgusting.
Sorbet yells at his soldiers to use their heads: use coordinated attacks and take maximum advantage of their numerical superiority. Freeza flicks him away, dismissing his advice as off-the-mark. Instead, over there they've got the perfect clown to liven up this dull party: Kuririn! Freeza announces to his entire army that whichever of them kills Kuririn will receive a planet as a reward. Whichever planet they want! Freeza figures that this is the best way to fill Goku's heart with sorrow and anger.
Over on Beerus' planet, Goku and Vegeta continue to spar, before Whis tells them to stop. Seeming a bit annoyed, Whis suggests that instead of taking the time and energy to patiently teach them, it would just be faster for them to go beat the tar out of each other elsewhere (he wryly suggests doing so at their own house, or out back behind the school). Noting that the two of them have gotten stronger, Beerus wonders if they'd be willing to take him on again. Goku declines, saying that Beerus' ki is still far larger than theirs, and that they still couldn't defeat him. Beerus tells Whis to throw Goku and Vegeta "over there", but Whis thinks they haven't reached the right stage for that yet. However, Beerus insists: after all, they want to get strong fast, right? Not to mention all the racket they make training each day. Goku wonders exactly where "over there" is supposed to be, but before he can get any answers, he and Vegeta are sucked up into Whis' staff. Beerus notes with satisfaction how much quieter it is now.
Back on Earth, Freeza's soldiers taunt Kuririn. Has he said goodbye to his family? They'd send them a lock of his hair to remember him by, but obviously that's impossible in his case. Kuririn's nervous, but as the soldiers attack he effortlessly dodges their attacks, much to his own surprise. Kame-Sen'nin shouts up encouragement: more than anyone else, Kuririn has observed up close the fighting styles of Cell, Boo, Beerus, Goku, Vegeta… a whole host of incredible people! So there's no way these random thugs' attacks could hit him, as long as he's paying attention. Kame-Sen'nin tells Kuririn to be confident; after all, he's a pupil of the Turtle School.
With his confidence restored, Kuririn goes on the offensive, launching a large blast that breaks up into smaller ones, which then scatter and zero in on numerous soldiers. Meanwhile Kame-Sen'nin takes down a load of soldiers with a Kamehameha, though afterwards he shrinks from his buff form back down to his ordinary, scrawny form. Everyone uses their trademark special attacks… while Jaco distracts a soldier by pointing off to the side and going "hey, watch out!", then sneak attacking him. Even though Freeza hadn't thought much of his army before, he's still disgusted to see just how much weaker they've grown. He chews out Sorbet as being the one to blame. In response, Sorbet sends out Shisami, who he hypes up as currently the strongest member of their army; Tagoma gives a doubtful look.
Shisami declares that he'll finish the enemy off before they even have time to say their prayers. Gohan insists on taking on this new foe himself, telling Piccolo's he not a child anymore. Though Shisami manages to grip Gohan in a bear hug, Gohan doesn't seem phased. He says that he has a child now, who he wants to raise in peace, so Shisami and the rest are just getting in his way. Gohan starts to power up… but suddenly a blast from behind shoots straight through Shisami, piercing Gohan's chest as well. It turns out Tagoma was the one who fired. He says he was simply taking advantage of this great opportunity to get rid of the enemy group's strongest member without any chance of missing. Sacrificing Shisami was a small price to pay. Fortunately, Piccolo quickly restarts Gohan's heart, and Kuririn gives him a Senzu.
Tagoma thanks Sorbet for selecting him as Freeza's training partner. The scene flashes back to the end of one of their training sessions. Tagoma is on the ground, while Freeza (in his first form) stands over him. Freeza has been training to torment Goku to the point where he's only just barely alive, using Tagoma as practice. He congratulates Tagoma: thanks to him, he's once again managed to rise another level. He tells Tagoma to use the regeneration machine so that he'll be healed up again for their training tomorrow. Back in the present, Tagoma explains that this harsh training regime changed him. It showed him that ruling over others requires having a heart of ice, and being a source of overwhelming fear. Now he's been reborn as the "greatest of warriors", one suitable to serve under Freeza. He requests that Freeza make him a commander if he kills Gohan and the others, and Freeza agrees, offering him a planet as well.
Sorbet is amazed at Tagoma's new power, saying that he's surpassed the Ginyu Special Force. Tagoma dismisses those guys as now simply the old generation. Elsewhere, Goten and Trunks sense Tagoma's powerful ki. Intrigued, they fly off to investigate. Meanwhile, over in Jaco's spaceship, a familiar-looking frog hops up into view…










Next Time:


"Change! An Impossible Revival! The Name's Ginyu!!"
Episode Credits
All credits listed below are as originally presented in the episode. The credit structure used in Dragon Ball Super is actually quite simple; the staff involved with the production of the series as a whole are listed in the opening credits and the staff involved with this specific episode are listed in the ending credits. All original credit errors have been corrected to maintain accurate spellings throughout the site. For more information and a complete listing of the series staff, visit the Production Guide.
Cast Credits
孫悟空

Son Goku

孫悟飯

Son Gohan

孫悟天

Son Goten

野沢雅子

Masako Nozawa

 

 

フリーザ

Freeza

中尾隆聖

Ryūsei Nakao

亀仙人

Kame-Sen'nin

佐藤正治

Masaharu Satō

ブルマ

Bulma

鶴 ひろみ

Hiromi Tsuru

ベジータ

Vegeta

堀川りょう

Ryō Horikawa

ピッコロ

Piccolo

古川登志夫

Toshio Furukawa

クリリン

Kuririn

田中真弓

Mayumi Tanaka

天津飯

Tenshinhan

緑川 光

Hikaru Midorikawa

トランクス

Trunks

草尾 毅

Takeshi Kusao

ビルス

Beerus

山寺宏一

Kōichi Yamadera

ウイス

Whis

森田成一

Masakazu Morita

ジャコ

Jaco

花江夏樹

Natsuki Hanae

ソルベ

Sorbet

斎藤志郎

Shirō Saitō

タゴマ

Tagoma

中井和哉

Kazuya Nakai

シサミ

Shisami

稲田 徹

Tetsu Inada

カエル

Frog

小西克幸

Katsuyuki Konishi

兵士

Soldier

織田優成

Yūsei Oda

藤本たかひろ

Takahiro Fujimoto

宮坂俊蔵

Shunzō Miyasaka

千葉俊哉

Toshiya Chiba

福原耕平

Kōhei Fukuhara

松原大典

Daisuke Matsubara

新井良平

Ryōhei Arai

服部想之介

Sōnosuke Hattori

ナレーション

Narration

龍田直樹

Naoki Tatsuta
Opening Credits
原作・ストーリー原案・キャラクター原案

Original Author / Story Draft / Character Drafts

鳥山 明

(集英社「ジャンプコミックス」刊)

Akira Toriyama

(Published in Shueisha's "Jump Comics")

企画

Planning

情野誠人

(フジテレビ)

Masato Seino

(Fuji TV)

渡辺和哉

(読売広告社)

Kazuya Watanabe

(Yomiko Advertising, Inc.)

森下孝三

Kōzō Morishita

プロデューサー

Producer

野﨑 理

(フジテレビ)

Osamu Nozaki

(Fuji TV)

佐川直子

(読売広告社)

Naoko Sagawa

(Yomiko Advertising, Inc.)

木戸 睦

Atsushi Kido

音楽

Music

住友紀人

Norihito Sumitomo

オープニングテーマ

Opening Theme

作詞

Lyrics

作曲

Composition

唄

Vocals

「超絶☆ダイナミック!」

"Chōzetsu ☆ Dynamic!"

森 雪之丞

Yukinojō Mori

吉井和哉

Kazuya Yoshii

吉井和哉

Kazuya Yoshii

(日本コロムビア/トライアド)

(Nippon Columbia / Triad)

製作担当

Production Manager

末竹 憲

Ken Suetake

美術デザイン

Art Design

行 信三

Shinzō Yuki

色彩設計

Color Design

堀田哲平

Teppei Hotta

キャラクターデザイン・作画監修

Character Design & Supervising
Director of Animation

山室直儀

Tadayoshi Yamamuro


シリーズディレクター

Series Director

地岡公俊

Kimitoshi Chioka

制作協力

Production Coordination

東映

Toei

制作

Production

フジテレビ

Fuji TV

読売広告社

Yomiko Advertising, Inc.

東映アニメーション

Toei Animation
Ending Credits
脚本

Script

キング・リュウ

King Ryū

声の出演

Voice Performances

~~~~

協力

In Cooperation With

青二プロダクション

Aoni Production

原画

Key Animation

臼田美夫

Yoshio Usuda

阿形大輔

Daisuke Agata

仁井宏隆

Hirotaka Nii

澤田博範

Hironori Sawada

洪 範錫

Beom-seok Hong

岡 辰也

Tatsuya Oka

是本 晶

Akira Koremoto

スタジオ・グラフィティ

Studio Graffiti

菁画舎

Seigasha

中村プロダクション

Nakamura Production

津熊健徳

Takenori Tsukuma

水野悦明

Yoshiaki Mizuno

山崎 愛

Ai Yamazaki

久保充照

Mitsuteru Kubo

 

丸山大勝

Hirokatsu Maruyama

張 紹偉

So-wi Jang

アートベースバン

Art Base Ban

純アニメーション

Net Animation

常州豆豆動漫

Changzhou DouDou Animation

動画

In-Between Animation

A-Line

小林あゆみ

Ayumi Kobayashi

諌山愛莉

Eri Isayama

山北貴大

Takahiro Yamakita

市村厚美

Atsumi Shimura

常州豆豆動漫

Changzhou DouDou Animation

彩色

Digital Coloring

A-Line

山本真吾

Shingo Yamamoto

上條有香

Yuka Kamijō

常州豆豆動漫

Changzhou DouDou Animation

色指定

Color Designation

加藤良高

Yoshitaka Katō

デジタル特殊効果

Digital Special Effects

下川信裕

Nobuhiro Shimokawa

デジタルアーティスト

Digital Artist

牧野 快

Kai Makino

佐藤光裕

Mitsuhiro Satō

辰口智樹

Tomoki Tatsukuchi

奥村崇之

Takayuki Okumura

古橋 宏

Hiroshi Furuhashi

長谷川晃子

Akiko Hasegawa

背景

Backgrounds

ビック・スタジオ

bic-Studio

studio AR.T.ON

柳 煥錫

Liu Huanxi

李 旼貞

Li Minzhen

徐 柱星

Xu Zhuxing

高 智榮

Gao Zhirong

李 智恩

Li Zhi'en

黄 琇詠

Huang Xiuyong

崔 有眞

Cui Youzhen

 

デジタル撮影

Digital Photography

AMGA

AMGA

競 昌則

Masanori Kisoi

服部 安

Yasushi Hattori

平井智朗

Tomoaki Hirai

姜 亜偉

Ai Kyō

岡田由紀

Yuki Okada

西 重成

Shigenari Nishi

杉浦仙一

Sen'ichi Sugiura

茂木邦夫

Kunio Mogi

 

エンディングテーマ

Ending Theme

作詞

Lyrics

作曲

Composition

編曲

Arrangement

唄

Vocals

「スターリングスター」

"Starring Star"

首藤義勝

Yoshikatsu Shutō

首藤義勝

Yoshikatsu Shutō

KEYTALK & NARASAKI

KEYTALK & NARASAKI

KEYTALK

KEYTALK

(ビクターエンタテインメント)

(Victor Entertainment)

音響監督

Audio Director

本田保則

Yasunori Honda

編集

Editing

西村英一

Ei'ichi Nishimura

録音

Recording

伊東光晴

Mitsuharu Itō

録音助手

Recording Assistance

新垣未希

Miki Aragaki

音響効果

Sound Effects

西村睦弘

(フィズサウンド)

Mutsuhiro Nishimura

(Fizz Sound)

記録

Documentation

沢井尚子

Shōko Sawai

アシスタントプロデューサー

Assistant Producer

出樋昌稔

(フジテレビ)

Masatoshi Dasuze

(Fuji TV)

静 美保

(読売広告社)

Miho Shizuka

(Yomiko Advertising, Inc.)

音響製作

Audio Production

タバック

TAVAC

録音スタジオ

Recording Studio

サウンドイン

Sound Inn

東映デジタルセンター

Toei Digital Center

オンライン編集

Online Editing

東映デジタルラボ

Toei Digital Lab

音楽協力

Music In Association With

東映アニメーション音楽出版

Toei Animation Music Publishing

フジパシフィックミュージック

FUJIPACIFIC MUSIC

企画協力

Planning In Cooperation With

集英社「Vジャンプ」編集部

Shueisha's "V-Jump" Editorial Department

演出助手

Assistant Director

川崎弘二

Kōji Kawasaki

製作進行

Assistant Production Manager

瀬戸典子

Noriko Seto

美術進行

Art Manager

西牧正人

Masato Nishimaki

仕上進行

Finishing Manager

河本隆弘

Takahiro Kawamoto

CG進行

CG Manager

渡辺克博

Katsuhiro Watanabe

荒牧壮也

Sōya Aramaki

玉野 希

Nozomi Tamano

CG協力プロダクション

CG Production In Cooperation With

サンライズD.I.D.スタジオ

Sunrise D.I.D. Studio

ドロイズ

drawiz

協力プロダクション

A Cooperative Production With

A-Line

A-Line

演技事務

Talent Coordination

角 康昭

Yasuaki Tsuno

広報

Public Relations

山本麻未子

(フジテレビ)

Mamiko Yamamoto

(Fuji TV)

美術

Art Director

李 凡善

Bun-sun Lee

総作画監督

Chief Animation Supervisor

井手武生

Takeo Ide

作画監督

Animation Supervisor

眞部周一郎

Shūichirō Manabe

小山和弘

Kazuhiro Koyama

岡 辰也

Tatsuya Oka

絵コンテ

Storyboard

八島善孝

Yoshitaka Yashima

演出

Director

佐藤雅教

Masanori Satō