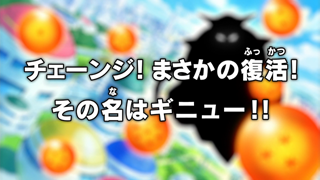 チェーンジ!まさかの復活!その名はギニュー!!
Chēnji! Masaka no Fukkatsu! Sono Na wa Ginyū!!
Change! An Impossible Revival! The Name's Ginyu!!
Episode Information
Episode Summary
As Tagoma powers up, the Z Warriors are astonished at his amazing ki. He is clearly on a different level than the other soldiers. Hiding behind a rock, Jaco assures Bulma that they can definitely defeat him: after all, it is five against one. Bulma is angry that Jaco is not joining the fight himself, but he explains that he is in charge of handling the big horde of enemies, which Tagoma "obviously" is not a part of. Sorbet still cannot believe how powerful Tagoma has become, but Tagoma reassures him that even after he becomes commander, he will still let Sorbet be his doorman. Confronting the Z Warriors, Tagoma confidently tells the five to come at him all at once, but instead Piccolo steps up to face him 1-on-1. However, Tagoma is not fazed by Piccolo's punch, and easily breaks his arm off. Gohan angrily blasts Tagoma away, and while Piccolo regrows his arm, Tagoma proves to have been unharmed by Gohan's attack. He explains that enduring Freeza's attacks during their four months training together has given him a "body of steel", and so their "refined" attacks have no effect on him. At that point Gotenks charges into battle, tackling Tagoma right in the crotch. Tagoma doubles over in pain, and Kame-Sen'nin notes that this was an "unrefined" attack.
Gotenks is mad at the others for leaving him behind for something fun like this. Bulma says he is no match for this opponent, but Gotenks still considers himself invincible. Looking up, he identifies Freeza as the boss, but just as he is about to take him on, he suddenly splits back up into Goten and Trunks. From their faces, Freeza deduces that Goten is the son of Goku, while Trunks must also be a Saiyan, since he looks just like the one who sliced him in two. Freeza is upset to see that the Saiyans have multiplied so much while he has been dead, and vows to wipe them all out. He orders Tagoma to pull himself together and finish the enemy off. However, as Tagoma remains on the ground in pain, a frog with antenna runs up to him, writing something in the dirt in front of him using some strange alien alphabet. Tagoma reads the word out loud: "Change." The moment he says this, his personality suddenly alters. He starts doing weird poses, and even his voice seems different…
The new Tagoma greets Freeza: "It's been a long time". It turns out that Ginyu, former captain of the Ginyu Force, has changed bodies with Tagoma. As Jaco explains, this was the top unit in Freeza's army, composed of their most elite troops (meanwhile Goten and Trunks are annoyed, saying their poses are cooler than this guy's). While Freeza had long since assumed Ginyu had died, Ginyu explains that back on Planet Namek he used his special body-swapping abilities to try and change bodies with Vegeta, but "that other Saiyan" interfered, trapping him in the body of a frog. Later, he somehow suddenly found himself on Earth Since then he has endured many hardships, but he always retained his faith that one day he would be able to fight for Freeza's sake once more. Bulma seems upset when she recognizes who Ginyu is, telling Jaco that she "doesn't want to talk about it".
While Ginyu has invented a special new pose to commemorate his revival, Freeza simply instructs him to finish off Gohan and co. He says he's not used to his new body yet, but he will give it a shot. Powering up, he recognizes Gohan as that kid from Namek, all grown up, and wonders how much Gohan has improved since back then. Ginyu quickly knocks down the entire five person group, and Freeza applauds in delight. It turns out that Tagoma's body is even more powerful now that Ginyu is in control of it. Jaco explains that Ginyu has drawn out Tagoma's power, vaguely saying "that's the sort of life-form he is". Meanwhile, Bulma sneaks back to Jaco's ship with Goten and Trunks in tow. Bringing out the strawberry sundae, the three of them call out to Whis to try and get his attention, while Jaco looks on, wondering what they are doing.
Over on Beerus' planet, he and Whis are enjoying some pizza. Whis still thinks it was "too early" to send Goku and Vegeta to "that place". Beerus disagrees, saying the two of them get stronger the harder they are pushed, so this should be a good way for them to get stronger in a short amount of time. Besides, they need to get stronger fast if they are going to make good "playmates" for him. Elsewhere, Goku and Vegeta float in midair in this mysterious place. At first they cannot even move, but Vegeta figures out that the trick is to raise their ki without having it "leak out" of their bodies. Though they can now move, the place is still harsh, exerting incredible pressure on them due to what Goku believes to be godly ki. It is also hot, and difficult to breathe… just like the Room of Spirit and Time. Goku assumes that like the Room, time must likewise flow differently in this place. He warns Vegeta that they had better find a building with some food before they starve to death, while Vegeta wonders if Whis' staff is the only way to get in and out of this place.
Back on Earth, Gohan steps up to fight Ginyu. He becomes a Super Saiyan, shocking Freeza, who did not know that Goku's son was likewise capable of this transformation. As a Super Saiyan Gohan quickly neutralizes Ginyu; while Ginyu will not give up, Gohan says that there is no point in continuing the fight. Suddenly though, Gohan is pierced by one of Freeza's ki beams, who states that he will finish Gohan off in place of Ginyu. Freeza remembers when Goku spared his life on Namek, a memory which still sickens him. Firing blast after blast into Gohan, he demands that he cry and beg for his life… "Not that I'd ever spare you, of course". The others try and step in, but Tagoma holds them off. Freeza cannot wait to see the look on Goku's face when he sees that his son is dead. He fires a finishing blast… but Piccolo suddenly jumps in the way, shielding Gohan.










Next Time:


"The Earth and Gohan in Dire Peril! Come Quick, Son Goku!!"
Episode Credits
All credits listed below are as originally presented in the episode. The credit structure used in Dragon Ball Super is actually quite simple; the staff involved with the production of the series as a whole are listed in the opening credits and the staff involved with this specific episode are listed in the ending credits. All original credit errors have been corrected to maintain accurate spellings throughout the site. For more information and a complete listing of the series staff, visit the Production Guide.
Cast Credits
孫悟空

Son Goku

孫悟飯

Son Gohan

孫悟天

Son Goten

野沢雅子

Masako Nozawa

 

 

フリーザ

Freeza

中尾隆聖

Ryūsei Nakao

亀仙人

Kame-Sen'nin

佐藤正治

Masaharu Satō

ブルマ

Bulma

鶴 ひろみ

Hiromi Tsuru

ベジータ

Vegeta

堀川りょう

Ryō Horikawa

ピッコロ

Piccolo

古川登志夫

Toshio Furukawa

クリリン

Kuririn

田中真弓

Mayumi Tanaka

天津飯

Tenshinhan

緑川 光

Hikaru Midorikawa

トランクス

Trunks

草尾 毅

Takeshi Kusao

ジャコ

Jaco

花江夏樹

Natsuki Hanae

ビルス

Beerus

山寺宏一

Kōichi Yamadera

ウイス

Whis

森田成一

Masakazu Morita

ソルベ

Sorbet

斎藤志郎

Shirō Saitō

タゴマ

Tagoma

中井和哉

Kazuya Nakai

ギニュー

Ginyu

小西克幸

Katsuyuki Konishi

メスカエル

Female Frog

金魚わかな

Wakana Kingyo

ナレーション

Narration

龍田直樹

Naoki Tatsuta
Opening Credits
原作・ストーリー原案・キャラクター原案

Original Author / Story Draft / Character Drafts

鳥山 明

(集英社「ジャンプコミックス」刊)

Akira Toriyama

(Published in Shueisha's "Jump Comics")

企画

Planning

情野誠人

(フジテレビ)

Masato Seino

(Fuji TV)

渡辺和哉

(読売広告社)

Kazuya Watanabe

(Yomiko Advertising, Inc.)

森下孝三

Kōzō Morishita

プロデューサー

Producer

野﨑 理

(フジテレビ)

Osamu Nozaki

(Fuji TV)

佐川直子

(読売広告社)

Naoko Sagawa

(Yomiko Advertising, Inc.)

木戸 睦

Atsushi Kido

音楽

Music

住友紀人

Norihito Sumitomo

オープニングテーマ

Opening Theme

作詞

Lyrics

作曲

Composition

唄

Vocals

「超絶☆ダイナミック!」

"Chōzetsu ☆ Dynamic!"

森 雪之丞

Yukinojō Mori

吉井和哉

Kazuya Yoshii

吉井和哉

Kazuya Yoshii

(日本コロムビア/トライアド)

(Nippon Columbia / Triad)

製作担当

Production Manager

末竹 憲

Ken Suetake

美術デザイン

Art Design

行 信三

Shinzō Yuki

色彩設計

Color Design

堀田哲平

Teppei Hotta

キャラクターデザイン・作画監修

Character Design & Supervising
Director of Animation

山室直儀

Tadayoshi Yamamuro


シリーズディレクター

Series Director

地岡公俊

Kimitoshi Chioka

制作協力

Production Coordination

東映

Toei

制作

Production

フジテレビ

Fuji TV

読売広告社

Yomiko Advertising, Inc.

東映アニメーション

Toei Animation
Ending Credits
脚本

Script

福嶋幸典

Yoshifumi Fukushima

声の出演

Voice Performances

~~~~

協力

In Cooperation With

青二プロダクション

Aoni Production

原画

Key Animation

八島善孝

Yoshitaka Yashima

村 俊太郎

Shuntarō Mura

辻 美也子

Miyako Tsuji

手塚江美

Emi Tezuka

会津五月

Satsuki Aizu

Toei Phils.

Toei Animation Philippines

OFFICE DCI

OFFICE DCI

動画

In-Between Animation

Toei Phils.

Toei Animation Philippines

かぐら

Kagura

武遊

Buyū

彩色

Digital Coloring

Toei Phils.

Toei Animation Philippines

かぐら

Kagura

武遊

Buyū

色指定

Color Designation

加藤良高

Yoshitaka Katō

デジタル特殊効果

Digital Special Effects

下川信裕

Nobuhiro Shimokawa

デジタルアーティスト

Digital Artist

牧野 快

Kai Makino

辰口智樹

Tomoki Tatsukuchi

奥村崇之

Takayuki Okumura

長谷川晃子

Akiko Hasegawa

背景

Backgrounds

西田 渚

Nagisa Nishida

佐藤美幸

Miyuki Satō

徳重 賢

Ken Tokushige

井芹達朗

Tatsurō Iseri

マジックハウス

Magic House

吉田智子

Tomoko Yoshida

安積裕子

Yūko Azumi

デジタル撮影

Digital Photography

AMGA

AMGA

競 昌則

Masanori Kisoi

服部 安

Yasushi Hattori

平井智朗

Tomoaki Hirai

姜 亜偉

Ai Kyō

岡田由紀

Yuki Okada

西 重成

Shigenari Nishi

杉浦仙一

Sen'ichi Sugiura

茂木邦夫

Kunio Mogi

 

エンディングテーマ

Ending Theme

作詞

Lyrics

作曲

Composition

編曲

Arrangement

唄

Vocals

「スターリングスター」

"Starring Star"

首藤義勝

Yoshikatsu Shutō

首藤義勝

Yoshikatsu Shutō

KEYTALK & NARASAKI

KEYTALK & NARASAKI

KEYTALK

KEYTALK

(ビクターエンタテインメント)

(Victor Entertainment)

音響監督

Audio Director

本田保則

Yasunori Honda

編集

Editing

西村英一

Ei'ichi Nishimura

録音

Recording

伊東光晴

Mitsuharu Itō

録音助手

Recording Assistance

新垣未希

Miki Aragaki

音響効果

Sound Effects

西村睦弘

(フィズサウンド)

Mutsuhiro Nishimura

(Fizz Sound)

記録

Documentation

沢井尚子

Shōko Sawai

アシスタントプロデューサー

Assistant Producer

出樋昌稔

(フジテレビ)

Masatoshi Dasuze

(Fuji TV)

静 美保

(読売広告社)

Miho Shizuka

(Yomiko Advertising, Inc.)

音響製作

Audio Production

タバック

TAVAC

録音スタジオ

Recording Studio

サウンドイン

Sound Inn

東映デジタルセンター

Toei Digital Center

オンライン編集

Online Editing

東映デジタルラボ

Toei Digital Lab

音楽協力

Music In Association With

東映アニメーション音楽出版

Toei Animation Music Publishing

フジパシフィックミュージック

FUJIPACIFIC MUSIC

企画協力

Planning In Cooperation With

集英社「Vジャンプ」編集部

Shueisha's "V-Jump" Editorial Department

演出助手

Assistant Director

石谷 恵

Megumi Ishitani

製作進行

Assistant Production Manager

小林克規

Katsunori Kobayashi

美術進行

Art Manager

西牧正人

Masato Nishimaki

仕上進行

Finishing Manager

河本隆弘

Takahiro Kawamoto

CG進行

CG Manager

渡辺克博

Katsuhiro Watanabe

玉野 希

Nozomi Tamano

CG協力プロダクション

CG Production In Cooperation With

ドロイズ

drawiz

演技事務

Talent Coordination

角 康昭

Yasuaki Tsuno

広報

Public Relations

山本麻未子

(フジテレビ)

Mamiko Yamamoto

(Fuji TV)

美術

Art Director

行 信三

Shinzō Yuki

総作画監督

Chief Animation Supervisor

辻 美也子

Miyako Tsuji

作画監督

Animation Supervisor

八島善孝

Yoshitaka Yashima

絵コンテ

Storyboard

志田直俊

Naotoshi Shida

演出

Director

岩井隆央

Takao Iwai