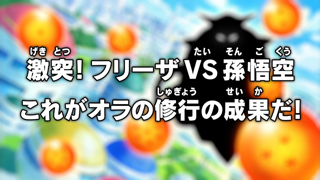 激突!フリーザVS孫悟空 これがオラの修行の成果だ!
Gekitotsu! Furīza Tai Son Gokū Kore ga Ora no Shugyō no Seika da!
Clash: Freeza vs Son Goku! This is the Fruit of My Training!
Episode Information
Episode Summary
As Goku and Freeza fight, Gohan is amazed at their ki, and Kuririn notes that he feels real fear this time, unlike during the battle with Beerus. Seeing Goku, Jaco notes that this is the friend of Bulma he had heard about, who defeated Freeza… but he does not know who the other guy with him is. Bulma explains that he is her husband Vegeta, the prince of the Saiyans. Jaco panics, thinking that he is in way over his head, and he tries to flee the scene, but Bulma will not let him, reminding him that he has a duty to protect Earth. As Goten and Trunks continue to fly toward Dende's temple, they likewise are amazed at the ki they sense, and pick up their speed so that they can hurry back to the battlefield after reaching the temple. At Dende's temple, Dende looks over Piccolo's dead body, and hopes for Goku and Vegeta to avenge his death.
Back at the battlefield, Freeza says that he is a little bit grateful to Goku: after all, his desire to get revenge against Goku is what motivated him to apply himself for the first time in his life… and yet he also considers having had to work hard a great humiliation. He hates everything about Goku! Goku tells him to stop talking and just fight already. Freeza says he will gratefully kill Goku, and give him a taste of Hell. But as they start to fight, Freeza aims an attack at Kuririn, and Goku barely saves him in time. Goku and Freeza move so fast that even Gohan cannot see them, though Jaco has such good eyesight that he somehow manages to follow the fight. As the fight continues, Freeza aims an attack at Bulma, but Vegeta deflects it.
Goku is angry: Freeza is supposed to be fighting him, not the others! But Freeza explains that he will do whatever it takes to achieve his revenge. Goku says that normally he gets excited whenever he faces strong guys, but this time is different; he can only feel disgusted with Freeza. Freeza retorts that Goku's disgust cannot win out against Freeza's desire for vengeance. As they start fighting again, one of their ki blasts hits Jaco's ship, setting it on fire. Jaco desperately retrieves his "keepsake photo" (showing him with his girlfriend) from the ship, but it has been partially burned so that his girlfriend's face is no longer visible.
The fight continues, and Goku can tell Freeza was not lying about finally applying himself; he never imagined Freeza would have become so much more powerful. But this sort of condescending remark only makes Freeza angry. Earlier he heard Goku say that he would revive Piccolo with the Namekian Dragon Balls, but now he tells Goku once he has gained his revenge on Earth, he will go destroy Planet Namek as well. Goku says he will not let Freeza do that, and the two continue to struggle. Suddenly though, Vegeta attacks Goku; he is fed up with Goku just messing around. Seeing this, Freeza thinks Vegeta must still be loyal to him. Off on the sidelines, they wonder if Vegeta has gone crazy from training too much, but Tenshinhan is convinced that Vegeta has switched sides after seeing how powerful Freeza has become.
Freeza asks Vegeta if he wants to serve him again, like in the old days. Instead, Vegeta simply congratulates Freeza on his resurrection, and begins applauding. At first Freeza is pleased at this, but as Vegeta keeps on clapping he grows annoyed, and tells him to stop. Vegeta retorts that Freeza should stop existing. He is tired of Freeza going on and on about how much effort he put in, when all he did was train just a little bit. He shouts that if Goku and Freeza are not going to start fighting at full power, then he will beat both of them himself. Freeza tells Vegeta to wait his turn; he will kill him once he has finished killing Goku. He also compliments Goku on improving so much; he heard that Goku had defeated Majin Boo.
Seeing how impatient Vegeta is, Goku figures that he has no choice but to play his trump card. He thought he would be able to win in his regular form, but that seems hopeless now. He knows Freeza has been holding back as well, but now is the time for them to both show their hands. Freeza tells him to go first. Goku's afraid Freeza will chicken out once he sees this, but he obliges, transforming into a strange, blue-haired Super Saiyan. Off on the sidelines, Kuririn notes that he can no longer sense Goku's ki, and Gohan believes this means Goku must have become a Super Saiyan God. But when they notice the blue (rather than red) hair, Kame-Sen'nin assumes that Goku must have reached an even higher level than when he fought Beerus. In the afterlife, Kaiō is amazed that Goku can now become a Super Saiyan God even without borrowing power from other Saiyans, and wonders what sort of training he did on Beerus' planet.
Freeza mocks Goku for ultimately becoming a Super Saiyan, even though earlier he said he would not. But Goku explains that this form is a bit different: he is now a "Saiyan who is a Super Saiyan with the power of Super Saiyan God". Freeza repeats this, and says it is like a tongue-twister. But now Goku says it is Freeza's turn to show off the fruits of his training.










Next Time:


"An All-Out Battle! The Vengeful Golden Freeza"
Episode Credits
All credits listed below are as originally presented in the episode. The credit structure used in Dragon Ball Super is actually quite simple; the staff involved with the production of the series as a whole are listed in the opening credits and the staff involved with this specific episode are listed in the ending credits. All original credit errors have been corrected to maintain accurate spellings throughout the site. For more information and a complete listing of the series staff, visit the Production Guide.
Cast Credits
孫悟空

Son Goku

孫悟飯

Son Gohan

孫悟天

Son Goten

野沢雅子

Masako Nozawa

 

 

フリーザ

Freeza

中尾隆聖

Ryūsei Nakao

亀仙人

Kame-Sen'nin

佐藤正治

Masaharu Satō

ブルマ

Bulma

鶴 ひろみ

Hiromi Tsuru

ベジータ

Vegeta

堀川りょう

Ryō Horikawa

クリリン

Kuririn

田中真弓

Mayumi Tanaka

天津飯

Tenshinhan

緑川 光

Hikaru Midorikawa

トランクス

Trunks

草尾 毅

Takeshi Kusao

ソルベ

Sorbet

斎藤志郎

Shirō Saitō

ジャコ

Jaco

花江夏樹

Natsuki Hanae

デンデ

Dende

平野 綾

Aya Hirano

ナレーション

Narration

龍田直樹

Naoki Tatsuta
Opening Credits
原作・ストーリー原案・キャラクター原案

Original Author / Story Draft / Character Drafts

鳥山 明

(集英社「ジャンプコミックス」刊)

Akira Toriyama

(Published in Shueisha's "Jump Comics")

企画

Planning

情野誠人

(フジテレビ)

Masato Seino

(Fuji TV)

渡辺和哉

(読売広告社)

Kazuya Watanabe

(Yomiko Advertising, Inc.)

森下孝三

Kōzō Morishita

プロデューサー

Producer

野﨑 理

(フジテレビ)

Osamu Nozaki

(Fuji TV)

佐川直子

(読売広告社)

Naoko Sagawa

(Yomiko Advertising, Inc.)

木戸 睦

Atsushi Kido

音楽

Music

住友紀人

Norihito Sumitomo

オープニングテーマ

Opening Theme

作詞

Lyrics

作曲

Composition

唄

Vocals

「超絶☆ダイナミック!」

"Chōzetsu ☆ Dynamic!"

森 雪之丞

Yukinojō Mori

吉井和哉

Kazuya Yoshii

吉井和哉

Kazuya Yoshii

(日本コロムビア/トライアド)

(Nippon Columbia / Triad)

製作担当

Production Manager

末竹 憲

Ken Suetake

美術デザイン

Art Design

行 信三

Shinzō Yuki

色彩設計

Color Design

堀田哲平

Teppei Hotta

キャラクターデザイン・作画監修

Character Design & Supervising
Director of Animation

山室直儀

Tadayoshi Yamamuro


シリーズディレクター

Series Director

地岡公俊

Kimitoshi Chioka

制作協力

Production Coordination

東映

Toei

制作

Production

フジテレビ

Fuji TV

読売広告社

Yomiko Advertising, Inc.

東映アニメーション

Toei Animation
Ending Credits
脚本

Script

吉高寿男

Toshio Yoshitaka

声の出演

Voice Performances

~~~~

協力

In Cooperation With

青二プロダクション

Aoni Production

原画

Key Animation

北野幸広

Yukihiro Kitano

八木元喜

Motoki Yagi

永樹龍博

Tatsuhiro Nagaki

小酒井智也

Tomoya Kosakai

上杉遵史

Junji Uesugi

大下知之

Tomoyuki Ōshita

佐藤友子

Tomoko Satō

月乃むあ

Mua Tsukino

福島史士

Fumio Fukushima

春日久美子

Kumiko Kasuga

坂井寛幸

Hiroyuki Sakai

平林 孝

Takashi Hirabayashi

市野まりあ

Maria Ichino

兼高里圭

Rika Kanetaka

村 俊太郎

Shuntarō Mura

Toei Phils.

Toei Animation Philippines

動画

In-Between Animation

Toei Phils.

Toei Animation Philippines

武遊

Buyū

ミュウ

Myū

彩色

Digital Coloring

Toei Phils.

Toei Animation Philippines

武遊

Buyū

ミュウ

Myū

色指定

Color Designation

加藤良高

Yoshitaka Katō

デジタル特殊効果

Digital Special Effects

下川信裕

Nobuhiro Shimokawa

デジタルアーティスト

Digital Artist

牧野 快

Kai Makino

奥村崇之

Takayuki Okumura

背景

Backgrounds

ムクオスタジオ

Mukuo Studio

井上慎太郎

Shintarō Inoue

真喜屋実義

Saneyoshi Makiya

林 鴻生

Hong-Sheng Lin

 

デジタル撮影

Digital Photography

AMGA

AMGA

競 昌則

Masanori Kisoi

服部 安

Yasushi Hattori

平井智朗

Tomoaki Hirai

姜 亜偉

Ai Kyō

岡田由紀

Yuki Okada

西 重成

Shigenari Nishi

杉浦仙一

Sen'ichi Sugiura

茂木邦夫

Kunio Mogi

 

エンディングテーマ

Ending Theme

作詞

Lyrics

作曲

Composition

編曲

Arrangement

唄

Vocals

「スターリングスター」

"Starring Star"

首藤義勝

Yoshikatsu Shutō

首藤義勝

Yoshikatsu Shutō

KEYTALK & NARASAKI

KEYTALK & NARASAKI

KEYTALK

KEYTALK

(ビクターエンタテインメント)

(Victor Entertainment)

音響監督

Audio Director

本田保則

Yasunori Honda

編集

Editing

西村英一

Ei'ichi Nishimura

録音

Recording

伊東光晴

Mitsuharu Itō

録音助手

Recording Assistance

新垣未希

Miki Aragaki

音響効果

Sound Effects

西村睦弘

(JetSoundEngine)

Mutsuhiro Nishimura

(JetSoundEngine)

記録

Documentation

沢井尚子

Shōko Sawai

アシスタントプロデューサー

Assistant Producer

出樋昌稔

(フジテレビ)

Masatoshi Dasuze

(Fuji TV)

静 美保

(読売広告社)

Miho Shizuka

(Yomiko Advertising, Inc.)

音響製作

Audio Production

タバック

TAVAC

録音スタジオ

Recording Studio

サウンドイン

Sound Inn

東映デジタルセンター

Toei Digital Center

オンライン編集

Online Editing

東映デジタルラボ

Toei Digital Lab

音楽協力

Music In Association With

東映アニメーション音楽出版

Toei Animation Music Publishing

フジパシフィックミュージック

FUJIPACIFIC MUSIC

企画協力

Planning In Cooperation With

集英社「Vジャンプ」編集部

Shueisha's "V-Jump" Editorial Department

演出助手

Assistant Director

川崎弘二

Kōji Kawasaki

製作進行

Assistant Production Manager

難波 涼

Ryō Nanba

美術進行

Art Manager

西牧正人

Masato Nishimaki

仕上進行

Finishing Manager

河本隆弘

Takahiro Kawamoto

CG進行

CG Manager

渡辺克博

Katsuhiro Watanabe

演技事務

Talent Coordination

角 康昭

Yasuaki Tsuno

広報

Public Relations

山本麻未子

(フジテレビ)

Mamiko Yamamoto

(Fuji TV)

美術

Art Director

鹿野良行

Yoshiyuki Shikano

総作画監督

Chief Animation Supervisor

辻 美也子

Miyako Tsuji

作画監督

Animation Supervisor

北野幸広

Yukihiro Kitano

加野 晃

Akira Kano

絵コンテ

Storyboard

小村敏明

Toshiaki Komura

今村隆寛

Takahiro Imamura

演出

Director

広嶋秀樹

Hideki Hiroshima