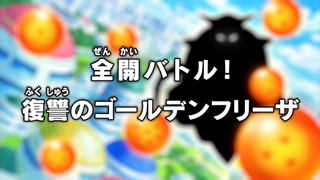 全開バトル!復讐のゴールデンフリーザ
Zenkai Batoru! Fukushū no Gōruden Furīza
An All-Out Battle! The Vengeful Golden Freeza
Episode Information
Episode Summary
Goku challenges Freeza to show him the fruits of his training, while Freeza is intrigued at the prospect of fighting a Saiyan god. He praises Goku for having put himself through even harsher training since they last met, but does not seem at all intimidated by Goku's new form. Goku and his friends watching from the sidelines realize this can only mean one thing: Freeza must still be hiding power on par with Goku's. Meanwhile Jaco snaps a picture, saying that he has never seen a blue haired Saiyan before. When questioned by Bulma, he claims he is simply gathering material to include in his Galactic Patrol report. If the patrol judges Earth to be a maximum danger zone, they will wipe out the entire planet with missiles.
Goku tells Freeza to stop stalling and unveil his full power; he is really getting his hopes up. Freeza has judged Goku as an opponent worth going all-out against, but warns that things will not go easy for him. Powering up, Freeza transforms into a new, golden form, shocking everyone with his immeasurable power. Freeza explains that he selected this golden color because it makes it easy for people to see that he's powered up, though he worries about it being too simple. He dubs this new form "Golden Freeza", which he admits is a cheesy name… but he knows Goku can tell that he did not simply just changed colors. Goku agrees; he did not expect Freeza to be so strong. Freeza declares that based on the energy he senses, he has this fight in the bag. Goku disagrees, saying that this will be a good, even match, while Freeza says they will just have to fight it out and see. Before recommencing their fight, Freeza bids Goku farewell, explaining that he might accidentally kill Goku instantly and so wants to get his goodbyes in now. It is statements like these that make Goku really hate Freeza, but he agrees that this time, things really might turn out like that. However, perversely enough, this sense of danger is getting him excited.
As the two start fighting again, Bulma receives a message from Whis. He and Beerus are on their way to Earth to pick up that strawberry sundae, and will arrive in 4 minutes and 13 seconds. As the two fly through space, Whis suddenly stops, causing Beerus to bite his tongue. Whis has stopped some unexpected visitors: Champa and Vados. Beerus demands to know what Champa, the God of Destruction for Universe 6, is doing over here in Universe 7. He suspects Champa has come to steal Universe 7's tasty food, but Champa denies this, saying that the food in this universe tastes terrible. Instead, he claims to simply be out for a walk, though Beerus hardly believes this. Annoyed, Champa orders Vados to beat Beerus up (because he is too lazy to do it himself), but Whis insists on him and Beerus hurrying on to Earth. The two groups part company uneasily. After Beerus and Whis have left, Champa and Vados discuss things amongst themselves. They have managed to collect five so far, leaving only two left, and must gather all of these mysterious "somethings" before Beerus notices what they are up to.
Back on Earth, Golden Freeza is giving Goku a tough fight, and Bulma is annoyed at Vegeta for not helping Goku out. Whis and Beerus suddenly arrive, and are very impressed with the strawberry sundae. As the two chow down, Beerus idly watches the battle, noting how much stronger Freeza has grown. Goku is amazed at Freeza's improvement, since it took Goku himself so long to train up to where he is now. Freeza dismissively says that while Goku may have grown close to godhood, ultimately an ape is still just an ape. This time he will kill Goku for sure, then kill his precious friends too so that he will have company in Hell. Just as Freeza's getting hyped up, he chokes up when he spots Beerus. Clearly terrified, Freeza asks why Beerus is here, but Beerus explains he has simply come to eat this sundae. He will not interfere with Freeza's revenge; after all, a fight is a fight, and as God of Destruction he is not on anyone's side. Freeza is relieved to hear this, but Bulma angrily demands that Beerus take Freeza down before everyone gets killed. Beerus assures her that he will spare her at least, since she brought him this tasty treat, so she should be sure to stick by his side. Jaco asks Bulma if this person really is Beerus, the God of Destruction. When she says yes, he asks to get his picture taken with Beerus, but Bulma tells him to ask Beerus himself. First Goku and Freeza, and now Beerus… Jaco seems to want to get his picture taken with everyone, and Bulma thinks he is more like a groupie than an elite patrolman.
With Beerus set to not interfere, Freeza declares that he will continue with his revenge, and reduce Goku to space dust…










Next Time:


"Amidst the Crisis, a Shot at Victory Appears! Son Goku's Counterattack Begins!"
Episode Credits
All credits listed below are as originally presented in the episode. The credit structure used in Dragon Ball Super is actually quite simple; the staff involved with the production of the series as a whole are listed in the opening credits and the staff involved with this specific episode are listed in the ending credits. All original credit errors have been corrected to maintain accurate spellings throughout the site. For more information and a complete listing of the series staff, visit the Production Guide.
Cast Credits
孫悟空

Son Goku

孫悟飯

Son Gohan

野沢雅子

Masako Nozawa

 

フリーザ

Freeza

中尾隆聖

Ryūsei Nakao

亀仙人

Kame-Sen'nin

佐藤正治

Masaharu Satō

ブルマ

Bulma

鶴 ひろみ

Hiromi Tsuru

ベジータ

Vegeta

堀川りょう

Ryō Horikawa

クリリン

Kuririn

田中真弓

Mayumi Tanaka

天津飯

Tenshinhan

緑川 光

Hikaru Midorikawa

ジャコ

Jaco

花江夏樹

Natsuki Hanae

ビルス

Beerus

山寺宏一

Kōichi Yamadera

ウイス

Whis

森田成一

Masakazu Morita

シャンパ

Champa

岩田光央

Mitsuo Iwata

ヴァドス

Vados

山口由里子

Yuriko Yamaguchi

ナレーション

Narration

龍田直樹

Naoki Tatsuta
Opening Credits
原作・ストーリー原案・キャラクター原案

Original Author / Story Draft / Character Drafts

鳥山 明

(集英社「ジャンプコミックス」刊)

Akira Toriyama

(Published in Shueisha's "Jump Comics")

企画

Planning

情野誠人

(フジテレビ)

Masato Seino

(Fuji TV)

渡辺和哉

(読売広告社)

Kazuya Watanabe

(Yomiko Advertising, Inc.)

森下孝三

Kōzō Morishita

プロデューサー

Producer

野﨑 理

(フジテレビ)

Osamu Nozaki

(Fuji TV)

佐川直子

(読売広告社)

Naoko Sagawa

(Yomiko Advertising, Inc.)

木戸 睦

Atsushi Kido

音楽

Music

住友紀人

Norihito Sumitomo

オープニングテーマ

Opening Theme

作詞

Lyrics

作曲

Composition

唄

Vocals

「超絶☆ダイナミック!」

"Chōzetsu ☆ Dynamic!"

森 雪之丞

Yukinojō Mori

吉井和哉

Kazuya Yoshii

吉井和哉

Kazuya Yoshii

(日本コロムビア/トライアド)

(Nippon Columbia / Triad)

製作担当

Production Manager

末竹 憲

Ken Suetake

美術デザイン

Art Design

行 信三

Shinzō Yuki

色彩設計

Color Design

堀田哲平

Teppei Hotta

キャラクターデザイン・作画監修

Character Design & Supervising
Director of Animation

山室直儀

Tadayoshi Yamamuro


シリーズディレクター

Series Director

地岡公俊

Kimitoshi Chioka

制作協力

Production Coordination

東映

Toei

制作

Production

フジテレビ

Fuji TV

読売広告社

Yomiko Advertising, Inc.

東映アニメーション

Toei Animation
Ending Credits
脚本

Script

吉高寿男

Toshio Yoshitaka

声の出演

Voice Performances

~~~~

協力

In Cooperation With

青二プロダクション

Aoni Production

原画

Key Animation

梨沢孝司

Kōji Nashizawa

手塚江美

Emi Tezuka

二階堂渥志

Atsushi Nikaidō

MAZIE

桜本 晴

Haru Sakuramoto

李 周鉉

Joo-hyon Lee

島貫正弘

Masahiro Shimanuki

森中正春

Masaharu Morinaka

Toei Phils.

Toei Animation Philippines

j-CUBU

能地 清

Kiyoshi Nōji

 

作画監督補佐

Assistant Animation Supervisor

小林ゆかり

Yukari Kobayashi

山下一男

Kazuo Yamashita

動画

In-Between Animation

Toei Phils.

Toei Animation Philippines

武遊

Buyū

J-cubu

彩色

Digital Coloring

Toei Phils.

Toei Animation Philippines

武遊

Buyū

J-cubu

色指定

Color Designation

加藤良高

Yoshitaka Katō

桜井美穂

Miho Sakurai

デジタル特殊効果

Digital Special Effects

下川信裕

Nobuhiro Shimokawa

デジタルアーティスト

Digital Artist

牧野 快

Kai Makino

奥村崇之

Takayuki Okumura

背景

Backgrounds

ビック・スタジオ

bic-Studio

studio AR.T.ON

柳 煥錫

Liu Huanxi

李 旼貞

Li Minzhen

徐 柱星

Xu Zhuxing

高 智榮

Gao Zhirong

李 智恩

Li Zhi'en

黄 琇詠

Huang Xiuyong

崔 有眞

Cui Youzhen

 

デジタル撮影

Digital Photography

AMGA

AMGA

競 昌則

Masanori Kisoi

服部 安

Yasushi Hattori

平井智朗

Tomoaki Hirai

姜 亜偉

Ai Kyō

岡田由紀

Yuki Okada

西 重成

Shigenari Nishi

杉浦仙一

Sen'ichi Sugiura

茂木邦夫

Kunio Mogi

 

エンディングテーマ

Ending Theme

作詞

Lyrics

作曲

Composition

編曲

Arrangement

唄

Vocals

「スターリングスター」

"Starring Star"

首藤義勝

Yoshikatsu Shutō

首藤義勝

Yoshikatsu Shutō

KEYTALK & NARASAKI

KEYTALK & NARASAKI

KEYTALK

KEYTALK

(ビクターエンタテインメント)

(Victor Entertainment)

音響監督

Audio Director

本田保則

Yasunori Honda

編集

Editing

西村英一

Ei'ichi Nishimura

録音

Recording

伊東光晴

Mitsuharu Itō

録音助手

Recording Assistance

新垣未希

Miki Aragaki

音響効果

Sound Effects

西村睦弘

(JetSoundEngine)

Mutsuhiro Nishimura

(JetSoundEngine)

記録

Documentation

沢井尚子

Shōko Sawai

アシスタントプロデューサー

Assistant Producer

出樋昌稔

(フジテレビ)

Masatoshi Dasuze

(Fuji TV)

静 美保

(読売広告社)

Miho Shizuka

(Yomiko Advertising, Inc.)

音響製作

Audio Production

タバック

TAVAC

録音スタジオ

Recording Studio

サウンドイン

Sound Inn

東映デジタルセンター

Toei Digital Center

オンライン編集

Online Editing

東映デジタルラボ

Toei Digital Lab

音楽協力

Music In Association With

東映アニメーション音楽出版

Toei Animation Music Publishing

フジパシフィックミュージック

FUJIPACIFIC MUSIC

企画協力

Planning In Cooperation With

集英社「Vジャンプ」編集部

Shueisha's "V-Jump" Editorial Department

演出助手

Assistant Director

佐藤雅教

Masanori Satō

製作進行

Assistant Production Manager

小林克規

Katsunori Kobayashi

奥村裕人

Hiroto Okumura

美術進行

Art Manager

西牧正人

Masato Nishimaki

仕上進行

Finishing Manager

河本隆弘

Takahiro Kawamoto

CG進行

CG Manager

渡辺克博

Katsuhiro Watanabe

演技事務

Talent Coordination

角 康昭

Yasuaki Tsuno

協力プロダクション

A Cooperative Production With

フロンティアエンジン

Frontier Engine

広報

Public Relations

山本麻未子

(フジテレビ)

Mamiko Yamamoto

(Fuji TV)

美術

Art Director

李 凡善

Bun-sun Lee

総作画監督

Chief Animation Supervisor

井手武生

Takeo Ide

作画監督

Animation Supervisor

島貫正弘

Masahiro Shimanuki

成松義人

Yoshito Narimatsu

田之上 慎

Makoto Tanoue

演出

Director

佐藤雅教

Masanori Satō