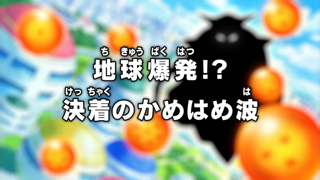 地球爆発!?決着のかめはめ波
Chikyū Bakuhatsu! Ketchaku no Kamehameha
The Earth Explodes?! A Climatic Kamehameha
Episode Information
Episode Summary
As Vegeta steps in to fight Freeza, he explains that he needs Goku around to become even stronger, so he cannot let Freeza kill him. Vegeta calls Goku an idiot for getting caught off-guard despite Whis warning him about that very thing, and tells Kuririn and the others to give him a senzu. While Freeza tries to prevent this, he only ends up killing Sorbet by mistake. Soon Goku's up again, good as new. He thanks Vegeta for saving him, but Vegeta replies that in return he will be taking the best part all for himself. Freeza laughs at the thought of Vegeta defeating him, but Vegeta transforms into a blue-haired Super Saiyan, just as Goku did earlier. Vegeta remarks that Freeza apparently did not know that he too can become a being surpassing even the legendary Super Saiyan.
On the sidelines, Kame-Sen'nin is amazed that Vegeta has obtained the power of Super Saiyan God, and Goku explains that unlike him, Vegeta managed this feat through his own power, without any help from other Saiyans. Undeterred, Freeza attacks with wave after wave of ki blasts, but Vegeta easily deflects them all. Coming closer, he warns Freeza that he is not as soft as Goku, which Freeza should very well know already. He starts pummeling Freeza mercilessly, saying that Freeza has no chance of winning now that he is out of stamina. But Freeza refuses to admit defeat, and gets beat up more and more until he finally reverts from his Golden Freeza form back to normal. Holding out his hand to fire a finishing blast, Vegeta says Freeza's era is over and that he will not be coming back to life any more. Freeza replies that none of them will be coming back to life either… and with that, he blows up the Earth.
As waves of energy start ripping the planet apart, Beerus orders Whis to do something. Around the world, the Z Warriors' families continue to go about their daily lives, oblivious to what's happening: Videl and Pan, No. 18 and Marron, Mister Satan and Boo, and Goten and Trunks up at Dende's temple. Bulma's parents sit outside eating a meal together and see one of the waves of energy approaching. The Earth explodes, but amidst the rubble a small chunk of land floats, protected by Whis' shield. He, Beerus, Bulma, Goku, and the other bystanders who were watching Vegeta fight Freeza are all there, safe and sound, but Vegeta and everyone else on Earth has died. Bulma and the others mourn their families, and Tenshinhan curses Freeza for taking everyone else down with him, but Beerus and Whis point out that Freeza can survive in the vacuum of space and so is likely still alive.
Goku says he should have finished Freeza off back when he had the chance, and Whis says that in that case, he should. Goku is confused, but Whis explains that they can simply "redo" things. Goku remembers how Whis said something similar once before, when Beerus accidentally destroyed a planet and Whis said there was no need to redo it. It turns out that Whis can turn back time: for instance, Beerus once destroyed their sun, but without it everything was terribly dark, so Whis turned back time to before Beerus did this and gave him a good knock on the head to stop him. However, he can only turn time back a maximum of three minutes, and once he does this he will not be able to do it again for quite a while, so Goku gets only one shot at saving the Earth. Goku agrees to try, and Whis promptly rewinds time to shortly before Freeza destroyed the Earth.
Once again, Vegeta is about to finish Freeza off, telling him that his era is over. But this time, before Freeza can do anything, Goku becomes a blue-haired Super Saiyan once more, flies up, and wipes Freeza out with a Kamehameha. Vegeta is furious at Goku for interfering, but Bulma and the others explain to him what happened. Meanwhile, Jaco checks out Freeza's spaceship and is quite impressed. Beerus finds it ironic that a God of Destruction such as himself helped restore a planet, and Bulma promises that she will prepare a feast for him and Whis in gratitude. She also asks Jaco if he is going to arrest Whis, since time control is supposed to be a serious galactic crime, but Jaco claims he did not see anything. Goku says he needs to go meet up with Goten and Trunks so that they can revive Piccolo using the Namekian Dragon Balls. Gohan also excuses himself, returning home to see that Videl and Pan are safe. He promises to protect them both no matter what, and gives them a big hug.
Sometime later, Bulma holds a dinner party at Capsule Corporation. Learning the full story of what happened while he was dead, Piccolo is amazed that Golden Freeza was so powerful. Trunks is annoyed he did not get to see Golden Freeza, and says that if Freeza ever returns, he and Goten will defeat him: they wll slice him in two! Goku and Piccolo exchange knowing looks, and Trunks asks if he said something funny. Bulma announces that the food is ready, and that everyone should eat their fill in thanks for all their hard work. The meal includes Satan's specially-made sweets, and Beerus says how he has been waiting for this; food always tastes best after a battle. He asks Whis if he secretly ate this sort of food without him while he was asleep, but Whis replies that he only did so once. Or twice… or three times…
Elsewhere, Gohan meets up with Piccolo and apologies, saying that Piccolo's death was all his fault. However, Piccolo says there is nothing to apologize for, since Gohan fought as hard as he could. Gohan asks Piccolo to re-train him, saying that this battle made him realize he needs to grow stronger in order to protect what is precious to him. Piccolo agrees, warning that Gohan had better prepare himself. Meanwhile, Goku approaches Vegeta, who says he will not thank him for saving his life. After all, he saved Goku's life first. But that's not what Goku had in mind; instead, he points out that they never would have gotten into such a tight spot if they had worked together from the beginning. Just like Whis said, perhaps it would be best for them to cooperate from time to time. Vegeta shoots this suggestion down, and Goku admits he feels the same way. Vegeta notes that this is the first time they have ever agreed on anything, and they laugh.
Down in Hell, Freeza is once more wrapped up and hanging from a tree in the middle of the same field of flowers as before. The faeries and cute stuffed animals all welcome him back, while he screams in frustration.










Next Time:


"The 6th Universe's God of Destruction — His Name's Champa"
Episode Notes
The name of the episode's chief animation supervisor, Takeo Ide, was erroneously misspelled in the ending credits as "井出武生" rather than the correct spelling of "井手武生". This error has been corrected in the credits listed below.
Episode Credits
All credits listed below are as originally presented in the episode. The credit structure used in Dragon Ball Super is actually quite simple; the staff involved with the production of the series as a whole are listed in the opening credits and the staff involved with this specific episode are listed in the ending credits. All original credit errors have been corrected to maintain accurate spellings throughout the site. For more information and a complete listing of the series staff, visit the Production Guide.
Cast Credits
孫悟空

Son Goku

孫悟飯

Son Gohan

孫悟天

Son Goten

野沢雅子

Masako Nozawa

 

 

フリーザ

Freeza

中尾隆聖

Ryūsei Nakao

亀仙人

Kame-Sen'nin

佐藤正治

Masaharu Satō

ブルマ

Bulma

鶴 ひろみ

Hiromi Tsuru

ベジータ

Vegeta

堀川りょう

Ryō Horikawa

ピッコロ

Piccolo

古川登志夫

Toshio Furukawa

クリリン

Kuririn

田中真弓

Mayumi Tanaka

天津飯

Tenshinhan

緑川 光

Hikaru Midorikawa

トランクス

Trunks

草尾 毅

Takeshi Kusao

チチ

Chi-Chi

渡辺菜生子

Naoko Watanabe

ビーデル

Videl

皆口裕子

Yūko Minaguchi

マーロン

Marron

牛田裕子

Hiroko Ushida

ミスターサタン

Mister Satan

石塚運昇

Unshō Ishizuka

人造人間18号

Artificial Human No. 18

伊藤美紀

Miki Itō

ビルス

Beerus

山寺宏一

Kōichi Yamadera

ウイス

Whis

森田成一

Masakazu Morita

ジャコ

Jaco

花江夏樹

Natsuki Hanae

ソルベ

Sorbet

斎藤志郎

Shirō Saitō

てんぷら屋店主

Tempura Shopkeeper

新井良平

Ryōhei Arai

妖精

Fairy

のぐちゆり

Yuri Noguchi

バニー妖精

Bunny Fairy

上田 瞳

Hitomi Ueda

天使

Angel

下地紫野

Shino Shimoji

長久友紀

Yuki Nagaku

ナレーション

Narration

龍田直樹

Naoki Tatsuta
Opening Credits
原作・ストーリー原案・キャラクター原案

Original Author / Story Draft / Character Drafts

鳥山 明

(集英社「ジャンプコミックス」刊)

Akira Toriyama

(Published in Shueisha's "Jump Comics")

企画

Planning

情野誠人

(フジテレビ)

Masato Seino

(Fuji TV)

渡辺和哉

(読売広告社)

Kazuya Watanabe

(Yomiko Advertising, Inc.)

森下孝三

Kōzō Morishita

プロデューサー

Producer

野﨑 理

(フジテレビ)

Osamu Nozaki

(Fuji TV)

佐川直子

(読売広告社)

Naoko Sagawa

(Yomiko Advertising, Inc.)

木戸 睦

Atsushi Kido

寺本知資

Tomosuke Teramoto

音楽

Music

住友紀人

Norihito Sumitomo

オープニングテーマ

Opening Theme

作詞

Lyrics

作曲

Composition

唄

Vocals

「超絶☆ダイナミック!」

"Chōzetsu ☆ Dynamic!"

森 雪之丞

Yukinojō Mori

吉井和哉

Kazuya Yoshii

吉井和哉

Kazuya Yoshii

(日本コロムビア/トライアド)

(Nippon Columbia / Triad)

製作担当

Production Manager

末竹 憲

Ken Suetake

美術デザイン

Art Design

行 信三

Shinzō Yuki

色彩設計

Color Design

堀田哲平

Teppei Hotta

キャラクターデザイン・作画監修

Character Design & Supervising
Director of Animation

山室直儀

Tadayoshi Yamamuro


シリーズディレクター

Series Director

地岡公俊

Kimitoshi Chioka

制作協力

Production Coordination

東映

Toei

制作

Production

フジテレビ

Fuji TV

読売広告社

Yomiko Advertising, Inc.

東映アニメーション

Toei Animation
Ending Credits
脚本

Script

福嶋幸典

Yoshifumi Fukushima

声の出演

Voice Performances

~~~~

協力

In Cooperation With

青二プロダクション

Aoni Production

原画

Key Animation

臼田美夫

Yoshio Usuda

津熊健徳

Takenori Tsukuma

阿形大輔

Daisuke Agata

水野悦明

Yoshiaki Mizuno

仁井宏隆

Hirotaka Nii

丸山大勝

Hirokatsu Maruyama

是本 晶

Akira Koremoto

池田雅人

Masato Ikeda

スタジオ・グラフィティ

Studio Graffiti

澤田博範

Hironori Sawada

岡 辰也

Tatsuya Oka

眞部周一郎

Shūichirō Manabe

小山一寛

Kazuhiro Koyama

 

純アニメーション

Net Animation

常州豆豆動漫

Changzhou DouDou Animation

 

 

動画

In-Between Animation

A-Line

小林あゆみ

Ayumi Kobayashi

諌山愛莉

Eri Isayama

山北貴大

Takahiro Yamakita

市村厚美

Atsumi Shimura

常州豆豆動漫

Changzhou DouDou Animation

彩色

Digital Coloring

A-Line

山本真吾

Shingo Yamamoto

上條有香

Yuka Kamijō

常州豆豆動漫

Changzhou DouDou Animation

色指定

Color Designation

加藤良高

Yoshitaka Katō

デジタル特殊効果

Digital Special Effects

下川信裕

Nobuhiro Shimokawa

デジタルアーティスト

Digital Artist

牧野 快

Kai Makino

奥村崇之

Takayuki Okumura

背景

Backgrounds

アテネアートスタジオ

Athens Art Studio

斉藤信二

Shinji Saito

木下千春

Chiharu Kinoshita

山本真生

Mao Yamamoto

大谷正信

Masanobu Ōtani

赤保谷則子

Noriko Akahoya

勝又アイ子

Aiko Katsumata

デジタル撮影

Digital Photography

AMGA

AMGA

競 昌則

Masanori Kisoi

服部 安

Yasushi Hattori

平井智朗

Tomoaki Hirai

姜 亜偉

Ai Kyō

岡田由紀

Yuki Okada

西 重成

Shigenari Nishi

杉浦仙一

Sen'ichi Sugiura

茂木邦夫

Kunio Mogi

 

エンディングテーマ

Ending Theme

作詞

Lyrics

作曲

Composition

編曲

Arrangement

唄

Vocals

「薄紅」

"Light Pink"

松川ケイスケ

Keisuke Matsukawa

LACCO TOWER

LACCO TOWER

LACCO TOWER

LACCO TOWER

LACCO TOWER

LACCO TOWER

(日本コロムビア/トライアド)

(Nippon Columbia / Triad)

音響監督

Audio Director

本田保則

Yasunori Honda

編集

Editing

西村英一

Ei'ichi Nishimura

録音

Recording

伊東光晴

Mitsuharu Itō

録音助手

Recording Assistance

新垣未希

Miki Aragaki

音響効果

Sound Effects

西村睦弘

(JetSoundEngine)

Mutsuhiro Nishimura

(JetSoundEngine)

記録

Documentation

沢井尚子

Shōko Sawai

アシスタントプロデューサー

Assistant Producer

静 美保

(読売広告社)

Miho Shizuka

(Yomiko Advertising, Inc.)

音響製作

Audio Production

タバック

TAVAC

録音スタジオ

Recording Studio

サウンドイン

Sound Inn

東映デジタルセンター

Toei Digital Center

オンライン編集

Online Editing

東映デジタルラボ

Toei Digital Lab

福田明生

Akio Fukuda

音楽協力

Music In Association With

東映アニメーション音楽出版

Toei Animation Music Publishing

フジパシフィックミュージック

FUJIPACIFIC MUSIC

企画協力

Planning In Cooperation With

集英社「Vジャンプ」編集部

Shueisha's "V-Jump" Editorial Department

演出助手

Assistant Director

栗原ひとみ

Hitomi Kurihara

製作進行

Assistant Production Manager

瀬戸典子

Noriko Seto

美術進行

Art Manager

西牧正人

Masato Nishimaki

仕上進行

Finishing Manager

河本隆弘

Takahiro Kawamoto

CG進行

CG Manager

渡辺克博

Katsuhiro Watanabe

演技事務

Talent Coordination

角 康昭

Yasuaki Tsuno

協力プロダクション

A Cooperative Production With

A-Line

A-Line

広報

Public Relations

山本麻未子

(フジテレビ)

Mamiko Yamamoto

(Fuji TV)

美術

Art Director

杦浦正一郎

Sei'ichiro Sugiura

斉藤信二

Shinji Saito

総作画監督

Chief Animation Supervisor

井手武生

Takeo Ide

作画監督

Animation Supervisor

眞部周一郎

Shūichirō Manabe

小山一寛

Kazuhiro Koyama

岡 辰也

Tatsuya Oka

絵コンテ

Storyboard

角銅博之

Hiroyuki Kakudō

演出

Director

岩井隆央

Takao Iwai