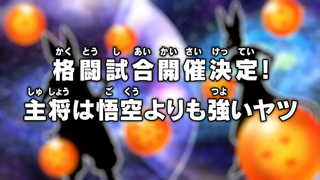 格闘試合開催決定!主将は悟空よりも強いヤツ
Kakutō Shiai Kaisai Kettei! Shushō wa Gokū yori mo Tsuyoi Yatsu
It's Settled: We're Holding a Martial Arts Match!
The Team Captain's Even Stronger Than Goku
Episode Information
Episode Summary
Beerus and Champa have decided to hold a tournament, and now the it is time to iron out the details. For the location, they pick the "Nameless Planet", which floats in neutral space and is therefore fair to both sides. The planet is near a small sun, but otherwise devoid of anything, even an atmosphere. For the rules, Goku suggests making it like the Tenka'ichi Budōkai, where contestants lose if they surrender or fall out of bounds, and killing one's opponent is against the rules. Weapons and performance-enhancing drugs are also prohibited. Furthermore, Vegeta insists on a simple written test, to prevent any monsters too stupid to understand the rules from participating. The tournament will begin at 7:00 PM one week from now according to the "8th Solar Calendar", which Whis explains is in five Earth days. As Champa starts to leave, Beerus warns him not to chicken out, since this whole thing was his idea to begin with, and Champa likewise warns Beerus to uphold his end of the bargain. As a parting gift, Champa tosses Goku one last Don-Don Bird egg, which Goku awkwardly manages to catch.
Champa and Vados depart, with Vados wondering if it was a good idea to put the Super Dragon Balls they worked so hard to collect on the line like this. Champa is confident this will be an easy win, judging by Goku's slow reaction time when he caught the egg. If he is the best fighter Universe 7 has to offer, then they have got this in the bag! Outside on Beerus' planet, Goku and Vegeta remove their heavy clothing. Though Goku is excited for the tournament, Vegeta dismisses it as merely a stepping stone. His ultimate goal is to be No. 1, and defeat Beerus, Whis, Champa, and Vados! Goku wonders if Beerus will select the remaining fighters for their team, but Vegeta declares he will defeat all of the Universe 6 fighters on his own. Just as Vegeta is getting really cocky, Beerus calls out that they are leaving for Earth, and that he and Goku had better hurry. Vegeta meekly rushes off to join Whis and Beerus, much to Goku's amusement.
At Capsule Corporation, Bulma is filled in on the situation. Although Whis wants her to build a machine for locating the final Super Dragon Ball, Bulma believes that there is a simpler way — they can just gather Earth's Dragon Balls and ask Shenlong to tell them where to find the remaining Super Dragon Ball. Beerus is impressed, saying Bulma is not just a "stubborn old broad" after all. Bulma immediately slaps him, but Beerus lets this slide, due to her clever idea. Still in a subservient mood, Vegeta grabs the Dragon Radar from Bulma and promptly flies off to gather the Dragon Balls.
Over in "neutral space", Champa and Vados bring their six Super Dragon Balls to the Nameless Planet. The balls are indeed planet-sized, each about the same size as the Nameless Planet, and the two arrange them in a circle around the planet. Champa takes this opportunity to provide the Nameless Planet with a name: he dubs it the "Empty Planet". Vados compliments him on his fine naming sense, worthy of a God of Destruction, and says this will also be good for his diet, since thinking so hard uses up a large amount of calories. Speaking of Champa's diet, Vados has him drink some 100% fruit juice made from the Niga-Niga Vegetable of Planet Yago. The two then turn to renovating the planet into one suitable for a tournament. First Vados creates a dome-shaped shield strong enough to not be broken during the matches. She then fills it with the fragrant atmosphere of the highlands of Planet Sorert. Next Vados creates a square arena, 50 meters by 50 meters. Champa insists Vados add snack stands, and finally she creates large portraits of both Champa and Beerus.
On Earth, Vegeta has very quickly finished gathering the Dragon Balls, and Bulma summons Shenlong, then kisses Vegeta for a job well done (he gets mad at her for catching him off-guard). Shenlong materializes, saying he will grant three wishes, but is startled to see that Beerus is still on Earth. Beerus calmly explains that Earth is now a very important location both for Universe 7 and 6. Bulma asks Shenlong to tell them where in Universe 6 the final Super Dragon Ball is located, but after a slight pause, Shenlong admits that this is beyond his power. Finding a single object in a vast universe is simply too much for him, let alone finding something in another universe! Whis comments that this shows the limits of Earth's Dragon Balls. They conclude that they have to stick with their original plan of creating a radar capable of locating Super Dragon Balls. Shenlong timidly asks if they have any other wishes he could grant, but Beerus simply tells him "Get lost. That's my wish." Shenlong prominently obliges. After Shenlong has gone, Goku realizes he once again forgot to wish Kaiō back to life. Bulma thinks that is not important right now, but over on Kaiō's planet, Kaiō seems dejected.
Back at the newly-christened "Empty Planet", Champa is looking forward to his imminent victory over Beerus. Vados asks if he is decided on their five team members, and Champa says that those two guys over at Beerus' place were Saiyans, so they will need to have a Saiyan on their team as well. They will go scout one as soon as they fix "that". By "that", it turns out Champa means his portrait: he's not that fat in real life!
That night at Capsule Corporation, Beerus and Whis are enjoying some West City-style beef stew. It tastes so good that Beerus is more determined than ever not to hand Earth over to Champa. Whis says the two of them have to leave now, to go tell "Monaka" about the tournament. "Monaka" is the warrior Beerus has selected for Universe 7's team; Goku and Vegeta can select whoever they want for the other two members, but Beerus insists on Monaka. In fact, it turns out Monaka is the strongest opponent Beerus has ever faced (Goku was merely #2). Goku is excited at the prospect of sparring against this mysterious person, but Beerus says his opponents are the Universe 6 fighters, and he should instead focus on beating them. Goku replies that it is hard, since he has no clue what those guys will be like. Besides, even if they lose and Earth gets moved to another universe, will it really affect their lives that much? Outraged, Beerus warns Goku not to forget the debt he owes him for not destroying Earth, and Goku assures Beerus that no matter what, he always gives fights his all. As Beerus and Whis depart, Goku tells them to give his regards to Monaka.
The next morning, Bulma has already finished building the "Super Dragon Radar". Goku is amazed at her speed, but she explains her reasons for being in such a hurry. The scene flashes back to the previous night, right before Beerus and Whis left. As the two promise to pick Goku and Vegeta up at 1:00 PM five days from now, Bulma notes that Champa is kind of dumb. After all, with the Super Dragon Balls he could simply wish for the Earth of Universe 6 to be restored, or cut out the middleman and wish to receive delicious food every day; there's really no need for this tournament. Beerus comments that no matter how smart Bulma may be, she still thinks like a human, not a god. For gods like them, the Super Dragon Balls are merely an excuse to fight. Since the two universes are counterparts to one another, if there are Super Dragon Balls in Universe 6 then Universe 7 should have a set of its own. Beerus says that a god like him does not make wishes, but if forced to, he might wish for the entire world to be obliterated. Wouldn't that be fun! Bulma points out that if the world were destroyed, there would be nothing left for him to eat. Beerus laughs that she is right, and he and Whis depart.
Back in the present, Goku assures Bulma that Beerus was simply joking, but Bulma is not so sure. Since they have no way of telling what Beerus might wish for, she insists on gathering Universe 7's set of Super Dragon Balls first in order to prevent his wish. Vegeta likewise assures Bulma that, while Beerus may be a God of Destruction, he still operates according to a logic of his own, and would not simply destroy the world for no reason. Since Goku and Vegeta will not help her, Bulma calls someone who will, her older sister Tights. Tights is sitting at a beach, and tells Bulma she has not heard from her in a long time. Bulma knows that Jaco received a new spaceship in return for his role in taking care of Freeza, and she asks how long it would take him to reach Earth with that ship. Tights thinks it would take 50 minutes, and Bulma asks her to tell Jaco to come over right away.
Off on an alien world, Jaco is sitting around balancing rocks on top of each other to create a tower, his new spaceship parked nearby (it looks nearly the same as his old one). When his phone rings, he yells at Tights for interrupting him during important Galactic Patrol business. Tights relays Bulma's request to Jaco, but Jaco does not want to do it. He tells Tights to say she could not manage to get a hold of him, but Bulma is also on the line, and yells at Jaco so loudly that his rock tower crumbles ("It took all day to build that…"). Bulma threatens to send Vegeta after Jaco if he does not hurry on over, and Jaco reluctantly complies.
Back on Earth, Goku asks what Bulma wants Jaco for, but she refuses to tell him, instead saying he should go off and train. But Goku insists on first trying out the new Super Dragon Radar… but when he tries it, it does not pick up any signals. Bulma explains that Earth is out on the edge of the universe, so the radar cannot search the entire universe from here. She cannot build a more powerful radar, so instead they need to go to the center of the universe, where the radar will have better range. They have got to get those Super Dragon Balls first, and prevent Beerus from getting his way! Goku says that is all well and good, but requests that Bulma not do anything to interfere with the tournament itself. Bulma is annoyed: which is more important, the tournament, or the entire universe?! Goku laughs, saying he just wants to meet Monaka no matter what!










Next Time:


"Rehearsing for the "Martial Arts Match" — Who Are the Two Remaining Members?!"
Episode Notes
Planet Zoreet's name is a rearrangement of the word "resort".

リゾート (ri·zo·o·to) › ゾリート (zo·ri·i·to)

While preparing the "Empty Planet" for the upcoming tournament, Vados has Champa drink some juice made from the "Niga-Niga Vegetable of Planet Yago". The "Niga-Niga" vegetable is likely a pun on nigauri, the Japanese word for "bitter melon", in reference to the extremely bitter tropical fruit momordica charantia native to many Asian countries.

苦瓜 (ni·ga·u·ri) › ニガ (ni·ga)

Similarly, the Planet Yago is likely a rearrangement of the word gōya, the term used for the same bitter fruit on the main island of Okinawa. The Okinawan term gōya is now commonly used nationally across Japan to describe the bitter fruit.

ゴーヤ (go·o·ya) › ヤーゴ (ya·a·go)
Episode Credits
All credits listed below are as originally presented in the episode. The credit structure used in Dragon Ball Super is actually quite simple; the staff involved with the production of the series as a whole are listed in the opening credits and the staff involved with this specific episode are listed in the ending credits. All original credit errors have been corrected to maintain accurate spellings throughout the site. For more information and a complete listing of the series staff, visit the Production Guide.
Cast Credits
孫悟空

Son Goku

野沢雅子

Masako Nozawa

ブルマ

Bulma

タイツ

Tights

鶴 ひろみ

Hiromi Tsuru

 

ベジータ

Vegeta

堀川りょう

Ryō Horikawa

神龍

Shenlong

大友龍三郎

Ryūzaburō Ōtomo

ビルス

Beerus

山寺宏一

Kōichi Yamadera

ウイス

Whis

森田成一

Masakazu Morita

シャンパ

Champa

岩田光央

Mitsuo Iwata

ヴァドス

Vados

山口由里子

Yuriko Yamaguchi

ジャコ

Jaco

花江夏樹

Natsuki Hanae

ナレーション

Narration

龍田直樹

Naoki Tatsuta
Opening Credits
原作・ストーリー原案・キャラクター原案

Original Author / Story Draft / Character Drafts

鳥山 明

(集英社「ジャンプコミックス」刊)

Akira Toriyama

(Published in Shueisha's "Jump Comics")

企画

Planning

情野誠人

(フジテレビ)

Masato Seino

(Fuji TV)

渡辺和哉

(読売広告社)

Kazuya Watanabe

(Yomiko Advertising, Inc.)

森下孝三

Kōzō Morishita

プロデューサー

Producer

野﨑 理

(フジテレビ)

Osamu Nozaki

(Fuji TV)

佐川直子

(読売広告社)

Naoko Sagawa

(Yomiko Advertising, Inc.)

木戸 睦

Atsushi Kido

寺本知資

Tomosuke Teramoto

音楽

Music

住友紀人

Norihito Sumitomo

オープニングテーマ

Opening Theme

作詞

Lyrics

作曲

Composition

唄

Vocals

「超絶☆ダイナミック!」

"Chōzetsu ☆ Dynamic!"

森 雪之丞

Yukinojō Mori

吉井和哉

Kazuya Yoshii

吉井和哉

Kazuya Yoshii

(日本コロムビア/トライアド)

(Nippon Columbia / Triad)

製作担当

Production Manager

末竹 憲

Ken Suetake

美術デザイン

Art Design

行 信三

Shinzō Yuki

色彩設計

Color Design

堀田哲平

Teppei Hotta

キャラクターデザイン・作画監修

Character Design & Supervising
Director of Animation

山室直儀

Tadayoshi Yamamuro


シリーズディレクター

Series Director

地岡公俊

Kimitoshi Chioka

制作協力

Production Coordination

東映

Toei

制作

Production

フジテレビ

Fuji TV

読売広告社

Yomiko Advertising, Inc.

東映アニメーション

Toei Animation
Ending Credits
脚本

Script

キング・リュウ

King Ryū

声の出演

Voice Performances

~~~~

協力

In Cooperation With

青二プロダクション

Aoni Production

原画

Key Animation

北野幸広

Yukihiro Kitano

稲葉 仁

Hitoshi Inaba

井手武生

Takeo Ide

会津五月

Satsuki Aizu

Toei Phils.

Toei Animation Philippines

梨沢孝司

Kōji Nashizawa

石川 修

Osamu Ishikawa

手塚江美

Emi Tezuka

OFFICE DCI

OFFICE DCI

 

動画

In-Between Animation

Toei Phils.

Toei Animation Philippines

武遊

Buyū

彩色

Digital Coloring

Toei Phils.

Toei Animation Philippines

武遊

Buyū

色指定

Color Designation

加藤良高

Yoshitaka Katō

デジタル特殊効果

Digital Special Effects

下川信裕

Nobuhiro Shimokawa

デジタルアーティスト

Digital Artist

川崎健太郎

Kentarō Kawasaki

松本八希

Hakki Matsumoto

背景

Backgrounds

ビック・スタジオ

bic-Studio

studio AR.T.ON

柳 煥錫

Liu Huanxi

李 旼貞

Li Minzhen

徐 柱星

Xu Zhuxing

高 智榮

Gao Zhirong

李 智恩

Li Zhi'en

黄 琇詠

Huang Xiuyong

崔 有眞

Cui Youzhen

 

デジタル撮影

Digital Photography

AMGA

AMGA

競 昌則

Masanori Kisoi

服部 安

Yasushi Hattori

平井智朗

Tomoaki Hirai

姜 亜偉

Ai Kyō

岡田由紀

Yuki Okada

西 重成

Shigenari Nishi

杉浦仙一

Sen'ichi Sugiura

茂木邦夫

Kunio Mogi

 

エンディングテーマ

Ending Theme

作詞

Lyrics

作曲

Composition

編曲

Arrangement

唄

Vocals

「薄紅」

"Light Pink"

松川ケイスケ

Keisuke Matsukawa

LACCO TOWER

LACCO TOWER

LACCO TOWER

LACCO TOWER

LACCO TOWER

LACCO TOWER

(日本コロムビア/トライアド)

(Nippon Columbia / Triad)

音響監督

Audio Director

本田保則

Yasunori Honda

編集

Editing

西村英一

Ei'ichi Nishimura

録音

Recording

伊東光晴

Mitsuharu Itō

録音助手

Recording Assistance

新垣未希

Miki Aragaki

音響効果

Sound Effects

西村睦弘

(JetSoundEngine)

Mutsuhiro Nishimura

(JetSoundEngine)

記録

Documentation

沢井尚子

Shōko Sawai

アシスタントプロデューサー

Assistant Producer

静 美保

(読売広告社)

Miho Shizuka

(Yomiko Advertising, Inc.)

音響製作

Audio Production

タバック

TAVAC

録音スタジオ

Recording Studio

サウンドイン

Sound Inn

東映デジタルセンター

Toei Digital Center

オンライン編集

Online Editing

東映デジタルラボ

Toei Digital Lab

高橋和寛

Kazuhiro Takahashi

音楽協力

Music In Association With

東映アニメーション音楽出版

Toei Animation Music Publishing

フジパシフィックミュージック

FUJIPACIFIC MUSIC

企画協力

Planning In Cooperation With

集英社「Vジャンプ」編集部

Shueisha's "V-Jump" Editorial Department

演出助手

Assistant Director

石谷 恵

Megumi Ishitani

製作進行

Assistant Production Manager

小林克規

Katsunori Kobayashi

美術進行

Art Manager

西牧正人

Masato Nishimaki

仕上進行

Finishing Manager

河本隆弘

Takahiro Kawamoto

CG進行

CG Manager

渡辺克博

Katsuhiro Watanabe

演技事務

Talent Coordination

角 康昭

Yasuaki Tsuno

広報

Public Relations

山本麻未子

(フジテレビ)

Mamiko Yamamoto

(Fuji TV)

美術

Art Director

李 凡善

Bun-sun Lee

総作画監督

Chief Animation Supervisor

井手武生

Takeo Ide

作画監督

Animation Supervisor

石川 修

Osamu Ishikawa

北野幸広

Yukihiro Kitano

絵コンテ

Storyboard

貝澤幸男

Yukio Kaizawa

演出

Director

広嶋秀樹

Hideki Hiroshima