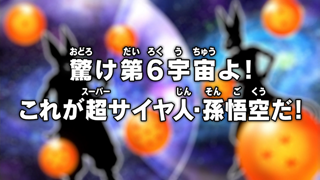 驚け第6宇宙よ!これが超サイヤ人・孫悟空だ!
Odoroke Dai-Roku Uchū yo! Kore ga Sūpā Saiya-jin · Son Gokū da!
Be Surprised, Universe 6! This is Super Saiyan Son Goku!
Episode Information
Episode Summary
Goku and Botamo's match kicks off. At first Botamo seems to have the upper hand, bouncing all over the arena and giving Goku a hard time. It turns out though that Goku simply ate too much earlier, making his movements sluggish. After doing a few quick warm-up exercises, Goku is good to go. Although Goku's attacks have finally started connecting, Botamo still seems unfazed. Even a Kamehameha does not harm him! He stands confidently and simply lets Goku shower him with blows. Finally, Jaco explains that Botamo is nullifying Goku's attacks by transferring the damage to another dimension… although when questioned by Bulma, he sheepishly admits this is only "probably" the case. Though Goku seems beaten, Vegeta shouts at him to use his head. Goku promptly changes tactics, picking Botamo up by the legs and simply throwing him out of bounds. Botamo thus loses by ring-out. Champa throws a temper tantrum, but Vados assures him that they do not need to win every match, and still have four fighters remaining.
Goku's next opponent is Frost, who seems to be Universe 6's equivalent of Freeza. However, Goku and the others are surprised when Frost says he wants a good, clean fight. He finds it unfortunate that their two universes find themselves on opposing sides, but stresses that this is nothing more than a friendly competition. The fight begins, but Goku soon grows dissatisfied, because he can tell Frost is simply holding back and trying to gauge Goku's power, something he knows due to his previous experience fighting Freeza. He encourages Frost to not hold back, and go all-out. Frost agrees, and claims he will now transform into his final form… but instead turns into something that looks suspiciously similar to Freeza's third form.
As the fight recommences, the referee explains that this form of Frost's is called his "Assault Form". He goes on to say Frost leads a peace-keeping force to quell conflicts across Universe 6, and uses this form when charging into war-torn areas. After war has ended, Frost then pours his efforts into helping children and war recovery efforts in those areas. He has been awarded the "Universal Peace Prize" three times in recognition for his achievements, and it turns out that Champa recruited him by promising to lend his support to Frost's peace-keeping efforts if he won the tournament. Hearing all this, Bulma and the others in the audience are no longer quite sure who to root for. While Frost starts to overwhelm Goku, Goku says that Frost is still hiding another transformation… just like him! With that, Goku transforms into his gold-haired Super Saiyan form. Champa is surprised. He asks Cabba if Saiyans can transform, but Cabba responds no, he has never seen or heard of anything like this before.
Seeing Goku's transformation, Frost resolves to transform as well, turning into a form closely resembling Freeza's final form. He explains that he has difficulty controlling his power in this form, resulting in him once accidentally killing an evil-doer "unnecessarily". Since then, Frost has avoided using his final form, but believes Goku will be able to handle it. Indeed, the tables turn once again, and Super Saiyan Goku starts decidedly gaining the upper hand against Frost. Since Frost is such a good guy, Goku does not want to hurt him any more than necessary, and advises Frost to surrender. But Frost adamantly refuses to give up, saying that he has a responsibility to the children, and must win the match in order to gain Champa's support for his peace-keeping efforts. Hearing this, Bulma even cheers Frost on, confusing Kuririn. Just as it looks like Frost's chances are hopeless, Goku suddenly starts acting extremely fatigued. Before anyone quite knows what is happening, Frost seizes the opportunity to knock Goku out of bounds, where he promptly reverts to his base form. Frost has won the match!










Next Time:


"Piccolo vs Frost — Bet Everything on the Makankōsappō!"
Episode Notes
Though the episode is narrated by Naoki Tatsuta, he is not credited.
There are many parallels with the Botamo fight and Goku's fights against both Buyon and Yakkon in the original series, and even Misokatsun from Dragon Ball Z Movie 2: large, roundish opponents that are difficult to fight with traditional hand-to-hand combat moves, and improvisation with their body-types and the surrounding area must be exploited to defeat them.
Frost's name falls in line with the same "cold"-based puns associated with Freeza and his immediate family. Similarly, as with most Freeza-related characters (i.e. Coola, Chilled, etc.), Frost is voiced by Ryūsei Nakao. His name is spelled exactly the same as the Japanese approximation of the English word "frost".

フロスト (fu·ro·su·to)
Episode Credits
All credits listed below are as originally presented in the episode. The credit structure used in Dragon Ball Super is actually quite simple; the staff involved with the production of the series as a whole are listed in the opening credits and the staff involved with this specific episode are listed in the ending credits. All original credit errors have been corrected to maintain accurate spellings throughout the site. For more information and a complete listing of the series staff, visit the Production Guide.
Cast Credits
孫悟空

Son Goku

孫悟天

Son Goten

野沢雅子

Masako Nozawa

 

ブルマ

Bulma

鶴 ひろみ

Hiromi Tsuru

ベジータ

Vegeta

堀川りょう

Ryō Horikawa

クリリン

Kuririn

田中真弓

Mayumi Tanaka

ピッコロ

Piccolo

古川登志夫

Toshio Furukawa

チチ

Chi-Chi

渡辺菜生子

Naoko Watanabe

ジャコ

Jaco

花江夏樹

Natsuki Hanae

ビルス

Beerus

山寺宏一

Kōichi Yamadera

ウイス

Whis

森田成一

Masakazu Morita

シャンパ

Champa

岩田光央

Mitsuo Iwata

ヴァドス

Vados

山口由里子

Yuriko Yamaguchi

老界王神

Elder Kaiōshin

田中亮一

Ryōichi Tanaka

界王神

Kaiōshin

太田真一郎

Shin'ichirō Ōta

キャベ

Cabba

岸尾だいすけ

Daisuke Kishio

ボタモ

Botamo

高戸靖広

Yasuhiro Takato

レフェリー

Referee

田中一成

Kazunari Tanaka

フロスト

Frost

中尾隆聖

Ryūsei Nakao

第6宇宙の界王神

Universe 6 Kaiōshin

増谷康紀

Yasunori Masutani
Opening Credits
原作・ストーリー原案・キャラクター原案

Original Author / Story Draft / Character Drafts

鳥山 明

(集英社「ジャンプコミックス」刊)

Akira Toriyama

(Published in Shueisha's "Jump Comics")

企画

Planning

情野誠人

(フジテレビ)

Masato Seino

(Fuji TV)

渡辺和哉

(読売広告社)

Kazuya Watanabe

(Yomiko Advertising, Inc.)

森下孝三

Kōzō Morishita

プロデューサー

Producer

野﨑 理

(フジテレビ)

Osamu Nozaki

(Fuji TV)

佐川直子

(読売広告社)

Naoko Sagawa

(Yomiko Advertising, Inc.)

木戸 睦

Atsushi Kido

寺本知資

Tomosuke Teramoto

音楽

Music

住友紀人

Norihito Sumitomo

オープニングテーマ

Opening Theme

作詞

Lyrics

作曲

Composition

唄

Vocals

「超絶☆ダイナミック!」

"Chōzetsu ☆ Dynamic!"

森 雪之丞

Yukinojō Mori

吉井和哉

Kazuya Yoshii

吉井和哉

Kazuya Yoshii

(日本コロムビア/トライアド)

(Nippon Columbia / Triad)

製作担当

Production Manager

末竹 憲

Ken Suetake

美術デザイン

Art Design

行 信三

Shinzō Yuki

色彩設計

Color Design

堀田哲平

Teppei Hotta

キャラクターデザイン・作画監修

Character Design & Supervising
Director of Animation

山室直儀

Tadayoshi Yamamuro


シリーズディレクター

Series Director

畑野森生

Morio Hatano

地岡公俊

Kimitoshi Chioka

制作協力

Production Coordination

東映

Toei

制作

Production

フジテレビ

Fuji TV

読売広告社

Yomiko Advertising, Inc.

東映アニメーション

Toei Animation
Ending Credits
脚本

Script

キング・リュウ

King Ryū

声の出演

Voice Performances

~~~~

協力

In Cooperation With

青二プロダクション

Aoni Production

原画

Key Animation

苫 政三

Seizo Toma

林 康弘

Yasuhiro Hayashi

久保充照

Mitsuteru Kubo

武遊

Buyū

A-Line

A-Line

堀井伸雄

Nobuo Horii

岩田幸大

Kōdai Iwata

北野幸広

Yukihiro Kitano

OFFICE DCI

OFFICE DCI

Toei Phils.

Toei Animation Philippines

動画

In-Between Animation

Toei Phils.

Toei Animation Philippines

武遊

Buyū

A-Line

A-Line

彩色

Digital Coloring

Toei Phils.

Toei Animation Philippines

武遊

Buyū

A-Line

A-Line

色指定

Color Designation

加藤良高

Yoshitaka Katō

デジタル特殊効果

Digital Special Effects

下川信裕

Nobuhiro Shimokawa

デジタルアーティスト

Digital Artist

川崎健太郎

Kentarō Kawasaki

松本八希

Hakki Matsumoto

背景

Backgrounds

ムクオスタジオ

Mukuo Studio

井上慎太郎

Shintarō Inoue

一瀬あかね

Akane Ichinose

林 鴻生

Hong-Sheng Lin

石原麻美

Asami Ishihara

デジタル撮影

Digital Photography

AMGA

AMGA

競 昌則

Masanori Kisoi

服部 安

Yasushi Hattori

平井智朗

Tomoaki Hirai

姜 亜偉

Ai Kyō

岡田由紀

Yuki Okada

西 重成

Shigenari Nishi

杉浦仙一

Sen'ichi Sugiura

茂木邦夫

Kunio Mogi

 

エンディングテーマ

Ending Theme

作詞

Lyrics

作曲

Composition

編曲

Arrangement

唄

Vocals

「薄紅」

"Light Pink"

松川ケイスケ

Keisuke Matsukawa

LACCO TOWER

LACCO TOWER

LACCO TOWER

LACCO TOWER

LACCO TOWER

LACCO TOWER

(日本コロムビア/トライアド)

(Nippon Columbia / Triad)

音響監督

Audio Director

本田保則

Yasunori Honda

編集

Editing

西村英一

Ei'ichi Nishimura

録音

Recording

伊東光晴

Mitsuharu Itō

録音助手

Recording Assistance

新垣未希

Miki Aragaki

音響効果

Sound Effects

西村睦弘

(JetSoundEngine)

Mutsuhiro Nishimura

(JetSoundEngine)

記録

Documentation

沢井尚子

Shōko Sawai

アシスタントプロデューサー

Assistant Producer

静 美保

(読売広告社)

Miho Shizuka

(Yomiko Advertising, Inc.)

音響製作

Audio Production

タバック

TAVAC

録音スタジオ

Recording Studio

サウンドイン

Sound Inn

東映デジタルセンター

Toei Digital Center

オンライン編集

Online Editing

東映デジタルラボ

Toei Digital Lab

長澤亮祐

Ryōsuke Nagasawa

音楽協力

Music In Association With

東映アニメーション音楽出版

Toei Animation Music Publishing

フジパシフィックミュージック

FUJIPACIFIC MUSIC

企画協力

Planning In Cooperation With

集英社「Vジャンプ」編集部

Shueisha's "V-Jump" Editorial Department

演出助手

Assistant Director

石谷 恵

Masanori Satō

製作進行

Assistant Production Manager

福田一夫

Kazuo Fukuda

美術進行

Art Manager

西牧正人

Masato Nishimaki

仕上進行

Finishing Manager

河本隆弘

Takahiro Kawamoto

CG進行

CG Manager

渡辺克博

Katsuhiro Watanabe

演技事務

Talent Coordination

角 康昭

Yasuaki Tsuno

協力プロダクション

A Cooperative Production With

スタジオ歩

Studio Ayumu

広報

Public Relations

山本麻未子

(フジテレビ)

Mamiko Yamamoto

(Fuji TV)

美術

Art Director

鹿野良行

Yoshiyuki Shikano

総作画監督

Chief Animation Supervisor

井手武生

Takeo Ide

作画監督

Animation Supervisor

苫 政三

Seizo Toma

北野幸広

Yukihiro Kitano

絵コンテ

Storyboard

八島善孝

Yoshitaka Yashima

演出

Director

広嶋秀樹

Hideki Hiroshima