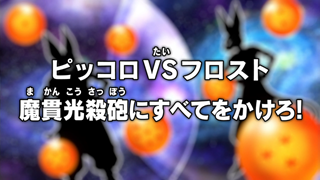 ピッコロVSフロスト 魔貫光殺砲にすべてをかけろ!
Pikkoro Tai Furosuto Makankōsappō ni Subete o Kakero!
Piccolo vs Frost — Bet Everything on the Makankōsappō!
Episode Information
Episode Summary
As the audience reacts to Frost's unexpected victory over Goku, Piccolo speculates that Goku took too many hits from Frost and suffered some sort of brain damage. Bulma blames Kuririn for not cheering on Goku hard enough… even though she had earlier felt like rooting for Frost herself. Chi-Chi rushes over to Goku's side, and is relieved to find he is not dead. Frost also checks to see that Goku is alright. Goku compliments Frost on his victory, and wonders what sort of technique Frost used to defeat him, but even Frost claims not to know, since it was something he did in a moment of desperation. Frost says Goku pushed him to his limits, and the crowd applauds them for putting on a good fight. With his part in the tournament over, Goku looks forward to enjoying the rest of the matches from the sidelines. But Beerus is far from satisfied, saying Goku could have easily won if he had fought at full power. Goku admits this, saying he mistakenly thought he could manage as a Super Saiyan, and lost as a result… but he will definitely win next time! Beerus yells that "next time" is irrelevant, but Champa comes over, eager to watch Beerus lose his cool. Not wanting to give Champa the satisfaction, Beerus holds in his anger and (through gritted teeth) says it does not matter whether you win or lose, it is how you play the game.
Piccolo is next up to battle Frost, and he asks Goku if he has any chance at victory. Goku bluntly (and cheerfully) declares that he has no chance, but says Piccolo should not forfeit the match, since he might be able to lower Frost's stamina enough to tip the balance when Vegeta fights him next. Piccolo is not exactly happy to hear that this is the role he has to play. He asks Frost whether he intends to stay in his final form, wondering if he could go easy on him a little. Frost assures Piccolo that he no longer has the strength left to kill him… though he still intends to win. As the match is about to begin, Vegeta thinks to himself that Goku could not possibly have lost consciousness from attacks of that caliber… there must be something more to the story. As he he contemplates this, Jaco flies up and sits next to Vegeta, commenting that it is easier to see the match from here.
The match begins, and Piccolo starts to charge up a Makankōsappō. However, Frost immediately recognizes this as a powerful technique that takes a long time to charge, and fires a volley of blasts at Piccolo to interrupt his concentration. For a while Piccolo manages to successfully dodge Frost's attacks while continuing to charge the Makankōsappō, but is eventually hit in the leg. Even so, Piccolo's concentration is great enough that he goes on charging the attack, although it looks like he will no longer be able to successfully dodge Frost's attacks. But at this point, Piccolo creates a legion of phantom copies of himself. Champa insists that this is a rules violation and demands the referee disqualify Piccolo, but the referee says this is simply a technique and not against the rules. While Champa believes that as a God of Destruction his authority should outweigh the referee, Beerus says that in a sports competition, the referee is greater than a god.
Frost manages to whittle away at all of Piccolo's doppelgangers, but in the end Piccolo successfully wraps up Frost in his stretching arm. Unable to break free, and with his arms stuck pointing straight down, Frost is unable to fire any more ki blasts at Piccolo. Frost had focused all his attention on Piccolo's charging ki, thus leaving himself open to this trap. It now looks like he has no way of avoiding getting hit by Piccolo's Makankōsappō. Piccolo explains that he is known as the strategist of Universe 7, and that Frost has lost because he did not know Piccolo's fighting style. Just as Piccolo is about to fire though, he begins to wobble and lose consciousness, like Goku had done earlier. His arm unravels from around Frost, who rushes at Piccolo, firing a blast through his chest. As Piccolo falls away, he fires his Makankōsappō straight up into the top of the dome around the arena, which cracks. Frost admits that he would indeed have lost if the attack had hit him, and Champa is shocked that it was powerful enough to crack the dome (Vados notes that she will have to repair it). With Piccolo now wide-open, Frost knocks him out. The referee confirms that Piccolo is out cold, and declares Frost the winner. However, Jaco objects! He claims to have seen Frost using a small, needle-like weapon, and tells the referee to inspect Frost's right arm. Champa finds the notion of Frost cheating absurd, and Cabba agrees, remembering the time he fought alongside Frost to protect the citizens of Planet Mayonna from space pirates. There's no way a hero like Frost would cheat! Champa accuses Jaco of making up baseless claims to discredit his team, and threatens to destroy him if the referee finds nothing. Beerus encourages the referee to check thoroughly… while noting that it would not be any skin of his nose if Jaco gets destroyed.
After a thorough inspection, the referee discovers a small needle on Frost's right arm. Frost claims it is merely part of his body, but the referee can clearly see this is not true. The referee disqualifies Frost, and declares Piccolo the winner after all. Bulma notes that this is the first time Jaco has ever looked cool. Cabba is devastated, and wonders why someone like Frost would resort to this. Vados comments that this is Frost's true nature, and explains that in reality the space pirates who attacked Planet Mayonna were a secret organization led by Frost himself. Frost's business scheme is to start wars which he later resolves, allowing him to buy up war-devastated land for cheap and make a large profit redeveloping them. Beerus notes that this is somewhat similar to what Freeza used to do. It seems Frost simply acted like a nice guy to hide his cheating. Piccolo admits that in the end, he was the one to get fooled, and Frost sarcastically throws Piccolo's earlier remark back in his face: Mr. Strategist lost because he did not know Frost's fighting style.
Champa is furious, since this whole debacle is a huge embarrassment for him. He demands to know why Vados recruited someone like that for their team, but she explains that Champa lazily entrusted the task of recruiting team members to her, merely instructing her to find people who would "definitely" win. He never told her anything about investigating their behavior. As the referee announces the start of the next match, Champa vows to destroy Frost, but Vegeta interrupts. There is no need for Frost to be disqualified or destroyed. Instead, Vegeta vows to defeat Frost himself! The referee says that since Piccolo's loss has been erased, Piccolo should fight in the next match, but it seems Piccolo forfeits this right so that Vegeta can fight instead. Champa is not satisfied and still wants to personally destroy Frost, but Vados explains that this is purely to their advantage: their team's rules violation is erased and Piccolo has forfeited his right to battle again. There is no downside for them. Convinced, Champa tells Frost that if he wins this next match, he will forgive Frost the humiliation he has caused him. Frost tells Vegeta he must be very confident to do all this, but Vegeta just replies that he finds Frost's voice grating.










Next Time:


"Turn Anger Into Power! Vegeta's All-Out Battle"
Episode Notes
Planet Mayonnai's name (惑星マヨネー; wakusei mayonē) is likely taken from the condiment mayonnaise, with the last syllable dropped. A similar "mayonnaise" name pun was seen in Dragon Ball Z Movie 5 with the character Neiz, whose name comes from the latter portion of the word.

マヨネーズ (ma·yo·ne·e·zu) › マヨネー (ma·yo·ne·e)

Vegeta's remark about him finding Frost's voice grating is a humorous acknowledgement that the character is voiced by Freeza's voice actor, Ryūsei Nakao. In addition to these characters, Nakao has also voiced the roles of Tambourine, Coola, Chilled, and Kuriza in various Dragon Ball features and video games.
Episode Credits
All credits listed below are as originally presented in the episode. The credit structure used in Dragon Ball Super is actually quite simple; the staff involved with the production of the series as a whole are listed in the opening credits and the staff involved with this specific episode are listed in the ending credits. All original credit errors have been corrected to maintain accurate spellings throughout the site. For more information and a complete listing of the series staff, visit the Production Guide.
Cast Credits
孫悟空

Son Goku

孫悟天

Son Goten

野沢雅子

Masako Nozawa

 

ブルマ

Bulma

鶴 ひろみ

Hiromi Tsuru

ベジータ

Vegeta

堀川りょう

Ryō Horikawa

クリリン

Kuririn

田中真弓

Mayumi Tanaka

ピッコロ

Piccolo

古川登志夫

Toshio Furukawa

チチ

Chi-Chi

渡辺菜生子

Naoko Watanabe

ウーロン

Oolong

龍田直樹

Naoki Tatsuta

ビルス

Beerus

山寺宏一

Kōichi Yamadera

ウイス

Whis

森田成一

Masakazu Morita

シャンパ

Champa

岩田光央

Mitsuo Iwata

ヴァドス

Vados

山口由里子

Yuriko Yamaguchi

ジャコ

Jaco

花江夏樹

Natsuki Hanae

キャベ

Cabba

岸尾だいすけ

Daisuke Kishio

銀河王

Galactic King

魚 建

Ken Uo

レフェリー

Referee

田中一成

Kazunari Tanaka

最終フロスト

Final Frost

中尾隆聖

Ryūsei Nakao
Opening Credits
原作・ストーリー原案・キャラクター原案

Original Author / Story Draft / Character Drafts

鳥山 明

(集英社「ジャンプコミックス」刊)

Akira Toriyama

(Published in Shueisha's "Jump Comics")

企画

Planning

情野誠人

(フジテレビ)

Masato Seino

(Fuji TV)

渡辺和哉

(読売広告社)

Kazuya Watanabe

(Yomiko Advertising, Inc.)

森下孝三

Kōzō Morishita

プロデューサー

Producer

野﨑 理

(フジテレビ)

Osamu Nozaki

(Fuji TV)

佐川直子

(読売広告社)

Naoko Sagawa

(Yomiko Advertising, Inc.)

木戸 睦

Atsushi Kido

寺本知資

Tomosuke Teramoto

音楽

Music

住友紀人

Norihito Sumitomo

オープニングテーマ

Opening Theme

作詞

Lyrics

作曲

Composition

唄

Vocals

「超絶☆ダイナミック!」

"Chōzetsu ☆ Dynamic!"

森 雪之丞

Yukinojō Mori

吉井和哉

Kazuya Yoshii

吉井和哉

Kazuya Yoshii

(日本コロムビア/トライアド)

(Nippon Columbia / Triad)

製作担当

Production Manager

末竹 憲

Ken Suetake

美術デザイン

Art Design

行 信三

Shinzō Yuki

色彩設計

Color Design

堀田哲平

Teppei Hotta

キャラクターデザイン・作画監修

Character Design & Supervising
Director of Animation

山室直儀

Tadayoshi Yamamuro


シリーズディレクター

Series Director

畑野森生

Morio Hatano

地岡公俊

Kimitoshi Chioka

制作協力

Production Coordination

東映

Toei

制作

Production

フジテレビ

Fuji TV

読売広告社

Yomiko Advertising, Inc.

東映アニメーション

Toei Animation
Ending Credits
脚本

Script

キング・リュウ

King Ryū

声の出演

Voice Performances

~~~~

協力

In Cooperation With

青二プロダクション

Aoni Production

原画

Key Animation

八島善孝

Yoshitaka Yashima

横山美雪

Miyuki Yokoyama

涂 泳策

Yong-ce Tu

Toei Phils.

Toei Animation Philippines

動画

In-Between Animation

Toei Phils.

Toei Animation Philippines

武遊

Buyū

彩色

Digital Coloring

Toei Phils.

Toei Animation Philippines

武遊

Buyū

色指定

Color Designation

加藤良高

Yoshitaka Katō

デジタル特殊効果

Digital Special Effects

下川信裕

Nobuhiro Shimokawa

デジタルアーティスト

Digital Artist

川崎健太郎

Kentarō Kawasaki

松本八希

Hakki Matsumoto

背景

Backgrounds

ビック・スタジオ

bic-Studio

studio AR.T.ON

柳 煥錫

Liu Huanxi

李 旼貞

Li Minzhen

徐 柱星

Xu Zhuxing

高 智榮

Gao Zhirong

李 智恩

Li Zhi'en

黄 琇詠

Huang Xiuyong

崔 有眞

Cui Youzhen

 

デジタル撮影

Digital Photography

AMGA

AMGA

競 昌則

Masanori Kisoi

服部 安

Yasushi Hattori

平井智朗

Tomoaki Hirai

岡田由紀

Yuki Okada

西 重成

Shigenari Nishi

杉浦仙一

Sen'ichi Sugiura

姜 亜偉

Ai Kyō

エンディングテーマ

Ending Theme

作詞

Lyrics

作曲

Composition

編曲

Arrangement

唄

Vocals

「薄紅」

"Light Pink"

松川ケイスケ

Keisuke Matsukawa

LACCO TOWER

LACCO TOWER

LACCO TOWER

LACCO TOWER

LACCO TOWER

LACCO TOWER

(日本コロムビア/トライアド)

(Nippon Columbia / Triad)

音響監督

Audio Director

本田保則

Yasunori Honda

編集

Editing

西村英一

Ei'ichi Nishimura

録音

Recording

伊東光晴

Mitsuharu Itō

録音助手

Recording Assistance

新垣未希

Miki Aragaki

音響効果

Sound Effects

西村睦弘

(JetSoundEngine)

Mutsuhiro Nishimura

(JetSoundEngine)

記録

Documentation

沢井尚子

Shōko Sawai

アシスタントプロデューサー

Assistant Producer

静 美保

(読売広告社)

Miho Shizuka

(Yomiko Advertising, Inc.)

音響製作

Audio Production

タバック

TAVAC

録音スタジオ

Recording Studio

サウンドイン

Sound Inn

東映デジタルセンター

Toei Digital Center

オンライン編集

Online Editing

東映デジタルラボ

Toei Digital Lab

長澤亮祐

Ryōsuke Nagasawa

音楽協力

Music In Association With

東映アニメーション音楽出版

Toei Animation Music Publishing

フジパシフィックミュージック

FUJIPACIFIC MUSIC

企画協力

Planning In Cooperation With

集英社「Vジャンプ」編集部

Shueisha's "V-Jump" Editorial Department

演出助手

Assistant Director

川崎弘二

Kōji Kawasaki

製作進行

Assistant Production Manager

難波 涼

Ryō Nanba

美術進行

Art Manager

西牧正人

Masato Nishimaki

仕上進行

Finishing Manager

河本隆弘

Takahiro Kawamoto

CG進行

CG Manager

渡辺克博

Katsuhiro Watanabe

演技事務

Talent Coordination

角 康昭

Yasuaki Tsuno

広報

Public Relations

山本麻未子

(フジテレビ)

Mamiko Yamamoto

(Fuji TV)

美術

Art Director

李 凡善

Bun-sun Lee

総作画監督

Chief Animation Supervisor

辻 美也子

Miyako Tsuji

作画監督

Animation Supervisor

八島善孝

Yoshitaka Yashima

絵コンテ

Storyboard

角銅博之

Hiroyuki Kakudō

演出

Director

岩井隆央

Takao Iwai