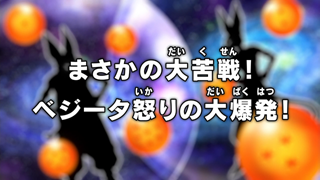 まさかの大苦戦!ベジータ怒りの大爆発!
Masaka no Dai-Kusen! Bejīta Ikari no Dai-Bakuhatsu!
An Unexpectedly Tough Fight! Vegeta's Explosion of Rage!
Episode Information
Episode Summary
Vegeta has stopped moving, and seems to be having trouble breathing. On the sidelines, Goku and the others realize this is because Magetta is heating up the arena. Beerus thinks the new barrier Champa and Vados set up is contributing to this by keeping the heat in, and while Champa claims the barrier allows for sufficient air circulation, Magetta's heat seems to be too intense for this to make a difference. Vegeta is still undeterred though, reasoning that he simply needs to end the match as quickly as possible, before the heat takes its toll. Magetta continues to attack Vegeta with his lava spit, and Vegeta tries to attack Magetta's unguarded head, but is forced back by hot steam. A huge explosion from Magetta nearly forces Vegeta into the barrier (where he would lose by ring-out), but fortunately he manages to stop himself in the nick of time. The judge decrees that this explosion was fair-play because it was not created by a weapon, but one of Magetta's farts simply ignited. Beerus wonders if Champa is bribing the referee, but Whis notes that his judgments are always perfectly fair.
Goku finds Magetta's fighting style intriguing, and wonders how he would handle things if he was in Vegeta's shoes. At a distance Magetta attacks with his lava spit, and up close his iron body renders anything but one's strongest attacks ineffective. Plus the heat and low oxygen are taking an increasing toll on Vegeta, and the barrier hems him in, so doing something about the lava spit might be his best option. He might be in real trouble here! Beerus yells at Vegeta not to lose, while Vegeta has had enough of everyone's yammering and starts charging up a big attack (seemingly the Galic Cannon). Magetta responds by raising the heat up even more, and a struggle starts up between Vegeta's ki and Magetta's lava. In the resulting chaos, Vegeta is knocked from the ring… and seems to touch one foot down on the ground. Everyone goes quiet. Is it a ring-out?
As Vegeta remains perfectly still, the referee comes over and investigates, finally declaring that Vegeta is safe! His foot has in fact touched a broken-off piece of the arena itself that had landed on the ground, and so by the referee's judgement this still counts as being in-bounds. This time, it's Champa who wonders about the referee's fairness. Who hired this idiot?! Vados calmly points out that it was Champa himself. Like with Goku in Round 1, Vegeta has been saved by a rules technicality… which drives him crazy. Fed up with the whole situation, he asks the referee if he is fine so long as he avoids touching the barrier. When the confused referee says "yes", Vegeta immediately starts powering up. Champa assumes Vegeta is simply throwing a tantrum, but he has a plan: through sheer power alone, he manages to shatter the barrier. Pieces fly everywhere, sticking into things like shards of glass. Several pieces land around Monaka, who continues to sit perfectly still (which impresses Goku to no end). Champa angrily asks Vados why she did not make the barrier stronger, but she retorts that Champa himself told her the barrier's strength did not matter.
With the heat dissipated, Vegeta can breathe properly again, and considers the match as good as over. He unleashes a Final Flash, his ki once again clashing against Magetta's lava. Bit by bit, Magetta is pushed toward the edge of the ring by Vegeta's attack. Just as he is almost over the edge, Vegeta cries "you're finished now, you hunk of junk!" With that, Magetta gives way and is sent flying out of bounds. Vegeta has won! Though this last attack destroyed most of the ring, which will now have to be rebuilt. Vegeta flies over to Whis and gulps down some water. Seeing Magetta sitting over with the other Universe 6 warriors crying inconsolably, Goku finds it hard to believe Magetta seemed so strong just a little while ago. Whis explains that being called a "hunk of junk" must have taken a toll on him. Metalmen are actually quite sensitive, and cannot fight if insulted. Beerus yells at Whis for keeping such vital information secret, but Goku notes that if they had known that, it would have been a pretty boring fight. On top of that, Vegeta could have finished the fight even sooner if he had gone all-out… but it seems the two of them are both "worried" about Hit. Over at the Universe 6 fighters' seats, Cabba gets up and declares that it is his turn next.










Next Time:


"Don't Forget Your Saiyan Pride! Vegeta vs the Saiyan of Universe 6"
Episode Notes
Oolong's voice actor, and current series narrator, Naoki Tatsuta is heard providing the voice of Magetta in the episode. Tatsuta is not credited for Magetta (or his narration) in the episode due to already being credited for voicing Oolong.
Episode Credits
All credits listed below are as originally presented in the episode. The credit structure used in Dragon Ball Super is actually quite simple; the staff involved with the production of the series as a whole are listed in the opening credits and the staff involved with this specific episode are listed in the ending credits. All original credit errors have been corrected to maintain accurate spellings throughout the site. For more information and a complete listing of the series staff, visit the Production Guide.
Cast Credits
孫悟空

Son Goku

野沢雅子

Masako Nozawa

ブルマ

Bulma

鶴 ひろみ

Hiromi Tsuru

ベジータ

Vegeta

堀川りょう

Ryō Horikawa

クリリン

Kuririn

田中真弓

Mayumi Tanaka

ピッコロ

Piccolo

古川登志夫

Toshio Furukawa

トランクス

Trunks

草尾 毅

Takeshi Kusao

ウーロン

Oolong

龍田直樹

Naoki Tatsuta

ジャコ

Jaco

花江夏樹

Natsuki Hanae

キャベ

Cabba

岸尾だいすけ

Daisuke Kishio

レフェリー

Referee

田中一成

Kazunari Tanaka

ビルス

Beerus

山寺宏一

Kōichi Yamadera

ウイス

Whis

森田成一

Masakazu Morita

シャンパ

Champa

岩田光央

Mitsuo Iwata

ヴァドス

Vados

山口由里子

Yuriko Yamaguchi
Opening Credits
原作・ストーリー原案・キャラクター原案

Original Author / Story Draft / Character Drafts

鳥山 明

(集英社「ジャンプコミックス」刊)

Akira Toriyama

(Published in Shueisha's "Jump Comics")

企画

Planning

情野誠人

(フジテレビ)

Masato Seino

(Fuji TV)

渡辺和哉

(読売広告社)

Kazuya Watanabe

(Yomiko Advertising, Inc.)

森下孝三

Kōzō Morishita

プロデューサー

Producer

野﨑 理

(フジテレビ)

Osamu Nozaki

(Fuji TV)

佐川直子

(読売広告社)

Naoko Sagawa

(Yomiko Advertising, Inc.)

木戸 睦

Atsushi Kido

寺本知資

Tomosuke Teramoto

音楽

Music

住友紀人

Norihito Sumitomo

オープニングテーマ

Opening Theme

作詞

Lyrics

作曲

Composition

唄

Vocals

「超絶☆ダイナミック!」

"Chōzetsu ☆ Dynamic!"

森 雪之丞

Yukinojō Mori

吉井和哉

Kazuya Yoshii

吉井和哉

Kazuya Yoshii

(日本コロムビア/トライアド)

(Nippon Columbia / Triad)

製作担当

Production Manager

末竹 憲

Ken Suetake

美術デザイン

Art Design

行 信三

Shinzō Yuki

色彩設計

Color Design

堀田哲平

Teppei Hotta

キャラクターデザイン・作画監修

Character Design & Supervising
Director of Animation

山室直儀

Tadayoshi Yamamuro


シリーズディレクター

Series Director

畑野森生

Morio Hatano

地岡公俊

Kimitoshi Chioka

制作協力

Production Coordination

東映

Toei

制作

Production

フジテレビ

Fuji TV

読売広告社

Yomiko Advertising, Inc.

東映アニメーション

Toei Animation
Ending Credits
脚本

Script

小山 真

Makoto Koyama

声の出演

Voice Performances

~~~~

協力

In Cooperation With

青二プロダクション

Aoni Production

原画

Key Animation

東出 太

Futoshi Higashide

島貫正弘

Masahiro Shimanuki

福島史士

Fumio Fukushima

佐々木正広

Masahiro Sasaki

永樹龍博

Tatsuhiro Nagaki

OFFICE DCI

OFFICE DCI

村 俊太郎

Shuntarō Mura

春日久美子

Kumiko Kasuga

辻 美也子

Miyako Tsuji

石井珠樹

Tamaki Ishii

手塚江美

Emi Tezuka

Toei Phils.

Toei Animation Philippines

動画

In-Between Animation

Toei Phils.

Toei Animation Philippines

武遊

Buyū

彩色

Digital Coloring

Toei Phils.

Toei Animation Philippines

武遊

Buyū

色指定

Color Designation

加藤良高

Yoshitaka Katō

デジタル特殊効果

Digital Special Effects

下川信裕

Nobuhiro Shimokawa

デジタルアーティスト

Digital Artist

川崎健太郎

Kentarō Kawasaki

松本八希

Hakki Matsumoto

背景

Backgrounds

アテネアートスタジオ

Athens Art Studio

斉藤信二

Shinji Saito

木下千春

Chiharu Kinoshita

山本真生

Mao Yamamoto

大谷正信

Masanobu Ōtani

赤保谷則子

Noriko Akahoya

勝又アイ子

Aiko Katsumata

デジタル撮影

Digital Photography

AMGA

AMGA

競 昌則

Masanori Kisoi

服部 安

Yasushi Hattori

平井智朗

Tomoaki Hirai

岡田由紀

Yuki Okada

西 重成

Shigenari Nishi

杉浦仙一

Sen'ichi Sugiura

姜 亜偉

Ai Kyō

エンディングテーマ

Ending Theme

作詞

Lyrics

作曲

Composition

編曲

Arrangement

唄

Vocals

「薄紅」

"Light Pink"

松川ケイスケ

Keisuke Matsukawa

LACCO TOWER

LACCO TOWER

LACCO TOWER

LACCO TOWER

LACCO TOWER

LACCO TOWER

(日本コロムビア/トライアド)

(Nippon Columbia / Triad)

音響監督

Audio Director

本田保則

Yasunori Honda

編集

Editing

西村英一

Ei'ichi Nishimura

録音

Recording

伊東光晴

Mitsuharu Itō

録音助手

Recording Assistance

新垣未希

Miki Aragaki

音響効果

Sound Effects

西村睦弘

(JetSoundEngine)

Mutsuhiro Nishimura

(JetSoundEngine)

記録

Documentation

沢井尚子

Shōko Sawai

アシスタントプロデューサー

Assistant Producer

静 美保

(読売広告社)

Miho Shizuka

(Yomiko Advertising, Inc.)

音響製作

Audio Production

タバック

TAVAC

録音スタジオ

Recording Studio

サウンドイン

Sound Inn

東映デジタルセンター

Toei Digital Center

オンライン編集

Online Editing

東映デジタルラボ

Toei Digital Lab

長澤亮祐

Ryōsuke Nagasawa

音楽協力

Music In Association With

東映アニメーション音楽出版

Toei Animation Music Publishing

フジパシフィックミュージック

FUJIPACIFIC MUSIC

企画協力

Planning In Cooperation With

集英社「Vジャンプ」編集部

Shueisha's "V-Jump" Editorial Department

演出助手

Assistant Director

石谷 恵

Megumi Ishitani

製作進行

Assistant Production Manager

福田一夫

Kazuo Fukuda

美術進行

Art Manager

西牧正人

Masato Nishimaki

仕上進行

Finishing Manager

河本隆弘

Takahiro Kawamoto

CG進行

CG Manager

渡辺克博

Katsuhiro Watanabe

演技事務

Talent Coordination

角 康昭

Yasuaki Tsuno

広報

Public Relations

山本麻未子

(フジテレビ)

Mamiko Yamamoto

(Fuji TV)

美術

Art Director

杦浦正一郎

Sei'ichiro Sugiura

斉藤信二

Shinji Saito

総作画監督

Chief Animation Supervisor

辻 美也子

Miyako Tsuji

作画監督

Animation Supervisor

島貫正弘

Masahiro Shimanuki

絵コンテ

Storyboard

角銅博之

Hiroyuki Kakudō

演出

Director

竹下健一

Ken'ichi Takeshita