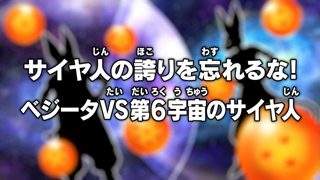 サイヤ人の誇りを忘れるな!ベジータVS第6宇宙のサイヤ人
Saiya-jin no Hokori o Wasureru na! Bejīta Tai Dai-Roku Uchū no Saiya-jin
Don't Forget Your Saiyan Pride! Vegeta vs the Saiyan of Universe 6
Episode Information
Episode Summary
Vegeta has defeated Magetta, but the ring is in such bad shape that Goku wonders if they will even be able to conduct anymore matches. Beerus blames Champa for making the stadium too hot, but Champa retorts that it is actually too cold. They argue back and forth for a little bit, until Whis and Vados stop them and report that they have finished repairing the arena. The two have not only patched it up again, but also expanded it in order to help reduce ring-outs. Beerus demands that the "mid-air ring-out" rule Champa added for the last fight be abolished, and Champa grumpily agrees. With that out of the way, the tournament continues. Next up, Vegeta will face off against Cabba, the Saiyan from Universe 6.
Seeing Cabba reminds Yamcha of when he first met Goku, although Pu'er notices that Cabba has no tail and wonders if he had it pulled off somewhere along the line, like Goku. Elder Kaiōshin thinks Cabba seems like a fine, upstanding young man, and East Kaiōshin says the Saiyans of Universe 6 have apparently undergone a different evolution than those of Universe 7. In fact, as the Universe 6 Kaiōshin explains, his universe's Saiyans are based on Planet Sadal and are constantly hired to defeat evil-doers and protect planets. Elder Kaiōshin responds that even the Universe 7 Saiyans have done a good job protecting the Earth. Hearing that the Universe 6 Saiyans are hard workers, Chi-Chi is green with envy. Piccolo asks Goku if he thinks Cabba can become a Super Saiyan, but Goku is too focused on Hit to respond.
Gearing up to fight, Cabba assumes a fighting stance similar to Vegeta's. The referee announces the beginning of the match, and the two fight in their base forms for a bit. Cabba fires a Galic Cannon and Vegeta responds with one of his own. Vegeta admits that the two of them seem evenly-matched in their base forms, but thinks it is time they get serious. He tells Cabba to become a Super Saiyan, but Cabba is confused, asking if Vegeta means that transformation he and Goku performed earlier. When Vegeta confirms this, Cabba sheepishly admits that he cannot perform that transformation; he bows and politely asks Vegeta to show him how it is done. "For the sake of my family who wait for me on Planet Sadal, I must become even stronger and bring peace to the universe." This request infuriates Vegeta, since the two of them are still in the middle of a match. "And you call yourself a Saiyan?!" With that, Vegeta transforms into a Super Saiyan and begins pummeling Cabba mercilessly.
On the sidelines, everyone wonders if Vegeta is reverting to his old evil ways. They even worry about him killing Cabba, which would if nothing else result in his disqualification. When Cabba tries to surrender, Vegeta threatens to kill him if he gives up. Finally, Vegeta says he will end the match… but once it is over, he will go destroy Planet Sadal, killing Cabba's entire family and his race. This causes Cabba to snap. As he tells Vegeta to leave Planet Sadal out of this, he begins glowing gold. "I won't allow you to do anything to Sadal or my family!" Cabba's emotions finally push him to become a Super Saiyan. In this state he is now able to trade blows evenly with Super Saiyan Vegeta, and even seems to gain the upper hand for a bit. As Cabba comes in to punch Vegeta square in the forehead, Vegeta simply stands still and takes the blow without flinching. Unhurt, he tells Cabba to remember this feeling: anger is the key to becoming a Super Saiyan.
Calming down, Cabba reverts to his regular form, but Vegeta orders him to try transforming once more. Seeing Cabba transform again, Vegeta says that he has a real knack for this. Cabba realizes that Vegeta acted cruel on purpose in order to teach him the transformation. The entire match has essentially been training for Cabba, much to Champa's disgust. Vegeta transforms into the blue-haired version of Super Saiyan, which he imaginatively refers to as "Super Saiyan Blue", explaining that it is the latest one. If Cabba continues to train, he might be able to reach this stage one day. With that, Vegeta knocks Cabba out with a single blow, telling him to never forget this pain. The referee verifies that Cabba has completely lost consciousness and declares Vegeta the winner.
With that, Vegeta has won three matches in a row, and the Universe 7 team seems to have the upper hand. Back on his feet again, Cabba thanks Vegeta, but Vegeta still criticizes Cabba for bowing to him in the middle of the match. "That's the same thing as throwing the fight! I won't stand for a Saiyan like that!" He tells Cabba to never forget a Saiyan's pride, which is his strength. Cabba vows to become as strong as Vegeta, but Vegeta instead tells Cabba to try and surpass him… even though Vegeta says he will never let that happen. Cabba says that the king of Planet Sadal is a proud, strong man like Vegeta, which makes Vegeta interested in meeting him one day. Piccolo finds it only natural that Vegeta, as the Saiyan prince, would want to help train his fellow Saiyans… though Goku notes Vegeta's never really acted that way toward him.
Next up to fight Vegeta is the last member of the Universe 6 team, Hit. Champa is annoyed that they are down to only one fighter, but since it is Hit he figures there is nothing to worry about. After all, the assassin Hit is a living legend in their universe. Champa is impressed that Vados was able to get Hit to join their team, and she explains that she promised to give him their transportation Cube. Champa freaks out when he hears this: the Cube is the vehicle of the gods! With it, one can travel absolutely anywhere, including other universes. Vados points out that Champa instructed her to say whatever was necessary to get Hit on their team, though Champa still thinks that an un-catchable assassin is no laughing matter. Vados asks if she should terminate the offer, but Champa says it is too late now. Besides, with Hit on their side, their victory is assured!










Next Time:


"Universe 6's Strongest Warrior! Meet the Assassin Hit!!"
Episode Notes
The term "Super Saiyan Blue" first appeared in chapter 5 of Toyotarō's Dragon Ball Super manga, with Whis suggesting the alternate name in place of the redundantly long "Super Saiyan God Super Saiyan". This marks the term's first use within the animated series, with Vegeta being the first to introduce it. While not used within the dialog of Revival of "F" itself, where the transformation first debuted, the name "Super Saiyan God Super Saiyan" had up until that point been used extensively as the form's official name in guide books, merchandise, etc.
Episode Credits
All credits listed below are as originally presented in the episode. The credit structure used in Dragon Ball Super is actually quite simple; the staff involved with the production of the series as a whole are listed in the opening credits and the staff involved with this specific episode are listed in the ending credits. All original credit errors have been corrected to maintain accurate spellings throughout the site. For more information and a complete listing of the series staff, visit the Production Guide.
Cast Credits
孫悟空

Son Goku

孫悟天

Son Goten

野沢雅子

Masako Nozawa

 

ブルマ

Bulma

鶴 ひろみ

Hiromi Tsuru

ベジータ

Vegeta

堀川りょう

Ryō Horikawa

ピッコロ

Piccolo

古川登志夫

Toshio Furukawa

ヤムチャ

Yamcha

古谷 徹

Tōru Furuya

トランクス

Trunks

草尾 毅

Takeshi Kusao

チチ

Chi-Chi

渡辺菜生子

Naoko Watanabe

ウーロン

Oolong

龍田直樹

Naoki Tatsuta

シン

Shin

太田真一郎

Shin'ichirō Ōta

老界王神

Elder Kaiōshin

田中亮一

Ryōichi Tanaka

ビルス

Beerus

山寺宏一

Kōichi Yamadera

ウイス

Whis

森田成一

Masakazu Morita

シャンパ

Champa

岩田光央

Mitsuo Iwata

ヴァドス

Vados

山口由里子

Yuriko Yamaguchi

キャベ

Cabba

岸尾だいすけ

Daisuke Kishio

第6宇宙の界王神

Universe 6 Kaiōshin

増谷康紀

Yasunori Masutani

レフェリー

Referee

田中一成

Kazunari Tanaka
Opening Credits
原作・ストーリー原案・キャラクター原案

Original Author / Story Draft / Character Drafts

鳥山 明

(集英社「ジャンプコミックス」刊)

Akira Toriyama

(Published in Shueisha's "Jump Comics")

企画

Planning

情野誠人

(フジテレビ)

Masato Seino

(Fuji TV)

渡辺和哉

(読売広告社)

Kazuya Watanabe

(Yomiko Advertising, Inc.)

森下孝三

Kōzō Morishita

プロデューサー

Producer

野﨑 理

(フジテレビ)

Osamu Nozaki

(Fuji TV)

佐川直子

(読売広告社)

Naoko Sagawa

(Yomiko Advertising, Inc.)

木戸 睦

Atsushi Kido

寺本知資

Tomosuke Teramoto

高見 暁

Satoru Takami

音楽

Music

住友紀人

Norihito Sumitomo

オープニングテーマ

Opening Theme

作詞

Lyrics

作曲

Composition

唄

Vocals

「超絶☆ダイナミック!」

"Chōzetsu ☆ Dynamic!"

森 雪之丞

Yukinojō Mori

吉井和哉

Kazuya Yoshii

吉井和哉

Kazuya Yoshii

(日本コロムビア/トライアド)

(Nippon Columbia / Triad)

製作担当

Production Manager

末竹 憲

Ken Suetake

美術デザイン

Art Design

行 信三

Shinzō Yuki

色彩設計

Color Design

堀田哲平

Teppei Hotta

キャラクターデザイン・作画監修

Character Design & Supervising
Director of Animation

山室直儀

Tadayoshi Yamamuro


シリーズディレクター

Series Director

畑野森生

Morio Hatano

地岡公俊

Kimitoshi Chioka

制作協力

Production Coordination

東映

Toei

制作

Production

フジテレビ

Fuji TV

読売広告社

Yomiko Advertising, Inc.

東映アニメーション

Toei Animation
Ending Credits
脚本

Script

吉高寿男

Toshio Yoshitaka

声の出演

Voice Performances

~~~~

協力

In Cooperation With

青二プロダクション

Aoni Production

原画

Key Animation

唐澤雄一

Yūichi Katsusawa

市野まりあ

Maria Ichino

石井珠樹

Tamaki Ishii

中智あすか

Asuka Nakaji

木崎由香梨

Yukari Kizaki

山田まさし

Masashi Yamada

川村有希

Yuki Kawamura

飯飼一幸

Kazuyuki Ikai

大下知之

Tomoyuki Ōshita

平林 孝

Takashi Hirabayashi

ED作画監督/原画

Ending Animation Supervisor/Key Animation

山室直儀

Tadayoshi Yamamuro

原画

Key Animation

尹 貞慧

Zhen-hui Yin

金 水湖

Shui-hu Jin

南 賢識

Xian-shi Nan

金 俊晤

Jun-wu Jin

韓 永勳

Yong-xun Han

黄 英植

Ying-zhi Huang

涂 泳策

Yong-ce Tu

 

作画監督補佐

Assistant Animation Supervisor

小野 歩

Ono Ayumu

佐藤友子

Tomoko Satō

手塚江美

Emi Tezuka

兼高里圭

Rika Kanetaka

ミュウ

Myū

動画

In-Between Animation

Toei Phils.

Toei Animation Philippines

セカンドゲート

Second Gate

武遊

Buyū

神龍

Xenlon

彩色

Digital Coloring

Toei Phils.

Toei Animation Philippines

花井美悠

Miyū Hanai

安藤のぞみ

Nozomi Andō

セカンドゲート

Second Gate

武遊

Buyū

堀内菜央

Nao Horiuchi

 

神龍

Xenlon

色指定

Color Designation

加藤良高

Yoshitaka Katō

垣内雅美

Masami Kakiuchi

石田雅裕

Masahiro Ishida

デジタル特殊効果

Digital Special Effects

下川信裕

Nobuhiro Shimokawa

デジタルアーティスト

Digital Artist

川崎健太郎

Kentarō Kawasaki

松本八希

Hakki Matsumoto

背景

Backgrounds

ムクオスタジオ

Mukuo Studio

井上慎太郎

Shintarō Inoue

一瀬あかね

Akane Ichinose

中村沙和子

Sawako Nakamura

林 鴻生

Hong-Sheng Lin

石原麻美

Asami Ishihara

 

デジタル撮影

Digital Photography

AMGA

AMGA

競 昌則

Masanori Kisoi

服部 安

Yasushi Hattori

平井智朗

Tomoaki Hirai

岡田由紀

Yuki Okada

西 重成

Shigenari Nishi

杉浦仙一

Sen'ichi Sugiura

姜 亜偉

Ai Kyō

エンディングテーマ

Ending Theme

作詞

Lyrics

作曲

Composition

編曲

Arrangement

唄

Vocals

「Forever Dreaming」

"Forever Dreaming"

武井優心

Masmi Takei

武井優心

Masmi Takei

Czecho No Republic

Czecho No Republic

Czecho No Republic

Czecho No Republic

(日本コロムビア/トライアド)

(Nippon Columbia / Triad)

音響監督

Audio Director

本田保則

Yasunori Honda

編集

Editing

西村英一

Ei'ichi Nishimura

録音

Recording

伊東光晴

Mitsuharu Itō

録音助手

Recording Assistance

新垣未希

Miki Aragaki

音響効果

Sound Effects

西村睦弘

(JetSoundEngine)

Mutsuhiro Nishimura

(JetSoundEngine)

記録

Documentation

沢井尚子

Shōko Sawai

アシスタントプロデューサー

Assistant Producer

静 美保

(読売広告社)

Miho Shizuka

(Yomiko Advertising, Inc.)

音響製作

Audio Production

タバック

TAVAC

録音スタジオ

Recording Studio

サウンドイン

Sound Inn

東映デジタルセンター

Toei Digital Center

オンライン編集

Online Editing

東映デジタルラボ

Toei Digital Lab

長澤亮祐

Ryōsuke Nagasawa

音楽協力

Music In Association With

東映アニメーション音楽出版

Toei Animation Music Publishing

フジパシフィックミュージック

FUJIPACIFIC MUSIC

企画協力

Planning In Cooperation With

集英社「Vジャンプ」編集部

Shueisha's "V-Jump" Editorial Department

演出助手

Assistant Director

川崎弘二

Kōji Kawasaki

製作進行

Assistant Production Manager

難波 涼

Ryō Nanba

田中洋平

Yōhei Tanaka

美術進行

Art Manager

西牧正人

Masato Nishimaki

仕上進行

Finishing Manager

河本隆弘

Takahiro Kawamoto

CG進行

CG Manager

渡辺克博

Katsuhiro Watanabe

演技事務

Talent Coordination

角 康昭

Yasuaki Tsuno

協力プロダクション

A Cooperative Production With

ダンガン・ピクチャーズ

Dangun Pictures

セカンドゲート

Second Gate

NAMUアニメーション

NAMU Animation

広報

Public Relations

清田美智子

(フジテレビ)

Michiko Kiyota

(Fuji TV)

美術

Art Director

鹿野良行

Yoshiyuki Shikano

総作画監督

Chief Animation Supervisor

井手武生

Takeo Ide

作画監督

Animation Supervisor

唐澤雄一

Yūichi Karasawa

金 水湖

Shui-hu Jin

絵コンテ

Storyboard

貝澤幸男

Yukio Kaizawa

演出

Director

岩井隆央

Takao Iwai