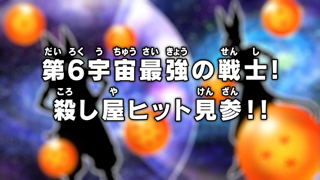 第6宇宙最強の戦士!殺し屋ヒット見参!!
Dai-Roku Uchū Saikyō no Senshi! Koroshiya Hitto Kenzan!!
Universe 6's Strongest Warrior! Meet the Assassin Hit!!
Episode Information
Episode Summary
Having won three matches in a row, Vegeta's next opponent is Universe 6's final team member, the assassin Hit. Even though Hit is doing his best to conceal his ki, Vegeta can still tell from what little he can sense that Hit is definitely strong. Regardless, Vegeta is determined not to lose, no matter what. Beerus wonders where he has heard the name "Hit" before, and Whis explains that Hit is apparently the greatest assassin in Universe 6, renowned for never letting a target escape. Vegeta starts off the fight immediately transforming into Super Saiyan Blue. He criticizes Hit's small fighting stance, but both he, Goku, and Piccolo realize that this stance leaves no openings, further proof of Hit's strength. Vegeta thinks to himself that it will not be easy to approach Hit, but the two of them cannot just stand around facing each other forever. When the fight starts and Hit attacks, Vegeta initially judges his speed to be no problem, but is suddenly knocked back. Shocked, Vegeta realizes he could not see the moment Hit punched him.
Hit matter-of-factly tells Vegeta to surrender, but Vegeta thinks he is getting too carried away after one lucky punch. This time he means business! They start to fight again, but with the same results: Vegeta is knocked around without even being able to see Hit's attacks, though he can still see Hit's other movements. Vegeta continues to ponder his strategy: no matter how fast Hit may be, if he can see the moment Hit starts to move then he ought to be able to manage some kind of defense. Yet Vegeta continues to find himself helpless to block against Hit's assault. He suddenly flies off to put some distance between them, but this proves no more effective: Hit is able to instantly close the gap and knock him back, immediately returning to his original position. All of this happens too fast for Bulma to see at all, and she wonders why Vegeta suddenly went flying for no reason. Hit asks if Vegeta has gotten the picture yet, and again tells him to surrender.
On the sidelines Goku asks Jaco if he can see, but apparently Hit's attacks are too fast even for Jaco's amazing eyesight. It also seems that Hit is aiming solely at Vegeta's vital points, just as you would expect of a great assassin. Beerus is amazed that Champa has this kind of trump card on his team. Back in the ring, Vegeta is annoyed at his inability to even touch Hit. And yet he remains standing even after taking so many of Hit's blows, seemingly indicating that despite his fantastic speed, Hit's attacks are relatively weak. In a straight-up fight it would just be a matter of punching him. With that in mind, the next time Hit attacks, Vegeta manages to grab his arm. This way, Hit cannot possibly dodge his attack! Yet once again, Hit somehow does, and counterattacks… this time with blows that are not so "weak". Vegeta is knocked out cold, and after Hit confirms with the referee that he is not allowed to kill Vegeta, he is declared the winner.
Hit praises Vegeta, saying that he is the first person to survive so many of his attacks. Trunks and the others are concerned for Vegeta's well-being, and Goku tells Kuririn to feed him a Senzu. Jaco points out that Hit is not merely super-humanly fast; he disappears so completely that there must be something more to it than that. Goku wonders if he turns invisible, but Jaco says in that case they would still be able to see his clothes. Goku then wonders if perhaps Hit uses some form of teleportation similar to his own, though Goku himself would not be able to teleport as freely as Hit seems to. At this point the Galactic King pipes up, suggesting that Hit might be using "Time-Skip"…
According to rumor, certain people have the ability to "skip" time ahead, although only by one-tenth of a second. Simply put, from their perspective they are able to stop time for everyone besides themselves. Even limited to one-tenth of a second, for extremely fast people this is still ample time to give them a substantial edge in a fight. Bulma reminds Jaco of the galactic laws against precisely this sort of time control, and demands that he arrest Hit, but Jaco refuses on the grounds that he does not want to die. The Galactic King likewise prefers to pretend he has seen nothing. Goku is fine with this though: after all, if they arrested Hit then he would not get to fight him! Bulma is exasperated at them all. Meanwhile Whis is surprised to see that there is someone besides him who can manipulate time, and Beerus thinks that this could spell trouble.
The referee announces that Goku shall be Hit's next opponent. He asks Jaco and the Galactic King for advice, but none of them have any ideas. Vegeta likewise simply tells Goku to "do his best", although frankly he is not too optimistic. Beerus thinks that Whis must surely know some way of countering Hit's technique, and orders him to tell Goku. However, Whis says it will be good training for Goku to develop a way of solving this problem on his own. Beerus protests that this is not "training"! If Goku loses, then… Whis interrupts, reminding Beerus that they still have Monaka, whom he calls the "strongest in Universe 7″… although with noticeable sarcasm. Beerus chews Whis out for teasing him like this despite "knowing the truth", and Whis mockingly wonders if Beerus had in fact lied to Goku and Vegeta in order to motivate them and simply brought along a "total amateur". Overhearing all this, Piccolo realizes to his horror that Goku is their only hope at this point.
In the ring, the referee announces the start of Goku and Hit's fight, but Goku remains in his regular form. Hit asks if he hass forgotten to transform, but Goku explains that his transformation uses up stamina, so he is saving it until after he has found a way of defeating Hit. Basically, he is stalling for time. Hit says Goku must be pretty young to reveal his strategy so matter-of-factly, but Goku snaps back that he is much older than he looks. To this, Hit reveals that he is over 1,000 years old, which causes Goku to start acting much more politely toward his "senior". As they start battling, Goku likewise cannot see Hit's attacks, and he is hitting hard now too. After this goes on for a while, Hit tells Goku to give up. No matter how tough Goku's body may be, he will not be able to survive so many repeated blows to his vital points. But Goku refuses, saying that he has an idea for countering Hit. Indeed, the next time Hit attacks, Goku successfully blocks it!
Hit thinks this is merely a fluke, but Goku repeats the feat, even managing to land some attacks on Hit. Despite all this, Jaco admits that he is still unable to see Hit's movements. In fact, Goku himself still cannot see Hit's attack movements either. Instead, he is simply predicting where Hit's attack will come from, something possible due to the short length of the Time-Skip. Hearing this, Hit snickers and says that now he can finally fight seriously. Goku likewise says he will go all-out now too, and prepares to power up.










Next Time:


"A Fully-Developed "Time-Skip" Counterattack?! Is It Coming?! Goku's New Technique!"
Episode Notes
Hit's "Time-Skip" technique is referred to as Toki-Tobashi (時とばし), which means to skip time. Toki is the generic term for time, and tobashi comes from tobasu (飛ばす), the word for "fly", but in cases like this means to skip over something. Despite this name, when Jaco explains the technique to Goku in "simple terms", he describes it as Hit "stopping time" for a tenth of a second for everyone besides himself. Hit is described as both "skipping" and "stopping" time. Presumably though, this difference is simply due to a matter of perspective. From Hit's viewpoint, he stops time for a tenth of a second, but everyone else is unaware of what happens during this moment of stopped time, so from their perspective Hit seems to suddenly skip forward.
Episode Credits
All credits listed below are as originally presented in the episode. The credit structure used in Dragon Ball Super is actually quite simple; the staff involved with the production of the series as a whole are listed in the opening credits and the staff involved with this specific episode are listed in the ending credits. All original credit errors have been corrected to maintain accurate spellings throughout the site. For more information and a complete listing of the series staff, visit the Production Guide.
Cast Credits
孫悟空

Son Goku

孫悟天

Son Goten

野沢雅子

Masako Nozawa

 

ブルマ

Bulma

鶴 ひろみ

Hiromi Tsuru

ベジータ

Vegeta

堀川りょう

Ryō Horikawa

クリリン

Kuririn

田中真弓

Mayumi Tanaka

ピッコロ

Piccolo

古川登志夫

Toshio Furukawa

トランクス

Trunks

草尾 毅

Takeshi Kusao

ビルス

Beerus

山寺宏一

Kōichi Yamadera

ウイス

Whis

森田成一

Masakazu Morita

シャンパ

Champa

岩田光央

Mitsuo Iwata

ヴァドス

Vados

山口由里子

Yuriko Yamaguchi

ジャコ

Jaco

花江夏樹

Natsuki Hanae

モナカ

Monaka

菊池正美

Masami Kikuchi

ヒット

Hit

山路和弘

Kazuhiro Yamaji

銀河王

Galactic King

魚 建

Ken Uo

レフェリー

Referee

田中一成

Kazunari Tanaka

ナレーション

Narration

龍田直樹

Naoki Tatsuta
Opening Credits
原作・ストーリー原案・キャラクター原案

Original Author / Story Draft / Character Drafts

鳥山 明

(集英社「ジャンプコミックス」刊)

Akira Toriyama

(Published in Shueisha's "Jump Comics")

企画

Planning

情野誠人

(フジテレビ)

Masato Seino

(Fuji TV)

渡辺和哉

(読売広告社)

Kazuya Watanabe

(Yomiko Advertising, Inc.)

森下孝三

Kōzō Morishita

プロデューサー

Producer

野﨑 理

(フジテレビ)

Osamu Nozaki

(Fuji TV)

佐川直子

(読売広告社)

Naoko Sagawa

(Yomiko Advertising, Inc.)

木戸 睦

Atsushi Kido

寺本知資

Tomosuke Teramoto

高見 暁

Satoru Takami

音楽

Music

住友紀人

Norihito Sumitomo

オープニングテーマ

Opening Theme

作詞

Lyrics

作曲

Composition

唄

Vocals

「超絶☆ダイナミック!」

"Chōzetsu ☆ Dynamic!"

森 雪之丞

Yukinojō Mori

吉井和哉

Kazuya Yoshii

吉井和哉

Kazuya Yoshii

(日本コロムビア/トライアド)

(Nippon Columbia / Triad)

製作担当

Production Manager

末竹 憲

Ken Suetake

美術デザイン

Art Design

行 信三

Shinzō Yuki

色彩設計

Color Design

堀田哲平

Teppei Hotta

キャラクターデザイン・作画監修

Character Design & Supervising
Director of Animation

山室直儀

Tadayoshi Yamamuro


シリーズディレクター

Series Director

畑野森生

Morio Hatano

地岡公俊

Kimitoshi Chioka

制作協力

Production Coordination

東映

Toei

制作

Production

フジテレビ

Fuji TV

読売広告社

Yomiko Advertising, Inc.

東映アニメーション

Toei Animation
Ending Credits
脚本

Script

吉高寿男

Toshio Yoshitaka

声の出演

Voice Performances

~~~~

協力

In Cooperation With

青二プロダクション

Aoni Production

原画

Key Animation

舘 直樹

Naoki Tate

稲葉 仁

Hitoshi Inaba

二階堂渥志

Atsushi Nikaidō

加藤義貴

Yoshitaka Katō

金久保典江

Norie Kanekubo

山田まさし

Masashi Yamada

石井ゆみこ

Yumiko Ishii

大西麻衣子

Maiko Ōnishi

梶原悠里

Yūri Kajiwara

倉谷亮多

Ryōta Kuratani

佐々木綾

Aya Sasaki

白石創太郎

Sōtarō Shiraishi

涂 泳策

Yong-ce Tu

菅原リエコ

Rieko Sugawara

手塚江美

Emi Tezuka

有坪孝晃

Taka'aki Aritsubo

池田智美

Tomomi Ikeda

池田広明

Hiroaki Ikeda

簾畑由美

Yumi Sudarehata

杉浦圭一

Kei'ichi Sugiura

次橋有紀

Yuki Tsugihashi

槌谷凌雲

Ryōun Tsuchiya

野崎彩加

Ayaka Nozaki

野中美希

Miki Nonaka

作画監督補佐

Assistant Animation Supervisor

田中千皓

Chihiro Tanaka

動画

In-Between Animation

Toei Phils.

Toei Animation Philippines

かぐら

Kagura

武遊

Buyū

彩色

Digital Coloring

Toei Phils.

Toei Animation Philippines

かぐら

Kagura

武遊

Buyū

色指定

Color Designation

加藤良高

Yoshitaka Katō

デジタル特殊効果

Digital Special Effects

下川信裕

Nobuhiro Shimokawa

デジタルアーティスト

Digital Artist

川崎健太郎

Kentarō Kawasaki

松本八希

Hakki Matsumoto

背景

Backgrounds

ビック・スタジオ

bic-Studio

studio AR.T.ON

柳 煥錫

Liu Huanxi

李 旼貞

Li Minzhen

徐 柱星

Xu Zhuxing

高 智榮

Gao Zhirong

李 智恩

Li Zhi'en

黄 琇詠

Huang Xiuyong

崔 有眞

Cui Youzhen

 

デジタル撮影

Digital Photography

AMGA

AMGA

競 昌則

Masanori Kisoi

服部 安

Yasushi Hattori

平井智朗

Tomoaki Hirai

岡田由紀

Yuki Okada

西 重成

Shigenari Nishi

杉浦仙一

Sen'ichi Sugiura

姜 亜偉

Ai Kyō

エンディングテーマ

Ending Theme

作詞

Lyrics

作曲

Composition

編曲

Arrangement

唄

Vocals

「Forever Dreaming」

"Forever Dreaming"

武井優心

Masmi Takei

武井優心

Masmi Takei

Czecho No Republic

Czecho No Republic

Czecho No Republic

Czecho No Republic

(日本コロムビア/トライアド)

(Nippon Columbia / Triad)

音響監督

Audio Director

本田保則

Yasunori Honda

編集

Editing

西村英一

Ei'ichi Nishimura

録音

Recording

伊東光晴

Mitsuharu Itō

録音助手

Recording Assistance

新垣未希

Miki Aragaki

音響効果

Sound Effects

西村睦弘

(JetSoundEngine)

Mutsuhiro Nishimura

(JetSoundEngine)

記録

Documentation

沢井尚子

Shōko Sawai

アシスタントプロデューサー

Assistant Producer

静 美保

(読売広告社)

Miho Shizuka

(Yomiko Advertising, Inc.)

音響製作

Audio Production

タバック

TAVAC

録音スタジオ

Recording Studio

サウンドイン

Sound Inn

東映デジタルセンター

Toei Digital Center

オンライン編集

Online Editing

東映デジタルラボ

Toei Digital Lab

長澤亮祐

Ryōsuke Nagasawa

音楽協力

Music In Association With

東映アニメーション音楽出版

Toei Animation Music Publishing

フジパシフィックミュージック

FUJIPACIFIC MUSIC

企画協力

Planning In Cooperation With

集英社「Vジャンプ」編集部

Shueisha's "V-Jump" Editorial Department

演出助手

Assistant Director

石谷 恵

Megumi Ishitani

製作進行

Assistant Production Manager

小林克規

Katsunori Kobayashi

美術進行

Art Manager

西牧正人

Masato Nishimaki

仕上進行

Finishing Manager

河本隆弘

Takahiro Kawamoto

CG進行

CG Manager

渡辺克博

Katsuhiro Watanabe

演技事務

Talent Coordination

角 康昭

Yasuaki Tsuno

広報

Public Relations

清田美智子

(フジテレビ)

Michiko Kiyota

(Fuji TV)

美術

Art Director

李 凡善

Bun-sun Lee

総作画監督

Chief Animation Supervisor

辻 美也子

Miyako Tsuji

作画監督

Animation Supervisor

舘 直樹

Naoki Tate

木下由衣

Yui Kinoshita

楠木智子

Tomoko Kusunoki

演出

Director

羽多野浩平

Kōhei Hatano