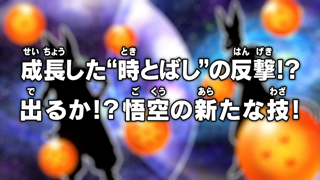 成長した"時とばし"の反撃!?出るか!?悟空の新たな技!
Seichōshita "Toki Tobashi" no Hangeki!? Deru ka!? Gokū no Arata na Waza!
A Fully-Developed "Time-Skip" Counterattack?! Is It Coming?! Goku's New Technique!
Episode Information
Episode Summary
Goku seems to have figured out the secret to countering Hit's Time-Skip technique, by predicting how Hit will move a tenth of a second later. Vegeta is annoyed that Goku talks as if this sort of prediction is easy, while Piccolo wonders why Goku revealed his secret to Hit. Hit has the same idea as Piccolo: now that he knows Goku's trick, surely he can counter it by moving unpredictably. But Goku says changing how one reacts in the spur of the moment is difficult. Besides, now that Goku's in his Super Saiyan Blue form, will Hit be able to keep up with his speed? The two start fighting again, and for a while Hit seems to hold his own, but he gets beaten back more and more, without enough leeway to use his Time-Skip technique. Finally, Hit declares that this is his current limit. Goku pauses to allow hit to use his Time-Skip, but Goku counters it once again. Vegeta realizes that Goku studied how Hit moved by watching his own fight against Hit earlier.
Goku asks if Hit wants to surrender, but he refuses. Instead, he lets out a long scream, seeming to power up his ki. Goku is interested to see that Hit screams when powering up, just like he does. However, as the fight recommences, Goku is confused to find that Hit doesn't seem to have actually gotten any stronger. He goes in for a final blow to settle the match, but this time Hit successfully counters with his Time-Skip, landing a blow that causes Goku to kneel over in pain. Goku figures that Hit's scream must have triggered a power up after all, but Hit denies this. Instead, as Vados explains, Hit was simply mimicking Goku's own behavior. Hit says he is unable to power up by transforming as the Saiyans do, so the only way for him to grow stronger is to simply get better. It was not something he had ever thought of before, since there was never any need, but his fight with Goku caused Hit to wonder if he likewise had room to improve. As a result, he's now increased his Time-Skip skill from one tenth of a second to… two tenths of a second!
With Goku still immobilized, Champa excitedly orders Hit to finish him off, but Hit instead gives Goku enough time to get back up on his feet. He explains that this in gratitude for Goku having helped him improve… However, he will not do Goku any more favors. Hit shows off a new martial arts pose which he says should draw out his new potential to the fullest. Meanwhile, Goku thinks about how powerful Hit's new-and-improved attack was. He can probably withstand only a few more such attacks… But thankfully, that should be more than enough to allow him to adjust to Hit's new Time-Skip. On the sidelines, Vegeta complains that growing stronger mid-fight is supposed to be the Saiyans' specialty. How can there be someone else who improves faster than them? Hit tells Goku that he has made a mistake: while Goku is focused on learning how to counter Hit's 0.2 second Time-Skip, Hit is even now continuing to improve. He says Goku cannot possibly surpass his Time-Skip… now that it's 0.5 seconds.
Goku goes down once again from Hit's latest assault, and Hit asks the referee what to do: it is against the rules for him to kill Goku, but Goku can now no longer surrender. But Goku is not down for the count yet, and manages to get back up on his feet. Hit asks if he is that intent on winning, but Goku says that it would be "rude" of him to let the match end like this, because he still has a technique he has not used yet. The reason he did not use this technique until now is because it's still a work in progress, and he wanted to refine it over time in order to eventually use it against Beerus. Being incomplete, the technique has less than a 10% chance of success… and if it fails, it will totally wreck his body.
As Goku starts to power up, Champa once again orders Hit to finish Goku off immediately, so as to not give him the chance to use this new technique. However, Hit refuses as before, saying that if Goku gets stronger, then he will simply grow stronger too. He wants to see how long the two of them can keep this endless escalation going. At last, Goku announces that his new technique has worked: it's the Kaiō-Ken! He has now added the Kaiō-Ken to the power of Super Saiyan Blue. If he had made even a tiny mistake, then his power would have gone out of control and killed him, but thankfully he seems to have managed to perfectly control it. Goku explains that the Kaiō-Ken is a technique which Kaiō taught him long ago: it multiplies one's power, speed, and various other fighting abilities.
Seeing this, Beerus wonders if Goku was really going to use this technique against him. Whis teases Beerus, asking is he finds that idea a bit scary, but he flatly denies this. Instead, he is simply annoyed that Goku did not use such a handy technique earlier. But Vegeta realizes why: the Kaiō-Ken increases one's strength but in exchange uses up all of one's stamina. Since the Super Saiyan form is hard on the body all on its own, this makes using the two of them together virtually suicidal, which is why Goku abandoned the Kaiō-Ken for a long time. But Super Saiyan Blue is a strong and "calm" form with perfect ki control, so using it and the Kaiō-Ken together is feasible. After thinking all this, Vegeta is annoyed at Goku having surpassed him once again. Meanwhile, Goku continues to power up, to Hit's amazement: x3… x4… x10! Goku begins battling Hit with Kaiō-Ken x10. At this point, Hit's Time-Skip cannot keep up with Goku's speed at all. Goku thinks that even with Super Saiyan Blue, he will not be able to maintain the Kaiō-Ken for very long, so he decides to settle the fight at once with a Kamehameha!










Next Time:


"The Conclusion At Last! Who Will Prevail? Beerus, or Champa?"
Episode Credits
All credits listed below are as originally presented in the episode. The credit structure used in Dragon Ball Super is actually quite simple; the staff involved with the production of the series as a whole are listed in the opening credits and the staff involved with this specific episode are listed in the ending credits. All original credit errors have been corrected to maintain accurate spellings throughout the site. For more information and a complete listing of the series staff, visit the Production Guide.
Cast Credits
孫悟空

Son Goku

野沢雅子

Masako Nozawa

ブルマ

Bulma

鶴 ひろみ

Hiromi Tsuru

ベジータ

Vegeta

堀川りょう

Ryō Horikawa

クリリン

Kuririn

田中真弓

Mayumi Tanaka

ピッコロ

Piccolo

古川登志夫

Toshio Furukawa

ウーロン

Oolong

龍田直樹

Naoki Tatsuta

ヒット

Hit

山路和弘

Kazuhiro Yamaji

老界王神

Elder Kaiōshin

田中亮一

Ryōichi Tanaka

レフェリー

Referee

田中一成

Kazunari Tanaka

第6宇宙の界王神

Universe 6 Kaiōshin

増谷康紀

Yasunori Masutani

ビルス

Beerus

山寺宏一

Kōichi Yamadera

ウイス

Whis

森田成一

Masakazu Morita

シャンパ

Champa

岩田光央

Mitsuo Iwata

ヴァドス

Vados

山口由里子

Yuriko Yamaguchi

ナレーション

Narration

龍田直樹

Naoki Tatsuta
Opening Credits
原作・ストーリー原案・キャラクター原案

Original Author / Story Draft / Character Drafts

鳥山 明

(集英社「ジャンプコミックス」刊)

Akira Toriyama

(Published in Shueisha's "Jump Comics")

企画

Planning

情野誠人

(フジテレビ)

Masato Seino

(Fuji TV)

渡辺和哉

(読売広告社)

Kazuya Watanabe

(Yomiko Advertising, Inc.)

森下孝三

Kōzō Morishita

プロデューサー

Producer

野﨑 理

(フジテレビ)

Osamu Nozaki

(Fuji TV)

佐川直子

(読売広告社)

Naoko Sagawa

(Yomiko Advertising, Inc.)

木戸 睦

Atsushi Kido

寺本知資

Tomosuke Teramoto

高見 暁

Satoru Takami

音楽

Music

住友紀人

Norihito Sumitomo

オープニングテーマ

Opening Theme

作詞

Lyrics

作曲

Composition

唄

Vocals

「超絶☆ダイナミック!」

"Chōzetsu ☆ Dynamic!"

森 雪之丞

Yukinojō Mori

吉井和哉

Kazuya Yoshii

吉井和哉

Kazuya Yoshii

(日本コロムビア/トライアド)

(Nippon Columbia / Triad)

製作担当

Production Manager

末竹 憲

Ken Suetake

美術デザイン

Art Design

行 信三

Shinzō Yuki

色彩設計

Color Design

堀田哲平

Teppei Hotta

キャラクターデザイン・作画監修

Character Design & Supervising
Director of Animation

山室直儀

Tadayoshi Yamamuro


シリーズディレクター

Series Director

畑野森生

Morio Hatano

地岡公俊

Kimitoshi Chioka

制作協力

Production Coordination

東映

Toei

制作

Production

フジテレビ

Fuji TV

読売広告社

Yomiko Advertising, Inc.

東映アニメーション

Toei Animation
Ending Credits
脚本

Script

キング・リュウ

King Ryū

声の出演

Voice Performances

~~~~

協力

In Cooperation With

青二プロダクション

Aoni Production

原画

Key Animation

山室直儀

Tadayoshi Yamamuro

北野幸広

Yukihiro Kitano

袴田裕二

Yūji Hakamada

信実節子

Setsuko Nobuzane

村 俊太郎

Shuntarō Mura

永樹龍博

Tatsuhiro Nagaki

涂 泳策

Yong-ce Tu

神龍

Xenlon

大塚 健

Ken Ōtsuka

小泉寛之

Hiroyuki Koizumi

梨沢孝司

Kōji Nashizawa

 

洪 範錫

Beom-seok Hong

 

手塚江美

Emi Tezuka

 

作画監督補佐

Assistant Animation Supervisor

袴田裕二

Yūji Hakamada

大西陽一

Yōichi Ōnishi

動画

In-Between Animation

Toei Phils.

Toei Animation Philippines

A-Line

A-Line

かぐら

Kagura

武遊

Buyū

彩色

Digital Coloring

Toei Phils.

Toei Animation Philippines

A-Line

A-Line

かぐら

Kagura

武遊

Buyū

色指定

Color Designation

加藤良高

Yoshitaka Katō

デジタル特殊効果

Digital Special Effects

下川信裕

Nobuhiro Shimokawa

デジタルアーティスト

Digital Artist

川崎健太郎

Kentarō Kawasaki

松本八希

Hakki Matsumoto

背景

Backgrounds

徳重 賢

Ken Tokushige

西田 渚

Nagisa Nishida

マジックハウス

Magic House

Toei Phils.

Toei Animation Philippines

井芹達朗

Tatsurō Iseri

 

吉田智子

Tomoko Yoshida

エルウィン・サデーア

Erwin Sadia

デジタル撮影

Digital Photography

AMGA

AMGA

競 昌則

Masanori Kisoi

服部 安

Yasushi Hattori

平井智朗

Tomoaki Hirai

岡田由紀

Yuki Okada

西 重成

Shigenari Nishi

杉浦仙一

Sen'ichi Sugiura

姜 亜偉

Ai Kyō

エンディングテーマ

Ending Theme

作詞

Lyrics

作曲

Composition

編曲

Arrangement

唄

Vocals

「Forever Dreaming」

"Forever Dreaming"

武井優心

Masmi Takei

武井優心

Masmi Takei

Czecho No Republic

Czecho No Republic

Czecho No Republic

Czecho No Republic

(日本コロムビア/トライアド)

(Nippon Columbia / Triad)

音響監督

Audio Director

本田保則

Yasunori Honda

編集

Editing

西村英一

Ei'ichi Nishimura

録音

Recording

伊東光晴

Mitsuharu Itō

録音助手

Recording Assistance

新垣未希

Miki Aragaki

音響効果

Sound Effects

西村睦弘

(JetSoundEngine)

Mutsuhiro Nishimura

(JetSoundEngine)

記録

Documentation

沢井尚子

Shōko Sawai

アシスタントプロデューサー

Assistant Producer

静 美保

(読売広告社)

Miho Shizuka

(Yomiko Advertising, Inc.)

石川 啓

Kei Ishikawa

音響製作

Audio Production

タバック

TAVAC

録音スタジオ

Recording Studio

サウンドイン

Sound Inn

東映デジタルセンター

Toei Digital Center

オンライン編集

Online Editing

東映デジタルラボ

Toei Digital Lab

福田明生

Akio Fukuda

音楽協力

Music In Association With

東映アニメーション音楽出版

Toei Animation Music Publishing

フジパシフィックミュージック

FUJIPACIFIC MUSIC

企画協力

Planning In Cooperation With

集英社「Vジャンプ」編集部

Shueisha's "V-Jump" Editorial Department

演出助手

Assistant Director

中村亮太

Ryōta Nakamura

製作進行

Assistant Production Manager

福田一夫

Kazuo Fukuda

美術進行

Art Manager

西牧正人

Masato Nishimaki

仕上進行

Finishing Manager

河本隆弘

Takahiro Kawamoto

CG進行

CG Manager

渡辺克博

Katsuhiro Watanabe

演技事務

Talent Coordination

角 康昭

Yasuaki Tsuno

広報

Public Relations

清田美智子

(フジテレビ)

Michiko Kiyota

(Fuji TV)

美術

Art Director

佐藤美幸

Miyuki Satō

総作画監督

Chief Animation Supervisor

井手武生

Takeo Ide

作画監督

Animation Supervisor

北野幸広

Yukihiro Kitano

眞部周一郎

Shūichirō Manabe

演出

Director

中村亮太

Ryōta Nakamura