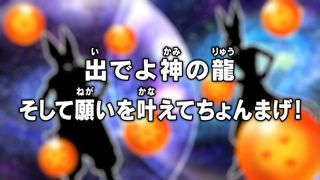 出でよ神の龍 そして願いを叶えてちょんまげ!
Ide yo Kami no Ryū Soshite Negai o Kanaete Chonmage!
Come Forth, Dragon of the Gods — Grant My Wish, Pretty Peas!
Episode Information
Episode Summary
Goku is confused to see Beerus so shocked at the sudden appearance of the tiny newcomer and his two attendants. All of the gods in attendance are the same way: Champa, the Universe 6 Kaiōshin, the Elder Kaiōshin… all except Shin, who asks his ancestor who this person is (much to his disgust). Beerus explains to Goku that their visitor is in fact the "Omni-King", the person who stands at the pinnacle of the twelve universes. Whis notes that they should not just stand there looking at the Omni-King, and so Beerus and Champa rush down to formally greet him. Champa is so distracted by this unexpected turn of events that he seems to have completely forgotten about destroying his fighters, much to Cabba's relief.
After a few formalities, the Omni-King explains that he has come to chastise Beerus and Champa for holding a tournament and neglecting their duties as Gods of Destruction. Whis apologizes on Beerus's behalf, explaining that Beerus prefers napping and food over acts of destruction, and Vados claims Champa needs to cut back on his work in order to focus on eating a healthy diet. The Omni-King jokes about replacing them both with some new Gods of Destruction, but then admits that despite initially coming to criticize them, he found the tournament so enjoyable that he wants to hold another one… featuring fighters from every universe!
Goku is thrilled at the idea, and tells the Omni-King he will be sure to compete… but Beerus freaks out, saying that Goku cannot talk directly to the Omni-King like that. However, Omni-King does not mind this breach of etiquette, and compliments Goku on a well-fought match. He promises to hold this next tournament "soon", and Goku reaches out to shake hands with the Omni-King, to Beerus's horror. They shake hands, and the Omni-King departs, with his two attendants calling out "bye-cha" as they leave.
With the Omni-King gone, Beerus chews Goku out for his rude behavior. If the Omni-King felt like it, he could wipe out all twelve universes in the blink of an eye! Goku's surprised to hear this, but notes that the Omni-King did not seem like a bad guy, so he probably would not do something like that. Beerus laments that his victory does not mean quite as much anymore. This tournament was really just a warm-up, and the Omni-King's tournament will be the main event! Still, Champa says a loss is a loss, and he will hand over his six Super Dragon Balls as promised… though he doubts they will be able to find the final one so easily.
Champa thinks the Omni-King will probably be angry if the Universe 6 fighters are not present at his tournament, so he begrudgingly spares them. Cabba happily tells Vegeta that now he can give him a tour of Planet Sadal… repeatedly referring to Vegeta as "master" (in the sense of a martial arts master) despite Vegeta's protests. Goku approaches Hit, telling him he does not know when this next tournament will be, but if Hit cannot wait until then, he would be happy to give him a rematch three days from now… or even tomorrow, if three days is too long. Hit says "see you later" and takes off. Majin Boo wakes up, saying he slept well, but is sad he was not able to grant Mister Satan's wish. Satan's not worried though, since coming to the tournament allowed him to meet Monaka. He offers to let Monaka be the mascot for his gym, but Monaka seems unsure.
Now the matter of the Super Dragon Balls is all that remains to be cleared up. Bulma has Beerus promise not to wish for anything terrible (such as the destruction of the universe). After all, if he did something like that, he'd probably get chewed out by the Omni-King. At first Bulma is at a loss because she cannot seem to locate the signal for the seventh Super Dragon Ball on her radar, but No. 18 points out that there are already seven signals gathered together right there. Monaka suggests they need to look at the map from a three-dimensional perspective.
Whis thinks this is a great suggestion, and has everyone pile into his Cube vessel. They zoom away from the Nameless Planet, which Whis reveals to actually be the seventh and final Super Dragon Ball. Piccolo theorizes that when the Super Dragon Balls scattered after the last time they granted a wish, this Super Dragon Ball must have collided with a small planet and become covered in the debris, making it look like a planet itself. With all seven balls gathered, they must now summon the dragon by saying "come forth dragon of the gods and grant my wish, pretty peas" using the language of the gods.
Beerus translates this phrase into the "language of the gods", but stumbles over chonmage. What the heck is that? Bulma explains that it is the topknot hairstyle worn by samurai or sumo wrestlers, but Beerus says there is no such word in the divine language. Bulma suggests he therefore leave the word as-is, and Whis speaks the message this way. At first it does not seem to work, but before too long a titanic golden dragon, seemingly as big as a galaxy, appears.
As the ship rocks wildly, Whis assures them they have nothing to worry about. Their ship is swallowed up by the dragon, and the next thing they know they are in a strange space. It turns out they are inside the body of "Super Shenlong", and Goku wonders if this means they will get pooped out. A smaller version of Super Shenlong appears before them, and Beerus explains that this is the dragon's core or nucleus. Super Shenlong speaks to them in the language of the gods, asking that they name their wish. Beerus says something in the divine language to Whis, who repeats it to Super Shenlong. Saying that their wish is granted, Super Shenlong vanishes.
Bulma demands to know what Beerus wished for, and he claims it was merely for a comfier bed. Bulma says she could have easily given Beerus that, and calls him an idiot, and Beerus threatens to destroy them all. Elsewhere, Champa and Vados are returning to their own universe, when Vados uses her all-seeing staff to discover that Universe 6's version of Earth has been restored. It's inhabited once more, with the same level of civilization as Universe 7's Earth. Now Champa can get all the tasty Earth food he wants! Champa realizes that this must have been what Beerus wished for… but is annoyed that now he owes Beerus a favor.
Back on Beerus's planet, Goku still wants to spar with Monaka, and Beerus promises to let him sometime soon, but now it is time to go home. Beerus secretly pays Monaka off with a huge pile of gold, saying he will keep using him to spur Goku on. For now though, Monaka can return to his ordinary job as a delivery man. Goku and the gang fly back to Earth, and Piccolo says this upcoming tournament between all the universes will be amazing. Jaco agrees, saying he will take another holiday to come see it. The narrator wonders what new adventures are in store for them all…










Next Time:


"A Tumultuous Victory Celebration! Facing Off At Last: Monaka vs Son Goku?!"
Episode Notes
The summoning phrase for making a wish with the Super Dragon Balls substitutes 丁髷 (chonmage), meaning the "topknot" in old-fashioned Japanese hairdos, for the word 頂戴 (chōdai), or "please". The summoning phrase is instead kanaete-chonmage in Japanese, vaguely similar to saying "pretty peas" instead of "pretty please".
The "language of the gods" used to make wishes with the Super Dragon Balls is actually ordinary Japanese spoken backwards, syllable by syllable. For example, the following dialogue is Whis' wish to Super Shenlong in the language of the gods, followed by its original Japanese counterpart, asking to revive Universe 6's Earth and its inhabitants:

Language of the Gods:
ロセラエガミヨ ヲイルソジ トウユキチ ノウユチウクロイダ
(roseraegamiyo woirusoji touyukichi nouyuchiukuroida)

---

Japanese:
第六宇宙の地球と人類を甦らせろ
(dai-roku uchū no chikyū to jinrui o yomigaera sero)
Episode Credits
All credits listed below are as originally presented in the episode. The credit structure used in Dragon Ball Super is actually quite simple; the staff involved with the production of the series as a whole are listed in the opening credits and the staff involved with this specific episode are listed in the ending credits. All original credit errors have been corrected to maintain accurate spellings throughout the site. For more information and a complete listing of the series staff, visit the Production Guide.
Cast Credits
孫悟空

Son Goku

孫悟天

Son Goten

野沢雅子

Masako Nozawa

 

ブルマ

Bulma

鶴 ひろみ

Hiromi Tsuru

ベジータ

Vegeta

堀川りょう

Ryō Horikawa

クリリン

Kuririn

田中真弓

Mayumi Tanaka

ピッコロ

Piccolo

古川登志夫

Toshio Furukawa

チチ

Chi-Chi

渡辺菜生子

Naoko Watanabe

ミスターサタン

Mister Satan

石塚運昇

Unshō Ishizuka

魔人ブウ

Majin Boo

塩屋浩三

Kōzō Shioya

人造人間18号

Artificial Human No. 18

伊藤美紀

Miki Itō

ウーロン

Oolong

龍田直樹

Naoki Tatsuta

界王神

Kaiōshin

太田真一郎

Shin'ichirō Ōta

老界王神

Elder Kaiōshin

田中亮一

Ryōichi Tanaka

ビルス

Beerus

山寺宏一

Kōichi Yamadera

ウイス

Whis

森田成一

Masakazu Morita

シャンパ

Champa

岩田光央

Mitsuo Iwata

ヴァドス

Vados

山口由里子

Yuriko Yamaguchi

ジャコ

Jaco

花江夏樹

Natsuki Hanae

ヒット

Hit

山路和弘

Kazuhiro Yamaji

キャベ

Cabba

岸尾だいすけ

Daisuke Kishio

モナカ

Monaka

菊池正美

Masami Kikuchi

全王

Omni-King

こおろぎさとみ

Satomi Kōrogi

レフェリー

Referee

田中一成

Kazunari Tanaka

超神龍

Super Shenlong

大友龍三郎

Ryūzaburō Ōtomo

付き人

Attendant

高塚正也

Masaya Takatsuka

織田優成

Yūsei Oda
Opening Credits
原作・ストーリー原案・キャラクター原案

Original Author / Story Draft / Character Drafts

鳥山 明

(集英社「ジャンプコミックス」刊)

Akira Toriyama

(Published in Shueisha's "Jump Comics")

企画

Planning

情野誠人

(フジテレビ)

Masato Seino

(Fuji TV)

渡辺和哉

(読売広告社)

Kazuya Watanabe

(Yomiko Advertising, Inc.)

森下孝三

Kōzō Morishita

プロデューサー

Producer

野﨑 理

(フジテレビ)

Osamu Nozaki

(Fuji TV)

佐川直子

(読売広告社)

Naoko Sagawa

(Yomiko Advertising, Inc.)

木戸 睦

Atsushi Kido

寺本知資

Tomosuke Teramoto

高見 暁

Satoru Takami

音楽

Music

住友紀人

Norihito Sumitomo

オープニングテーマ

Opening Theme

作詞

Lyrics

作曲

Composition

唄

Vocals

「超絶☆ダイナミック!」

"Chōzetsu ☆ Dynamic!"

森 雪之丞

Yukinojō Mori

吉井和哉

Kazuya Yoshii

吉井和哉

Kazuya Yoshii

(日本コロムビア/トライアド)

(Nippon Columbia / Triad)

製作担当

Production Manager

末竹 憲

Ken Suetake

美術デザイン

Art Design

行 信三

Shinzō Yuki

色彩設計

Color Design

堀田哲平

Teppei Hotta

キャラクターデザイン・作画監修

Character Design & Supervising
Director of Animation

山室直儀

Tadayoshi Yamamuro


シリーズディレクター

Series Director

畑野森生

Morio Hatano

地岡公俊

Kimitoshi Chioka

制作協力

Production Coordination

東映

Toei

制作

Production

フジテレビ

Fuji TV

読売広告社

Yomiko Advertising, Inc.

東映アニメーション

Toei Animation
Ending Credits
脚本

Script

キング・リュウ

King Ryū

声の出演

Voice Performances

~~~~

協力

In Cooperation With

青二プロダクション

Aoni Production

原画

Key Animation

石川 修

Osamu Ishikawa

加藤義貴

Yoshitaka Katō

森中正春

Masaharu Morinaka

手塚江美

Emi Tezuka

堀井伸雄

Nobuo Horii

石井珠樹

Tamaki Ishii

菅原リエコ

Rieko Sugawara

ミュウ

Myū

苫 政三

Seizo Toma

久保充照

Mitsuteru Kubo

岩田幸大

Kōdai Iwata

網 航

Kō Ami

 

涂 泳策

Yong-ce Tu

 

Toei Phils.

Toei Animation Philippines

動画

In-Between Animation

Toei Phils.

Toei Animation Philippines

彩色

Digital Coloring

Toei Phils.

Toei Animation Philippines

色指定

Color Designation

加藤良高

Yoshitaka Katō

デジタル特殊効果

Digital Special Effects

下川信裕

Nobuhiro Shimokawa

デジタルアーティスト

Digital Artist

川崎健太郎

Kentarō Kawasaki

松本八希

Hakki Matsumoto

背景

Backgrounds

ムクオスタジオ

Mukuo Studio

井上慎太郎

Shintarō Inoue

林 鴻生

Hong-Sheng Lin

デジタル撮影

Digital Photography

AMGA

AMGA

競 昌則

Masanori Kisoi

服部 安

Yasushi Hattori

平井智朗

Tomoaki Hirai

岡田由紀

Yuki Okada

西 重成

Shigenari Nishi

杉浦仙一

Sen'ichi Sugiura

姜 亜偉

Ai Kyō

エンディングテーマ

Ending Theme

作詞

Lyrics

作曲

Composition

編曲

Arrangement

唄

Vocals

「Forever Dreaming」

"Forever Dreaming"

武井優心

Masmi Takei

武井優心

Masmi Takei

Czecho No Republic

Czecho No Republic

Czecho No Republic

Czecho No Republic

(日本コロムビア/トライアド)

(Nippon Columbia / Triad)

音響監督

Audio Director

本田保則

Yasunori Honda

編集

Editing

西村英一

Ei'ichi Nishimura

録音

Recording

伊東光晴

Mitsuharu Itō

録音助手

Recording Assistance

新垣未希

Miki Aragaki

音響効果

Sound Effects

西村睦弘

(JetSoundEngine)

Mutsuhiro Nishimura

(JetSoundEngine)

記録

Documentation

沢井尚子

Shōko Sawai

アシスタントプロデューサー

Assistant Producer

静 美保

(読売広告社)

Miho Shizuka

(Yomiko Advertising, Inc.)

石川 啓

Kei Ishikawa

音響製作

Audio Production

タバック

TAVAC

録音スタジオ

Recording Studio

サウンドイン

Sound Inn

東映デジタルセンター

Toei Digital Center

オンライン編集

Online Editing

東映デジタルラボ

Toei Digital Lab

長澤亮祐

Ryōsuke Nagasawa

音楽協力

Music In Association With

東映アニメーション音楽出版

Toei Animation Music Publishing

フジパシフィックミュージック

FUJIPACIFIC MUSIC

企画協力

Planning In Cooperation With

集英社「Vジャンプ」編集部

Shueisha's "V-Jump" Editorial Department

演出助手

Assistant Director

川崎弘二

Kōji Kawasaki

製作進行

Assistant Production Manager

小林克規

Katsunori Kobayashi

美術進行

Art Manager

西牧正人

Masato Nishimaki

仕上進行

Finishing Manager

河本隆弘

Takahiro Kawamoto

CG進行

CG Manager

渡辺克博

Katsuhiro Watanabe

演技事務

Talent Coordination

角 康昭

Yasuaki Tsuno

協力プロダクション

A Cooperative Production With

スタジオ歩

Studio Ayumu

広報

Public Relations

清田美智子

(フジテレビ)

Michiko Kiyota

(Fuji TV)

美術

Art Director

鹿野良行

Yoshiyuki Shikano

総作画監督

Chief Animation Supervisor

井手武生

Takeo Ide

作画監督

Animation Supervisor

石川 修

Osamu Ishikawa

苫 政三

Seizo Toma

絵コンテ

Storyboard

角銅博之

Hiroyuki Kakudō

演出

Director

広嶋秀樹

Hideki Hiroshima