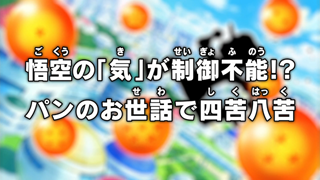 悟空の「気」が制御不能!?パンのお世話で四苦八苦
Gokū no "Ki" ga Seigyofunō!? Pan no Osewa de Shikuhakku
Goku's "Ki" is Out of Control?! Lots of Trouble Taking Care of Pan
Episode Information
Episode Summary
At the Son household, Goku's lost his appetite, only eating half as much as usual. Chi-Chi wonders if he has a fever and is possibly dying, but Goku notes that he's died twice before and this feels different. The next day while out grocery shopping, Goku suddenly loses control while flying and crashes into the ground. Back home, Chi-Chi figures that Goku is too strange for an ordinary doctor to properly diagnose, so he should go to Kaiō's for advice.
While Goku thinks she's making a mountain out of a molehill, he tries to teleport over to Kaiō's planet… only to find himself in Bulma's house, right as she's coming out of the shower. Bulma and Vegeta both freak out, but Goku protests he didn't mean any harm. His next attempt at teleporting brings him to Kuririn's police station, and he soon finds himself in a wide variety of different locations, including Karin Tower and somewhere near Arale, before finally managing to reach Kaiō's planet.
Kaiō informs Goku that he is suffering from "Delayed Onset Turbulent Ki Syndrome", a syndrome which manifests several days after someone has used their ki in a "crazy" way, rendering them unable to control it properly. In Goku's case, it's a result of his use of the Kaiō-Ken x10 at the tournament. Kaiō says he also heard how Goku was predicting things a fraction of a second later at the tournament as well, and advises Goku to stop pushing himself so hard like this. Otherwise, he might cause himself irreversible damage, and not be able to fight or grow stronger ever again. He says Goku should simply take it easy until the syndrome goes away, perhaps by taking care of his granddaughter. On his way back home, Goku once again loses control and smashes into his house, wrecking it.
At a fancy restaurant, Gohan and Videl are eating with an older couple, a professor and his wife, as Gohan is aspiring to become the professor's assistant. Videl gives the professor's wife an autographed photo of Mr. Satan as a gift, since she is a big fan, while the professor compliments Gohan on the great presentation he gave at the last conference.
Suddenly, Gohan's phone rings and he steps out to answer it. It turns out to be Goku, who explains that due to their house being wrecked, Chi-Chi, Goten, and himself will be staying at Gohan's house for a while. Gohan is fine with them staying and says they will be back tomorrow afternoon. Still, he's amazed that Goku could get sick! Pilaf, Shu, and Mai, who are hiding around the corner, overhear Gohan's conversation with Goku and are thrilled to hear that Goku's not in peak condition.
At Gohan's house, Chi-Chi is happy at the prospect of Gohan becoming the professor's assistant. He will be the first Universe 7 Saiyan to hold down a proper job! She does not know how long it will take until their home is repaired, but thankfully they had all that money from Mr. Satan. Goku notes that Chi-Chi had claimed before to have already spent all that money, but she explains that if she had not lied about it, Goku would not have worked hard. They have got Goten's education expenses to think about, after all!
Piccolo says that he has business elsewhere, and gives them detailed instructions on how to take care of Pan, including singing her to sleep. If they absolutely cannot handle things, they can always call him. Piccolo starts to leave, but ultimately returns with even more instructions.
That night, Goku and Piccolo hang out with Pan on the roof of the house, stargazing. Goku complains about how bad it feels to go an entire day without training. Piccolo asks if his condition has improved, but Goku says right now he probably could not even beat Piccolo. He feels just like a grandpa… which he actually is. He apologies to Pan, saying that if he were not sick he could take her up into the sky. Pan keeps calling Goku "daddy", and he tries to get her to call him "gramps".
The next day, the Pilaf Gang prepares to attack Goku with the "latest and mightiest" Pilaf Machine, which they spent all their money from their part-time restaurant job on. Despite all the hype, this giant robot is still only strong enough to take Goku on now that he is sick and weak… and even then, Shu and Mai think they probably should not attempt such a thing. Nothing good ever happens when they get mixed up with Goku!
As they are arguing, Pan suddenly wanders up, startling them. Mai wonders how Goku and co. could have taken their eyes off of such a small child… which is precisely what Piccolo is demanding to know, back inside the house. Goku, Piccolo, Goten, and Chi-Chi all split up to look for Pan. Outside, Piccolo's shouts scare Pilaf and co. so much that they decide to get out of there. Unfortunately, after taking off in the Pilaf Machine, they discover that Mai has unthinkingly brought Pan along with them!
The Pilaf Gang panic over what to do. They consider throwing her out, but cannot bring themselves to go through with it. Suddenly smelling something bad, they realize Pan needs changing. This causes them to panic even more, to the point that the Pilaf Machine goes out of control and flies off into space. As all hope seems lost, suddenly Pan powers up, destroying the Pilaf Machine but managing to fly herself and the Pilaf Gang back to safety. The Pilaf Gang notes that they have now got another powerful enemy to worry about, and decide to call it quits for the day.
Pan returns home, and when Piccolo discovers her sleeping there, he assumes that she was inside all along. Gohan and Videl return home to discover that things are all in order. Pan's even calling Goku "gramps" now. Kids grow up so fast! Goku wonders if Pan will be flying next, but Piccolo assures him she is far too young. Gohan reveals that he ultimately turned down the job to be the professor's assistant, saying that it would have kept him away from his family too much.










Next Time:


"The Seal of Planet Potaufeu — Secret of the Unleashed 'Superhuman Water'!"
Episode Notes
This episode specifically identifies the 24th Tenka'ichi Budōkai as the first which Mister Satan won, something previously only specified in guide books.
Episode Credits
All credits listed below are as originally presented in the episode. The credit structure used in Dragon Ball Super is actually quite simple; the staff involved with the production of the series as a whole are listed in the opening credits and the staff involved with this specific episode are listed in the ending credits. All original credit errors have been corrected to maintain accurate spellings throughout the site. For more information and a complete listing of the series staff, visit the Production Guide.
Cast Credits
孫悟空

Son Goku

孫悟飯

Son Gohan

孫悟天

Son Goten

野沢雅子

Masako Nozawa

 

 

ブルマ

Bulma

鶴 ひろみ

Hiromi Tsuru

ベジータ

Vegeta

堀川りょう

Ryō Horikawa

クリリン

Kuririn

田中真弓

Mayumi Tanaka

ピッコロ

Piccolo

古川登志夫

Toshio Furukawa

チチ

Chi-Chi

渡辺菜生子

Naoko Watanabe

ビーデル

Videl

皆口裕子

Yūko Minaguchi

ピラフ

Pilaf

千葉 繁

Shigeru Chiba

シュウ

Shuu

玄田哲章

Tesshō Genda

マイ

Mai

山田栄子

Eiko Yamada

界王

Kaiō

龍田直樹

Naoki Tatsuta

教授

Professor

斉藤次郎

Jirō Saitō

教授夫人

Professor's Wife

斉藤貴美子

Kimiko Saitō

パン屋の主人

Bread Store Owner

藤本たかひろ

Takahiro Fujimoto

アラレ

Arale

小山茉美

Mami Koyama
Opening Credits
原作・ストーリー原案・キャラクター原案

Original Author / Story Draft / Character Drafts

鳥山 明

(集英社「ジャンプコミックス」刊)

Akira Toriyama

(Published in Shueisha's "Jump Comics")

企画

Planning

情野誠人

(フジテレビ)

Masato Seino

(Fuji TV)

渡辺和哉

(読売広告社)

Kazuya Watanabe

(Yomiko Advertising, Inc.)

森下孝三

Kōzō Morishita

プロデューサー

Producer

野﨑 理

(フジテレビ)

Osamu Nozaki

(Fuji TV)

佐川直子

(読売広告社)

Naoko Sagawa

(Yomiko Advertising, Inc.)

木戸 睦

Atsushi Kido

寺本知資

Tomosuke Teramoto

高見 暁

Satoru Takami

音楽

Music

住友紀人

Norihito Sumitomo

オープニングテーマ

Opening Theme

作詞

Lyrics

作曲

Composition

唄

Vocals

「超絶☆ダイナミック!」

"Chōzetsu ☆ Dynamic!"

森 雪之丞

Yukinojō Mori

吉井和哉

Kazuya Yoshii

吉井和哉

Kazuya Yoshii

(日本コロムビア/トライアド)

(Nippon Columbia / Triad)

製作担当

Production Manager

末竹 憲

Ken Suetake

美術デザイン

Art Design

行 信三

Shinzō Yuki

色彩設計

Color Design

堀田哲平

Teppei Hotta

キャラクターデザイン・作画監修

Character Design & Supervising
Director of Animation

山室直儀

Tadayoshi Yamamuro


シリーズディレクター

Series Director

畑野森生

Morio Hatano

地岡公俊

Kimitoshi Chioka

制作協力

Production Coordination

東映

Toei

制作

Production

フジテレビ

Fuji TV

読売広告社

Yomiko Advertising, Inc.

東映アニメーション

Toei Animation
Ending Credits
脚本

Script

キング・リュウ

King Ryū

声の出演

Voice Performances

~~~~

協力

In Cooperation With

青二プロダクション

Aoni Production

原画

Key Animation

佐々門信芳

Nobuyoshi Sasakado

東出 太

Futoshi Higashide

坂井寛幸

Hiroyuki Sakai

八木元喜

Motoki Yagi

平林 孝

Takashi Hirabayashi

洪 範錫

Beom-seok Hong

佐藤友子

Tomoko Satō

月乃むあ

Mua Tsukino

二階堂渥志

Atsushi Nikaidō

中村純子

Junko Nakamura

小酒井智也

Tomoya Kosakai

芳山 優

Yū Yoshiyama

石井珠樹

Tamaki Ishii

冨木由美子

Yumiko Tomiki

涂 泳策

Yong-ce Tu

スタジオエル

Studio Elle

作画監督補佐

Assistant Animation Supervisor

袴田裕二

Yūji Hakamada

動画

In-Between Animation

Toei Phils.

Toei Animation Philippines

武遊

Buyū

彩色

Digital Coloring

Toei Phils.

Toei Animation Philippines

武遊

Buyū

色指定

Color Designation

加藤良高

Yoshitaka Katō

デジタル特殊効果

Digital Special Effects

下川信裕

Nobuhiro Shimokawa

デジタルアーティスト

Digital Artist

川崎健太郎

Kentarō Kawasaki

松本八希

Hakki Matsumoto

背景

Backgrounds

徳重 賢

Ken Tokushige

マジックハウス

Magic House

Toei Phils.

Toei Animation Philippines

井芹達朗

Tatsurō Iseri

吉田智子

Tomoko Yoshida

ネリット・アクーニャ

Nelito Acuna

デジタル撮影

Digital Photography

AMGA

AMGA

競 昌則

Masanori Kisoi

服部 安

Yasushi Hattori

平井智朗

Tomoaki Hirai

岡田由紀

Yuki Okada

西 重成

Shigenari Nishi

杉浦仙一

Sen'ichi Sugiura

姜 亜偉

Ai Kyō

エンディングテーマ

Ending Theme

作詞

Lyrics

作曲

Composition

編曲

Arrangement

唄

Vocals

「Forever Dreaming」

"Forever Dreaming"

武井優心

Masmi Takei

武井優心

Masmi Takei

Czecho No Republic

Czecho No Republic

Czecho No Republic

Czecho No Republic

(日本コロムビア/トライアド)

(Nippon Columbia / Triad)

音響監督

Audio Director

本田保則

Yasunori Honda

編集

Editing

西村英一

Ei'ichi Nishimura

録音

Recording

伊東光晴

Mitsuharu Itō

録音助手

Recording Assistance

新垣未希

Miki Aragaki

音響効果

Sound Effects

西村睦弘

(JetSoundEngine)

Mutsuhiro Nishimura

(JetSoundEngine)

記録

Documentation

沢井尚子

Shōko Sawai

アシスタントプロデューサー

Assistant Producer

静 美保

(読売広告社)

Miho Shizuka

(Yomiko Advertising, Inc.)

石川 啓

Kei Ishikawa

音響製作

Audio Production

タバック

TAVAC

録音スタジオ

Recording Studio

サウンドイン

Sound Inn

東映デジタルセンター

Toei Digital Center

オンライン編集

Online Editing

東映デジタルラボ

Toei Digital Lab

福田明生

Akio Fukuda

音楽協力

Music In Association With

東映アニメーション音楽出版

Toei Animation Music Publishing

フジパシフィックミュージック

FUJIPACIFIC MUSIC

企画協力

Planning In Cooperation With

集英社「Vジャンプ」編集部

Shueisha's "V-Jump" Editorial Department

演出助手

Assistant Director

川崎弘二

Kōji Kawasaki

製作進行

Assistant Production Manager

難波 涼

Ryō Nanba

美術進行

Art Manager

西牧正人

Masato Nishimaki

仕上進行

Finishing Manager

河本隆弘

Takahiro Kawamoto

CG進行

CG Manager

渡辺克博

Katsuhiro Watanabe

演技事務

Talent Coordination

角 康昭

Yasuaki Tsuno

広報

Public Relations

清田美智子

(フジテレビ)

Michiko Kiyota

(Fuji TV)

美術

Art Director

行 信三

Shinzō Yuki

佐藤美幸

Miyuki Satō

総作画監督

Chief Animation Supervisor

井手武生

Takeo Ide

作画監督

Animation Supervisor

松坂定俊

Sadatoshi Matsuzaka

大西陽一

Yōichi Ōnishi

演出

Director

今村隆寛

Takahiro Imamura