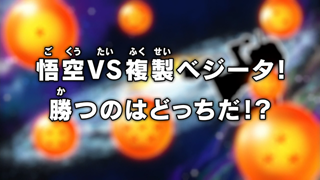 悟空VS複製ベジータ!勝つのはどっちだ!?
Gokū Tai Fukusei Bejīta! Katsu no wa Dotchi da!?
Goku vs Copy-Vegeta! Who Will Prevail?!
Episode Information
Episode Summary
Goku and Copy-Vegeta begin an evenly-matched battle, while Vegeta watches on from the sidelines, powerless. Vegeta grows increasingly irritated, first at Goku for not fighting well enough, but then at Copy-Vegeta for precisely the same reason. Trunks reminds him that he will die if Goku does not defeat Copy-Vegeta, but he is still mad at Copy-Vegeta for making him look bad.
Finally, Vegeta snaps and attacks Copy-Vegeta himself, but his fist passes right through him. Copy-Vegeta scornfully calls him a "discarded husk" and tells him should stay out of this. Vegeta insults Copy-Vegeta for putting up such a poor fight; even if Copy-Vegeta's victory means his death, he would rather die than watch a copy of himself lose like this! He demands that Copy-Vegeta defeat Goku, and that Goku likewise not lose to Copy-Vegeta, leaving them both wondering whose side he is on.
Though they would both like to enjoy the fight a little more, the two decide to wrap up the fight Vegeta's intrusion. Goku transforms into his Super Saiyan Blue form, and Copy-Vegeta follows suit. Vegeta is becoming even more transparent, so Potage gives him the pacifier-looking key for sealing away the Superhuman Water, saying that him sucking it may buy them some time. Jaco tries to snap a picture of Vegeta with the pacifier in his mouth, but sadly his phone battery is dead.
With both Super Saiyan Blue, the battle between Goku and Copy-Vegeta continues to be evenly matched. But Potage suddenly remembers something: if they destroy the Superhuman Water's "nucleus" inside its "main body", then all the copies should weaken! Trunks yells at Potage for not mentioning this earlier, but he says it is hard to remember stuff from 100 years ago. The copy of Gryll which Copy-Vegeta defeated was the main body, and should therefore contain the nucleus.
However, the Superhuman Water is no longer in the spot where Copy-Vegeta defeated it. Jaco assumes that it must be after his power, and is lurking around nearby awaiting its chance to absorb him. Indeed, the water is nearby and attacks the group, but it only shows interest in absorbing Goten and Trunks. It completely avoids absorbing Jaco, who is outraged at the perceived insult. As the group dodges the water's attacks, Trunks notices Vegeta's ki is even weaker, and rushes off to help him.
Arriving at Vegeta's side, Trunks is relieved to see he has not vanished yet. However, at that moment the Superhuman Water sneaks up behind him. As the water closes in to absorb him, Vegeta rushes in to shield his son. Meanwhile, all the commotion causes Monaka to finally regain consciousness, and quite by accident he steps on the tail-end of the Superhuman Water, crushing the nucleus. At once, Copy-Vegeta's body begins to warp and weaken, allowing Goku to quickly finish him off with a Kamehameha. With Vegeta back to normal, Potage seals the Superhuman Water away again and thanks Monaka, Trunks, and Goten for their help.
Back on Earth, Goku is suitably impressed to hear that Monaka defeated the Superhuman Water; he really is strong! Still, Goku claims he was just about to finish Copy-Vegeta off anyway… a boast which irritates the real Vegeta. Even worse, Vegeta is mortified to learn that he had been sucking on a pacifier the whole time (Videl notes that even Pan has now moved past the pacifier stage). While Bulma and Chi-Chi scold their children for sneaking into Monaka's spaceship, Vegeta says that if he had known that was a pacifier, he would have rather died than suck on it. But Goku says if he had died, the two of them would not be able to fight again. Both vow to win next time they square off.
Meanwhile, in a ruined future Earth, an adult Trunks is seemingly being pursued by… something.










Next Time:


"SOS From the Future! A Black New Enemy Appears!!"
Episode Credits
All credits listed below are as originally presented in the episode. The credit structure used in Dragon Ball Super is actually quite simple; the staff involved with the production of the series as a whole are listed in the opening credits and the staff involved with this specific episode are listed in the ending credits. All original credit errors have been corrected to maintain accurate spellings throughout the site. For more information and a complete listing of the series staff, visit the Production Guide.
Cast Credits
孫悟空

Son Goku

孫悟天

Son Goten

野沢雅子

Masako Nozawa

 

ブルマ

Bulma

鶴 ひろみ

Hiromi Tsuru

ベジータ

Vegeta

堀川りょう

Ryō Horikawa

トランクス

Trunks

草尾 毅

Takeshi Kusao

チチ

Chi-Chi

渡辺菜生子

Naoko Watanabe

ビーデル

Videl

皆口裕子

Yūko Minaguchi

ジャコ

Jaco

花江夏樹

Natsuki Hanae

モナカ

Monaka

菊池正美

Masami Kikuchi

ポタージュ

Potage

斎藤志郎

Shirō Saitō

複製ベジータ

Copy-Vegeta

森田成一

Masakazu Morita

ナレーション

Narration

龍田直樹

Naoki Tatsuta
Opening Credits
原作・ストーリー原案・キャラクター原案

Original Author / Story Draft / Character Drafts

鳥山 明

(集英社「ジャンプコミックス」刊)

Akira Toriyama

(Published in Shueisha's "Jump Comics")

企画

Planning

情野誠人

(フジテレビ)

Masato Seino

(Fuji TV)

渡辺和哉

(読売広告社)

Kazuya Watanabe

(Yomiko Advertising, Inc.)

森下孝三

Kōzō Morishita

プロデューサー

Producer

野﨑 理

(フジテレビ)

Osamu Nozaki

(Fuji TV)

佐川直子

(読売広告社)

Naoko Sagawa

(Yomiko Advertising, Inc.)

木戸 睦

Atsushi Kido

寺本知資

Tomosuke Teramoto

高見 暁

Satoru Takami

音楽

Music

住友紀人

Norihito Sumitomo

オープニングテーマ

Opening Theme

作詞

Lyrics

作曲

Composition

唄

Vocals

「超絶☆ダイナミック!」

"Chōzetsu ☆ Dynamic!"

森 雪之丞

Yukinojō Mori

吉井和哉

Kazuya Yoshii

吉井和哉

Kazuya Yoshii

(日本コロムビア/トライアド)

(Nippon Columbia / Triad)

製作担当

Production Manager

末竹 憲

Ken Suetake

美術デザイン

Art Design

行 信三

Shinzō Yuki

色彩設計

Color Design

堀田哲平

Teppei Hotta

キャラクターデザイン・作画監修

Character Design & Supervising
Director of Animation

山室直儀

Tadayoshi Yamamuro


シリーズディレクター

Series Director

畑野森生

Morio Hatano

地岡公俊

Kimitoshi Chioka

制作協力

Production Coordination

東映

Toei

制作

Production

フジテレビ

Fuji TV

読売広告社

Yomiko Advertising, Inc.

東映アニメーション

Toei Animation
Ending Credits
脚本

Script

福嶋幸典

Yoshifumi Fukushima

声の出演

Voice Performances

~~~~

協力

In Cooperation With

青二プロダクション

Aoni Production

原画

Key Animation

八島善孝

Yoshitaka Yashima

袴田裕二

Yūji Hakamada

涂 泳策

Yong-ce Tu

石井珠樹

Tamaki Ishii

月乃むあ

Mua Tsukino

Toei Phils.

Toei Animation Philippines

東出 太

Futoshi Higashide

 

横山美雪

Miyuki Yokoyama

佐藤友子

Tomoko Satō

菅原リエコ

Rieko Sugawara

 

動画

In-Between Animation

Toei Phils.

Toei Animation Philippines

武遊

Buyū

かぐら

Kagura

彩色

Digital Coloring

Toei Phils.

Toei Animation Philippines

武遊

Buyū

かぐら

Kagura

色指定

Color Designation

加藤良高

Yoshitaka Katō

デジタル特殊効果

Digital Special Effects

下川信裕

Nobuhiro Shimokawa

デジタルアーティスト

Digital Artist

川崎健太郎

Kentarō Kawasaki

背景

Backgrounds

ビック・スタジオ

bic-Studio

studio AR.T.ON

柳 煥錫

Liu Huanxi

李 旼貞

Li Minzhen

徐 柱星

Xu Zhuxing

高 智榮

Gao Zhirong

李 智恩

Li Zhi'en

黄 琇詠

Huang Xiuyong

崔 有眞

Cui Youzhen

 

デジタル撮影

Digital Photography

AMGA

AMGA

競 昌則

Masanori Kisoi

服部 安

Yasushi Hattori

平井智朗

Tomoaki Hirai

岡田由紀

Yuki Okada

西 重成

Shigenari Nishi

杉浦仙一

Sen'ichi Sugiura

姜 亜偉

Ai Kyō

エンディングテーマ

Ending Theme

作詞

Lyrics

作曲

Composition

編曲

Arrangement

唄

Vocals

「Forever Dreaming」

"Forever Dreaming"

武井優心

Masmi Takei

武井優心

Masmi Takei

Czecho No Republic

Czecho No Republic

Czecho No Republic

Czecho No Republic

(日本コロムビア/トライアド)

(Nippon Columbia / Triad)

音響監督

Audio Director

本田保則

Yasunori Honda

編集

Editing

西村英一

Ei'ichi Nishimura

録音

Recording

伊東光晴

Mitsuharu Itō

録音助手

Recording Assistance

新垣未希

Miki Aragaki

音響効果

Sound Effects

西村睦弘

(JetSoundEngine)

Mutsuhiro Nishimura

(JetSoundEngine)

記録

Documentation

沢井尚子

Shōko Sawai

アシスタントプロデューサー

Assistant Producer

静 美保

(読売広告社)

Miho Shizuka

(Yomiko Advertising, Inc.)

石川 啓

Kei Ishikawa

音響製作

Audio Production

タバック

TAVAC

録音スタジオ

Recording Studio

サウンドイン

Sound Inn

東映デジタルセンター

Toei Digital Center

オンライン編集

Online Editing

東映デジタルラボ

Toei Digital Lab

長澤亮祐

Ryōsuke Nagasawa

音楽協力

Music In Association With

東映アニメーション音楽出版

Toei Animation Music Publishing

フジパシフィックミュージック

FUJIPACIFIC MUSIC

企画協力

Planning In Cooperation With

集英社「Vジャンプ」編集部

Shueisha's "V-Jump" Editorial Department

演出助手

Assistant Director

佐藤雅教

Masanori Satō

製作進行

Assistant Production Manager

難波 涼

Ryō Nanba

美術進行

Art Manager

西牧正人

Masato Nishimaki

仕上進行

Finishing Manager

河本隆弘

Takahiro Kawamoto

CG進行

CG Manager

渡辺克博

Katsuhiro Watanabe

演技事務

Talent Coordination

角 康昭

Yasuaki Tsuno

広報

Public Relations

清田美智子

(フジテレビ)

Michiko Kiyota

(Fuji TV)

美術

Art Director

李 凡善

Bun-sun Lee

総作画監督

Chief Animation Supervisor

辻 美也子

Miyako Tsuji

作画監督

Animation Supervisor

八島善孝

Yoshitaka Yashima

演出

Director

佐藤雅教

Masanori Satō