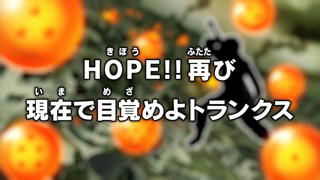 HOPE!!再び 現在で目覚めよトランクス
Kibō!! Futatabi Ima de Mezameyo Torankusu
Hope Again!! Trunks Wakes Up in the Present
Episode Information
Episode Summary
With Trunks still bent over the dead Mai, Black asks him if he is done saying goodbye, and assures him that it will be his turn to die next. Trunks thinks to himself that since Black has left the Capsule Corporation building intact, he presumably knows nothing of the time machine. He just has to get to it and start it up! Black promises Trunks that he and Mai will soon be reunited. Enraged, Trunks becomes a Super Saiyan and battles Black, but is quickly beaten. However, by throwing his sword like a boomerang, and with a timely Masenkō, he manages to create a large explosion and escape in the confusion. Black manages to locate Trunks inside the time machine (which he mistakes for an airplane), but fortunately he is too late: Trunks travels off into the past, leaving Black baffled at how the Saiyan could completely vanish like that.
In the present, kid Trunks is attending school with Pilaf, Shuu, and Mai. The teacher calls on him to solve a complex math problem, but it is beyond him. Pilaf however quickly steps in to give an incredibly convoluted explanation of the solution, which the teacher describes as being like something an old man would give. Lunch time rolls around, and Trunks has invited the Pilaf Gang over to his place since they did not seem to have anywhere else to go. Mai is particularly grateful, and even holds Trunks by the hand, scandalizing Pilaf and Shuu.
At Capsule Corporation, Trunks and co. are shocked to see the time machine suddenly materialize outside. Pilaf thinks it might be aliens, and Mai says they should go get Vegeta, but Trunks is confident that he can handle any aliens. However, his teacher points out that the vessel is clearly marked "Capsule Corporation". In that case, Trunks thinks they should go get his mother, so Pilaf sends Shuu after her.
Bulma arrives, and when she sees the words "Hope!!" written on the vessel's side, she asks Trunks if there is a blue-haired young man inside. Trunks confirms that there is, so Bulma goes off to call Vegeta. Pilaf and co. speculate that this man might be Bulma's illegitimate child. After all, he looks just like Trunks! Kid Trunks finds this idea disturbing. Inside Capsule Corporation, Bulma locates a small communicator which she uses to call Whis.
Over on Beerus' planet, everyone has just finished eating a load of instant ramen. When Whis gets Bulma's call, he assumes she is calling to give them more food and politely declines, but Bulma insists it is more important than that. She is happy to learn that Goku is there with Vegeta, and shows them Future Trunks, who is still lying unconscious. When Bulma explains to Goku and Vegeta that Trunks has come back in such bad shape, Pilaf and co. are shocked to hear that (kid) Trunks' "brother" has the same name as him. This whole affair smells of a scandal!
Learning that Bulma does not have any Senzu handy, Goku says he will teleport over to Karin Tower and pick some up. However, it is too far for him to sense Karin's ki, so he will have to return to Earth first. They have kid Trunks power up as much as he can so that Goku can sense him all the way from Beerus' planet. Meanwhile, Beerus and Whis decide that this affair sounds interesting, so they decide to come to Earth too. Arriving back on Earth, Goku quickly teleports off again to get some Senzu, leaving Vegeta to wonder why Future Trunks has returned. In the future, Black is still puzzling over how Trunks' ki has completely vanished. Regardless, he vows to track Trunks down no matter what.
At Karin Tower, Karin and Yajirobe are enjoying a game of limbo. Goku teleports in, and Karin lets him help himself to all the Senzu. With that, Goku returns to Capsule Corporation. Everyone is curious why Future Trunks is so injured. When they give him a Senzu, he wakes up… and sees Goku's face. This triggers a flood of memories about Black, and Trunks suddenly attacks Goku in an unthinking range. Goku and the others do not know what to think!










Next Time:


"A Message From the Future — Goku Black Invades!"
Episode Credits
All credits listed below are as originally presented in the episode. The credit structure used in Dragon Ball Super is actually quite simple; the staff involved with the production of the series as a whole are listed in the opening credits and the staff involved with this specific episode are listed in the ending credits. All original credit errors have been corrected to maintain accurate spellings throughout the site. For more information and a complete listing of the series staff, visit the Production Guide.
Cast Credits
孫悟空

Son Goku

ゴクウブラック

Goku Black

野沢雅子

Masako Nozawa

 

ブルマ

Bulma

鶴 ひろみ

Hiromi Tsuru

ベジータ

Vegeta

堀川りょう

Ryō Horikawa

トランクス

Trunks

草尾 毅

Takeshi Kusao

ヤジロベー

Yajirobe

田中真弓

Mayumi Tanaka

ピラフ

Pilaf

千葉 繁

Shigeru Chiba

マイ

Mai

山田栄子

Eiko Yamada

シュウ

Shuu

玄田哲章

Tesshō Genda

ビルス

Beerus

山寺宏一

Kōichi Yamadera

ウイス

Whis

森田成一

Masakazu Morita

カリン

Karin

魚 建

Ken Uo

家庭教師

Tutor

森下由樹子

Yukiko Morishita

ナレーション

Narration

龍田直樹

Naoki Tatsuta
Opening Credits
原作・ストーリー原案・キャラクター原案

Original Author / Story Draft / Character Drafts

鳥山 明

(集英社「ジャンプコミックス」刊)

Akira Toriyama

(Published in Shueisha's "Jump Comics")

企画

Planning

情野誠人

(フジテレビ)

Masato Seino

(Fuji TV)

渡辺和哉

(読売広告社)

Kazuya Watanabe

(Yomiko Advertising, Inc.)

森下孝三

Kōzō Morishita

プロデューサー

Producer

野﨑 理

(フジテレビ)

Osamu Nozaki

(Fuji TV)

佐川直子

(読売広告社)

Naoko Sagawa

(Yomiko Advertising, Inc.)

木戸 睦

Atsushi Kido

高見 暁

Satoru Takami

音楽

Music

住友紀人

Norihito Sumitomo

オープニングテーマ

Opening Theme

作詞

Lyrics

作曲

Composition

唄

Vocals

「超絶☆ダイナミック!」

"Chōzetsu ☆ Dynamic!"

森 雪之丞

Yukinojō Mori

吉井和哉

Kazuya Yoshii

吉井和哉

Kazuya Yoshii

(日本コロムビア/トライアド)

(Nippon Columbia / Triad)

製作担当

Production Manager

末竹 憲

Ken Suetake

美術デザイン

Art Design

行 信三

Shinzō Yuki

色彩設計

Color Design

加藤良高

Yoshitaka Katō

キャラクターデザイン・作画監修

Character Design & Supervising
Director of Animation

山室直儀

Tadayoshi Yamamuro


シリーズディレクター

Series Director

畑野森生

Morio Hatano

制作協力

Production Coordination

東映

Toei

制作

Production

フジテレビ

Fuji TV

読売広告社

Yomiko Advertising, Inc.

東映アニメーション

Toei Animation
Ending Credits
脚本

Script

冨岡淳広

Atsuhiro Tomioka

声の出演

Voice Performances

~~~~

協力

In Cooperation With

青二プロダクション

Aoni Production

原画

Key Animation

直井正博

Masahiro Naoi

加藤義貴

Yoshitaka Katō

小泉寛之

Hiroyuki Koizumi

涂 泳策

Yong-ce Tu

OFFICE DCI

OFFICE DCI

東出 太

Futoshi Higashide

島貫正弘

Masahiro Shimanuki

洪 範錫

Beom-seok Hong

石井珠樹

Tamaki Ishii

 

動画

In-Between Animation

Toei Phils.

Toei Animation Philippines

A-Line

A-Line

武遊

Buyū

ミュウ

Myū

彩色

Digital Coloring

Toei Phils.

Toei Animation Philippines

A-Line

A-Line

武遊

Buyū

ミュウ

Myū

色指定

Color Designation

加藤良高

Yoshitaka Katō

デジタル特殊効果

Digital Special Effects

下川信裕

Nobuhiro Shimokawa

デジタルアーティスト

Digital Artist

川崎健太郎

Kentarō Kawasaki

背景

Backgrounds

アテネアートスタジオ

Athens Art Studio

斉藤信二

Shinji Saito

木下千春

Chiharu Kinoshita

山本真生

Mao Yamamoto

榎本星夢

Seimu Enomoto

大谷正信

Masanobu Ōtani

赤保谷則子

Noriko Akahoya

勝又アイ子

Aiko Katsumata

 

デジタル撮影

Digital Photography

AMGA

AMGA

競 昌則

Masanori Kisoi

服部 安

Yasushi Hattori

平井智朗

Tomoaki Hirai

岡田由紀

Yuki Okada

西 重成

Shigenari Nishi

杉浦仙一

Sen'ichi Sugiura

姜 亜偉

Ai Kyō

エンディングテーマ

Ending Theme

作詞

Lyrics

作曲

Composition

編曲

Arrangement

唄

Vocals

「Forever Dreaming」

"Forever Dreaming"

武井優心

Masmi Takei

武井優心

Masmi Takei

Czecho No Republic

Czecho No Republic

Czecho No Republic

Czecho No Republic

(日本コロムビア/トライアド)

(Nippon Columbia / Triad)

音響監督

Audio Director

本田保則

Yasunori Honda

編集

Editing

西村英一

Ei'ichi Nishimura

録音

Recording

伊東光晴

Mitsuharu Itō

録音助手

Recording Assistance

新垣未希

Miki Aragaki

音響効果

Sound Effects

西村睦弘

(JetSoundEngine)

Mutsuhiro Nishimura

(JetSoundEngine)

記録

Documentation

沢井尚子

Shōko Sawai

アシスタントプロデューサー

Assistant Producer

静 美保

(読売広告社)

Miho Shizuka

(Yomiko Advertising, Inc.)

音響製作

Audio Production

タバック

TAVAC

録音スタジオ

Recording Studio

サウンドイン

Sound Inn

東映デジタルセンター

Toei Digital Center

オンライン編集

Online Editing

東映デジタルラボ

Toei Digital Lab

酒井美貴子

Mikiko Sakai

音楽協力

Music In Association With

東映アニメーション音楽出版

Toei Animation Music Publishing

フジパシフィックミュージック

FUJIPACIFIC MUSIC

企画協力

Planning In Cooperation With

集英社「Vジャンプ」編集部

Shueisha's "V-Jump" Editorial Department

演出助手

Assistant Director

中村亮太

Ryōta Nakamura

製作進行

Assistant Production Manager

福田一夫

Kazuo Fukuda

美術進行

Art Manager

西牧正人

Masato Nishimaki

仕上進行

Finishing Manager

河本隆弘

Takahiro Kawamoto

CG進行

CG Manager

渡辺克博

Katsuhiro Watanabe

演技事務

Talent Coordination

角 康昭

Yasuaki Tsuno

広報

Public Relations

清田美智子

(フジテレビ)

Michiko Kiyota

(Fuji TV)

データ放送

Datacasting

腰塚 悠

(フジテレビ)

Yū Koshitsuka

(Fuji TV)

美術

Art Director

杦浦正一郎

Sei'ichiro Sugiura

斉藤信二

Shinji Saito

総作画監督

Chief Animation Supervisor

辻 美也子

Miyako Tsuji

作画監督

Animation Supervisor

直井正博

Masahiro Naoi

島貫正弘

Masahiro Shimanuki

演出

Director

中村亮太

Ryōta Nakamura