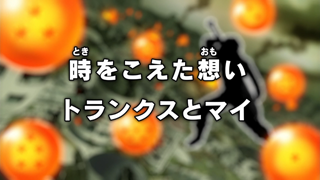 時をこえた想い トランクスとマイ
Toki o Koeta Omoi Torankusu to Mai
Feelings That Transcend Time — Trunks and Mai
Episode Information
Episode Summary
Though Black has destroyed Trunks' time machine, Bulma produces another one, beat-up and covered in moss. She explains that this is the time machine Cell arrived in. Originally, Future Trunks restored it to capsule form and kept hold of it, but the day he returned to the future, Bulma asked to have it. She wanted to use the time machine to research time travel, but she was unable to understand how the machine worked and eventually gave up. Now though, she has her future self's notes explaining all about the time machine, so she can finally get a handle on it.
Now they can go to the future and battle Black! But it will still take a while for Bulma to get the time machine in working order. Goku asks Whis for more training in the meantime, but Whis does not really feel like it, not with all these time machines around. They have even got that Time Ring to worry about now as well. Piccolo suggests that Goku train with Vegeta, but Vegeta is looking pretty scary right now, and not in a mood to train with anyone else.
Goku teleports off to Kaiō's planet instead and asks to train there, but even Kaiō is upset at the mess Goku made of the place last time. Meanwhile, Vegeta heads into the Gravity Room by himself, vowing to "make him pay" (presumably referring to Black). In the future, Black notes to himself that "battle memories" are being engraved into his mind and body, as he becomes accustomed to Goku's movements and body. He wants to know more about Goku, in order to become even stronger.
Back at Capsule Corporation, Bulma's parents have returned from vacation, and are alarmed to find their garden in such a mess from the recent battle. But they are pleased to see Future Trunks again, and Bulma asks her father to help her out in repairing the time machine. She also asks the Pilaf Gang to help out, and they agree… though Pilaf immediately starts scheming to use the time machine's future technology to build a "world domination machine".
When Pilaf refers to Mai by name, Future Trunks overhears and realizes she is the same Mai he knew in the future. As the two share a tender moment, Bulma returns Cell's time machine to capsule form and goes inside to get to work, but not before assigning Kuririn and Piccolo the task of fixing up the garden.
Mai, Future Trunks, and Present Trunks are left alone, and Trunks begins telling his story: in his future, he first met Mai when she was older, about the same age as him. Most of humanity was wiped out in Black's initial attack, but the survivors launched a counterattack. Each national army attacked Black, but was defeated. The survivors hid underground, but gathered together to form resistance cells to continue the fight.
Future Mai was in one such cell. Despite mounting casualties, her cell and Trunks collaborated to corner Black, leading him into an area full of explosives. When that proved ineffective, Trunks stepped in to try and finish Black off. Black revealed that he considered human beings to be "the gods' only failure", and that he wished to exterminate them in order to create a more perfect and beautiful world, since the gods themselves were unwilling to admit their mistake.
With Trunks no match for Black, Mai distracted Black with a flare gun and rescued Trunks. She took him home and tended to his wounds, telling him how he gave people hope by continuing to fight against Black. His persistence kept them from giving up. Concluding his story, Future Trunks tells Present Mai that he was happy to get to meet her again.
Present Trunks asks why his future self did not bring Future Mai along with him, but Future Trunks is unable to answer, which everyone takes to mean that she is dead. Pilaf and Shuu ask about their future selves, but Trunks says he never saw them. In fact, Pilaf and Shuu have come to get Mai to help with the time machine repairs. Goku teleports back, explaining that Kaiō refused to train him or give him any food, so now he is starving.
Goku tells Trunks to simply rest for now; he has had a stressful day! Inside, Bulma assigns the Pilaf Gang with first cleaning up the time machine. Mai seems quite taken with the handsome Future Trunks, and Bulma notes how Mai talks like an older woman (the Pilaf Gang all have a big laugh over this). Meanwhile, Beerus and Whis discuss how Black's ki seemed familiar, like they had encountered it somewhere before. Whis decides to look into it…










Next Time:


"Master and Pupil Reunion — Son Gohan and 'Future' Trunks"
Episode Notes
The names of key animators Saki Ishimoto and Misa Tanaka are incorrectly spelled as 石本沙綺 instead of 石本紗綺 and 田中美沙 instead of 田中美砂, respectively. These errors have been corrected in the credits below.
Episode Credits
All credits listed below are as originally presented in the episode. The credit structure used in Dragon Ball Super is actually quite simple; the staff involved with the production of the series as a whole are listed in the opening credits and the staff involved with this specific episode are listed in the ending credits. All original credit errors have been corrected to maintain accurate spellings throughout the site. For more information and a complete listing of the series staff, visit the Production Guide.
Cast Credits
孫悟空

Son Goku

ゴクウブラック

Goku Black

野沢雅子

Masako Nozawa

 

ブルマ

Bulma

鶴 ひろみ

Hiromi Tsuru

ベジータ

Vegeta

堀川りょう

Ryō Horikawa

クリリン

Kuririn

田中真弓

Mayumi Tanaka

ピッコロ

Piccolo

古川登志夫

Toshio Furukawa

トランクス

Trunks

草尾 毅

Takeshi Kusao

ブリーフ博士

Doctor Brief

田中亮一

Ryōichi Tanaka

ブルマ母

Bulma's Mom

江森浩子

Hiroko Emori

ピラフ

Pilaf

千葉 繁

Shigeru Chiba

マイ

Mai

山田栄子

Eiko Yamada

シュウ

Shuu

玄田哲章

Tesshō Genda

ビルス

Beerus

山寺宏一

Kōichi Yamadera

ウイス

Whis

森田成一

Masakazu Morita

ナレーション

Narration

龍田直樹

Naoki Tatsuta
Opening Credits
原作・ストーリー原案・キャラクター原案

Original Author / Story Draft / Character Drafts

鳥山 明

(集英社「ジャンプコミックス」刊)

Akira Toriyama

(Published in Shueisha's "Jump Comics")

企画

Planning

情野誠人

(フジテレビ)

Masato Seino

(Fuji TV)

渡辺和哉

(読売広告社)

Kazuya Watanabe

(Yomiko Advertising, Inc.)

森下孝三

Kōzō Morishita

プロデューサー

Producer

野﨑 理

(フジテレビ)

Osamu Nozaki

(Fuji TV)

橋爪駿輝

(フジテレビ)

Shunki Hashizume

(Fuji TV)

佐川直子

(読売広告社)

Naoko Sagawa

(Yomiko Advertising, Inc.)

木戸 睦

Atsushi Kido

高見 暁

Satoru Takami

音楽

Music

住友紀人

Norihito Sumitomo

オープニングテーマ

Opening Theme

作詞

Lyrics

作曲

Composition

唄

Vocals

「超絶☆ダイナミック!」

"Chōzetsu ☆ Dynamic!"

森 雪之丞

Yukinojō Mori

吉井和哉

Kazuya Yoshii

吉井和哉

Kazuya Yoshii

(日本コロムビア/トライアド)

(Nippon Columbia / Triad)

製作担当

Production Manager

末竹 憲

Ken Suetake

美術デザイン

Art Design

行 信三

Shinzō Yuki

色彩設計

Color Design

加藤良高

Yoshitaka Katō

キャラクターデザイン・作画監修

Character Design & Supervising
Director of Animation

山室直儀

Tadayoshi Yamamuro


シリーズディレクター

Series Director

畑野森生

Morio Hatano

制作協力

Production Coordination

東映

Toei

制作

Production

フジテレビ

Fuji TV

読売広告社

Yomiko Advertising, Inc.

東映アニメーション

Toei Animation
Ending Credits
脚本

Script

冨岡淳広

Atsuhiro Tomioka

声の出演

Voice Performances

~~~~

協力

In Cooperation With

青二プロダクション

Aoni Production

原画

Key Animation

北野幸広

Yukihiro Kitano

村 俊太郎

Shuntarō Mura

次橋有紀

Yūki Tsugihashi

杉浦圭一

Kei'ichi Sugiura

早瀬真紀子

Makiko Hayase

白石創太郎

Sōtarō Shiraishi

馬場可奈子

Kanako Baba

松井京介

Kyōsuke Matsui

橋本航平

Kōhei Hashimoto

石本紗綺

Saki Ishimoto

久野未来

Miku Hisano

花澤友梨

Yuri Hanazawa

田中美沙

Misa Tanaka

久保唯奈

Yuina Kubo

山岡 聖

Hijiri Yamaoka

小田早織

Saori Oda

寒川頭一

Ken'ichi Kangawa

金田莱々美

Nanami Kaneta

Toei Phils.

Toei Animation Philippines

東出 太

Futoshi Higashide

涂 泳策

Yong-ce Tu

簾畑由美

Yumi Sudarehata

松木泰憲

Yasunori Matsuki

倉谷亮多

Ryōta Kuratani

野中美希

Miki Nonaka

大西麻衣子

Maiko Ōnishi

槌谷凌雲

Ryōun Tsuchiya

藤原健太郎

Kentarō Fujihara

入江 充

Mitsuru Irie

宮崎公輝

Kōki Miyazaki

田中ゆきの

Yukino Tanaka

瀬川とも子

Tomoko Segawa

村上依理菜

Erina Murakami

北川知子

Tomoko Kitagawa

坂本美樹

Miki Sakamoto

芝軒侑人

Yūto Shibanoki

 

ミュウ

Myū

作画監督補佐

Assistant Animation Supervisor

田中千皓

Chihiro Tanaka

動画

In-Between Animation

Toei Phils.

Toei Animation Philippines

武遊

Buyū

A-Line

A-Line

彩色

Digital Coloring

Toei Phils.

Toei Animation Philippines

武遊

Buyū

A-Line

A-Line

色指定

Color Designation

加藤良高

Yoshitaka Katō

デジタル特殊効果

Digital Special Effects

下川信裕

Nobuhiro Shimokawa

デジタルアーティスト

Digital Artist

川崎健太郎

Kentarō Kawasaki

背景

Backgrounds

徳重 賢

Ken Tokushige

マジックハウス

Magic House

井芹達朗

Tatsurō Iseri

吉田智子

Tomoko Yoshida

デザインオフィス・メカマン

Design Office Mecaman

本多 敬

Takashi Honda

Toei Phils.

Toei Animation Philippines

田中美紀

Miki Tanaka

ルーベン・オレンセ

Ruben Orense

デジタル撮影

Digital Photography

AMGA

AMGA

競 昌則

Masanori Kisoi

服部 安

Yasushi Hattori

平井智朗

Tomoaki Hirai

榎本星夢

Seimu Enomoto

岡田由紀

Yuki Okada

西 重成

Shigenari Nishi

杉浦仙一

Sen'ichi Sugiura

姜 亜偉

Ai Kyō

 

エンディングテーマ

Ending Theme

作詞曲

Lyrical Composition

編曲

Arrangement

唄

Vocals

「よかよかダンス」

"Easy-Going Dance"

小野武正

Takemasa Ono

NARASAKI

NARASAKI

ばってん少女隊

Batten Showjo Tai

(ビクターエンタテインメント)

(Victor Entertainment)

音響監督

Audio Director

本田保則

Yasunori Honda

編集

Editing

西村英一

Ei'ichi Nishimura

録音

Recording

伊東光晴

Mitsuharu Itō

録音助手

Recording Assistance

新垣未希

Miki Aragaki

音響効果

Sound Effects

西村睦弘

(JetSoundEngine)

Mutsuhiro Nishimura

(JetSoundEngine)

記録

Documentation

沢井尚子

Shōko Sawai

アシスタントプロデューサー

Assistant Producer

静 美保

(読売広告社)

Miho Shizuka

(Yomiko Advertising, Inc.)

音響製作

Audio Production

タバック

TAVAC

録音スタジオ

Recording Studio

サウンドイン

Sound Inn

東映デジタルセンター

Toei Digital Center

オンライン編集

Online Editing

東映デジタルラボ

Toei Digital Lab

長澤亮祐

Ryōsuke Nagasawa

音楽協力

Music In Association With

東映アニメーション音楽出版

Toei Animation Music Publishing

フジパシフィックミュージック

FUJIPACIFIC MUSIC

企画協力

Planning In Cooperation With

集英社「Vジャンプ」編集部

Shueisha's "V-Jump" Editorial Department

演出助手

Assistant Director

川崎弘二

Kōji Kawasaki

製作進行

Assistant Production Manager

福田一夫

Kazuo Fukuda

美術進行

Art Manager

西牧正人

Masato Nishimaki

仕上進行

Finishing Manager

河本隆弘

Takahiro Kawamoto

CG進行

CG Manager

渡辺克博

Katsuhiro Watanabe

演技事務

Talent Coordination

角 康昭

Yasuaki Tsuno

広報

Public Relations

清田美智子

(フジテレビ)

Michiko Kiyota

(Fuji TV)

太田真紀子

(フジテレビ)

Makiko Ōta

(Fuji TV)

データ放送

Datacasting

腰塚 悠

(フジテレビ)

Yū Koshitsuka

(Fuji TV)

美術

Art Director

佐藤美幸

Miyuki Satō

総作画監督

Chief Animation Supervisor

井手武生

Takeo Ide

作画監督

Animation Supervisor

北野幸広

Yukihiro Kitano

木下由衣

Yui Kinoshita

楠木智子

Tomoko Kusunoki

演出

Director

今村隆寛

Takahiro Imamura