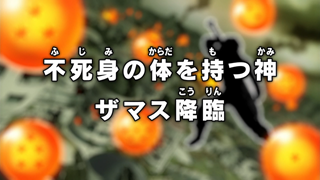 不死身の体を持つ神 ザマス降臨
Fujimi no Karada o Motsu Kami Zamasu Kōrin
Advent of the Immortal God, Zamasu
Episode Information
Episode Summary
Zamasu descends from the sky, saying that he came to meet Goku. Everyone is shocked to see that Zamasu and Black are not the same person after all, and Goku asks Zamasu if he is Black's comrade. Zamasu maintains that the two are not comrades but simply a pair of like-minded individuals. As far as Goku's concerned it is the same thing: they are both his enemies! Vegeta passes out, but Trunks is relieved to still be able to sense his ki.
Zamasu professes that soon his ideal will become a reality, a world of righteousness that will not need mortals… especially mortals like Goku who fight against the gods! Black and Zamasu attack Goku, and while Zamasu insists Goku is his prey, Black says that "this body" wants Goku. This desire cannot be stopped! Zamasu calls Saiyans the biggest failures in the world; powerful, yet lacking in spiritual development. He therefore has no qualms about tag-teaming with Black to destroy them.
Trunks comes to Goku's aid in the battle, and while Goku says these will not be easy opponents to beat, Trunks says he is ready to die if necessary. Goku takes on Black, who demonstrates the ability to teleport just like Goku. Meanwhile, Trunks faces Zamasu, and while he manages to stab Zamasu with his sword, the wound quickly heals.
Zamasu continues to ramble on about mortals selfishly misusing the gift of intelligence the gods so graciously bestowed on them. Trunks does not share Zamasu's low opinion of humanity, and blasts him with a Final Flash… but like the sword attack, this has absolutely no effect. Zamasu proclaims that this immortal body is indeed godly, truly befitting of him! He thanks the Saiyans for using their strength to help him even further show off his immortality.
Trunks cannot believe his eyes. The Final Flash was his greatest attack as a Super Saiyan, yet it and his sword were useless. Zamasu says all their attacks are naturally powerless against the gods, but if they still feel like fighting, he will continue to show them just how weak they are. Goku and Trunks seem out of options, but they cannot just run away, not after coming so far!
Suddenly Zamasu grabs Goku and Trunks, holding them in place while Black fires a Kamehameha. All three are hit, but Zamasu remains unharmed. Goku and Trunks though take heavy damage, and with Goku seemingly no longer in fighting shape, Trunks wonders what to do next. Black and Zamasu charge up a joint attack to finish the two off, but at the last moment their attack is repelled by another blast from the sidelines. It's Vegeta!
Vegeta collapses unconscious again, but now Goku and Trunks have vanished. They should not have had the power to get too far away, so Zamasu decides to deal with Vegeta first. It turns out Yajirobe has grabbed Goku and Trunks, retreating back near an entrance to the underground resistance base. Trunks asks where his father is, but Yajirobe insists saving two was the most he could manage. Thankfully though, Mai and the resistance manage to swipe Vegeta away before Zamasu and Black can finish him off.
Black concentrates to search out Goku and co.'s ki, which is faint and mixed in with that of all the other people around them. Mai meets up with Trunks and brings the time machine out of its capsule. With Goku, Trunks, and Vegeta inside, Mai gets out just before the time machine takes off. She will stay behind with the rest of the resistance, but Trunks absolutely must stay alive, for the world's sake!
Black finally pinpoints Goku and co.'s ki, but it is too late: the time machine has successfully left for the past. Zamasu is unconcerned though, confident that they will come back eventually, and when they do, he will personally destroy them in his utopia!
The time machine arrives at present-day Capsule Corporation, and Bulma freaks out to see Vegeta in such bad shape. Meanwhile, in Universe 10 the present-day Zamasu finds Gowasu watching footage of the Universe 6 and 7 tournament on "God-Tube". While Gowasu jokes about becoming a "God-Tuber", Zamasu is amazed to see Goku fighting in this tournament. What is more, he is covered in godly ki! How could a mortal have obtained the power of a god?
Next Zamasu notices the strange objects floating in the sky above the tournament arena. Gowasu explains that these are the Super Dragon Balls, the objects the Gods of Destruction held the tournament over. Hearing that they grant any wish, Zamasu becomes even more curious…
Sometime later, on Zuno's planet, Zamasu barges in on the galactic know-it-all, demanding he explain everything about the Super Dragon Balls!










Next Time:


"Zamasu and Black — The Two's Mystery Deepens"
Episode Credits
All credits listed below are as originally presented in the episode. The credit structure used in Dragon Ball Super is actually quite simple; the staff involved with the production of the series as a whole are listed in the opening credits and the staff involved with this specific episode are listed in the ending credits. All original credit errors have been corrected to maintain accurate spellings throughout the site. For more information and a complete listing of the series staff, visit the Production Guide.
Cast Credits
孫悟空

Son Goku

ゴクウブラック

Goku Black

野沢雅子

Masako Nozawa

 

ブルマ

Bulma

鶴 ひろみ

Hiromi Tsuru

ベジータ

Vegeta

堀川りょう

Ryō Horikawa

トランクス

Trunks

草尾 毅

Takeshi Kusao

マイ

Mai

山田栄子

Eiko Yamada

ヤジロベー

Yajirobe

田中真弓

Mayumi Tanaka

ザマス

Zamasu

三木眞一郎

Shin'ichirō Miki

ゴワス

Gowasu

後藤哲夫

Tetsuo Gotō

ズノー

Zuno

園部啓一

Kei'ichi Sonobe

ナレーション

Narration

龍田直樹

Naoki Tatsuta
Opening Credits
原作・ストーリー原案・キャラクター原案

Original Author / Story Draft / Character Drafts

鳥山 明

(集英社「ジャンプコミックス」刊)

Akira Toriyama

(Published in Shueisha's "Jump Comics")

企画

Planning

情野誠人

(フジテレビ)

Masato Seino

(Fuji TV)

渡辺和哉

(読売広告社)

Kazuya Watanabe

(Yomiko Advertising, Inc.)

森下孝三

Kōzō Morishita

プロデューサー

Producer

橋爪駿輝

(フジテレビ)

Shunki Hashizume

(Fuji TV)

佐川直子

(読売広告社)

Naoko Sagawa

(Yomiko Advertising, Inc.)

木戸 睦

Atsushi Kido

高見 暁

Satoru Takami

音楽

Music

住友紀人

Norihito Sumitomo

オープニングテーマ

Opening Theme

作詞

Lyrics

作曲

Composition

唄

Vocals

「超絶☆ダイナミック!」

"Chōzetsu ☆ Dynamic!"

森 雪之丞

Yukinojō Mori

吉井和哉

Kazuya Yoshii

吉井和哉

Kazuya Yoshii

(日本コロムビア/トライアド)

(Nippon Columbia / Triad)

製作担当

Production Manager

末竹 憲

Ken Suetake

美術デザイン

Art Design

行 信三

Shinzō Yuki

色彩設計

Color Design

加藤良高

Yoshitaka Katō

キャラクターデザイン・作画監修

Character Design & Supervising
Director of Animation

山室直儀

Tadayoshi Yamamuro


シリーズディレクター

Series Director

畑野森生

Morio Hatano

制作協力

Production Coordination

東映

Toei

制作

Production

フジテレビ

Fuji TV

読売広告社

Yomiko Advertising, Inc.

東映アニメーション

Toei Animation
Ending Credits
脚本

Script

吉高寿男

Toshio Yoshitaka

声の出演

Voice Performances

~~~~

協力

In Cooperation With

青二プロダクション

Aoni Production

原画

Key Animation

北野幸広

Yukihiro Kitano

志田直俊

Naotoshi Shida

阿部和彦

Kazuhiko Abe

八島善孝

Yoshitaka Yashima

涂 泳策

Yong-ce Tu

石井珠樹

Tamaki Ishii

Toei Phils.

Toei Animation Philippines

東出 太

Futoshi Higashide

唐澤雄一

Yūichi Karasawa

村 俊太郎

Shuntarō Mura

MARUアニメーション

MARU Animation

佐藤友子

Tomoko Satō

松尾俊輔

Shunsuke Matsuo

A-Line

A-Line

作画監督補佐

Assistant Animation Supervisor

眞部周一郎

Shūichirō Manabe

動画

In-Between Animation

Toei Phils.

Toei Animation Philippines

reboot

reboot

スタジオCJ

Studio CJ

A-Line

A-Line

シルバーリンク

Silver Link

武遊

Buyū

彩色

Digital Coloring

Toei Phils.

Toei Animation Philippines

reboot

reboot

スタジオCJ

Studio CJ

A-Line

A-Line

シルバーリンク

Silver Link

武遊

Buyū

色指定

Color Designation

加藤良高

Yoshitaka Katō

デジタル特殊効果

Digital Special Effects

下川信裕

Nobuhiro Shimokawa

デジタルアーティスト

Digital Artist

川崎健太郎

Kentarō Kawasaki

背景

Backgrounds

ムクオスタジオ

Mukuo Studio

井上慎太郎

Shintarō Inoue

渡川優介

Yūsuke Togawa

林 鴻生

Hong-Sheng Lin

 

デジタル撮影

Digital Photography

AMGA

AMGA

競 昌則

Masanori Kisoi

服部 安

Yasushi Hattori

平井智朗

Tomoaki Hirai

榎本星夢

Seimu Enomoto

岡田由紀

Yuki Okada

西 重成

Shigenari Nishi

杉浦仙一

Sen'ichi Sugiura

姜 亜偉

Ai Kyō

 

エンディングテーマ

Ending Theme

作詞曲

Lyrical Composition

編曲

Arrangement

唄

Vocals

「よかよかダンス」

"Easy-Going Dance"

小野武正

Takemasa Ono

NARASAKI

NARASAKI

ばってん少女隊

Batten Showjo Tai

(ビクターエンタテインメント)

(Victor Entertainment)

音響監督

Audio Director

本田保則

Yasunori Honda

編集

Editing

西村英一

Ei'ichi Nishimura

編集助手

Editing Assistance

向井咲子

Sakiko Mukai

録音

Recording

伊東光晴

Mitsuharu Itō

録音助手

Recording Assistance

新垣未希

Miki Aragaki

音響効果

Sound Effects

西村睦弘

(JetSoundEngine)

Mutsuhiro Nishimura

(JetSoundEngine)

記録

Documentation

沢井尚子

Shōko Sawai

アシスタントプロデューサー

Assistant Producer

静 美保

(読売広告社)

Miho Shizuka

(Yomiko Advertising, Inc.)

音響製作

Audio Production

タバック

TAVAC

録音スタジオ

Recording Studio

サウンドイン

Sound Inn

東映デジタルセンター

Toei Digital Center

オンライン編集

Online Editing

東映デジタルラボ

Toei Digital Lab

酒井美貴子

Mikiko Sakai

音楽協力

Music In Association With

東映アニメーション音楽出版

Toei Animation Music Publishing

フジパシフィックミュージック

FUJIPACIFIC MUSIC

企画協力

Planning In Cooperation With

集英社「Vジャンプ」編集部

Shueisha's "V-Jump" Editorial Department

演出助手

Assistant Director

中村亮太

Ryōta Nakamura

製作進行

Assistant Production Manager

福田一夫

Kazuo Fukuda

美術進行

Art Manager

西牧正人

Masato Nishimaki

仕上進行

Finishing Manager

河本隆弘

Takahiro Kawamoto

CG進行

CG Manager

渡辺克博

Katsuhiro Watanabe

演技事務

Talent Coordination

角 康昭

Yasuaki Tsuno

協力プロダクション

A Cooperative Production With

ダンガン・ピクチャーズ

Dangun Pictures

広報

Public Relations

太田真紀子

(フジテレビ)

Makiko Ōta

(Fuji TV)

データ放送

Datacasting

腰塚 悠

(フジテレビ)

Yū Koshitsuka

(Fuji TV)

美術

Art Director

鹿野良行

Yoshiyuki Shikano

総作画監督

Chief Animation Supervisor

井手武生

Takeo Ide

作画監督

Animation Supervisor

北野幸広

Yukihiro Kitano

唐澤雄一

Yūichi Karasawa

演出

Director

中村亮太

Ryōta Nakamura