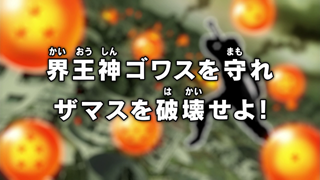 界王神ゴワスを守れ ザマスを破壊せよ!
Kaiōshin Gowasu o Mamore Zamasu o Hakaise yo!
Protect Kaiōshin Gowasu — Destroy Zamasu!
Episode Information
Episode Summary
Zamasu has brought more tea for Gowasu, only to discover that Beerus and co. are there with him. He politely greets them all in turn, but wonders to himself what they are all doing here. Do they suspect anything…? He asks them if they ever found out anything more about the mysterious Time Ring-wearing person they were investigating, but Beerus says they have come back for another reason: Goku wants a rematch with Zamasu, and will not shut up about it! Goku starts to deny this, but Beerus cuts him off with a quick blow to the head.
Zamasu is now even more suspicious, but merely says he was likewise unsatisfied with their first match and would gladly have another. Shall they start now? Beerus says he would hate to intrude on their tea time, and besides, it is just about time for his afternoon nap. They had better go, and save the fight for another time! Before they leave, Whis presents Gowasu with some daifuku (rice cakes stuffed with bean jam) as a gift.
Rather than go all the way back to Earth though, Beerus and co. stop out in space, using Whis' staff to watch Gowasu and Zamasu's interactions. Beerus could tell from their brief meeting that Zamasu is filled with the urge to kill Gowasu. Goku is not able to sense it, but being a God of Destruction, Beerus is particularly sensitive to that kind of thing, as is Whis. However, they have to wait for concrete evidence; they cannot destroy Universe 10's apprentice Kaiōshin simply for having the urge to kill someone. Goku's worried though that once they get proof it will already be too late.
In Trunks' alternate future, Black and Zamasu are hanging out together. Black boasts that next time he will finish Goku off for sure, but Zamasu says doing so would leave Black without any more "prey" to grow stronger. Besides, they have proven Goku is no longer a match for them. Zamasu is pleased with his immortality, and says perhaps Black should likewise have used the Super Dragon Balls to become immortal. However, Black is only interested in growing stronger: they need his "infinitely" rising power to fulfill their plans. Zamasu finds it ironic that the "0 Mortals Plan" relies on a mortal's power.
Back in the present, Bulma works on the time machine while Future Trunks mopes about on his own, sad about having to run away again and leaving Mai behind. Pilaf and co. watch him from afar, noting that he has been like this ever since returning from the future. Pilaf thinks now that he is sad and vulnerable it is the perfect chance for Kid Mai to make her move, but she hates the idea, saying that Pilaf does not understand Trunks' feelings. Kid Trunks approaches his future self, and chews him out for getting so upset over one lost fight. He will not be able to protect Mai like this! He continues taunting Future Trunks and goading him to fight. Going Super Saiyan, he knocks Future Trunks down, yelling at him to get up again. "You call yourself a Saiyan?!"
In Universe 10, Gowasu finds that daifuku goes along great with tea, and urges Zamasu to try some, but he politely declines. Zamasu says that he has thought more about what Gowasu said about the balance between good and evil, and agrees with him now: sometimes evil can result in a greater good. He circles around behind Gowasu, and Goku and co. (still watching on Whis' staff) can see that he is forming his hand into an energy blade, preparing to strike! Goku urges Beerus to act quickly, but it's too late: Zamasu cuts Gowasu down.
However, Whis immediately reverses time back to before the attack. Now they have all the proof they need to intervene. This time when Zamasu goes in for the kill, he finds his hand covered in a cat-themed mitten (courtesy of Whis), which nullifies his attack. Beerus and co. appear and explain to Gowasu that Zamasu was trying to kill him. Universe 7 Kaiōshin explains in detail: Zamasu wished to kill Gowasu in order to steal the Time Rings, use the Super Dragon Balls to become immortal, create an imitation of Goku, and destroy all mortals.
Gowasu is shocked to hear that Zamasu has not actually turned over a new leaf, but Zamasu says he has no need to: he is simply trying to enforce divine justice, after all. Still, he is surprised they could have worked out his entire plan simply from the fact that he wanted to kill Gowasu. Goku says they saw Zamasu's plan in action in the future: tons of destroyed cities and dead people. Zamasu is happy to hear that his wish becomes a reality. That means he cannot die here then! But Beerus tells him to not get too carried away… and promptly annihilates him in a single blow.
Back on Earth, Kid Trunks and Future Trunks conclude their battle. Future Trunks understands how his kid self feels; he will win now for sure! Suddenly, Goku and co. crash back to Earth, and Beerus chews Whis out for another rough landing. This is why Goku wanted Kaiōshin to take them back! They fill Future Trunks in on events, and Beerus assures him that with Zamasu dead, Black will be gone too, and his future will have returned to normal. Trunks finds this questionable though: after all, his alternate future did not change when they defeated the artificial humans in this current timeline.
Beerus tells him that's just mortal logic: when a god destroys another god, it will definitely interfere with time-space! Bulma likewise wonders if Beerus is right; will Trunks' future really change? Goku says if Beerus said so, it must be true. Trunks hopes so, but still has doubts…










Next Time:


"Back to the Future — Goku Black's Identity Revealed!!"
Episode Credits
All credits listed below are as originally presented in the episode. The credit structure used in Dragon Ball Super is actually quite simple; the staff involved with the production of the series as a whole are listed in the opening credits and the staff involved with this specific episode are listed in the ending credits. All original credit errors have been corrected to maintain accurate spellings throughout the site. For more information and a complete listing of the series staff, visit the Production Guide.
Cast Credits
孫悟空

Son Goku

ゴクウブラック

Goku Black

野沢雅子

Masako Nozawa

 

ブルマ

Bulma

鶴 ひろみ

Hiromi Tsuru

トランクス

Trunks

草尾 毅

Takeshi Kusao

ピラフ

Pilaf

千葉 繁

Shigeru Chiba

マイ

Mai

山田栄子

Eiko Yamada

シュウ

Shuu

玄田哲章

Tesshō Genda

ヤジロベー

Yajirobe

田中真弓

Mayumi Tanaka

界王神

Kaiōshin

太田真一郎

Shin'ichirō Ōta

ビルス

Beerus

山寺宏一

Kōichi Yamadera

ウイス

Whis

森田成一

Masakazu Morita

ザマス

Zamasu

三木眞一郎

Shin'ichirō Miki

ゴワス

Gowasu

後藤哲夫

Tetsuo Gotō

ハル

Haru

藤井ゆきよ

Yukiyo Fujii

マキ

Maki

金魚わかな

Wakana Kingyo

ナレーション

Narration

龍田直樹

Naoki Tatsuta
Opening Credits
原作・ストーリー原案・キャラクター原案

Original Author / Story Draft / Character Drafts

鳥山 明

(集英社「ジャンプコミックス」刊)

Akira Toriyama

(Published in Shueisha's "Jump Comics")

企画

Planning

情野誠人

(フジテレビ)

Masato Seino

(Fuji TV)

渡辺和哉

(読売広告社)

Kazuya Watanabe

(Yomiko Advertising, Inc.)

森下孝三

Kōzō Morishita

プロデューサー

Producer

橋爪駿輝

(フジテレビ)

Shunki Hashizume

(Fuji TV)

佐川直子

(読売広告社)

Naoko Sagawa

(Yomiko Advertising, Inc.)

木戸 睦

Atsushi Kido

高見 暁

Satoru Takami

音楽

Music

住友紀人

Norihito Sumitomo

オープニングテーマ

Opening Theme

作詞

Lyrics

作曲

Composition

唄

Vocals

「超絶☆ダイナミック!」

"Chōzetsu ☆ Dynamic!"

森 雪之丞

Yukinojō Mori

吉井和哉

Kazuya Yoshii

吉井和哉

Kazuya Yoshii

(日本コロムビア/トライアド)

(Nippon Columbia / Triad)

製作担当

Production Manager

末竹 憲

Ken Suetake

美術デザイン

Art Design

行 信三

Shinzō Yuki

色彩設計

Color Design

加藤良高

Yoshitaka Katō

キャラクターデザイン・作画監修

Character Design & Supervising
Director of Animation

山室直儀

Tadayoshi Yamamuro


シリーズディレクター

Series Director

畑野森生

Morio Hatano

制作協力

Production Coordination

東映

Toei

制作

Production

フジテレビ

Fuji TV

読売広告社

Yomiko Advertising, Inc.

東映アニメーション

Toei Animation
Ending Credits
脚本

Script

福嶋幸典

Yoshifumi Fukushima

声の出演

Voice Performances

~~~~

協力

In Cooperation With

青二プロダクション

Aoni Production

原画

Key Animation

佐々門信芳

Nobuyoshi Sasakado

東出 太

Futoshi Higashide

石川 修

Osamu Ishikawa

涂 泳策

Yong-ce Tu

佐藤友子

Tomoko Satō

大山康彦

Yasuhiko Ōyama

手塚江美

Emi Tezuka

Toei Phils.

Toei Animation Philippines

横山美雪

Miyuki Yokoyama

OFFICE DCI

OFFICE DCI

動画

In-Between Animation

Toei Phils.

Toei Animation Philippines

デジタル彩色

Digital Coloring

Toei Phils.

Toei Animation Philippines

色指定

Color Designation

加藤良高

Yoshitaka Katō

デジタル特殊効果

Digital Special Effects

下川信裕

Nobuhiro Shimokawa

デジタルアーティスト

Digital Artist

川崎健太郎

Kentarō Kawasaki

背景

Backgrounds

徳重 賢

Ken Tokushige

マジックハウス

Magic House

Toei Phils.

Toei Animation Philippines

井芹達朗

Tatsurō Iseri

吉田智子

Tomoko Yoshida

ネリット・アクーニャ

Nelito Acuna

デジタル撮影

Digital Photography

AMGA

AMGA

競 昌則

Masanori Kisoi

服部 安

Yasushi Hattori

平井智朗

Tomoaki Hirai

榎本星夢

Seimu Enomoto

岡田由紀

Yuki Okada

西 重成

Shigenari Nishi

杉浦仙一

Sen'ichi Sugiura

姜 亜偉

Ai Kyō

 

エンディングテーマ

Ending Theme

作詞曲

Lyrical Composition

編曲

Arrangement

唄

Vocals

「よかよかダンス」

"Easy-Going Dance"

小野武正

Takemasa Ono

NARASAKI

NARASAKI

ばってん少女隊

Batten Showjo Tai

(ビクターエンタテインメント)

(Victor Entertainment)

音響監督

Audio Director

本田保則

Yasunori Honda

編集

Editing

西村英一

Ei'ichi Nishimura

編集助手

Editing Assistance

向井咲子

Sakiko Mukai

録音

Recording

伊東光晴

Mitsuharu Itō

録音助手

Recording Assistance

新垣未希

Miki Aragaki

音響効果

Sound Effects

西村睦弘

(JetSoundEngine)

Mutsuhiro Nishimura

(JetSoundEngine)

記録

Documentation

沢井尚子

Shōko Sawai

アシスタントプロデューサー

Assistant Producer

静 美保

(読売広告社)

Miho Shizuka

(Yomiko Advertising, Inc.)

音響製作

Audio Production

タバック

TAVAC

録音スタジオ

Recording Studio

サウンドイン

Sound Inn

東映デジタルセンター

Toei Digital Center

オンライン編集

Online Editing

東映デジタルラボ

Toei Digital Lab

紺野はるか

Haruka Kon'no

音楽協力

Music In Association With

東映アニメーション音楽出版

Toei Animation Music Publishing

フジパシフィックミュージック

FUJIPACIFIC MUSIC

企画協力

Planning In Cooperation With

集英社「Vジャンプ」編集部

Shueisha's "V-Jump" Editorial Department

演出助手

Assistant Director

唐澤和也

Kazuya Karasawa

製作進行

Assistant Production Manager

難波 涼

Ryō Nanba

美術進行

Art Manager

西牧正人

Masato Nishimaki

仕上進行

Finishing Manager

河本隆弘

Takahiro Kawamoto

CG進行

CG Manager

渡辺克博

Katsuhiro Watanabe

設定制作

Setting Production

矢口雅之

Masayuki Yaguchi

演技事務

Talent Coordination

角 康昭

Yasuaki Tsuno

広報

Public Relations

太田真紀子

(フジテレビ)

Makiko Ōta

(Fuji TV)

データ放送

Datacasting

腰塚 悠

(フジテレビ)

Yū Koshitsuka

(Fuji TV)

美術

Art Director

佐藤美幸

Miyuki Satō

総作画監督

Chief Animation Supervisor

井手武生

Takeo Ide

作画監督

Animation Supervisor

石川 修

Osamu Ishikawa

演出

Director

唐澤和也

Kazuya Karasawa