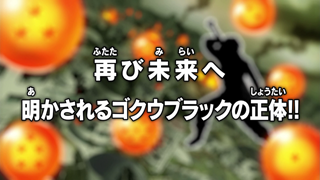 再び未来へ 明かされるゴクウブラックの正体!!
Futatabi Mirai e Akasareru Gokū Burakku no Shōtai!!
Back to the Future — Goku Black's Identity Revealed!!
Episode Information
Episode Summary
Beerus is annoyed that Trunks still does not believe that Present Zamasu's death will have an affect on his future. Trunks resolves to return to his future and see if anything has changed, but before that, they decide to have dinner. They will need their strength!
At dinner, Beerus enjoys some surprisingly tasty soup, which he thinks looks like the dragon vomit of Planet Gaspa, and Goku declares that he will also go with Trunks in the time machine to check on things, promising he will not get sick this time.
Beerus is still mad that nobody believes him, but Goku says they cannot simply take his word for it. Besides, if Zamasu is still there in the future, he wants to fight him again. Vegeta warns that it is dangerous to go into battle without a strategy; they will need more than just Senzu.
Goku asks if Beerus wants to come, but he says a god like him cannot go around breaking the taboo against time travel. Kid Trunks wonders if the future has really changed, and if so, then is Future Bulma alive again? But Future Trunks points out that if Black's attack never happened, he would not have come to the past in the first place. The fact that he is here at all seems to indicate his future has not changed.
Future Trunks explains to his kid self that the two of them are from two parallel timelines. Kid Trunks has grown up with Vegeta and Goku, but in Future Trunks' world they both died. Even though Future Trunks saved the Goku in this timeline, the one in his own timeline is still dead.
Kid Trunks says he now understands why Future Trunks does not believe Beerus' claims. However, Future Trunks still holds out a faint hope that a god destroying a god in this timeline really will have an effect on his own, since such matters are beyond his imagination.
Trunks entrusts Kid Mai to Kid Trunks (embarrassing them both). Goku asks Vegeta where the Senzu are, but he does not know. Thankfully, Bulma has them, and insists on coming. She figures that if Trunks stays behind in the future, they will need someone to pilot the time machine back to the present.
Bulma presents Trunks with a new denim jacket like his old one, then she, Trunks, Goku, and Vegeta all crowd into the time machine. It is a tight squeeze, but Bulma will not be talked out of coming along. Beerus wants to go home, but Whis thinks they should stick around to see how things play out. As the time machine vanishes, Kid Trunks wishes his future self good luck.
The time machine flies through the space-time vortex, and despite his earlier boasts, Goku gets sick once again. They arrive in the future and see that it is still in ruins. Sure enough, nothing seems to have changed. They put the time machine into its capsule, which Bulma takes.
The group meets up with the resistance, and learn that Mai was injured while helping people escape from Black. Trunks gives Mai a Senzu… mouth to mouth, which confuses Goku (he claims to never have kissed anyone, though Vegeta finds this unbelievable of a married man). Trunks is sorry that they now only have four Senzu left, but Goku tells him not to worry about it.
Bulma greets Future Mai, as well as Future Yajirobe, and presents the resistance with food, water, and other supplies she brought with her. Soon though, Goku and co. sense Black and Zamasu approaching. They warn the resistance to stay indoors, then race off to fight. It seems that ultimately they did not manage to think up a strategy after all, but Vegeta has a bit of a plan: defeat Black first!
Black thinks Vegeta must want payback for his embarrassing defeat last time, but Vegeta corrects him: he wants to defeat Black not for his own sake, but for Trunks' sake, and for this world. Black considers this to not be a very Saiyan-like thing to say.
Goku boasts that they know all about how Zamasu used the Super Dragon Balls, and Zamasu is impressed that they figured this out. Goku continues, saying Zamasu used them to become immortal and create a fake Goku… but Black corrects him: he is not a fake, he has the real Goku's own body, but with Zamasu's mind inside!
Black explains that his first wish with the Super Dragon Balls was to exchange bodies with Goku. When Goku wonders what happened to the version of him whose body got stolen, Black says he killed him with his own hands!










Next Time:


"Zamasu's Ambition — Presenting the Terrifying '0 Mortals Plan'"
Episode Notes
Key animator Saki Ishimoto's name is incorrectly spelled as 石本沙綺 instead of 石本紗綺. This error has been corrected in the credits below.
Episode Credits
All credits listed below are as originally presented in the episode. The credit structure used in Dragon Ball Super is actually quite simple; the staff involved with the production of the series as a whole are listed in the opening credits and the staff involved with this specific episode are listed in the ending credits. All original credit errors have been corrected to maintain accurate spellings throughout the site. For more information and a complete listing of the series staff, visit the Production Guide.
Cast Credits
孫悟空

Son Goku

ゴクウブラック

Goku Black

野沢雅子

Masako Nozawa

 

ブルマ

Bulma

鶴 ひろみ

Hiromi Tsuru

ベジータ

Vegeta

堀川りょう

Ryō Horikawa

トランクス

Trunks

草尾 毅

Takeshi Kusao

ピラフ

Pilaf

千葉 繁

Shigeru Chiba

マイ

Mai

山田栄子

Eiko Yamada

シュウ

Shuu

玄田哲章

Tesshō Genda

ヤジロベー

Yajirobe

田中真弓

Mayumi Tanaka

界王神

Kaiōshin

太田真一郎

Shin'ichirō Ōta

ビルス

Beerus

山寺宏一

Kōichi Yamadera

ウイス

Whis

森田成一

Masakazu Morita

ザマス

Zamasu

三木眞一郎

Shin'ichirō Miki

ゴワス

Gowasu

後藤哲夫

Tetsuo Gotō

ズノー

Zuno

園部啓一

Kei'ichi Sonobe

ハル

Haru

藤井ゆきよ

Yukiyo Fujii

マキ

Maki

金魚わかな

Wakana Kingyo

兵士

Soldier

藤本たかひろ

Takahiro Fujimoto

松原大典

Daisuke Matsubara

千葉俊哉

Toshiya Chiba

民間人

Civilian

服部想之介

Sōnosuke Hattori

ナレーション

Narration

龍田直樹

Naoki Tatsuta
Opening Credits
原作・ストーリー原案・キャラクター原案

Original Author / Story Draft / Character Drafts

鳥山 明

(集英社「ジャンプコミックス」刊)

Akira Toriyama

(Published in Shueisha's "Jump Comics")

企画

Planning

情野誠人

(フジテレビ)

Masato Seino

(Fuji TV)

渡辺和哉

(読売広告社)

Kazuya Watanabe

(Yomiko Advertising, Inc.)

森下孝三

Kōzō Morishita

プロデューサー

Producer

橋爪駿輝

(フジテレビ)

Shunki Hashizume

(Fuji TV)

佐川直子

(読売広告社)

Naoko Sagawa

(Yomiko Advertising, Inc.)

木戸 睦

Atsushi Kido

高見 暁

Satoru Takami

音楽

Music

住友紀人

Norihito Sumitomo

オープニングテーマ

Opening Theme

作詞

Lyrics

作曲

Composition

唄

Vocals

「超絶☆ダイナミック!」

"Chōzetsu ☆ Dynamic!"

森 雪之丞

Yukinojō Mori

吉井和哉

Kazuya Yoshii

吉井和哉

Kazuya Yoshii

(日本コロムビア/トライアド)

(Nippon Columbia / Triad)

製作担当

Production Manager

末竹 憲

Ken Suetake

美術デザイン

Art Design

行 信三

Shinzō Yuki

色彩設計

Color Design

加藤良高

Yoshitaka Katō

キャラクターデザイン・作画監修

Character Design & Supervising
Director of Animation

山室直儀

Tadayoshi Yamamuro


シリーズディレクター

Series Director

畑野森生

Morio Hatano

制作協力

Production Coordination

東映

Toei

制作

Production

フジテレビ

Fuji TV

読売広告社

Yomiko Advertising, Inc.

東映アニメーション

Toei Animation
Ending Credits
脚本

Script

冨岡淳広

Atsuhiro Tomioka

声の出演

Voice Performances

~~~~

協力

In Cooperation With

青二プロダクション

Aoni Production

原画

Key Animation

MK SEOUL

MK Seoul

内田広之

Hiroyuki Uchida

岩垂瑞樹

Mizuki Iwadare

飯塚葉子

Yōko Iizuka

中村進也

Shin'ya Nakamura

細川修平

Shūhei Hosokawa

小原太一郎

Tai'ichirō Ohara

鳥山冬美

Fuyumi Toriyama

井端義秀

Yoshihide Ibata

大野 勉

Tsutomu Ono

沼田 広

Hiroshi Numata

 

ED原画

Ending Key Animation

八島善孝

Yoshitaka Yashima

岡 辰也

Tatsuya Oka

ED作画監督

Ending Animation Supervisor

辻 美也子

Miyako Tsuji

原画

Key Animation

次橋有紀

Yuki Tsugihashi

船越麻友美

Mayumi Funakoshi

有坪孝晃

Taka'aki Aritsubo

中重俊祐

Shunsuke Nakashige

高木啓明

Hiroaki Takagi

槌谷凌雲

Ryōun Tsuchiya

橋本航平

Kōhei Hashimoto

石本紗綺

Saki Ishimoto

小村柚葉

Yūha Komura

村上依理菜

Erina Murakami

石井ゆみこ

Yumiko Ishii

松木泰憲

Yasunori Matsuki

早瀬真紀子

Makiko Hayase

大西麻衣子

Maiko Ōnishi

山田佳奈莉

Kanari Yamada

中保由貴乃

Yukino Nakaho

藤原健太郎

Kentarō Fujihara

久間みらい

Mirai Kuma

花澤友梨

Yuri Hanazawa

加藤義貴

Yoshitaka Katō

作画監督補佐

Assistant Animation Supervisor

楠木智子

Tomoko Kusunoki

田中千皓

Chihiro Tanaka

動画

In-Between Animation

Toei Phils.

Toei Animation Philippines

OFFICE DCI

RIC

デジタル彩色

Digital Coloring

Toei Phils.

Toei Animation Philippines

OFFICE DCI

RIC

色指定

Color Designation

加藤良高

Yoshitaka Katō

デジタル特殊効果

Digital Special Effects

下川信裕

Nobuhiro Shimokawa

デジタルアーティスト

Digital Artist

川崎健太郎

Kentarō Kawasaki

背景

Backgrounds

アテネアートスタジオ

Athens Art Studio

斉藤信二

Shinji Saito

木下千春

Chiharu Kinoshita

山本真生

Mao Yamamoto

大谷正信

Masanobu Ōtani

赤保谷則子

Noriko Akahoya

勝又アイ子

Aiko Katsumata

デジタル撮影

Digital Photography

AMGA

AMGA

競 昌則

Masanori Kisoi

服部 安

Yasushi Hattori

平井智朗

Tomoaki Hirai

榎本星夢

Seimu Enomoto

岡田由紀

Yuki Okada

西 重成

Shigenari Nishi

杉浦仙一

Sen'ichi Sugiura

姜 亜偉

Ai Kyō

 

エンディングテーマ

Ending Theme

作詞

Lyrics

作曲/編曲

Composition/Arrangement

唄

Vocals

「炒飯MUSIC」

"Chao Fan MUSIC"

アルカラ

Arukara

アルカラ

Arukara

アルカラ

Arukara

(スピードスターレコーズ)

(SPEEDSTAR RECORDS)

音響監督

Audio Director

本田保則

Yasunori Honda

編集

Editing

西村英一

Ei'ichi Nishimura

編集助手

Editing Assistance

向井咲子

Sakiko Mukai

録音

Recording

伊東光晴

Mitsuharu Itō

録音助手

Recording Assistance

新垣未希

Miki Aragaki

音響効果

Sound Effects

西村睦弘

(JetSoundEngine)

Mutsuhiro Nishimura

(JetSoundEngine)

記録

Documentation

沢井尚子

Shōko Sawai

アシスタントプロデューサー

Assistant Producer

静 美保

(読売広告社)

Miho Shizuka

(Yomiko Advertising, Inc.)

音響製作

Audio Production

タバック

TAVAC

録音スタジオ

Recording Studio

サウンドイン

Sound Inn

東映デジタルセンター

Toei Digital Center

オンライン編集

Online Editing

東映デジタルラボ

Toei Digital Lab

菊地光洋

Mitsuhiro Kikuchi

音楽協力

Music In Association With

東映アニメーション音楽出版

Toei Animation Music Publishing

フジパシフィックミュージック

FUJIPACIFIC MUSIC

企画協力

Planning In Cooperation With

集英社「Vジャンプ」編集部

Shueisha's "V-Jump" Editorial Department

演出助手

Assistant Director

石谷 恵

Megumi Ishitani

製作進行

Assistant Production Manager

福田一夫

Kazuo Fukuda

美術進行

Art Manager

西牧正人

Masato Nishimaki

仕上進行

Finishing Manager

河本隆弘

Takahiro Kawamoto

CG進行

CG Manager

渡辺克博

Katsuhiro Watanabe

設定制作

Setting Production

矢口雅之

Masayuki Yaguchi

演技事務

Talent Coordination

角 康昭

Yasuaki Tsuno

協力プロダクション

A Cooperative Production With

OFFICE DCI

OFFICE DCI

広報

Public Relations

太田真紀子

(フジテレビ)

Makiko Ōta

(Fuji TV)

データ放送

Datacasting

腰塚 悠

(フジテレビ)

Yū Koshitsuka

(Fuji TV)

美術

Art Director

杦浦正一郎

Sei'ichiro Sugiura

斉藤信二

Shinji Saito

総作画監督

Chief Animation Supervisor

辻 美也子

Miyako Tsuji

作画監督

Animation Supervisor

大野 勉

Tsutomu Ono

木下由衣

Yui Kinoshita

演出

Director

今村隆寛

Takahiro Imamura