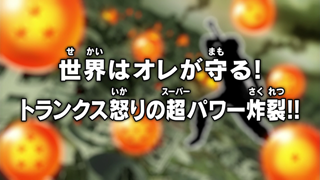 世界はオレが守る!トランクス怒りの超パワー炸裂!!
Sekai wa Ore ga Mamoru! Torankusu Ikari no Sūpā Pawā Sakuretsu!!
I'll Protect the World! Trunks' Angry Super Power Explosion!!
Episode Information
Episode Summary
Angry at Goku Black and Zamasu's words, Trunks has powered up into some strange new form. He declares that he will kill Black, though Black finds this idea absurd. While the new-and-improved Trunks is able to put up a surprisingly good fight against Black, he is still unable to defeat him.
For a brief moment it looks like Trunks is defeated by Black's counterattack, but he gets back up again and rejoins the fight, firing off a Masenkō. He tells Vegeta to take Goku back to the past while he holds off Black and Zamasu. That way, Vegeta and co. can search for some other method of defeating these two.
Vegeta is reluctant, but this seems to be the only way. He tosses the bag of Senzu to Mai, who promises to look after Trunks, and has Bulma bring out the time machine. Black unsuccessfully tries to stop the time machine as it takes off, but the two are not very worried about the heroes' escape. "They'll be back before long."
Goku and co. return to the present. Not seeing his future self, Kid Trunks assumes he stayed behind because the future is at peace now. Beerus brags that he really did change the future; they should have trusted more in his godly power! Bulma furiously corrects Beerus, who sheepishly says he had a feeling the future would not really change. Future Trunks' explanation about multiple timelines made a lot of sense, after all!
Vegeta then explains the state of the future and Black's true origin. With that mystery cleared up, Beerus figures the case is closed. He has already eliminated this world's Zamasu, and other timelines are not his problem. He and Whis wish Goku and co. good luck, and depart.
Meanwhile, Chi-Chi and Gohan meet with Kuririn at his police station to ask if he knows where Goku is. He has not come home in ages! Kuririn wonders to himself if Goku's gone to fight Black again, but does not want to worry Chi-Chi. Dodging the question, he takes off on his next patrol.
As Gohan reassures Chi-Chi that Goku will come home sooner or later, she sees Goten and Kid Trunks flying off together. The two have gone to Bulma's to ask about joining the fight, but she warns them that they would be of no use against opponents that even Goku could not handle. Best to leave it to the grown-ups!
Chi-Chi and Gohan soon arrive at Bulma's and ask about Goku. Bulma denies all knowledge, but Shuu, Piccolo, and Kuririn pop up saying things to further arouse Chi-Chi's suspicions, until finally Goku himself comes out.
Chi-Chi is shocked to see Goku in bandages. While Goku eats her homemade bentō, the others fill Chi-Chi and co. in on the current situation. Hearing how formidable Black and Zamasu are now, Piccolo has one suggestion: the Mafūba (Demon Containment Wave)!
With the Mafūba, if they can get Zamasu and Black to stand still long enough, then they can seal them away. So long as nobody breaks the seal, the future will be at peace! Bulma thinks the time machine will not be ready again for at least half a day, so Vegeta takes off to use the Room of Spirit and Time.
Goku wonders what the Mafūba is like, and Kuririn says Roshi ought to know. Piccolo starts to give Goku a demonstration himself, but Goku is not listening and teleports straight to Roshi's. At Kame House, Roshi says he can indeed teach Goku the Mafūba… but does Goku know just how dangerous it is?
Under Roshi's supervision, Goku spends the night practicing the Mafūba on Sea Turtle, who he tries to seal inside a jar. Goku repeatedly misses the jar due to insufficient concentration, but at long last he gets the hang of it.
Roshi says all that remains is to put a lid on the jar and affix a special talisman. He will go make a talisman for him now… but next time, Goku had better take him out to meet some hot chicks! Meanwhile, Beerus and Whis visit Gowasu in Universe 10, explaining that the future did not change after all. Beerus, who Whis explains is feeling unusually responsible, says he could easily destroy Future Zamasu, but as a God of Destruction he cannot travel through time. Gowasu is ready to help them in whatever way he can, since everything is his fault for selecting Zamasu as his apprentice.










Next Time:


"Don't Defile Saiyan Cells! The Curtain Rises on Vegeta's Intense Battle!!"
Episode Credits
All credits listed below are as originally presented in the episode. The credit structure used in Dragon Ball Super is actually quite simple; the staff involved with the production of the series as a whole are listed in the opening credits and the staff involved with this specific episode are listed in the ending credits. All original credit errors have been corrected to maintain accurate spellings throughout the site. For more information and a complete listing of the series staff, visit the Production Guide.
Cast Credits
孫悟空

Son Goku

孫悟飯

Son Gohan

孫悟天

Son Goten

ゴクウブラック

Goku Black

野沢雅子

Masako Nozawa

 

 

 

亀仙人

Kame-Sen'nin

佐藤正治

Masaharu Satō

ブルマ

Bulma

鶴 ひろみ

Hiromi Tsuru

ベジータ

Vegeta

堀川りょう

Ryō Horikawa

トランクス

Trunks

草尾 毅

Takeshi Kusao

ピッコロ

Piccolo

古川登志夫

Toshio Furukawa

クリリン

Kuririn

田中真弓

Mayumi Tanaka

チチ

Chi-Chi

渡辺菜生子

Naoko Watanabe

ブリーフ博士

Doctor Brief

田中亮一

Ryōichi Tanaka

ピラフ

Pilaf

千葉 繁

Shigeru Chiba

マイ

Mai

山田栄子

Eiko Yamada

シュウ

Shuu

玄田哲章

Tesshō Genda

ビルス

Beerus

山寺宏一

Kōichi Yamadera

ウイス

Whis

森田成一

Masakazu Morita

ザマス

Zamasu

三木眞一郎

Shin'ichirō Miki

ゴワス

Gowasu

後藤哲夫

Tetsuo Gotō

ウミガメ

Sea Turtle

藤本たかひろ

Takahiro Fujimoto

ナレーション

Narration

龍田直樹

Naoki Tatsuta
Opening Credits
原作・ストーリー原案・キャラクター原案

Original Author / Story Draft / Character Drafts

鳥山 明

(集英社「ジャンプコミックス」刊)

Akira Toriyama

(Published in Shueisha's "Jump Comics")

企画

Planning

情野誠人

(フジテレビ)

Masato Seino

(Fuji TV)

渡辺和哉

(読売広告社)

Kazuya Watanabe

(Yomiko Advertising, Inc.)

森下孝三

Kōzō Morishita

プロデューサー

Producer

橋爪駿輝

(フジテレビ)

Shunki Hashizume

(Fuji TV)

佐川直子

(読売広告社)

Naoko Sagawa

(Yomiko Advertising, Inc.)

木戸 睦

Atsushi Kido

高見 暁

Satoru Takami

音楽

Music

住友紀人

Norihito Sumitomo

オープニングテーマ

Opening Theme

作詞

Lyrics

作曲

Composition

唄

Vocals

「超絶☆ダイナミック!」

"Chōzetsu ☆ Dynamic!"

森 雪之丞

Yukinojō Mori

吉井和哉

Kazuya Yoshii

吉井和哉

Kazuya Yoshii

(日本コロムビア/トライアド)

(Nippon Columbia / Triad)

製作担当

Production Manager

末竹 憲

Ken Suetake

美術デザイン

Art Design

行 信三

Shinzō Yuki

色彩設計

Color Design

加藤良高

Yoshitaka Katō

キャラクターデザイン・作画監修

Character Design & Supervising
Director of Animation

山室直儀

Tadayoshi Yamamuro


シリーズディレクター

Series Director

畑野森生

Morio Hatano

制作協力

Production Coordination

東映

Toei

制作

Production

フジテレビ

Fuji TV

読売広告社

Yomiko Advertising, Inc.

東映アニメーション

Toei Animation
Ending Credits
脚本

Script

福嶋幸典

Yoshifumi Fukushima

声の出演

Voice Performances

~~~~

協力

In Cooperation With

青二プロダクション

Aoni Production

原画

Key Animation

北野幸広

Yukihiro Kitano

涂 泳策

Yong-ce Tu

冨木由美子

Yumiko Tomiki

村 俊太郎

Shuntarō Mura

梨沢孝司

Kōji Nashizawa

八木元喜

Motoki Yagi

平林 孝

Takashi Hirabayashi

Toei Phils.

Toei Animation Philippines

動画

In-Between Animation

Toei Phils.

Toei Animation Philippines

武遊

Buyū

デジタル彩色

Digital Coloring

Toei Phils.

Toei Animation Philippines

武遊

Buyū

色指定

Color Designation

加藤良高

Yoshitaka Katō

デジタル特殊効果

Digital Special Effects

下川信裕

Nobuhiro Shimokawa

デジタルアーティスト

Digital Artist

川崎健太郎

Kentarō Kawasaki

背景

Backgrounds

ビック・スタジオ

bic-Studio

studio AR.T.ON

柳 煥錫

Liu Huanxi

李 旼貞

Li Minzhen

徐 柱星

Xu Zhuxing

高 智榮

Gao Zhirong

李 智恩

Li Zhi'en

黄 琇詠

Huang Xiuyong

崔 有眞

Cui Youzhen

 

デジタル撮影

Digital Photography

AMGA

AMGA

競 昌則

Masanori Kisoi

服部 安

Yasushi Hattori

平井智朗

Tomoaki Hirai

榎本星夢

Seimu Enomoto

岡田由紀

Yuki Okada

西 重成

Shigenari Nishi

杉浦仙一

Sen'ichi Sugiura

姜 亜偉

Ai Kyō

 

エンディングテーマ

Ending Theme

作詞

Lyrics

作曲/編曲

Composition/Arrangement

唄

Vocals

「炒飯MUSIC」

"Chao Fan MUSIC"

アルカラ

Arukara

アルカラ

Arukara

アルカラ

Arukara

(スピードスターレコーズ)

(SPEEDSTAR RECORDS)

音響監督

Audio Director

本田保則

Yasunori Honda

編集

Editing

西村英一

Ei'ichi Nishimura

編集助手

Editing Assistance

向井咲子

Sakiko Mukai

録音

Recording

伊東光晴

Mitsuharu Itō

録音助手

Recording Assistance

新垣未希

Miki Aragaki

音響効果

Sound Effects

西村睦弘

(JetSoundEngine)

Mutsuhiro Nishimura

(JetSoundEngine)

記録

Documentation

沢井尚子

Shōko Sawai

アシスタントプロデューサー

Assistant Producer

静 美保

(読売広告社)

Miho Shizuka

(Yomiko Advertising, Inc.)

音響製作

Audio Production

タバック

TAVAC

録音スタジオ

Recording Studio

サウンドイン

Sound Inn

東映デジタルセンター

Toei Digital Center

オンライン編集

Online Editing

東映デジタルラボ

Toei Digital Lab

酒井美貴子

Mikiko Sakai

音楽協力

Music In Association With

東映アニメーション音楽出版

Toei Animation Music Publishing

フジパシフィックミュージック

FUJIPACIFIC MUSIC

企画協力

Planning In Cooperation With

集英社「Vジャンプ」編集部

Shueisha's "V-Jump" Editorial Department

演出助手

Assistant Director

佐藤雅教

Masanori Satō

製作進行

Assistant Production Manager

難波 涼

Ryō Nanba

美術進行

Art Manager

西牧正人

Masato Nishimaki

仕上進行

Finishing Manager

河本隆弘

Takahiro Kawamoto

CG進行

CG Manager

渡辺克博

Katsuhiro Watanabe

設定制作

Setting Production

矢口雅之

Masayuki Yaguchi

演技事務

Talent Coordination

角 康昭

Yasuaki Tsuno

広報

Public Relations

太田真紀子

(フジテレビ)

Makiko Ōta

(Fuji TV)

データ放送

Datacasting

腰塚 悠

(フジテレビ)

Yū Koshitsuka

(Fuji TV)

美術

Art Director

李 凡善

Bun-sun Lee

総作画監督

Chief Animation Supervisor

辻 美也子

Miyako Tsuji

作画監督

Animation Supervisor

北野幸広

Yukihiro Kitano

梨沢孝司

Kōji Nashizawa

演出

Director

佐藤雅教

Masanori Satō