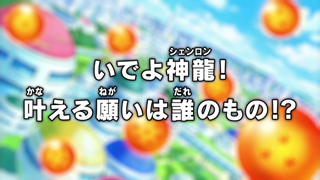 いでよ神龍!叶える願いは誰のもの!?
Ide yo Shenron! Kanaeru Negai wa Dare no Mono!?
Come Forth, Shenlong! Whose Wish Shall Be Granted?!
Episode Information
Episode Summary
At Capsule Corporation, Bulma sneaks into her lab and begins secretly working on building another time machine. She knows it is a serious crime, but as a scientist she cannot turn down the challenge. She still has her future self's notes, so this time she will get it to work for sure! Sadly, the time machine requires a type of blue crystal that is seemingly impossible to obtain in the present.
Meanwhile, Goku promises Kaiō, Bubbles, and Gregory that he will finally bring them back to life. Since they only used one wish the last time Shenlong was summoned, Earth's Dragon Balls should be usable again already.
As Bulma identifies another blue crystal found at the Earth's core to use as a substitute for the future one, Goku suddenly teleports into her lab. She freaks out and switches off the lights to keep him from seeing her time machine, but when she learns Goku is just there to borrow the Dragon Radar, she calms down and hands it over.
As Goku flies off to gather the Dragon Balls, Bulma realizes that she can just ask Shenlong for the all-important blue crystal. Elsewhere, No. 18 is out shopping with Marron and Chi-Chi, and wonders if she should get something for Kuririn. At Kame House, Rōshi wants to hang out with hot babes, as usual.
Back at Capsule Corporation, Beerus and Whis show up wanting Bulma to treat them to more tasty food. She decides to feed them quick so that they will leave before Goku returns with the Dragon Balls, allowing her to finish her time machine in peace.
While she takes them out to a crab restaurant, Goku returns to Capsule Corporation with all the Dragon Balls, and summons Shenlong. As they sky goes dark, Bulma, No. 18, and others all realize Shenlong's been summoned. Bulma makes an excuse and heads back, leaving Beerus and Whis at the restaurant.
Shenlong explains to Goku that since he only granted one wish last time, he will grant two this time around. Before Goku can wish to revive Kaiō and co., No. 18 arrives with Rōshi (riding Baby Gamera) and Oolong (in bat-pig form). No. 18 asks Goku for the remaining wish, but Rōshi and Oolong want it for themselves.
Pilaf and co. are also lurking nearby, scheming to wish for world domination at long last. Before they can act though, Trunks and Goten fly in and knock them out of the way. The two kids are tired of the adults always being the ones to get their wishes granted. It is their turn now! But No. 18 thinks it would teach them a bad lesson; kids should struggle, and not get what they wish for automatically!
Suddenly Gohan flies in (knocking Pilaf out of the way again), with Pan in his arms. Pan's fever has not gone down since morning, and the medicine from the hospital has not helped. Can he ask Shenong to heal her?
Goku and the others agree at once, and Pan is good as new. Goku starts to use the last wish to revive Kaiō and co., but No. 18 asks why Kaiō cannot just wait until next time. What difference does it make if he is alive or dead? Still, Kaiō insists that it "feels" different.
Bulma drives up in her car (knocking Pilaf aside for a third time), and insists she will be the one to get that last wish. Since No. 18's wish is a present for Kuririn, Bulma tells her the greatest gift would just be her presence. She and Marron should go home and be with him! No. 18 is convinced, thinking this is the sort of thing Kuririn would say.
Next, Rōshi wants to be with some hot babes, so Bulma calls a carload of them over (at a price of 10 million Zenny). Oolong just wants panties, so Bulma bribes No. 18 to send him flying. Finally, it turns out Trunks and Goten do not actually have a specific wish in mind. They will have to think of something for next time.
That just leaves Goku, who Bulma mistakenly assumed had already got his wish granted. Bulma promises to let Goku have the last wish… if he retrieves the blue crystal she needs from the Earth's core. Bulma lends him a special suit so that he will survive the trip, and gets Shenlong to wait until he returns by threatening to tell Beerus if he leaves early.
Beerus and Whis finally finish their meal, and meet up with Goku just as he has obtained the crystal. Putting two and two together, they return with Goku to Capsule Corporation and confront Bulma about making another time machine. Beerus smashes the crystal and blows up the time machine in Bulma's lab (with the notes from Future Bulma burning up to). Bulma promises not to do it again.
Goku tries to finally wish to revive Kaiō and co., but Shenlong is at his limit. Unable to wait anymore, he takes off and the Dragon Balls scatter across the Earth. Goku apologizes to Kaiō and promises to revive him next time, but Kaiō is still angry at him for not wishing sooner.










Next Time:


"Goku vs Arale! Earth Ends in a Wacky Battle?!"
Episode Credits
All credits listed below are as originally presented in the episode. The credit structure used in Dragon Ball Super is actually quite simple; the staff involved with the production of the series as a whole are listed in the opening credits and the staff involved with this specific episode are listed in the ending credits. All original credit errors have been corrected to maintain accurate spellings throughout the site. For more information and a complete listing of the series staff, visit the Production Guide.
Cast Credits
孫悟空

Son Goku

孫悟飯

Son Gohan

孫悟天

Son Goten

野沢雅子

Masako Nozawa

 

 

亀仙人

Kame-Sen'nin

佐藤正治

Masaharu Satō

ブルマ

Bulma

鶴 ひろみ

Hiromi Tsuru

トランクス

Trunks

草尾 毅

Takeshi Kusao

チチ

Chi-Chi

渡辺菜生子

Naoko Watanabe

神龍

Shenlong

大友龍三郎

Ryūzaburō Ōtomo

パン

Pan

皆口裕子

Yūko Minaguchi

マーロン

Marron

牛田裕子

Hiroko Ushida

人造人間18号

Artificial Human No. 18

伊藤美紀

Miki Itō

ピラフ

Pilaf

千葉 繁

Shigeru Chiba

シュウ

Shuu

玄田哲章

Tesshō Genda

マイ

Mai

山田栄子

Eiko Yamada

ビルス

Beerus

山寺宏一

Kōichi Yamadera

ウイス

Whis

森田成一

Masakazu Morita

バブルス

Bubbles

藤本たかひろ

Takahiro Fujimoto

グレゴリー

Gregory

沼田祐介

Yūsuke Numata

料理長

Head Chef

麻生智久

Tomohisa Asō

ギャル子

Young Gal

金子有希

Yūki Kaneko

ゆうか

Yūka

山下まみ

Mami Yamashita

石橋 桃

Momo Ishibashi

ナレーション

Narration

龍田直樹

Naoki Tatsuta
Opening Credits
原作・ストーリー原案・キャラクター原案

Original Author / Story Draft / Character Drafts

鳥山 明

(集英社「ジャンプコミックス」刊)

Akira Toriyama

(Published in Shueisha's "Jump Comics")

企画

Planning

情野誠人

(フジテレビ)

Masato Seino

(Fuji TV)

渡辺和哉

(読売広告社)

Kazuya Watanabe

(Yomiko Advertising, Inc.)

森下孝三

Kōzō Morishita

プロデューサー

Producer

橋爪駿輝

(フジテレビ)

Shunki Hashizume

(Fuji TV)

佐川直子

(読売広告社)

Naoko Sagawa

(Yomiko Advertising, Inc.)

木戸 睦

Atsushi Kido

高見 暁

Satoru Takami

音楽

Music

住友紀人

Norihito Sumitomo

オープニングテーマ

Opening Theme

作詞

Lyrics

作曲

Composition

唄

Vocals

「超絶☆ダイナミック!」

"Chōzetsu ☆ Dynamic!"

森 雪之丞

Yukinojō Mori

吉井和哉

Kazuya Yoshii

吉井和哉

Kazuya Yoshii

(日本コロムビア/トライアド)

(Nippon Columbia / Triad)

製作担当

Production Manager

末竹 憲

Ken Suetake

美術デザイン

Art Design

行 信三

Shinzō Yuki

色彩設計

Color Design

加藤良高

Yoshitaka Katō

キャラクターデザイン・作画監修

Character Design & Supervising
Director of Animation

山室直儀

Tadayoshi Yamamuro


シリーズディレクター

Series Director

羽多野浩平

Kōhei Hatano

畑野森生

Morio Hatano

制作協力

Production Coordination

東映

Toei

制作

Production

フジテレビ

Fuji TV

読売広告社

Yomiko Advertising, Inc.

東映アニメーション

Toei Animation
Ending Credits
脚本

Script

福嶋幸典

Yoshifumi Fukushima

声の出演

Voice Performances

~~~~

協力

In Cooperation With

青二プロダクション

Aoni Production

原画

Key Animation

大野 勉

Tsutomu Ono

小原太一郎

Tai'ichirō Ohara

飯塚葉子

Yōko Iizuka

沼田 広

Hiroshi Numata

田中よしのり

Yoshinori Tanaka

ティーエーピー

TAP

月乃むあ

Mua Tsukino

スタジオエル

Studio Elle

次橋有紀

Yuki Tsugihashi

岩田芳美

Yoshimi Iwata

船越麻友美

Mayumi Funakoshi

松木泰憲

Yasunori Matsuki

竹本佳子

Keiko Takemoto

馬場可奈子

Kanako Baba

大西麻衣子

Maiko Ōnishi

松井京介

Kyōsuke Matsui

伊藤弘樹

Hiroki Itō

藤本航己

Kōki Fujimoto

澤木巳登里

Midori Sawaki

内田広之

Hiroyuki Uchida

 

大高雄太

Yūta Ōtaka

米田雄哉

Yūya Yoneda

UNION CHO

UNION CHO

佐藤友子

Tomoko Satō

 

池田智美

Tomomi Ikeda

杉浦圭一

Kei'ichi Sugiura

星野玲香

Reika Hoshino

阪本望実

Nozomi Sakamoto

鷲尾侑紀

Yūki Washio

福島陽子

Yōko Fukushima

佐々木綾

Aya Sasaki

石本紗綺

Saki Ishimoto

寒川頭一

Ken'ichi Kangawa

 

作画監督補佐

Assistant Animation Supervisor

楠木智子

Tomoko Kusunoki

田中千皓

Chihiro Tanaka

動画

In-Between Animation

Toei Phils.

Toei Animation Philippines

武遊

Buyū

ティーエーピー

TAP

デジタル彩色

Digital Coloring

Toei Phils.

Toei Animation Philippines

武遊

Buyū

ティーエーピー

TAP

色指定

Color Designation

加藤良高

Yoshitaka Katō

仕上げ検査

Finishing Inspection

相澤里佳

Rika Aizawa

デジタル特殊効果

Digital Special Effects

下川信裕

Nobuhiro Shimokawa

デジタルアーティスト

Digital Artist

川崎健太郎

Kentarō Kawasaki

背景

Backgrounds

アテネアートスタジオ

Athens Art Studio

斉藤信二

Shinji Saito

木下千春

Chiharu Kinoshita

山本真生

Mao Yamamoto

大谷正信

Masanobu Ōtani

赤保谷則子

Noriko Akahoya

勝又アイ子

Aiko Katsumata

デジタル撮影

Digital Photography

AMGA

AMGA

競 昌則

Masanori Kisoi

服部 安

Yasushi Hattori

平井智朗

Tomoaki Hirai

榎本星夢

Seimu Enomoto

岡田由紀

Yuki Okada

西 重成

Shigenari Nishi

杉浦仙一

Sen'ichi Sugiura

姜 亜偉

Ai Kyō

金 正徳

Masanori Kin

エンディングテーマ

Ending Theme

作詞

Lyrics

作曲/編曲

Composition/Arrangement

唄

Vocals

「炒飯MUSIC」

"Chao Fan MUSIC"

アルカラ

Arukara

アルカラ

Arukara

アルカラ

Arukara

(スピードスターレコーズ)

(SPEEDSTAR RECORDS)

音響監督

Audio Director

本田保則

Yasunori Honda

編集

Editing

西村英一

Ei'ichi Nishimura

編集助手

Editing Assistance

向井咲子

Sakiko Mukai

録音

Recording

新垣未希

Miki Aragaki

録音助手

Recording Assistance

伊東光晴

Mitsuharu Itō

音響効果

Sound Effects

西村睦弘

(JetSoundEngine)

Mutsuhiro Nishimura

(JetSoundEngine)

記録

Documentation

沢井尚子

Shōko Sawai

アシスタントプロデューサー

Assistant Producer

静 美保

(読売広告社)

Miho Shizuka

(Yomiko Advertising, Inc.)

音響製作

Audio Production

タバック

TAVAC

録音スタジオ

Recording Studio

サウンドイン

Sound Inn

東映デジタルセンター

Toei Digital Center

オンライン編集

Online Editing

東映デジタルラボ

Toei Digital Lab

小山雅史

Masashi Koyama

音楽協力

Music In Association With

東映アニメーション音楽出版

Toei Animation Music Publishing

フジパシフィックミュージック

FUJIPACIFIC MUSIC

企画協力

Planning In Cooperation With

集英社「Vジャンプ」編集部

Shueisha's "V-Jump" Editorial Department

演出助手

Assistant Director

佐藤雅教

Masanori Satō

製作進行

Assistant Production Manager

難波 涼

Ryō Nanba

美術進行

Art Manager

西牧正人

Masato Nishimaki

仕上進行

Finishing Manager

河本隆弘

Takahiro Kawamoto

CG進行

CG Manager

横尾裕次

Yūji Yokō

設定制作

Setting Production

矢口雅之

Masayuki Yaguchi

演技事務

Talent Coordination

角 康昭

Yasuaki Tsuno

協力プロダクション

A Cooperative Production With

OFFICE DCI

OFFICE DCI

スタジオワンパック

Studio Wanpack

広報

Public Relations

太田真紀子

(フジテレビ)

Makiko Ōta

(Fuji TV)

データ放送

Datacasting

腰塚 悠

(フジテレビ)

Yū Koshitsuka

(Fuji TV)

美術

Art Director

杦浦正一郎

Sei'ichiro Sugiura

斉藤信二

Shinji Saito

総作画監督

Chief Animation Supervisor

辻 美也子

Miyako Tsuji

作画監督

Animation Supervisor

大野 勉

Tsutomu Ono

木下由衣

Yui Kinoshita

絵コンテ

Storyboard

羽多野浩平

Kōhei Hatano

演出

Director

佐藤雅教

Masanori Satō