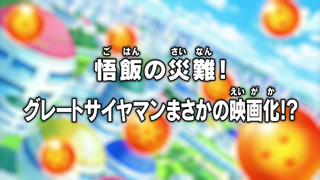 悟飯の災難!グレートサイヤマンまさかの映画化!?
Gohan no Sainan! Gurēto Saiyaman Masaka no Eiga-ka!?
Gohan's Disaster! Great Saiyaman's Unbelievable Movie Adaptation?!
Episode Information
Episode Synopsis
While Jaco takes a ramen break, he accidentally loses custody of the evil criminal Watagash, who he had just captured. On Earth, Gohan and Videl learn that Mr. Satan is starring in a new superhero film with superstar Barry Kahn as Great Saiyaman! Gohan's family visits the set and Mr. Satan introduces them to popular idol Cocoa Amaguri, playing Saiyaman's love interest. Barry Kahn then appears and attempts to flirt with Videl, but turns him down in front of the film crew. Gohan later decides to serve as Barry's stunt double to impress Pan, and thinking he will only hurt or embarrass himself, Barry allows it. But Gohan uses his powers and amazes everyone on set, with the director immediately hiring him as the official stunt double. Later on his way home, Gohan intervenes as the Great Saiyaman against a pair of bank robbers from his past, one of whom suddenly becomes extremely stronger after being infected by Watagash, but is still defeated by Gohan. Though Bulma covers for him when the film crew nearly deduced him to be the real Great Saiyaman, Gohan's secret is found out by the film's co-star Cocoa who blackmails Gohan into flying her around the city. But the two are attacked by Jaco as he assumes Great Saiyaman is Watagash's new host!
Prologue
Somewhere in space, Jaco sits at a ramen shop enjoying a warm, delicious meal. The ramen shop owner questions whether it is wise for him to stop like this, since he is on the clock, but Jaco insists everything is fine. He has just caught and sealed away the fiendishly evil criminal Watagash in a special container, which is sitting in his ship. The owner is shocked, but Jaco explains that there's no way Watagash could escape. As Jaco sits eating ramen, Watagash breaks the containers glass and escapes off into space.
Part A
On Earth, Videl and Gohan are shocked to see a commercial for the upcoming film "Great Saiyaman vs Mister Satan", starring superstar Barry Kahn as Great Saiyaman, popular idol Cocoa Amaguri as his love interest, and Mr. Satan as himself. On the phone with Videl, Mr. Satan explains that Barry approached him with the offer of making a film together. Videl cannot believe it, as Satan seems to really be into this acting thing.
As Barry arrives on set to begin shooting the movie, his car is surrounded by reporters. One reporter asks him why he agreed to playing such a minor, and now largely forgotten, hero like the Great Saiyaman. Barry thinks that the contrast between a has-been like Saiyaman and a star like him is precisely what makes it so interesting. After making it onto the set, Barry meets with the assistant director and insists they update the commercial with the movie's new title, that he came up with himself: "Barry Kahn in Great Saiyaman vs Mister Satan!" They think that's too long, but Barry doesn't care; this is his film and they better not screw it up. Suddenly Barry is called to wardrobe, and he heads off.
Meanwhile, Gohan, Videl, and Pan have arrived on set and Satan is showing them around. Gohan wishes they could have shown all this to his father, who Satan notes is off training, when suddenly Cocoa Amaguri runs up. Satan introduces them to her and starts telling her that while Gohan might not look like much, he is actually the real… but Videl quickly stops him from spilling the beans about Gohan being the Great Saiyaman; that might cost him his academic job! Barry then shows up (in costume) and tries to flirt with Videl, but she's not interested. Barry can't believe, and neither can the film crew watching on. Gohan says she could have gotten one, but Videl says she didn't need one. Besides, she thinks Gohan is much cooler.
Filming has begun, and Gohan is surprised that Barry is not doing his own stunts. Satan says he wants to, but no one wants a celebrity of his stature to get hurt. Barry's stunt double takes his spot in front of a tank, but just as the director is about to call action Barry stops them, suggesting they change the script: rather than dodging a tank, his stunt double should jump on top of it… without using wires. Everyone thinks this is absurd, but Barry insists, until finally Gohan steps in and volunteers. Barry thinks he is doing this to become popular with the ladies, but Gohan figures that if he is in this movie, Pan will enjoy watching it when she grows up.
Gohan puts on the stuntman's Saiyaman costume and takes his spot on the set. Barry watches in amusement, sure that he will hurt himself and make Videl sorry she embarrassed him earlier. As the tank speeds toward him, Gohan performs a superhuman leap onto the tank (amazing everyone), pulls out the driver, and then finishes off with a classic Saiyaman speech.
Part B
Standing outside the studio, Gohan thinks of what a mess he has gotten himself into. He thinks back on what transpired after shooting that scene — The director rushed over wanting to officially sign Gohan as the new stuntman, but Videl was all for it: in that suit nobody will be able to tell it's him… and seeing him as Saiyaman again got her excited thinking of the old days. Mr. Satan also asked him to do it, because he can't risk anything going wrong.
Walking home, Gohan worries about memorizing the script, but then spots a bank robbery in progress. Kuririn (as part of his police job) is facing off with two crooks equipped with military technology. Gohan changes into the Saiyaman costume he is carrying and smashes through the wall, knocking Kuririn out in the process. The two crooks remember Saiyaman: they were the ones he and Videl caught back when Saiyaman made his debut! This makes Gohan nostalgic, but the crooks want payback after being stuck in jail this whole time.
Unbeknownst to everyone, Watagash appears crawling across the floor and hops into one of the robbers boots, infecting him. Meanwhile in space, Jaco confirms that Watagash has fled to Earth. The robber suddenly becomes enraged and knocks his partner out of the way, and then rushes at Great Saiyaman. The two exchange blows up in the air, but he's still no match for Gohan, who knocks him out and prepares to finish him off with a Kamehameha. However, fearing collateral damage with everyone standing around watching, he opts for a small "Great Saiyaman Beam" instead. As the police haul off the robbers, Kuririn asks Gohan why he is going around dressed up like that at his age, but he insists he's not Gohan, but Great Saiyaman. With the other police gone, Gohan admits it is him, but he has Videl's approval!
The return of Saiyaman makes the news, and while reporters assume it was a promotional stunt by Barry, everyone on set has already guessed it was really Gohan. However, Bulma arrives and claims that a spare Saiyaman suit she made for the film was stolen from her lab, and that this thief must have been the one who stopped the robbery. With Gohan's secret still safe, Bulma asks him not to get carried away… but their private conversation is overheard by Cocoa.
After the day's filming, Cocoa approaches Gohan and asks him to help her practice her lines. She even wants him to fly her home, and when he objects, she reveals she heard him talking to Bulma and knows he was really the one who stopped the robbery. To keep her quiet, Gohan agrees to fly her home, dressed as Saiyaman. Enjoying the scenery, Cocoa asks Gohan to take the long way around so she can see the cityscape at night.
As the two enjoy their view of the city at night, they suddenly run into Jaco standing atop his spaceship. Jaco is convinced that Saiyaman is Watagash's new host, and before Gohan can say anything Jaco fires his ship's cannon to destroy him!










Next Time:


"For The Sake of Those He Loves! The Indomitable Great Saiyaman!!"
Episode Credits
The overall credits listed follow a straight forward structure; the staff involved with the production of the series as a whole are listed in the opening credits and the staff involved with this specific episode are listed in the ending credits. All credits listed below are presented as they originally appeared in the episode's initial broadcast, although errors have been corrected to maintain accurate and consistent spellings throughout the site. For more information and a complete listing of the series' staff, visit the Animation Production Guide.
Cast Credits
孫悟空

Son Goku

孫悟飯

Son Gohan

野沢雅子

Masako Nozawa

 

ブルマ

Bulma

鶴 ひろみ

Hiromi Tsuru

クリリン

Kuririn

田中真弓

Mayumi Tanaka

ビーデル

Videl

皆口裕子

Yūko Minaguchi

ミスターサタン

Mister Satan

石塚運昇

Unshō Ishizuka

ジャコ

Jaco

花江夏樹

Natsuki Hanae

バリー・カーン

Barry Kahn

檜山修之

Nobuyuki Hiyama

甘栗ココア

Cocoa Amaguri

浅野真澄

Masumi Asano

監督

Director

池田 勝

Masaru Ikeda

助監督

Assistant Director

山口勝平

Kappei Yamaguchi

強盗

Robber

平井啓二

Keiji Hirai

沼田祐介

Yūsuke Numata

スタントマン

Stuntman

新井良平

Ryōhei Arai

レポーター

Reporter

佐々木 愛

Ai Sasaki

TV内ナレーション

TV Narration

宮坂俊蔵

Shunzō Miyasaka

アナウンサー

Announcer

織田優成

Yūsei Oda

ナレーション

Narration

龍田直樹

Naoki Tatsuta
Opening Credits
原作・ストーリー原案・キャラクター原案

Original Author / Story Draft / Character Drafts

鳥山 明

(集英社「ジャンプコミックス」刊)

Akira Toriyama

(Published in Shueisha's "Jump Comics")

企画

Planning

情野誠人

(フジテレビ)

Masato Seino

(Fuji TV)

渡辺和哉

(読売広告社)

Kazuya Watanabe

(Yomiko Advertising, Inc.)

森下孝三

Kōzō Morishita

プロデューサー

Producer

橋爪駿輝

(フジテレビ)

Shunki Hashizume

(Fuji TV)

佐川直子

(読売広告社)

Naoko Sagawa

(Yomiko Advertising, Inc.)

木戸 睦

Atsushi Kido

高見 暁

Satoru Takami

音楽

Music

住友紀人

Norihito Sumitomo

オープニングテーマ

Opening Theme

作詞

Lyrics

作曲

Composition

唄

Vocals

「超絶☆ダイナミック!」

"Chōzetsu ☆ Dynamic!"

森 雪之丞

Yukinojō Mori

吉井和哉

Kazuya Yoshii

吉井和哉

Kazuya Yoshii

(日本コロムビア/トライアド)

(Nippon Columbia / Triad)

製作担当

Production Manager

末竹 憲

Ken Suetake

美術デザイン

Art Design

行 信三

Shinzō Yuki

色彩設計

Color Design

加藤良高

Yoshitaka Katō

キャラクターデザイン・作画監修

Character Design & Supervising
Director of Animation

山室直儀

Tadayoshi Yamamuro


シリーズディレクター

Series Director

羽多野浩平

Kōhei Hatano

畑野森生

Morio Hatano

制作協力

Production Coordination

東映

Toei

制作

Production

フジテレビ

Fuji TV

読売広告社

Yomiko Advertising, Inc.

東映アニメーション

Toei Animation
Ending Credits
脚本

Script

キング・リュウ

King Ryū

声の出演

Voice Performances

~~~~

協力

In Cooperation With

青二プロダクション

Aoni Production

原画

Key Animation

二階堂渥志

Atsushi Nikaidō

坂井寛幸

Hiroyuki Sakai

Toei Phils.

Toei Animation Philippines

Park Yinam

Kwon Kyounga

稲葉 仁

Hitoshi Inaba

菅原リエコ

Rieko Sugawara

 

Kim Ikyeon

ED作画監督/原画

Ending Animation Supervisor / Key Animation

井手武生

Takeo Ide

動画

In-Between Animation

Toei Phils.

Toei Animation Philippines

武遊

Buyū

ミュウ

Myū

デジタル彩色

Digital Coloring

Toei Phils.

Toei Animation Philippines

武遊

Buyū

ミュウ

Myū

色指定

Color Designation

加藤良高

Yoshitaka Katō

仕上げ検査

Finishing Inspection

相澤里佳

Rika Aizawa

デジタル特殊効果

Digital Special Effects

下川信裕

Nobuhiro Shimokawa

デジタルアーティスト

Digital Artist

川崎健太郎

Kentarō Kawasaki

背景

Backgrounds

ムクオスタジオ

Mukuo Studio

井上慎太郎

Shintarō Inoue

渡川優介

Yūsuke Togawa

林 鴻生

Hong-Sheng Lin

石原麻美

Asami Ishihara

デジタル撮影

Digital Photography

AMGA

AMGA

競 昌則

Masanori Kisoi

服部 安

Yasushi Hattori

平井智朗

Tomoaki Hirai

榎本星夢

Seimu Enomoto

岡田由紀

Yuki Okada

西 重成

Shigenari Nishi

杉浦仙一

Sen'ichi Sugiura

姜 亜偉

Ai Kyō

金 正徳

Masanori Kin

エンディングテーマ

Ending Theme

作詞

Lyrics

作曲

Composition

編曲

Arrangement

唄

Vocals

「悪の天使と正義の悪魔」

"An Evil Angel and Righteous Devil"

加藤ひさし

Hisashi Katō

加藤ひさし

Hisashi Katō

ザ・コレクターズ / 吉田 仁

THE COLLECTORS & Jin Yoshida

ザ・コレクターズ

THE COLLECTORS

(日本コロムビア / トライアド)

(Nippon Columbia / TRIAD)

音響監督

Audio Director

本田保則

Yasunori Honda

編集

Editing

西村英一

Ei'ichi Nishimura

編集助手

Editing Assistance

向井咲子

Sakiko Mukai

録音

Recording

新垣未希

Miki Aragaki

録音助手

Recording Assistance

伊東光晴

Mitsuharu Itō

音響効果

Sound Effects

西村睦弘

(JetSoundEngine)

Mutsuhiro Nishimura

(JetSoundEngine)

記録

Documentation

沢井尚子

Shōko Sawai

アシスタントプロデューサー

Assistant Producer

静 美保

(読売広告社)

Miho Shizuka

(Yomiko Advertising, Inc.)

音響製作

Audio Production

タバック

TAVAC

録音スタジオ

Recording Studio

サウンドイン

Sound Inn

東映デジタルセンター

Toei Digital Center

オンライン編集

Online Editing

東映デジタルラボ

Toei Digital Lab

小山雅史

Masashi Koyama

音楽協力

Music In Association With

東映アニメーション音楽出版

Toei Animation Music Publishing

フジパシフィックミュージック

FUJIPACIFIC MUSIC

企画協力

Planning In Cooperation With

集英社「Vジャンプ」編集部

Shueisha's "V-Jump" Editorial Department

演出助手

Assistant Director

川崎弘二

Kōji Kawasaki

製作進行

Assistant Production Manager

小林克規

Katsunori Kobayashi

美術進行

Art Manager

西牧正人

Masato Nishimaki

仕上進行

Finishing Manager

河本隆弘

Takahiro Kawamoto

CG進行

CG Manager

横尾裕次

Yūji Yokō

設定制作

Setting Production

矢口雅之

Masayuki Yaguchi

演技事務

Talent Coordination

角 康昭

Yasuaki Tsuno

広報

Public Relations

太田真紀子

(フジテレビ)

Makiko Ōta

(Fuji TV)

データ放送

Datacasting

腰塚 悠

(フジテレビ)

Yū Koshitsuka

(Fuji TV)

美術

Art Director

鹿野良行

Yoshiyuki Shikano

総作画監督

Chief Animation Supervisor

井手武生

Takeo Ide

作画監督

Animation Supervisor

板井寛幸

Hiroyuki Itai

ノエル・アンニョヌエボ

Noel Añonuevo

演出

Director

岩井隆央

Takao Iwai