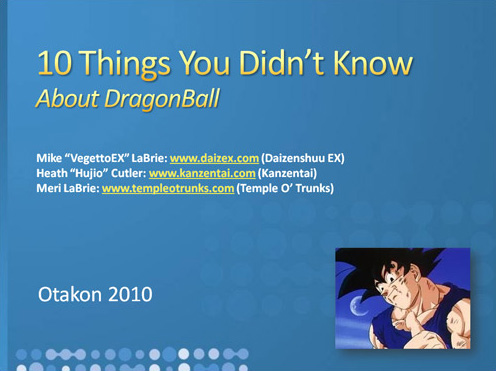 We were fortunate enough to be able to present a panel at Otakon in Summer 2010. As an anime convention has such a wide diversity of fans (those who are just getting into the medium, those who have been fans for decades, and everything in between), we wanted to craft a panel that would appeal to any type of Dragon Ball fan, regardless of their length with the series, language preference, etc. We decided on something entitled "10 Things You Didn't Know About Dragon Ball" — tidbits of information, much of it based on recent original research and discoveries, that just about anyone could find enlightening and entertaining.
Despite being scheduled for 11 pm on a Saturday evening, somewhere between 250 and 300 dedicated fans showed up to have their world rocked. We had a fantastic time and received amazing feedback.
We are never content leaving it at that, though. There was absolutely no reason why we could not share the panel with the rest of our audience across the globe! For those of you who attended the panel, we are excited to provide an archive of it for you to dig back into! For those of you who could not attend, we are excited to bring even more content your way!
Special thanks to the Otakon staff and contractors for allowing us to grab a direct audio feed from the mixer, and to our buddy Albert for filming the panel.
PANELISTS:
For information on booking either this exact panel at your convention, an updated version on it, or any other of the variety of panels we have conducted in the past, please contact us. A complete convention participation resume is available upon request.
Thing #1: Introduction + Name Puns
To get things started, we did a little bit of introductions (as should be the norm with all panels!) and dove right into the material. We wanted to kick things off with subject matter that just about any Dragon Ball fan would be familiar with the concept of, but not necessarily some of the most interesting, nitty-gritty details of. With that in mind, we started off with some of our favorite and obscure "Name Puns" in the series. With so many character names being a play on some type of food or article of clothing, it was fun to use some off-the-wall examples of that for DBZ Movie 5, and a series of puns based around a concept for DBZ Movie 9.
INFORMATION SOURCE: Daizenshuu 6, Dragon Ball FOREVER, Super Exciting Guides
Thing #2: Names Toriyama Forgot
As we joked in the beginning of this segment, fans like to poke fun at original author Akira Toriyama when he legitimately forgets about some of the characters he introduced over the course of the franchise. For this segment, we wanted to highlight not exactly characters that he forgot about, but rather some names that he forgot about. Was a name replaced? Reused? Did he actually remember a name for a change…?
INFORMATION SOURCE: Dragon Ball FOREVER, Dragon Ball Bōken ("Adventure") Special
Thing #3: DBZ Side Stories
We have covered the "Side Stories" a few times here on the website and on our podcast, and thought they would be a great addition for the panel, as well. For those unfamiliar with the works, they are three short stories written and illustrated on the "side" of the traditional manga by anime staff. Takao Koyama and Minoru Maeda wrote and illustrated, respectively, the first two stories about Piccolo and Vegeta, while Aya Matsui wrote the third story about Trunks, accompanied by illustrations by Maeda. All three stories are fascinating looks at the inner-thoughts of the characters, written from a perspective and in a style that Toriyama himself simply is not known for. The first two stories can be read over on desirecampbell.com, while the third is available here on our own website.
Thing #4: Toriyama & GT
While Dragon Ball GT certainly was an ill-fated attempt to extend the franchise beyond its original creator's intent, there is a common misconception that said original author had "nothing" to do with the series. This is simply not so! Akira Toriyama contributed a plethora of character and machinery designs, landscape ideas, and even very specific notes about the logo for the new series! For a closer look at some of these contributions and various translations of the notes, check out a thread on our own forum from Herms about Toriyama's contribution to the anime as a whole, as well as our "Dragon Box GT" page.
INFORMATION SOURCE: Daizenshuu 7, Dragon Ball GT Perfect Files
Thing #5: Budhiyasa
On the very last page of Chapter 32 in the manga, our heroes arrive at the 21st Tenka'ichi Budōkai. The far left of the two-page spread sports an extremely prominent character who seems to be looking back at the reader, with his shirt sleeve reading "Budhiyasa". Beyond this one little clue there was no explanation as to who this may be (if anyone in particular!) until volume 19 of Birdland Press, Akira Toriyama's official fan club newsletter, was dug up. Not only did Toriyama's vacation to Bali influence the tournament's overall design, but his tour guide made this fun little cameo, too!
INFORMATION SOURCE: Birdland Press #19 (Akira Toriyama fan newsletter)
Thing #6: Why Seven Dragon Balls
It is a fact that we tend to gloss over and simply accept: there are seven Dragon Balls. Why is it seven, though? Is there some kind of significance to the number? This very simple question was asked in the Adventure Special book from the 1980s, and has a somewhat shocking answer! Well, it is shocking if you are not used to just how lazy and convenient of an author Toriyama can be…
INFORMATION SOURCE: Dragon Ball Bōken ("Adventure") Special
Thing #7: 17's Odd Energy Donation
Near the end of the series, various characters plead for Earth's inhabitants to donate to Goku's Genki-Dama, until it is ultimately Mr. Satan that once again rises as the savior. As things are just getting going, however, #17 donates energy to the attack, noting that it has been a while since he has heard Goku's voice. There is only one little problem with that statement, however… (and yes, Lunch does ultimately show up in the TV version to donate her energy, but it does not change the fact that the poor woman was shoved aside in the manga!).
INFORMATION SOURCE: Daizenshuu 7
Thing #8: Saiya-jin Zetsumetsu Keikaku
While we have a huge section here on the website dedicated to its history as a Nintendo Famicom game turned "Official Visual Guide" / OVA turned Playdia game, it is always a fascinating discussion to have, especially with an audience who may have no familiarity with Plan to Eradicate the Saiyans. We thought we had it in the bag toward the end, too… but then all the Raging Blast 2 updates started coming out…
(video temporarily unavailable)
Thing #9: Manga
There have been so many manga releases for the franchise that it can be a bit overwhelming. What was changed between Jump and the tankōbon and then to the kanzenban? Why were some of these re-released? Why should anyone care, in the first place?! Special emphasis is given to the new ending in the kanzenban, along with our favorite redundantly-redundant releases.
Thing #10: The AF Conspiracy
Ignore what you read in our "Rumor Guide" — Dragon Ball AF is real. "The man" has done everything in his power to conceal it from you, and at great risk to our own lives, we march onward to share the truth with you all.
Is There More?!
Even with the franchise being over two decades ago, we continue to learn more and more about it by diving into reference books new and old alike, through interviews, and through simply re-watching and re-reading it. We say "10 Things" not because these are the only ten things that someone may not know, but because they are a good batch. Could we fit in new ones? Of course! Will we? Probably so! As noted earlier, for information on booking either this exact panel at your convention, an updated version on it, or any other of the variety of panels we have conducted in the past, please contact us.