Introduction
This is a huge time in the world of Dragon Ball — the English dub of the Dragon Ball Z TV series is coming to a close on Cartoon Network, and at the same time, is making something of a reprise in Japan! A wide variety of new products are being released upon the world. We are proud to bring you a quick lowdown on all of the recent products that you are going to be able to purchase or at least see floating your way soon!
Japanese (Region 2) DVD Box Sets
The entire television series of Dragon Ball Z, spanning a full 291 episodes, is being completely restored and released on DVD in Japan beginning March 2003 across two giant box sets. Each set has a price tag of a staggering ¥100,000 (equivalent to approximately $840 US).
The first box set (to be released 19 March 2003), with a whopping running time of 3300 minutes, will cover the first 147 episodes of the series (which brings us into the early-middle part of the Cell era). The first box set will also include an "original blister-packed action figure produced by Kaiyodo." A special insert booklet will be included, as well. A "bonus disc" to be included is presumed to be either one or both of the two DBZ TV specials.
The second box set (to be released 18 September 2003) also has a running time of 3300 minutes, and will span episodes 148 to the final 291st episode. This set will also include another action figure, booklet, and bonus disc.
All episodes will have digitally remastered picture quality. The audio will remain Dolby Digital 2-channel mono, but it assumed to be touched up from the original masters.
New Video Games from Japan
While The Legacy of Goku and the Collectible Card Game games for the GameBoy Advance were original, US-created video games, a slew of new games are being distributed by Infogrames… created once again by Bandai of Japan!
The first game to be released is surprisingly only a GameBoy Color game, entitled Legendary Super Warriors. This game is in the style of some of the older NES and SNES Dragon Ball games, which base their fighting style around a card system (completely different from "trading cards"). The game spans the story lines from the beginning of Dragon Ball Z all the way to the end. In addition to a story mode, there is also a battle mode that can be played over the link cable. The game was originally published in Japan by Banpresto 09 August 2002, and was translated and distributed by Infogrames for an American release 14 November 2002. The game was translated into five languages for releases throughout Japan, North America, and Europe.


The second game is the behemoth of them all: Budokai, a traditional one-on-one fighting game released for the PlayStation 2. This is the first fighting game since Final Bout on the PS1. Many were quite unsure how it would stack up against the last fighting game, which was well known for having ridiculously poor collision detection, bland backgrounds, and low-polygon count character models.


Unfortunately, the domestic release will only feature English voices. According to Associate Producer Chrins Lundeen, it is because they "… decided to include the U.S. voice actors to create something special and familiar to the majority of Dragon Ball Z fan. … It was something that hadn't been done on this scale before, and never in a Dragon Ball game. In the end, we had a disc full of dialogue and didn't have room for both English and Japanese" (EGM, January 2003).
The game has been receiving surprisingly above-average reviews and scores, which is quite impressive for a Dragon Ball game, especially coming off of Final Bout. The game sports 23 different characters to fight as (most unlocked as you make your way through story mode). A few different modes are available, such as the traditional story and versus, and this game's survival mode, entitled (at least in the American release) "Legend of Hercule".
The game's graphics are fully polygonal, a la Final Bout, but sport a much higher polygon count. In our humble opinion, the game doe
Kanzenban (re-released manga in Japan)
The original manga of Dragon Ball is currently being re-released as the kanzenban volumes. Each volume sports brand-new cover art, all drawn by original author and artist Akira Toriyama.
The books themselves are quite a bit larger than the original tankōbon, and just slightly larger in height and width than the English graphic novels. The paper is also of significantly higher quality. This, combined with the higher page count (book 1 has 14 chapters and book 2 has 15), makes for some pretty massive paperbacks compared to the originals.
The new cover art is cool, if lacking the humor of Toriyama's original tankōbon illustrations. The art is actually sort of embossed on the jacket, with a shiny finish (the rest has a duller sheen). There are also black-and-white illustrations on the backs of the books, too. The back of volume one features Yamcha, while volume two has Pilaf.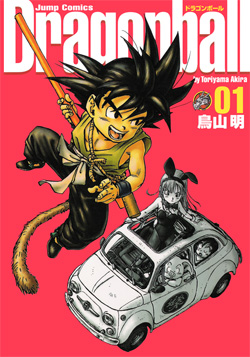 There is new art on the spines, too. The first two feature Sno and #8, and have the words "Studio Uccello" and "Studio K2R" on them (these being the companies which did the restoration/editing). The spines of the third and fourth volumes have Goku running (and once you put the four together, he appears to be racing a dragster on a track). The back of volume 3 has blonde Lunch, and the back of volume four has the Tenka'ichi Budōkai announcer.
There is no new volume title page illustration or mokuji graphic. The title page is all red except for the text, which is the same as what is on the cover. However, the front cover illustration is repeated on glossy paper just before the title page, sans background. The actual contents page is printed in green ink, with a silhouette of Goku in one corner and the chapter titles laid out vertically.
As for the actual comic pages, having the color pages is really nice, although we are a bit disappointed at discovering that Toriyama never finished out any of these chapters in full-color (it usually switches to two-color or black-and-white a few pages in). The black-and-white art is also a bit clearer than we remember, although it may just be a side-effect of the art being physically larger.
The "Title Page Gallery" of old has been renamed "Title Page Collection". It is here that most of the changes in the kanzenban become evident. For one thing, all of the title pages have had their teaser blurbs and Bird Studio logos removed. However, pages that were shrunk so the "Title Page Gallery" title could fit around them are now back to full size (this one does not have that problem, since the page announcing the "Title Page Collection" does not have a title page on it). Also, almost all of the title pages that were lost because Dragon Ball volume 2 (the regular version, that is) did not have a title page gallery are back.
The advertisements for the kanzenban have said the artwork would be touched up. There may have been touch-ups here and there that have gone largely unnoticed, but there is one in particular we feel we have to mention. In the title page to chapter five, in which bomber-jacketed Bulma stands in the foreground, she has been completely redrawn without the cigarette she once had. While we do not advocate smoking, Bulma does eventually start smoking, so it is kinda like tampering with the character.
We have detected no censorship (smoking-related or otherwise) from the next two volumes, so it may be that the title page thing was actually a product of not having the original color image to work with, so they redrew it, deciding to nix the cigarette at the same time.
Newly Released Music Collection
There have been very few CDs of Dragon Ball music released in the last few years. With the sudden influx of new video games and manga, it only made sense to release another giant music collection from the series. The first "Complete Song Collection" set of three discs contains 49 tracks, all full-length vocal. This first set (COCX-32058) was released 18 January 2003. The second set (COCX-32079) is slated for release 21 February 2003. The third and fourth sets do not yet have a release date posted.


Dragon Ball USA (Region 1) DVD Box Sets & More
FUNimation has announced that Dragon Ball will no longer be released on VHS. Instead, DVD box sets will be the method of release! Due out 28 January 2003 is the first box set, spanning the "Tournament" saga (itself spanning episodes 14 to 28).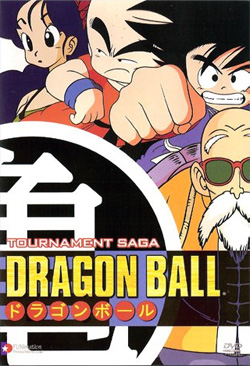 Additionally, FUNimation has announced that the 10th anniversary Dragon Ball movie (Saikyō e no Michi) will be released 22 April 2003 as The Path to Power.
Dragon Ball GT USA (Region 1) DVDs
Hot on the heels of their Dragon Ball announcements, FUNimation continued on with their announcements of Dragon Ball GT releases!
The first two volumes of GT will be released on both edited VHS and unedited bilingual DVD 15 April 2002. Four volumes have been announced (1: "Baby: Affliction"; 2: "Baby: Incubation"; 3: "Baby: Creation"; 4: "Baby: Proliferation"). Each has a scheduled running time of 62 minutes, being approximately three episodes.


Unfortunately, the titles make no sense (Baby does not even get mentioned for a good twenty episodes), and there is only going to be three episodes per volume — 64 does not divide by 3 (though it does by 4…). That would have made more sense, and have been much more cost-effective for the average buyer, especially considering the already-prevailing opinion of the series.