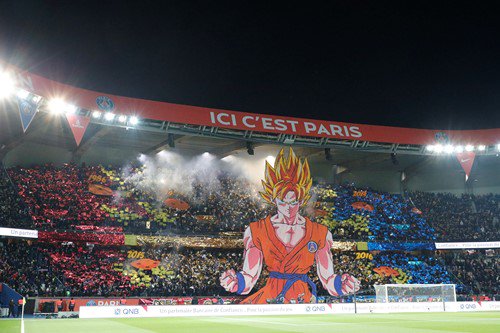 This Literally happened, i will leave a link to it below. Anyway i will put it word for word what the article says and the link if you want to see it. I mainly am posting this cause i felt like every dragon ball fan should see this. Also if you seen anything similar to this for dragon ball then i encourage you to make a topic yourself or post it on this topic.

Paris Saint-Germain vs. Marseille is one of the most anticipated soccer games on the French calendar as the country's North and South duel it out for the French title. This year, PSG fans went all out and brought a massive Goku from to inspire their team to victory—and the internet can't seem to get enough.

The Dragon Ball franchise character was chosen to represent the team because PSG is going for its seventh title, and there are seven Dragon Balls scattered around the universe. Fans commemorated MSG's previous six wins with Dragon Ball banners featuring the years of those victories

The match was played on Paris Saint-Germain's home turf and, ultimately, the team beat out Marseille 3-0. It seems like Marseille was no match for PSG's home-field advantage, especially not with an extra power-up from Goku.
https://www.dailydot.com/parsec/goku-pa ... in-soccer/