Episode #0448
(
download MP3
) (
rss feed
) (
subscribe in iTunes
) (
YouTube version
) (
SoundCloud version
)
44:39; 96 kbps, mono; 30.8 MB
Episode #0448! Mike, Julian, and Jake provide a brief history of "Dragon Ball Heroes" before diving into a review of the first "Super Dragon Ball Heroes" promotional anime episode. We've had plenty of TV series, movies, OVAs, and other special features; how does this one hold up, and what do we think the future holds?
SEGMENTS:
00:13 - Introduction
02:31 - Topic Part 1 ("Dragon Ball Heroes" history)
17:28 - Topic Part 2 (Promotional Anime episode review)
40:40 - Wrap-up
REFERENCED SITES:
This was my screenshot from
Ultimate Mission X
that I was referring to during the conversation about the various Goku characters from different dimensions: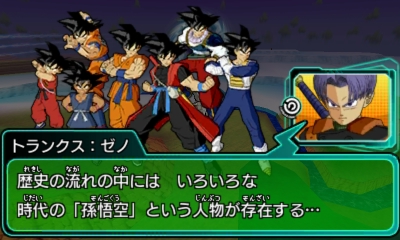 Enjoy!