Hey, all:
I see it popping up a lot due to "Battle of Gods" promotional material: the phrase "Mystic Gohan". I'm pretty well-versed in its general history and have been thinking of adding it to the "Rumor Guide" on the site (mostly just confirming that it's never used in Japanese merchandise and such).
One place where it WAS "officially" used was an American figure line: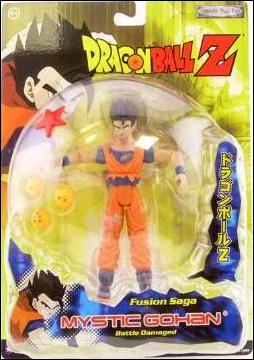 Does anyone actually own that figure? I'd like a nicer picture of it, and perhaps information about the series/line and its release timeframe. That stuff I'm pretty in the dark about.
The page I pulled that image from
(combined with a little digging through archives on dragonballtoys.com) puts it at around a January 2003 release, it seems.
Was that the only one? Did "Mystic Gohan" get labeled as such on any other toys? I see references on DBT to "Mystic Gohan" figures in 2003, but it's completely unclear whether the writer is referring to a specific name of a figure, or just using the term themselves to refer to Gohan of that point in the story.