NOTE:
Please be sure to have watched the episode with any necessary subtitles (see:
Crunchyroll
/
Daisuki
/
FUNimation
). Then, and only then, may you discuss.
Fine, don't read the
Kanzenshuu forum rules
. See if I care.
-------------------------------
General Discussion for Dragon Ball Super episode 105, aired 27 August 2017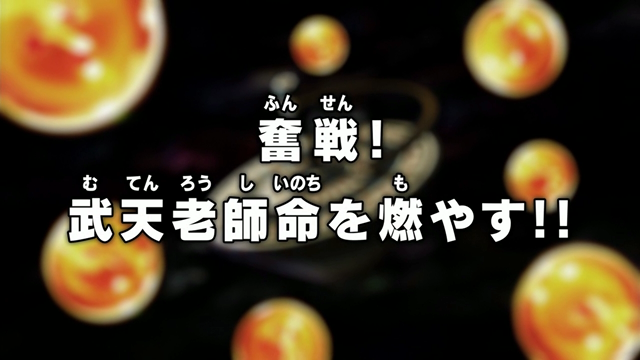 奮戦!武天老師命を燃やす!!
Funsen! Muten Rōshi Inochi o Moyasu!!
A Fierce Battle! Master Roshi Stakes His Life!!
Summary:
With many warriors eliminated at this point, the Omni-Kings try to work out how many remain, but soon lose count and settle for "a lot". On the battlefield, Muten Roshi claims that there are less than half remaining…so it's probably time to get down to business. The U4 warrior Caway suddenly attacks him with a hammer materialized from her own energy, but he easily dodges and tells her she can't beat him. It turns out Roshi's been observing the other fighters since the tournament began, and so has a good grasp of how powerful everyone is and what sort of techniques they use.
In that case, Caway decides to use her other special technique: the art of seduction. On the sidelines, Kuririn notes that Roshi trained with Puar to control his desires, and so that technique should no longer work on him. While Roshi does seem to lose control for a moment, he snaps back just in time to block Caway's energy spear. Roshi boasts that his body is now brimming with all the energy he once wasted, and Caway runs out of the arena before he has the chance to ruin her marriage prospects.
Next up is the U4 warrior Darkori, another female fighter. Using her talismans, she can create 76 attacks and 129 illusions, so while Roshi has been observing her fighting style up to now, he still doesn't know all she's capable of. Roshi deals with Darkori's illusions (including phantom flames, an illusionary edge of the arena, and a giant version of Darkori herself) before she manages to pin his shadow to the spot where he's standing. Now that she's trapped Roshi in a dark area of the arena, Darkori explains that she comes from a planet where there is hardly any light, so as a result she is invincible in the shadows.
Roshi can see that Darkori is powering up, and reflects that his teammates are powerful but too straightforward, meaning that they sometimes have trouble against trickier opponents. That's why it's up to him to handle such opponents himself, so it's for the best that he be the one to fight Darkori. He produces a small jar and uses the Mafuba to seal Darkori inside it, then tosses it out of bounds. Quitela objects that using an item like that should be against the rules, while Beerus claims that it's merely an accessory, not a weapon. Besides, Darkori herself used talismans…though these were materialized from her own energy. Finally, the Omni-Kings weigh in and decide to allow Roshi's use of the jar because it was interesting.
While this marks Roshi's second victory, Kuririn is worried about the toll using the Mafuba must have taken on his body, though Roshi seems more than fine at the moment. Next up is the U4 warrior Ganos, who's out to avenge the defeat of his two teammates. He transforms into a more muscular, birdlike form, but Roshi is easily able to dodge him and toss him around. Despite the transformation, Ganos still has the same attack patterns, which allows Roshi to read his movements. Ganos may have the edge when it comes to power and speed, but Roshi has greater experience, and he soon seems to finish Ganos off.
Ganos refuses to give up though, and comes at Roshi again, this time crackling with electricity. Roshi can tell he might be in trouble now, and sure enough, Ganos finally manages to land a blow on him. Quitela explains that thanks to Ganos' youth and the tense atmosphere of the tournament, he is able to constantly grow stronger. Now the tables have turned, and Roshi is getting knocked around and running out of stamina. Worried that at this rate Ganos will continue to grow stronger until he can give even Goku and the others a hard time, Roshi resolves to take Ganos out here and now.
To that end, Roshi uses the same hypnotic lullaby technique he once used against Goku back at the 21st Tenkaichi Budokai, but Ganos manages to shake off its effects by hitting himself. That technique might have worked on him five minutes ago, but he's improved since then! Ganos urges Roshi to accept his limits and give up; he may have been a great martial artist once, but his day is done. However, Roshi refuses, saying that Goku and Kuririn taught him to never accept one's limits and always aim higher. Telling his students to both work and rest well in order to enjoy their lives to the fullest, he knocks Ganos out of the arena with a massive Kamehameha.
While Beerus celebrates Roshi's third victory, Roshi himself immediately collapses to the ground. Kuririn tries to go to his side, but Shin reminds him that he is not allowed back in the arena. Instead, Goku breaks away from his current opponent (going Super Saiyan Blue in the process) and goes to try and resuscitate Roshi via a series of ki bursts to the chest. When these prove ineffective, Goku lets out a blue light and reverts to his base form. Finally Roshi awakens, wondering where all the cute angels have gone. Everyone is thrilled, but Roshi reminds Goku that the battle isn't over yet, and has Goku help him to his feet.
34 minutes remain in the Tournament of Power.