One detail I like about the anime's Universe Survival arc is the fact that Goku uses a variety of his allies' techniques, sometimes in quite subtle ways. They did a pretty good job of building up the theme that Goku couldn't have come as far as he has without his friends (wish they didn't hammer it in with that
amazingly
subtle Power of Friendship speech at the end, but whatever), giving him an arc about coming to acknowledge their impact on his life and their trust for each other. Yes, Mr. Flat Character Arc himself had an arc. This is also present to some extent in the manga, more in relation to his growth as a martial artist and remembering his masters' teachings. Here are some of the examples I picked up:
Taiyoken (Solar Fist) -- Inventor: Tenshinhan
This one's fairly easy to spot, as Goku even mutters an apology to Tenshinhan that he's about to steal his technique. Maybe Kuririn should start giving due credit as well, seeing as he's even more prone to thieving it, to the point that many forget Tenshinhan invented it in the first place! In the T.o.P., he uses the light-emitting technique to stun Caulifla, sending her flying blindly into a rock for some serious damage. This isn't the first time Goku's used the technique by any means, as he's been using it semi-regularly since the 23rd Tenkaichi Budokai where he pulled it out against Tenshinhan himself, much to everyone's shock. The move has always proved useful and Goku witnessed the devastating effectiveness of Kuririn's amped up version, the Taiyoken x100, while spectating Gohan and Kuririn's sparring match prior to the tournament.
Kienzan (Circle Ki Blade) -- Inventor: Kuririn
Goku busts the Kienzan against Jiren, but not just any Kienzan. He specifically imitates a multiplied, controlled version of the technique that Kuririn used against him during their sparring match on the helipad. But Goku, being Goku, one-upped Kuririn's version by throwing out six discs at once, dubbing it the Kienzan Hexa-Blade. He covertly manipulates the sixth disc to slice through a stalagmite hanging over the ledge of the main stage that he and Jiren were fighting on, taking the grey alien by surprise and sending him plummeting into the void. Kuririn gets psyched that
his
technique nearly defeated the strongest guy in the tournament. However, in one of the most egregious instances of plot armour bullshit, Jiren magically footstools on a few pebbles to propel himself back onto the arena despite being clearly out of bounds. I mean seriously, Kuririn got teleported to the bleachers after barely being knocked a footstep off the ledge. I guess it just goes to show that ingenious martial arts strategy really doesn't count for anything in Dragon Ball anymore. Sigh. Goku has used the technique before as well, most notably to cut the Gotenks-absorbed Majin Buu in half after returning to Earth.
Zanzoken (Afterimage Fist) -- Inventor: Karin (though first used in the series by Kame-Sen'nin)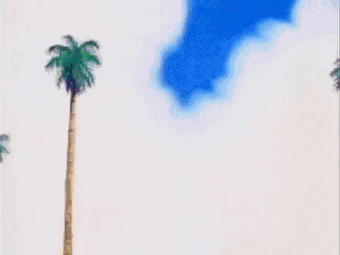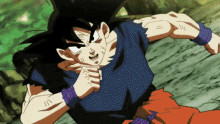 A technique that everyone and their mother has used at this point, in some way, shape or form. Invented by Karin but first seen by Jackie Chun in the very first tournament arc, Goku busts it out against Caulifla. With the Afterimage Technique being deemed an amateur misdirection technique by most characters by the time of later tournament arcs, Caulifla's inexperience shows through as she's easily confused by it, though she does quickly catch on.
Suibidan (Chasing Bullet) -- Inventor: Piccolo
I initially saw this as more like Yamcha's Soukidan technique, but looking at it, it's more similar to the homing ki blasts patented by Piccolo. This is another move Goku busts out against Caulifla to confound her, and it's actually the move that takes her down for the count.
Death Beam -- Inventor: Freeza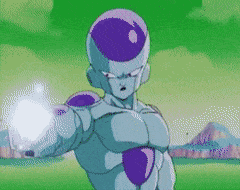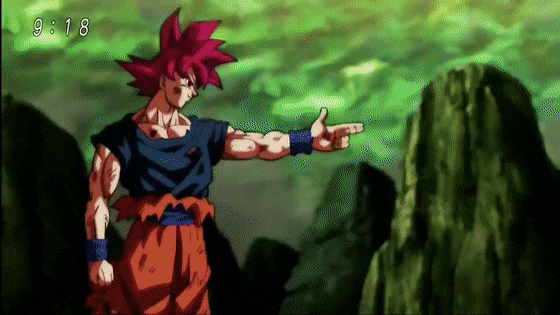 I may be reaching with this one, but Goku casually potshotting Caulifla and Kale with this finger gun motion seems to be inspired by Freeza. Many other characters have used "finger blasts" (

), from Taopaipai to Piccolo Daimao, but Freeza is best known for his relaxed demeanour when firing the move, plus he's more relevant in the context of the Tournament of Power.
Rapid Super Saiyan God-Super Saiyan Blue Shifting -- Inventor: Vegeta (manga continuity)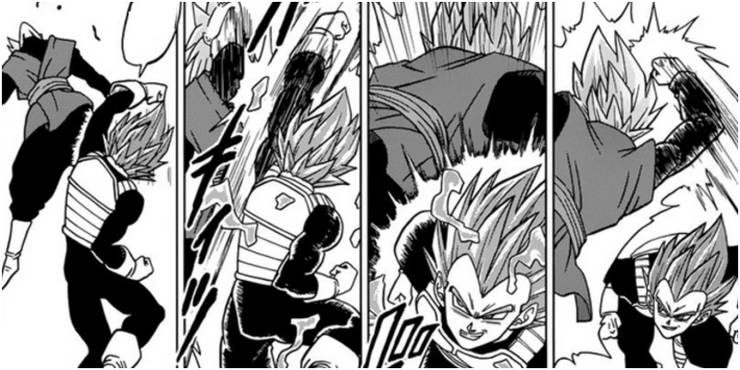 You may have to accept a bit of intertextuality with this one. In the Super manga continuity, Vegeta pioneers a method to maximise the energy efficiency of the godly forms by rapidly switching between Super Saiyan God and Super Saiyan Blue against Goku Black. This doesn't appear in the anime version of the Black arc, but Goku later utilises the exact same thing against Dyspo in the anime's Tournament of Power. Goku actually managed to steal one of Vegeta's moves from across dimensions. That's almost impressive. In any case, the Toei staff were clearly inspired by Toyotaro's idea and implemented it into the anime.
Ki Landmine -- Inventor: Son Gohan?
The way this move is utilised by Goku in the T.o.P. seems to be original to him, but I was eagle-eyed enough to spot that Gohan seems to use a very similar move earlier during his (weirdly aggressive) sparring match against Tenshinhan. He points his finger and fires a tiny shining ki blast which detonates on contact with the ground. Might just be a coincidence that they look similar.
-------------------------------------------------------------------------------------------------------------------------------------------------
That's on top of all the usual "stolen techniques" Goku regularly makes use of, including the Genki Dama, the Kaioken and the Kamehameha. Thoughts?