NOTE:
Please be sure to have watched the episode with any necessary subtitles (see:
Crunchyroll
/
Daisuki
/
FUNimation
) before discussing. It'll help, trust me.
The
Kanzenshuu forum rules
are proof that God loves us and wants us to be happy.
-------------------------------
General Discussion for Dragon Ball Super episode 103, aired 13 August 2017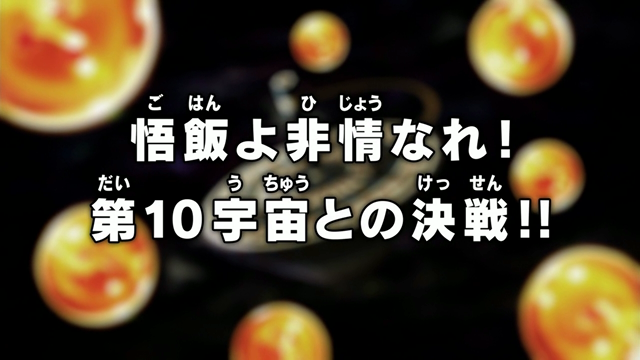 悟飯よ非情なれ! 第10宇宙との決戦!!
Gohan yo, Hijō-Nare! Dai-jū Uchū to no Kessen!!
Gohan, Be Ruthless! The Showdown with Universe 10!!
Summary:
Ribrianne vows vengeance against No.17 for knocking out Kakunsa, calling him an evil that threatens Universe 2. But 17 doesn't seem to mind being called "evil", and says he'll force Ribrianne from the stage in order to ensure Universe 7's survival. They begin fighting to see which is stronger, Ribrianne's love or 17's wish, and seem to trade blows evenly.
Meanwhile Goku is still fighting against Rozie, who is likewise upset over Kakunsa's defeat. She fires a barrage of energy balls to fully surround Goku, cutting off all escape routes, but 17 jumps in at the last minute to shield Goku with an energy barrier. 17 offers to help Goku out further, but Goku refuses, so 17 goes back to fighting Ribrianne (who's mad at 17 for ignoring her). Goku begins his counterattack, having now grown accustomed to Rozie's fighting style, and has her on the ropes before too long.
Ribrianne steps in between Goku and Rozie to break up their fight and check that Rozie isn't injured, before the U2 Yardratian Jimeze pops in and teleports the two of them to safety. Goku and 17 go off to find new opponents, leaving Beerus annoyed at Goku's behavior, but Champa says Beerus has more than Goku to be worried about...and indeed, at that moment Gohan and Piccolo are confronted by Botamo. Gohan elects to fight Botamo on his own, unleashing a flurry of punches that don't faze him in the least. Piccolo knows Gohan must be aware that Botamo doesn't take damage or tire out, so he's curious how he plans to fight him.
Goku stops by to observe Gohan's fight. He told Gohan about his own battle with Botamo, so he's sure Gohan has some strategy in mind. Sure enough, though Gohan's constant stream of punches don't hurt Botamo, they manage to lift his feet off the ground and slowly push him back towards the edge of the arena. Realizing too late, Champa warns Botamo first to counterattack, then to run away, but Botamo fails at both. Gohan finally sends Botamo flying out of the arena with a Kamehameha, and easily blocks Botamo's parting shot.
Satisfied, Goku goes off elsewhere, while new challengers appear before Gohan and Piccolo: the U10 warriors Obuni and Rubalt. Obuni has picked Gohan out as a worthy opponent, while Rubalt is itching to fight Piccolo. Both accept the challenge, while elsewhere Jimeze takes out U10's Jilcol, leaving Obuni and Rubalt as U10's last two remaining fighters. On the sidelines, Gowasu thinks they should accept their fate, but Rumoosh is still pinning his hopes on Obuni and Rubalt.
The two pairs of fighters begin to battle, and Obuni is impressed that Gohan can keep up with his movements; he was indeed right to select him as an opponent. However, Obuni starts splitting up into a series of afterimages, and though Gohan can still sense Obuni's ki, he can't pin down his position. As Gohan struggles, Gowasu's mood turns around as he now thinks they have a shot at winning. In the U7 section of the bleachers, Whis explains that Obuni is shifting his internal ki away from his body's movements, thereby foiling Gohan's ability to track his position by sensing ki.
Meanwhile, Piccolo fires a series of energy blasts at Rubalt, and while they seem to miss, in reality they surround him and cut off all escape routes. Piccolo directs these blasts at Rubalt all at once, knocking him unconscious. To finish the job, Piccolo throws Rubalt out of the arena, thus properly eliminating him according to tournament rules. After being teleported to U10's part of the bleachers, Rubalt apologizes to Gowasu for losing, but by now Gowasu is so certain Obuni is unbeatable that he doesn't even mind.
Gohan continues to be pummeled by Obuni's attacks, but he refuses to give up. The next time one of Obuni's attacks connects, Gohan immediately counterattacks, this time managing to hit Obuni. Beerus and Whis realizes that Gohan is letting himself get hit in order to determine Obuni's position and successfully counterattack. While effective, this means that Gohan will continue to take damage from Obuni's attacks. Thankfully though, before too long Gohan's attacks are hitting more and more, due to Obuni no longer having enough energy left to continue feinting. Gohan finishes off with another Kamehameha, sending Obuni out of bounds.
With that, all of U10's warriors have been eliminated, and the Great Priest announces that their universe will accordingly be destroyed. Despite this, Gowasu genuinely commends Obuni for putting up a good fight. Gohan sees a locket on the ground, which fell from Obuni's body as he was sent flying. The locket contains a photo of Obuni with what appear to be his wife and child, and Gohan sighs deeply as he looks at it. As the two Omni-Kings combine forces to annihilate U10, the U10 fighters and gods all vanish, leaving only the angel Cus behind to mourn for Rumoosh. Piccolo calls for Gohan that it's time for them to go, and after bracing himself Gohan agrees and follows after.
37 minutes remain in the Tournament of Power.