NOTE:
Please be sure to have watched the episode with any necessary subtitles (see:
Crunchyroll
/
Daisuki
/
FUNimation
). Or unnecessary subtitles too, if you like.
Please adhere faithfully to the
Kanzenshuu forum rules
.
-------------------------------
General Discussion for Dragon Ball Super episode 106, aired 3 September 2017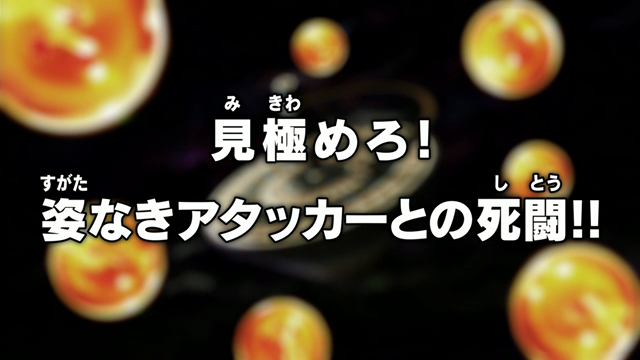 見極めろ!姿なきアタッカーとの死闘!!
Mikiwamero! Sugata-naki Atakkā to no Shitō!!
Figure It Out! Death Match Against an Unseen Attacker!!
Summary:
Muten Roshi decides to rest for a bit following his battle with Ganos, and tells Goku to go off and fight for him. Meanwhile, Gohan and Piccolo are battling Dr. Rota, the warthog man from Universe 6. Rota announces that he shall teach them why he is called "doctor", but before he can explain his ability, he is suddenly shot down by a ki attack from afar. Piccolo and Gohan take cover from the shots that follow, which Piccolo deduces are a type of concentrated ki attack similar to his own Makankosappo.
The two are unable to sense their attacker's ki, and are hemmed in by the pinpoint accuracy of the shots. The two discuss strategy, unaware that they are being observed by one of many small floating balls, which also serve to reflect the shots. Piccolo decides for them to suppress their ki and relocate to another piece of rubble for cover, but as soon as they move, Piccolo's arm is shot off. He grows it back and reassures Gohan that he is fine; their first priority is still to locate the sniper. Taking cover, Piccolo stretches his arm out to draw the enemy's fire, giving Gohan the opportunity to observe the direction the blast comes from.
Since there is no sufficiently big rubble to use as cover over in the enemy's direction, Piccolo has Gohan throw a boulder into the air, and blasts it to produce smoke to conceal their approach. On their way over, they discover a floating ball, and wonder if the sniper is using it to track them. Indeed, another shot soon comes their way, and Piccolo smashes the ball. He thinks about how they can still be tracked in this smoke. Is it heat?
Off in the audience, the Omni-Kings wonder why Gohan and Piccolo have remained in one spot for so long, and the Great Priest explains to them what a "sniper" is. Tenshinhan comes across the unconscious Dr. Rota (he was left alive, since killing him would disqualify the sniper), and warns Goku and Vegeta about the sniper when they show up. Vegeta contemptuously thinks it should be easy to dodge attacks like that, but the sniper's next shot zooms past his head, narrowly missing him. Vegeta is annoyed at this enemy for attacking without showing himself.
Meanwhile, Piccolo has now lost both of his arms from the sniper's attacks. He grows them back, but regenerating so much is taking a toll on his stamina. Still, his only concern is that Gohan is safe, and he has now confirmed that the sniper is tracking them by their body heat. The two start warming up various spots on the surrounding rubble to create multiple heat sources, confusing the sniper. But the sniper responds by firing off a huge number of shots all at once, to draw them out of their hiding place.
Goku, Vegeta, and Tenshinhan observe Gohan and Piccolo as they dodge these numerous shots, and spot what they think is the sniper. In fact, this first enemy (the U2 warrior Prum, who also creates the floating balls) is merely reflecting energy blasts fired by the true sniper (the U2 warrior Hermila), located elsewhere. Vegeta and Goku go off to take out Prum, while Tenshinhan goes to help Gohan and Piccolo. Vegeta and Goku confront Prum, blasting him with a Galick Gun and Kamehameha, but Prum reflects Vegeta' second blast back at them.
It turns out Prum is simply a decoy. He conducts reconnaissance, but when it comes to attacking he just reflects Hermila's blasts, meaning Goku and Vegeta should have gone after Hermila first. Vegeta tells Goku to handle Prum, and tries to go take care of Hermila, but Hermila keeps changing position. To track him down, Tenshinhan splits into four people: with all the extra eyes, he can track Hermila down, but splitting his power and speed in four has left him defenseless against Hermila's blasts. It is now a question of if he can reach Hermila before all of his clones are shot down.
Since ki blasts don't work on Prum, Vegeta and Goku start throwing rubble at him. Hermila is now too busy dealing with Tenshinhan to fire at Prum, leaving him defenseless. Hermila manages to eliminate all but one of the Tenshinhans, but the remaining one is close enough to nail him with a Shin-Kikoho. Hermila is too wounded to lift his arms up to fire, and seems to surrender. Tenshinhan praises him for putting up a good fight, and prepares to finish him off.
However, Hermila fires straight down at the ground, causing Tenshinhan to fall out of the arena. This time it is Hermila's turn to sarcastically praise Tenshinhan, but Tenshinhan's three clones reappear and drag Hermila down out of the arena with them. Tenshinhan and Hermila are both officially eliminated, and without Hermila's support, Prum has no way of attacking. Dr. Rota has recovered, and goes after Prum for revenge, once again declaring that he will show why he is called "doctor". But before he can explain about his ability, Vegeta blasts him and Prum out of the arena.
Though Prum and Hermila have been dealt with, Universe 7 has lost its second team member. Still, Vegeta is unconcerned, saying that he simply needs to take out all the remaining enemies himself. Goku agrees that they will just have to do Kuririn and Tenshinhan's share of the fighting too.
32 minutes remain in the Tournament of Power.