NOTE:
Please be sure to have watched the episode with any necessary subtitles (see:
Crunchyroll
/
Daisuki
/
FUNimation
). Don't just go off of some jerk's live tweets.
Kanzenshuu forum rules
. Like them or loathe them, you can't live without them.
-------------------------------
General Discussion for Dragon Ball Super episode 107, aired 17 September 2017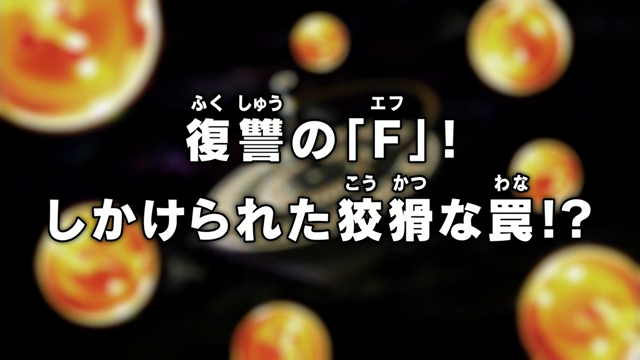 復習の「F」! しかけられた狡猾な罠!?
Fukushū no 'Efu'! Shikakerareta Kōkatsu na Wana!?
Revenge 'F'! A Cunning Trap is Set?!
Summary:
As the Tournament of Power continues, Frost recalls how he struck a deal with Champa to have his crimes absolved if Universe 6 won the tournament. At first Champa refused, since Frost had already humiliated him so much during the Universe 6/7 tournament, but he seemed to change his tune once Frost promised to ensure Universe 7's defeat. Back in the present, for the sake of his revenge, and for the sake of his business, Frost must prove useful to Universe 6.
With many warriors now eliminated, the Great Priest helps the Omni-Kings take stock of the situation once more. Currently a total of 36 warriors remain: U2 has six left, U3 has seven, U4 has four, U6 and U7 both have eight (more than any of the other universes), while U11 has only three. Beerus notices that while U4 is supposed to have four warriors remaining, only two are visible in the arena (though Tenshinhan had faintly sensed the presence of the remaining two back when the tournament began). Whis notes that this could be trouble, since U4 is supposed to have many warriors with special abilities.
While U11 would seem to be at a disadvantage with only Jiren, Toppo, and Dyspo left, the U11 gods Vermoud and Kai aren't worried: it's quality, not quantity, that's important! After all, those three are the strongest in their universe, and Jiren and Toppo have still sustained no real damage. Suddenly, the U11 warriors are sneak-attacked by U3's Maji Kayo. With Maji Kayo's unusual, liquid-like body, the U3 Kaioshin Ea is sure he's the perfect fighter to send against Jiren to try and learn more about his strength.
Dyspo goes after Maji Kayo but seems to struggle, so Jiren steps in. This suits Maji Kayo and Ea's plans just fine…except Jiren immediately knocks Maji Kayo out of the arena simply by pumping his fist, thus defeating him before he can gather any useful intel. Meanwhile, Frost goes after Muten Roshi, his strategy being to pick off weakened fighters. Goku tries to go to Roshi's aid, but is stopped by Ribrianne, who still has a bone to pick with him. While Roshi still has some fight left in him, Frost soon gains the upper hand (complaining that it's difficult for him to hold back enough to not kill his opponents).
Roshi counterattacks with another Mafuba, but unfortunately this time around he misses the jar, leaving Frost free. Frost is amazed that Roshi still had such a technique up his sleeve, and seeing Vegeta nearby, he gets an idea. He fires a volley of finger beams at Roshi, while also firing one off at Vegeta to get his attention. With Roshi's defeat looking imminent, off on the sidelines Beerus tells Kuririn to get a Senzu ready to keep Roshi from dying. But before Frost can finish Roshi off, Vegeta swoops in and knocks him away. He's not here to save Roshi though; it's simply that Frost ticks him off.
Frost claims that he's gotten weaker since the last tournament (due to always being on the run since then) and warns that another attack from Vegeta might kill him, but Vegeta sees through this attempt to stall for time. Soon thereafter though, Magetta comes crashing in, and proves impervious both to Super Saiyan Vegeta's Big Bang Attack and his insults (he's used magma to block up his ears). As Vegeta struggles against Frost and Magetta's tag team, Frost emphasizes that "normal attacks" won't work against Magetta, and Roshi takes the bait and decides that another Mafuba is in order.
Frost has been waiting for this though, and he deflects Roshi's Mafuba over at Vegeta. While Roshi quickly breaks the jar he was going to seal Magetta in, Frost still has the jar Roshi tried to use against him, and he successfully seals Vegeta inside it. Not wanting Vegeta to lose on his account, Roshi uses the last of his strength to fire off a tiny ki blast to try and break the jar. He misses the first time around, but manages to guide the blast back, catching Frost off-guard and freeing Vegeta.
Now thoroughly angry, Vegeta goes Super Saiyan Blue and blasts off the gunk covering Magetta's left ear, then insults him. Magetta collapses, but Frost disappears in a puff of smoke before Vegeta can deal with him. Vegeta pushes the now immobilized Magetta out of bounds, and turns his attention to Roshi, who he advises to bow out now and eat some Senzu before he dies. Roshi agrees and willingly drops out of the arena. Once teleported to the bleachers, Kuririn feeds him a Senzu and Beerus (after some customary insults) congratulates him on a job well done.
Elsewhere, Goku and Ribrianne prepare to face off. 30 minutes remain in the Tournament of Power.