NOTE:
Kindly watch this episode with the necessary subtitles (see:
Crunchyroll
/
Daisuki
/
FUNimation
).
Apparently, the Kanzenshuu forums have
a number of rules
.
-------------------------------
General Discussion for Dragon Ball Super 1-hour special, aired 8 October 2017
これぞ全宇宙一の究極バトル!孫悟空VSジレン!!
Kore zo Zen-Uchuu-Ichi no Kyuukyoku Batoru! Son Gokuu VS Jiren!!
This is the No.1 Ultimate Battle in the Omni-verse! Son Goku vs Jiren!!
Episode 109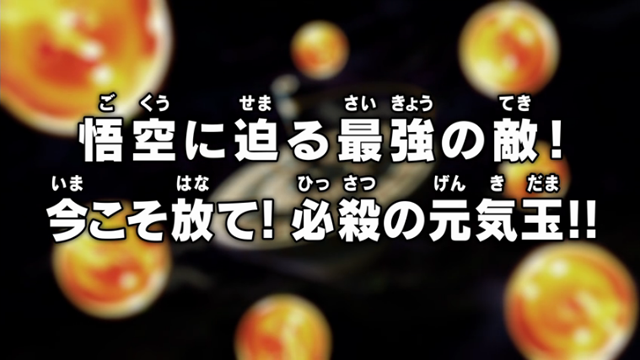 悟空に迫る最強の敵!今こそ放て!必殺の元気玉!!
Gokuu ni Semaru Saikyou no Teki! Ima Koso Hanate! Hissatsu no Genki-Dama!!
The Strongest Enemy Closes in on Goku! Fire It Now! The Surefire Genki-Dama!!
Summary:
Goku continues to battle Ribrianne in his base state, but his attacks seem to be no match for the power of her love. In fact, Ribrianne is determined to win the tournament and use the Super Dragon Balls to become a "goddess of love" adored by all the universes. She asks Goku what he wants the Super Dragon Balls for, but he hasn't quite decided yet: he could use them for Chi Chi's sake, or for his sons…or to meet someone stronger than anyone he's ever met before.
Ribrianne counters that in that case, his wish is already granted: she is that strong person! She absorbs the power of love from her teammates to transform into "Super Ribrianne". Though physically she looks pretty much the same (except for newly added butterfly wings), Goku can sense incredible power from her. She fires off a barrage of love-based attacks, the last one of which creates a big explosion. Ribrianne declares victory, but Goku (now a Super Saiyan Blue) suddenly swoops in and sends her flying with a kick.
Ribrianne lands at Jiren's feet, and from his silent gaze she thinks he might love her. However, she soon grows annoyed at this continued silence, and storms off in a huff. On the sidelines, the gods of Universe 11 decide that the time has come for Jiren to go into action. Vermoud telepathically contacts Jiren, ordering him to take out Goku and ignore any small fries. As Kale, No.18, and co. sense Jiren's ki shaking the entire World of Void, Toppo likewise tells Jiren to fight to his heart's content, in order to obtain the Super Dragon Balls and have his wish granted.
Goku and Jiren prepare to finally square off, and as Jiren powers up Beerus is shocked to see so much ki coming from just one single fighter. Goku, back in his base form, fires a Kamehameha off at Jiren, but the force of Jiren's ki is enough to completely protect him as he remains motionless. Shin wonders why Goku doesn't become Super Saiyan Blue; is he underestimating Jiren? Kuririn however thinks that Goku is simply testing out both Jiren and himself; he wants to show Jiren what he can do, and draw out Jiren's full power.
While Goku may be interested in Jiren, Tenshinhan wonders if Jiren has any interest in Goku. But Kuririn says Jiren has in fact been watching Goku this whole time, and probably wants to see all of Goku's power. Muten Roshi says that they have acknowledged one another as opponents worth powering themselves up for. Meanwhile, Goku continues to attack, going all the way from regular Super Saiyan up to Super Saiyan God, the latter of which merely warrants Jiren raising a hand to block him with.
Seeing that Jiren can't get serious like this, Goku reverts to base, then finally powers up into Super Saiyan Blue. Vermoud is confident that even with the power of Blue this fight is a pointless struggle, but Kai thinks it is crucial: after all, Jiren defeating Goku's full power will cause all the other contestants to lose their fighting spirit. Goku will be a sacrifice to show off Jiren's power! While Marcaritta thinks they had better not get cocky, Vermoud declares that no one, absolutely no one, can beat Jiren. Indeed, despite Goku occasionally even using Kaio-Ken on top of Super Saiyan Blue, Jiren easily knocks him around, before finally grabbing him and blasting him at point-blank range.
Goku gets back up and charges Jiren with Super Saiyan Blue Kaio-Ken, but Jiren stops him seemingly just by glaring at him. In truth, Jiren attacked Goku countless times in an instant, so fast that even Vegeta couldn't see. Kuririn still hasn't abandoned hope though, saying that Goku should be able to use Kaio-Ken x20 on top of Super Saiyan Blue. But this fails to cheer Beerus up. As Whis explains, Goku is already using Kaio-Ken x20! Even with Kaio-Ken x20 failing to damage Jiren, Goku still has a trick up his sleeve…the Genki-Dama!
Goku begins gathering energy from his teammates, though he first reverts to his base state since (as Kuririn tells Tenshinhan) Super Saiyan has some evil mixed in and therefore can't be used to gather energy. No.17 and 18 are happy to contribute their energy, as is Freeza, despite his unhappy memories of the attack. For some reason Vegeta refuses to donate his energy…though he does stop Ribrianne from attacking Goku while he charges the attack. Goku soon realizes that it will take too long to create the attack, but fortunately Jiren is willing to wait. He's eager to see Goku's special attack…then crush it with overwhelming power. That's his style!
Goku finally finishes the Genki-Dama and throws it at Jiren, telling Jiren to not regret waiting. But Jiren starts pushing it back! Gohan's shocked, since Goku should still have a fair amount of stamina left. Goku goes Super Saiyan Blue, then uses Kaio-Ken x10 and x20 all in an effort to push the Genki-Dama onto Jiren, but Jiren holds his ground. Despite Goku's struggles, Jiren manages to push the Genki-Dama back onto Goku, threatening to envelope him with his own attack…
Episode 110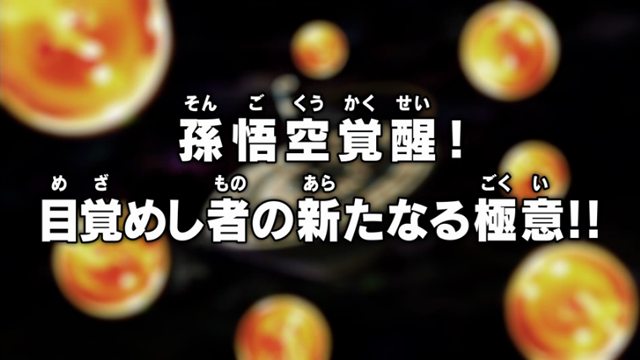 孫悟空覚醒!目覚めし者の新たなる極意!!
Son Gokuu Kakusei! Mezameshi-Mono no Arata-naru Goku'i!!
Son Goku Awakens! New Mastery of the Awakened!!
Summary:
As Jiren pushes the Genki-Dama back at Goku, the U7 team are shocked to see even their old standby fail against him. Kai and Vermoud are pleased with Jiren: with Goku gone, U7's morale is sure to collapse. While Goku continues to hold out with all his might with Super Saiyan Blue Kaio-Ken, Jiren only needs to stare at the Genki-Dama to keep it at bay. Clearly he's got power to spare, and all watching are amazed at his strength. Seeing that Jiren is as strong as a God of Destruction, if not stronger, Whis realizes that the rumors of a universe with just such a mortal were true after all.
Still, Goku continues to try and push the Genki-Dama over to Jiren. Caught between Goku and Jiren's forces, the Genki-Dama's expansion finally reaches its limit. Suddenly it disperses and Goku falls to the ground as a tremendous explosion shakes the arena. Toppo declares Jiren the winner! The Omni-Kings are amazed at first…but they and everyone else soon start to worry about Goku. Not only does he seem to have lost, but there's no sight of him anywhere, within the ring or out, and nobody can sense his ki. Was he killed in the explosion? And if so, does this mean Jiren is disqualified?
The Great Priest steps in to declare that since Goku was (apparently) killed by his own technique, Jiren will incur no penalty. Though the remaining contestants haven't lost their fighting spirit, for a while nobody makes a move. The Great Priest reminds everyone that the tournament's time limit is not even halfway over, and so they must continue to fight. As Beerus wonders if Goku really is gone, the entire World of Void starts shaking from an intense flow of power. Could it be…?
Yes, Goku's back, and all sparkly this time! With bright silver pupils, dark silver upturned hair, and a blazing aura to match, it is clear something has happened to him, but what? Though he's releasing a stupendous amount of heat, his ki seems fearsomely calm. Even Whis has never seen Goku like this before. Jiren attacks Goku, but this time he easily dodges all of his attacks. Gohan can tell that Goku's movements are totally different from before: not only is he fast, it's also impossible to tell when he's going to attack or dodge. Vegeta likewise finds Goku's new movements unreal.
Toppo and Dyspo step in, but Goku has no trouble tossing them aside and avoiding Toppo's Justice Flash blasts, causing Tenshinhan to marvel at the speed of his reactions and the accuracy of his movements. Finally, Jiren signals to Toppo to stay out of this. Jiren and Goku begin to battle again, and the two seem evenly matched. While No.17 is still not sure who has the upper hand, he can tell Goku has instantly closed the previously overwhelming power gap between himself and Jiren. Piccolo can tell that even now Goku continues to evolve as he fights, with his attacks against Jiren growing steadily more effective. Watching this unfold, Kai and Vermoud freak out to see someone go toe-to-toe with Jiren.
The Great Priest and Whis have a hunch as to the identity of Goku's change, and Beerus thinks the same thing: it's Ultra Instinct! Hearing this, Champa and the other gods can't believe that a mortal like Goku could reach a state that even gods struggle with…though his movements seem to confirm this. The Great Priest thinks it is still too early to tell for sure, but this new development is definitely something to keep an eye on (meanwhile, the Omni-Kings seem not to know about Ultra Instinct…and neither does Shin).
Even if it is Ultra Instinct, Beerus doesn't understand how this could have happened so suddenly. Whis thinks that the Genki-Dama was the trigger, causing Kuririn to wonder if Goku powered up by absorbing its energy. Tenshinhan points out that the Genki-Dama itself was no use against Jiren, so why would absorbing its power put them on even footing? Whis explains that Goku is indeed using the Genki-Dama's energy as a temporary power source for his exhausted body, but the key factor is something else. Namely, struggling to overcome the Genki-Dama's explosion as its power entered into him triggered Goku to crack through the shell of further possibilities hidden inside himself…or at least, that is what Whis thinks.
Goku and Jiren continue to evenly trade blows, but when Goku goes in for the kill, Jiren suddenly blocks his attack. Saiyans certainly are interesting, he says, but Goku seems to truly be at his limit this time. Indeed, the Ultra Instinct seems to have only been temporary: Goku reverts to his regular form and Jiren blasts him away. As he does so, Hit rushes in to attack, but Jiren effortlessly blocks his attack too. As Vados points out, warriors tend to leave themselves wide open when finishing off an opponent, but Jiren doesn't even have that weakness.
While it looks like Hit and Jiren are about to fight, Vegeta approaches Goku, still flat on his back from Jiren's attack. Vegeta wants to know what Goku's new power was, but Goku isn't too sure himself, and he seems to be out of energy regardless. As Ribrianne approaches Vegeta and Goku's position, Goku suddenly Goku vanishes, snatched away by Freeza. Aiming a blast at Goku, Freeza is reminded of what happened on Planet Namek…
25 minutes remain in the Tournament of Power.