NOTE:
Subtitles! Get your steaming hot subtitles here!
Crunchyroll
/
Daisuki
/
FUNimation
The Kanzenshuu forum rules
: not one jot or tittle shall pass away till all be fulfilled
-------------------------------
General Discussion for Dragon Ball Super Episode 112, aired 22 October 2017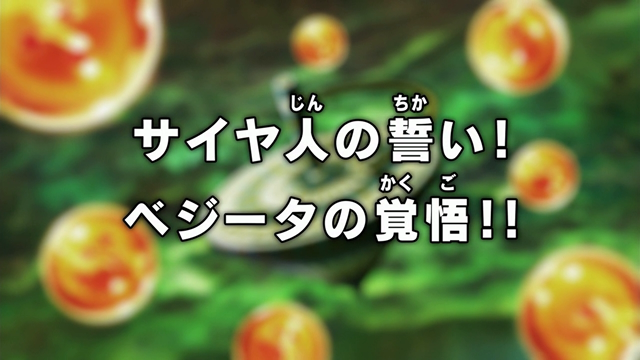 サイヤ人の誓い!ベジータ覚悟!!
Saiya-jin no Chikai! Bejīta no Kakugo!!
A Saiyan's Vow! Vegeta's Resolution!!
Summary:
Jiren has begun meditating after defeating Hit. Beerus wonders how Goku is doing, and Whis says that while he is physically exhausted, his fighting spirit remains undiminished. With the tournament halfway over, the Omni-Kings ask again what happens when time runs out, and the Great Priest explains that the universe with the most members left will win. In that case, Universe 7 is currently in the lead with seven members left, so the U3 God of Destruction Mosco orders his team to eliminate Goku.
As a trio of U3 warriors goes after Goku, Gohan and Piccolo continue to battle the U6 Namekians Saonel and Pilina. Piccolo tells Gohan to go help Goku, but Gohan thinks it's best to focus on their opponents; they'll just have to trust Goku to manage on his own. While Saonel and Pilina put up a good fight (even Piccolo is surprised that another universe would have such strong Namekians), Champa orders his team to cut down the U7 team's numbers but otherwise run away. Since they can't defeat Jiren, they'll just have to try to be the team with the most members left at the end.
Elsewhere, Kale is intimidated after witnessing Jiren's strength, but Caulifla remains optimistic: seeing Goku and Jiren's battle showed her the infinite potential that she as a Saiyan must possess. Suddenly the two are challenged by U4's Monna, who is targeting U6 now that they've lost Hit. Though Caulifla is eager to take Monna on singlehanded, Cabba arrives and insists that he be the one to fight Monna, so that Caulifla and Kale can escape and conserve their stamina. Caulifla initially refuses, but eventually relents after both Cabba and Kale insist.
Caulifla and Kale escape as Cabba holds off Monna. After struggling in his normal form, Cabba becomes a Super Saiyan and successfully counterattacks. However, this just leads Monna to morph into a giant ball and start knocking Cabba around even harder. Reverting to normal, Cabba is thrown to near the edge of the arena. While Cabba tries to trick Monna into rolling off the arena, this tactic fails and Cabba himself is sent falling out of bounds. While regretting that he couldn't wear down his opponent's stamina more, he is at least satisfied that he managed to buy some time for Caulifla and Kale.
However, at the last moment a hand reaches out and grabs Cabba. It's Vegeta! He roughly tosses Cabba back into the arena and knocks Monna away. Cabba is happy that his "master" saved him, but Vegeta simply knees him in the stomach. He tells Cabba not to misunderstand: he wasn't really trying to save him, he just couldn't stand seeing a weak Saiyan. Besides, Vegeta doesn't want Cabba to lose before fulfilling his promise (from the last tournament) of taking Vegeta to meet the king of Planet Sadala.
Cabba is sad that, since at least one of their universes will be destroyed by the end of this tournament, he can't possibly keep that promise. But Vegeta vows that if he wins, he'll use the Super Dragon Balls to resurrect Cabba and co. Thrilled, Cabba likewise vows to resurrect Vegeta and co. if he wins, but Vegeta gets angry: he'll be the one to win, not Cabba! Finally, Vegeta tells Cabba to fight as a Saiyan, without regrets, then departs. Nearby, Freeza has been eavesdropping on this conversation, and is sickened by the idea of a Saiyan master and disciple relationship.
With his Saiyan pride restored, Cabba takes on Monna again…but it still doesn't go well. Monna calls Cabba weak and threatens to defeat Vegeta next, then Caulifla and Kale. She even calls Vegeta a coward for getting in a cheap hit on her before running off. Angered by these threats and insults, Cabba vows to defeat Monna himself, and transforms into Super Saiyan 2. Cabba uses his newfound strength to blast Monna out of the arena (reverting to base immediately afterwards), leaving U4 with only three fighters remaining. Champa is thrilled at Cabba's victory, though Vados points out that earlier he had told him to simply run away.
Vegeta is also pleased at Cabba's victory as he approaches to challenge Jiren. But Toppo appears and insists Vegeta fight him instead. While Vegeta isn't interested in fighting a second fiddle like Toppo, Toppo shoots back that Vegeta is a second fiddle too. Angered, Vegeta becomes Super Saiyan Blue and begins battling Toppo. Freeza meanwhile approaches Cabba and very politely asks that they fight. Cabba obliges but is quickly overwhelmed. Freeza says he'll go after Cabba's fellow Saiyan once he's defeated him, and this threat towards Caulifla and Kale pushes Cabba to become Super Saiyan 2 once again.
Cabba unleashes a mighty blast against Freeza, and while he feels it hit, when the dust clears Freeza is there in his Golden form, unharmed. He repeatedly blasts Cabba before finally knocking him out of bounds when he refuses to surrender. Reverting to normal, Freeza thinks it a waste to use up so much stamina against a garbage opponent. Materializing in the bleachers, Cabba apologizes to Champa, who's angry at Freeza for intentionally targeting Cabba when he was exhausted. Thinking to himself, Freeza vows to win the tournament and use the Super Dragon Balls to control the gods.
Vegeta and Goku meet up in the middle of their respective fights. Vegeta sees that the exhausted Goku is struggling against his U3 opponents, and Goku says he's recovering his stamina as he fights. Goku notes that Cabba has lost, but Vegeta isn't too concerned: so long as he wins the tournament, the Saiyans will survive! Vegeta goes off to continue his battle against Toppo, and Goku has no choice but to continue his fight against the U3 trio.
Suddenly however, Caulifla swoops in and knocks the U3 fighters out of the way. While Goku thanks her for her help, Caulifla transforms into a Super Saiyan 2. Thanks to Cabba she's managed to recover her stamina, and now she wants to fight Goku!
23 minutes remain in the Tournament of Power.