NOTE:
Subtitles: friend of all children
Crunchyroll
/
Daisuki
/
FUNimation
The Kanzenshuu forum rules
: nightmare to you
-------------------------------
General Discussion for Dragon Ball Super Episode 113, aired 29 October 2017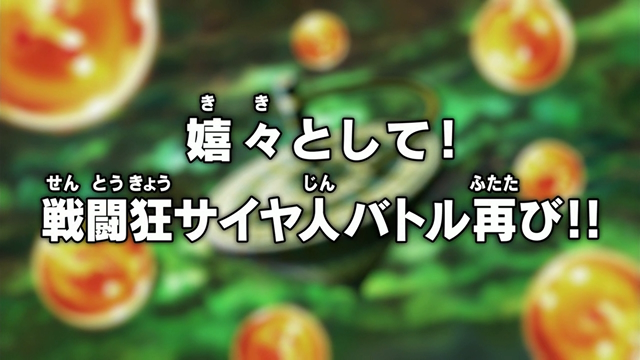 嬉々として!戦闘狂サイヤ人バトル再び!!
Kiki-toshite! Sentō-kyō Saiya-jin Batoru Futatabi!!
Joyfully! Battle-Crazy Saiyans Fight Again!!
Summary:
Having saved Goku from U3's robot-like fighters, Caulifla challenges him to battle while Kale watches from the sidelines. Upset over her inability to stop Hit and Cabba from being eliminated, Caulifla wants to become stronger in order to fight in their stead, and asks Goku to teach her how to become Super Saiyan 3. Goku agrees, but says she'll have to defeat him first.
While Caulifla is in her Super Saiyan 2 form, Goku remains in his base state, saying that he is currently out of stamina after fighting Jiren. Champa thinks this is the perfect chance to eliminate Goku, but Beerus objects that Goku is probably the only one who can defeat Jiren. Champa doesn't care though, since he's still intent on U6 winning by virtue of having the most fighters remaining at the end. With that in mind, it's better to focus on eliminating U7 warriors.
Goku and Caulifla begin to fight, and while Goku is pushed back at first, before long he gains the upper hand as Caulifla's attacks fail to hit him. Champa wonders how this can be, since Super Saiyans are supposed to be more powerful than regular Saiyans, but Whis explains that it is due to the difference between martial arts and mere brawling: Goku is reading his opponent's movements and seizing the right opportunities to attack.
Champa now encourages Caulifla to run away, but she refuses and continues to attack. She begins to fight more on-par with Goku as she becomes accustomed to his fighting style, but Goku trips her up again by using his afterimage technique. Caulifla is angry at him for resorting to tricks instead of fighting her head-on, but Goku says that she won't be able to become Super Saiyan 3 if she can't even handle a technique like this.
While Goku starts teleporting around, Caulifla still continues to adapt to his fighting style, giving him a harder and harder fight. On the sidelines, this amazes Kuririn, and Whis says that Caulifla must have had this potential inside her all along; her battle with Goku is simply drawing out her power. Champa now cheers Caulifla on, despite earlier telling her to flee (he regards this as simply adapting to the situation).
Caulifla advises Goku to transform; otherwise he'll lose before he can use his full power. Goku agrees, but only becomes Super Saiyan 2; he still doesn't have the stamina for Super Saiyan 3. The two recommence fighting, and Caulifla's Crush Cannon catches Goku by surprise; he's not the only one with tricks up his sleeve! As the two's fight enters its second round, the Omni-Kings are impressed at how they continue to speed up. Goku is likewise impressed at the degree to which Caulifla has already mastered Super Saiyan 2, and she's eager to beat him and reach 3.
The two power up even more, and nearby warriors are knocked over by their fight. Watching nearby, Kale can see that Caulifla is enjoying herself. At length Caulifla gains the upper hand and knocks Goku around. Amazed at how strong she's become, Goku thinks that she might reach Super Saiyan 3 or even further beyond that. Goku calls Kale over to join the fight, much to Beerus' consternation. Kale is extremely happy at the prospect of fighting alongside Caulifla, and powers up into her beefy, "controlled" Super Saiyan form.
With Kale's assistance, Caulifla nails Goku with another one of her Crush Cannon blasts, which even Goku admits hurts a little. Still, when the two go at him next, Goku manages to parry all of their blows. Champa is outraged as Goku continues to fend off his two Super Saiyan opponents single-handed, and Muten Roshi wonders if Goku is using Ultra Instinct again. Whis refutes this though, saying that Ultra Instinct is difficult even for Gods of Destruction to master, so there's no way Goku could manage it that easily. Rather, it is simply that Goku's senses are being sharpened by Caulifla and Kale's attacks.
In the end, Caulifla and Kale's attacks start to connect, and Goku struggles against their blasts before finally transforming into Super Saiyan 3 at last. His fight against the two of them has caused the power inside him to bubble up even further. However, he then immediately reverts to normal, saying that he still hasn't recovered enough stamina to maintain Super Saiyan 3. Regardless, Caulifla and Kale are suitably impressed after seeing the form's power, and are even more committed to beating Goku and obtaining that form for themselves. Getting perhaps a little too carried away, Kale powers up even further and reaches her even beefier "berserk" state once more, and Goku prepares to square off against her.
22 minutes remain in the Tournament of Power.