NOTE:
Please watch the episode with any necessary subtitles before discussing:
Crunchyroll
/
Daisuki
/
FUNimation
Also, please make sure to follow the
Kanzenshuu Forum Rules
.
-------------------------------
General Discussion for Dragon Ball Super Episode 115, aired 12 November 2017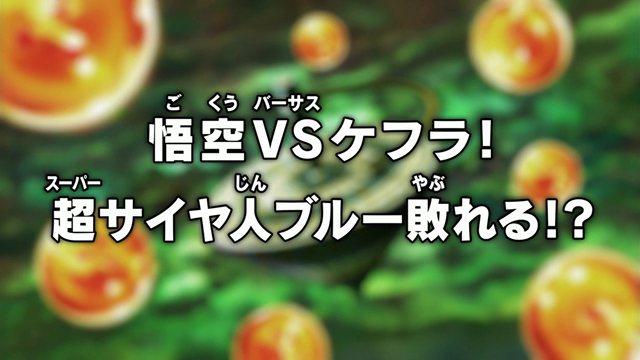 悟空VSケフラ! 超サイヤ人ブルー敗れる!?
Gokū vs Kefura! Supā Saiya-jin Burū Yabureru!?
Goku vs Kafla! Super Saiyan Blue Beaten?!
Summary:
Kale and Caulifla have used the Potara earrings to merge into Kafla, much to Goku's amazement. Impressed at her own power, Kafla (still in her base form) begins knocking Super Saiyan God Goku around, and he can immediately tell that her power and speed are in a different class than what they were pre-fusion. On the sidelines, Beerus protests that using the Potara must surely be against the rules. Champa suggests that if Beerus doesn't like it, he can just use the Potara too, but Beerus is afraid of getting disqualified.
However, the Omni-Kings are hyped up at seeing this fusion, so the Grand Priest announces that the use of Potara is allowed. The U3 Kaioshin Ea says that they have no need to use the Potara, for reasons that go without saying. The U4 God of Destruction Quitela likewise insists his universe doesn't need to resort to that tactic. Still fighting Toppo, Vegeta is distracted by Kafla's rising ki, which enables Toppo to get the drop on him once more. Toppo says that if Vegeta is that interested in Goku's fight, then he can watch it from the bleachers, and begins to crush Vegeta in a bearhug.
Elsewhere, Gohan and Piccolo continue their battle against the U6 Namekians Saonel and Pirina. Though Gohan manages to sever Pirina's arm, Pirina immediately uses his Namekian regenerative abilities to regrow it. Beerus resolves for their team to use the Potara, and Shin suggests they merge No.17 and No.18 together. Being twins, they should be highly compatible; they can even call them No.35! But Whis points out that if they lose after merging, it will mean two loses at once. This makes Beerus change his tune, since he doesn't want to risk reducing their numerical advantage.
On the other hand, the U2 gods decide that it will be difficult for any single warrior to defeat Jiren or Goku, and so decide to use their Potara to merge Zarbuto and Rabanra. However, Zarbuto struggles to put his Potara on (since he forgets to take his helmet off first), and before the two can merge Kafla runs through, knocking them both out of the way and shattering their Potara. Meanwhile, No.18 has injured her leg in an explosion, and is confronted by Katopesla. Though she is unable to dodge his fast punch, No.17 intervenes and holds Katopesla's fist back, not being OK with the idea of hitting a lady in the face. Katopesla objects that there's no room for mercy on the battlefield, and 17 agrees, then promptly pummels him and wanders off.
Kafla continues to overwhelm Super Saiyan God Goku, who at last is forced to transform into Super Saiyan Blue. He realizes that he can't risk holding back against Kafla any longer. In response, Kafla finally transforms into a Super Saiyan, amazing everyone even more with her power. On the sidelines, Vados thinks Kafla should be careful against Super Saiyan Blue Goku, but Champa recognizes that Goku hasn't fully recovered his stamina since his fight with Jiren, so he figures Kafla can take him. Even Champa hadn't expected Kafla to be this powerful; it was a happy miscalculation on his part.
As the two begin to clash, their power shoots up even higher, threatening to wreck the arena. Even Jiren's eye twitches ever-so-slightly! Vegeta finally manages to break free from Toppo's hold, and notices that Goku has gone Blue. Trading blows with Goku, Kafla vows to surpass him and achieve Super Saiyan Blue herself, but Goku doubts that she can. As Goku uses Kaio-Ken to deflect one of Kafla's blasts, Freeza observes from the sidelines that this is a fight worth watching; which Saiyan will prevail?
Beerus is worried that Goku is pushing himself too far by using Kaio-Ken without his stamina fully recovered, but Whis points out that Goku must have determined that this was the only way to defeat Super Saiyan Kafla. Indeed, Goku's Kaio-Ken power is enough to make Kafla's arm go numb, and she recognizes him as a worthy opponent. After some more fighting, another of Goku's attacks sends Kafla flying off into the distance, burying her under a pile of rubble. Champa yells at her that she can't lose while using the Potara; he'll never forgive her if she does!
Finally, Kafla gets back up from the rubble; that last attack may have hurt, but she's not finished yet! Muten Roshi can tell that Kafla is fighting beyond her limits, and Whis says she is being driven by her Saiyan blood. Beerus is worried that Goku can't keep using Kaio-Ken with his current stamina; he'll have to finish the fight with his next attack! Goku counters two of Kafla's blasts with a Kamehameha, but Kafla takes that opportunity to circle behind him and kick him in the head.
Goku is knocked down and reverts to his base state, disappointing Kafla, who wanted to fight him a little longer. She declares that she'll drop him out of bounds next, but Goku refuses to give up, and struggles back to his feet. While Kafla responds with another barrage of ki blasts, this time Goku starts glowing silver, and somehow none of the blasts manage to hit him. Kafla thinks this must be a fluke and fires again, but with the same results.
Goku opens his eyes, which are now shining silver, and Roshi and co. on the sidelines realize he has returned to the form he had while fighting Jiren. Whis confirms that Goku has broken through his shell once again, something he didn't expect to happen here again. Beerus is eager to get another look…at Ultra Instinct! Even the difficult-to-please Omni-Kings are excited for once.
19 minutes remain in the Tournament of Power.