NOTE:
Please watch the episode with any necessary subtitles before discussing:
Crunchyroll
/
Daisuki
/
FUNimation
Also, please make sure to follow the
Kanzenshuu Forum Rules
.
-------------------------------
General Discussion for Dragon Ball Super Episode 116, aired 19 November 2017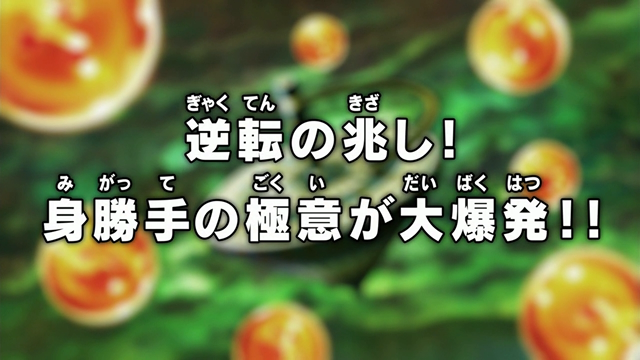 逆転の兆し!身勝手の極意が大爆発!!
Gyakuten no Kizashi! Migatte no Goku'i ga Dai-Bakuhatsu!!
The Comeback Omen! Ultra Instinct's Huge Explosion!!
Summary:
Goku has regained the silver eyes and aura he had when fighting Jiren, and declares that Kafla now cannot defeat him. On the sidelines, Kuririn notes that Goku is giving off a tremendous amount of heat, and Whis explains that most likely Kafla has triggered him to once more reach Ultra Instinct. Her tremendous ki was on par with the power of the Genki-Dama, and must have caused him to break through another limiting shell.
Champa yells at Kafla to take Goku down before he can master Ultra Instinct, and while Kafla is impressed by Ultra Instinct's heat, she still insists that she is No.1 and won't lose. She powers up into Super Saiyan 2, creating a storm of ki that draws Piccolo and Gohan's attention. Piccolo can see that Goku getting stronger likewise triggers Kalfa to power up even more, and vice-versa; the two are caught in a vicious cycle!
Kafla charges up a blast while Goku finishes poweing up, claiming that her power is enough to blow away an entire universe. But Goku manages to dodge her blast and subsequent punches and kicks, all while barely moving from his spot. From the bleachers, Champa is furious that Kafla should fare so poorly against Goku despite using the Potara, and even the U6 Kaioshin Fuwa finally snaps.
Watching the fight, Vegeta sees that Goku's body seems to react all on its own. He suddenly remembers that Whis had told them the importance of doing this, in order to overcome the limits which conscious thought places upon one's reaction time. Now this process is happening to Goku! Goku continues to dodge Kafla's attacks, and knocks her away with a blast from his eyes, but she gets right back up: Goku's movements may be great, but his attacks are weak by comparison! Indeed, Goku says that he's still getting the hang of Ultra Instinct. Elsewhere, Jiren awakens from his meditation and rejoins Toppo and Dyspo; it seems that he doesn't want to miss Goku's fight.
Kafla vows to beat the snot out of Goku for sure this time, but Goku easily zips behind her and begins showering her with punches. After getting knocked around quite a bit by Goku, Kalfa still manages to get right back up again. Kuririn and Tenshinhan are amazed at her toughness, but Whis explains that while Kafla is indeed tough, the main problem is that Goku's attacks are ineffective because he is apparently unable to maintain Ultra Instinct while attacking.
Whis thinks Goku had better finish this fight with his next attack, or else his stamina might not hold up. But Kafla says that the fight's not over yet, and begins unleashing all of her remaining power in a series of laser-like blasts in all directions. Goku charges up a Kamehameha as he approaches Kafla while dodging her numerous blasts. Managing to slide over her final spiral blast in midair, Goku nails her with his Kamehameha at point-blank range, shattering her Potara and sending the defused Kale and Caulifla out of bounds.
The Great Priest formally announces Kale and Caulifla's defeat, and in the bleachers Kale apologizes to Champa and Fuwa, while Caulifla yells at Goku that she'll beat him someday. Now U6 has only two warriors remaining: the Namekians Saonel and Pirina, who vow to defeat U7. Meanwhile, Whis explains that Goku was correct in using the Kamehameha for his final blow, since he could charge it up while dodging unconsciously.
Still, Goku won't be able to use the same trick forever, so to beat Jiren and co. he will have to learn how to attack unconsciously. Whis says this is tricky, since people always think about how best to attack, which is the reason Goku's attacks earlier weren't as effective. It remains to be seen if Goku will be able to master operating entirely by instinct in the tournament's remaining time.
Toppo and Dyspo can tell that Goku has improved, and will continue to grow stronger. Out of stamina again, Goku reverts to his regular state and collapses. Watching from above, Freeza can see the toll Ultra Instinct takes on Goku's body, but says Goku has got to keep on working for him. Vegeta meanwhile thinks that if Goku is capable of Ultra Instinct then he should be too, and vows that he will master it before him.
17 minutes remain in the Tournament of Power.