NOTE:
Please watch the episode with any necessary subtitles before discussing:
Crunchyroll
/
Daisuki
/
FUNimation
Also, please make sure to follow the
Kanzenshuu Forum Rules
.
-------------------------------
General Discussion for Dragon Ball Super Episode 117, aired 26 November 2017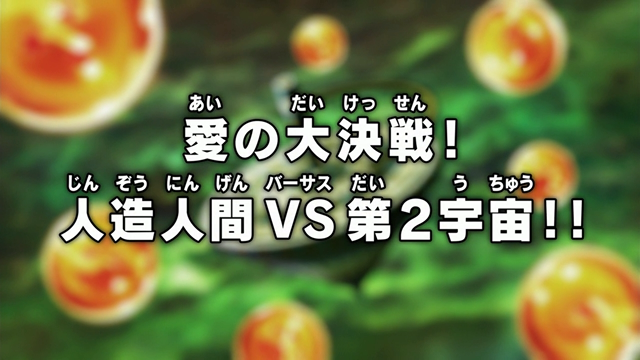 愛の大決戦!人造人間VS第2宇宙!!
Ai no Dai-Kessen! Jinzō-Ningen vs Dai-Ni Uchū!!
Showdown of Love! The Androids vs Universe 2!!
Summary:
Thanks to Ultra Instinct, Goku has defeated Kafla but has once again used up all his stamina. Gohan and Piccolo rush over to help him, but are intercepted by Universe 6's remaining two warriors, the Namekians Saonel and Pirina. Champa tells them not to lose, since if they do it will mean the end of U6, and Saonel assures him that they will prevail.
Meanwhile, Vegeta battles U3's Katopesla, who switches from Speed Mode into Battle Mode, increasing his attack power 300-fold. Determined to achieve Ultra Instinct, Vegeta tries to move unconsciously, but gets pummeled by Katopesla as Beerus yells at him to defend himself. Eventually Vegeta gets sick of this and blocks one of Katopesla's attacks, then begins beating him up (something Whis thinks he's more suited for).
It seems that Goku's battle has triggered everyone to start fighting again. Heles telepathically gives Ribrianne and Rozie a "beautiful" strategy, while No.17 tends to No.18's injured leg. It turns out that 17's gotten used to treating injured animals while working on his island, and has treated his family's injuries too. 18 heard from Goku about 17's wish to travel the world in a cruise ship with his family and thinks that sounds nice, especially since she spends all her time looking after Kuririn and Marron.
18's leg is now bandaged up, but 17 tells her not to overdo it. They rush over to where Goku is, but Ribrianne and the rest of the U2 fighters are there already. Like love, they attack suddenly and without warning (or so Ribrianne says, anyway). Heles tells them to make sure Goku gets some "rest", while Beerus is appalled that they would team up 5-to-1 against someone who's already worn-out. Heles though is certain Goku poses a threat to her universe, and won't pass up this opportunity to take him down.
Ribrianne and Rozie launch a joint "Love Symphony" attack at Goku, but 17 and 18 step in to deflect it. Rozie is mad at them for interfering, but Ribrianne assures her that true love must always overcome such obstacles. Ribrianne decides to take care of the androids first, and leaves the remaining three U2 warriors to make sure Goku doesn't get away in the meantime (since she insists on defeating Goku herself). Rozie goes after 17 in order to avenge Kakunsa, while Ribrianne battles 18.
Although Ribrianne had told them to simply watch over Goku, Rabanra and Zirloin think that they should take him out. After all, they failed at their attempt to use the Potara, so this way they can at least do something praise-worthy. Goku is ready to take all three of them on, but Beerus says he hasn't got a chance in his current condition and should run away.
Rozie attacks 17 with her Yacchaina Fist fighting style (which the Omni-Kings have fun imitating), while 18 dodges Ribrianne's Lovely Machine Gun blasts while managing to get a kick in edge-wise. Ribrianne yells at 18 to stop running away and fight her fair and square, but 18 says she didn't come to fight, she came to win. 18 says that unlike Ribrianne, she's married and has a daughter, so she has a lot to fight for. As Kuririn cheers 18 on, Ribrianne is shocked to realize that he must be her husband: he's not beautiful! He doesn't even have a nose!
Ribrianne declares that she is trying to send love out to all the universes, so she can't lose to someone like 18, who's simply fighting for the sake of some bald guy. But 18 insists that Ribrianne will lose, which ticks her off even more, and the two recommence their battle. 18 tries to dodge Ribrianne's Maiden's Charge, but can't on her injured leg, so 17 kicks Ribrianne out of the way. 17 and 18 both manage to dodge Rozie's blast, which end up hitting Ribrianne.
17 and 18 go back to fighting their respective opponents one-on-one, until Ribrianne fires her "Max Love Cannon" attack at 18, confident that she won't be able to dodge in midair. 18 though propels herself out of the way with a ki blast, and the attack hits Rozie instead. As Rozie struggles against the blast, Ribrianne tries to go save her, but 18 stops her while 17 fires a blast of his own at Rozie, knocking her out of bounds.
Although Ribrianne has powered down and reverted to her regular "Brianne" form, she still manages to catch 18 off-guard with an underground attack, imprisoning her within the rose-like "Big Amour" technique. 17 goes to help her, but is attacked by the U3 warrior Biara. Brianne receives love from Heles and the others from U2 and transforms into a giant version of Ribrianne, something so beautiful even Heles can hardly believe it.
As the gigantic Ribrianne prepares to rain down her "Fist of Love", 18 thinks that she's had it, until her thoughts of Kuririn and Marron (and Kuririn's shouts of encouragement) inspire her to break free of her bounds and counterattack. Shattering Ribrianne's giant fist, she runs up her arm and avoids her blasts (with some help from 17, who finally arrives after defeating Biara), then punches through her head. As Ribrianne's giant body dissolves, she reverts once more to Brianne and falls from the ring.
Materializing in the bleachers, the defeated Brianne begins to cry, but Heles assures her she fought well. Shin is happy that the power of 18 and Kuririn's love prevailed, but 18 soon stops him from celebrating too much. Seeing 18 and Kuririn's interactions, Brianne realizes that there are other forms of love out there. Now U2 has only three warriors remaining: Rabanra, Zarbuto, and Zirloin. Heles tells them to win, even if it's not beautiful. The three agree, and move in on Goku.
15 minutes remain in the Tournament of Power.