Drawing the Dragon Ball characters in a more western style has been a project I've always wanted to do. Most of you have probably already seen some of my sketches in the Fan Works Explosion sticky thread, but I think starting my own thread will be better to show-off the work.
This thread will be dedicated to one thing, western style Dragon Ball art made by me. Or what the heck, if anyone wants to add there take on the characters that would be cool too! The only thing I asks is that you try to deviate from the original anime look. Otherwise, what's the point of this thread?
The "Western Style" I'll be going for is an American superhero cartoon or comics type of design. Think Young Justice, Batman: TAS, Avengers Earth Mightiest hero's, etc. I'll be using mostly Bruce Timm and Darwyn Cooke as my main influences.
Here are the characters I've sketched so far (I hope reposting is okay):
Goku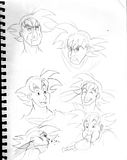 Vegeta
Piccolo
Gotenks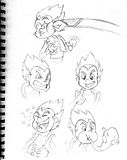 Bulma
(Good) Lunch
Here are the colored versions of Goku and Vegeta:
As you know, Dragon Ball/Z/GT (including the specials and the movies) has a ton of characters and this project might take a while to finish, but I think it would be worth it. Now, I'm usually extremely busy drawing other comics (both personal and private commissions) but I'll try to sketch out and color at least a couple of characters a week.
Also, if a design doesn't work I'm not afraid to re-draw it again and again until it's just right. I might even draw the same person more than once because I know some characters, like Bluma and Gohan changes hair styles and clothing over the series.
The next two characters I'll be sketching next week will be
Chichi
and
Vegetto
. After those two I'll be open for suggestions again.
Your feed back is always welcomed.