Ok, I've just scanned the AF special from the awesome "DB Magazine" volume. If you like DB doujinshiis, I reccomend you to buy it!
Now, let's try to explain. The recent preview I posted days ago aren't from Toyble's AF Prologue (I refer to it in this way), but they're from another doujinshii... pheeew!
So there are just two pages from Toyble's DBAF (like written in his blog), well illustrated, and I'm pretty sure they're drawn by himself too! The last five panels are my favourites, really. Now try judging with your eyes: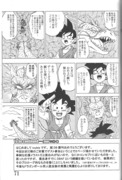 Also, I add a direct download with covers front-back and spine included:
http://www.filedropper.com/dbaf0-prologue
Is anyone interested in a nice editing for the "black and white thing"? tomac66?

I'm looking forward to know what they're saying, now I'm just sitting here waiting for a translation, ahahahah...