I could've swore I must have already made a thread about this subject, but it seems I haven't. Meh, now's a good a time as any.
I've come to notice that there's a certain... world-weary pessimism in much of Toriyama's work, particularly regarding attitudes towards human societies. In interviews, Toriyama often displays a surprisingly cynical view of his own work, referring to his manga career as little more than light entertainment that helped pay for his mortgage, as well as claiming that Goku has "poisonous traits", that he's a disaster of a father, that the world would be screwed if everyone took him as a role model, etc. This is diametrically opposed to the anime production crew's optimistic views on Goku and Dragon Ball as a whole, but that's a broader discussion for another day. Now, Toriyama is still a gag mangaka at heart, none of this supposed satirical commentary is especially deep or reflective of reality.
As Dragon Ball is a very "man vs. man" type of story with little interest in conveying any deeper "man vs. society" type conflicts, the flaws associated with humanity are most often embodied in specific characters. Mr. Satan perhaps stands out most of all, as a weak, arrogant blowhard who proudly emblazons the word 'SATAN' on all his merchandise and successfully cons the population into disbelieving in the true spiritual power of martial arts, living up to his ironic nickname as a great deceiver and false idol. However, Satan, as we all know, undergoes major character development in the latter half of the manga, going from a self-serving coward to finally living up to his heroic reputation, ironically by using his ridiculous PR to telepathically con the people of Earth into transferring their energy to the Genki Dama when Goku and Vegeta's attempts to convince them honestly failed miserably.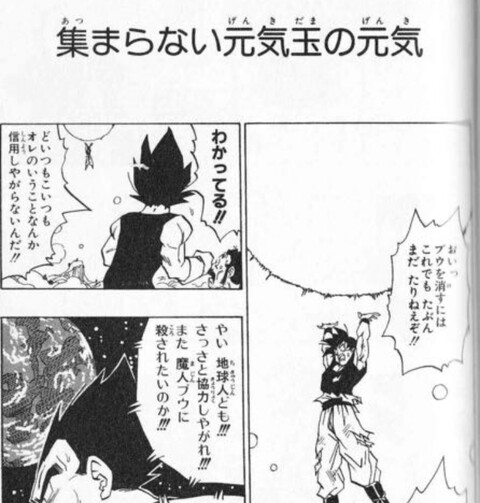 As such, there's a strangely cynical bite to the otherwise triumphant climax of the Buu arc, as the humans gleefully surrender their genki based on their blind faith in their beloved fake hero, all while the real heroes once again do the heavy-lifting without so much as an 'arigatou'. Earlier in the same arc, a disturbingly realistic outcome of an apocalyptic alien invasion is portrayed as a random crazed gunman decides to go full Purge mode while the world is distracted by Buu's rampage, killing many innocents before receiving brutal comeuppance from Buu himself. With the stakes growing higher, civilian casualties really started ramping up in the Android, Cell and Buu arcs, often with liberal gore and dismemberment. Even the protagonists seem to grow increasingly blasé to the safety of innocent lives endangered by their battles, not least since death is only a Dragon Ball gathering away from being reversed. Piccolo's attempt to convince Cell not to devour the richest man in Ginger Town is to say "even a life as worthless as this is still a life". Damn bro, can you spare the compassion?
Jaco the Galactic Patrolman
continues these themes in stride, with some scathing satire against Japan's idol-worshipping culture and the general idiocy of humanity. Even the deuteragonist Omori bitterly declares humanity a lost cause for the most part while listing out our flaws, though he's naturally shocked when Jaco offers to wipe them out, saying that we're not
that
bad. Omori is pretty much a complete opposite of Roshi, being a depressive old scientist isolated on a small island, trying to finish building a time machine to save his wife who was tragically killed while attempting to build said time machine. Toriyama has often claimed to relate to Roshi most of all the main DB cast, as a fellow self-described perverted hermit who prefers a quiet life in the countryside. It's interesting to see how Toriyama's views have seemingly changed as he's gotten older and more cynical, as the Roshi archetype has been flipped on its head. The ruthlessness of the manga industry no doubt played a role if this is the case.
Moving on, we come to
Dragon Ball Super
. The overall thematic link between nearly all the arcs (at least pre-Moro arc) is the conflict between mortals and gods. The Beerus arc is fairly optimistic in this regard, with humanity ultimately being spared for producing spirited warriors like Son Goku, as well as our hospitality and culinary skills.
Especially
our culinary skills. Kibitoshin summarises it best that Earth has a great charm, for all its flaws. Toriyama deliberately intended for the film to carry a more uplifting tone in light of the 2011 tsunami catastrophe that devastated his home country, in contrast to the film's original dark pitch, which might be the sweetest thing I've ever heard.
Then we come to the Universe 6 Earth, or rather we don't, as it's dead Jim. Destroyed long ago, but not from some alien invasion, just from plain old nuclear devastation presumably. Whis and Vados speculate that it was some petty human conflict that got out of control. Beerus wishes for the planet to be revived at the end of the tournament arc as a nice gesture to his brother, but there's no guarantee history won't repeat.
Enter the Misanthrope Supreme himself, Zamasu. Observing mortals from the godly realms, Zamasu concludes that mortals have squandered the gifts blessed to them by the gods and deserve to be wiped out completely. The Trunks arc deals with some oddly heavy themes for Dragon Ball. While Goku Black's initial motive rant in the anime can be interpreted as him hating humanity for our crimes against the environment or stagnation as a society, Zamasu's primary grudge against mortals is more shallowly rooted on his own inability to reconcile the similarities between mortals and gods, namely how some mortals like Goku are able to attain power rivalling the gods. That, and viewing all mortals as incorrigibly violent purely based on observing a
2001: A Space Odyssey
-esque scene involving a race called the Babarians. Gowasu really picked a great planet to showcase the virtues of mortalkind...

Both the anime and manga versions of the arc end on a controversially bitter note of Future Zeno outright erasing Trunks' entire timeline, rendering all the heroes' efforts to save it nearly pointless. The Universe Survival arc thankfully gave us a much needed reprieve as it ends on a happy note with Android #17's selfless wish reaffirming mortals' worth in Zeno's eyes.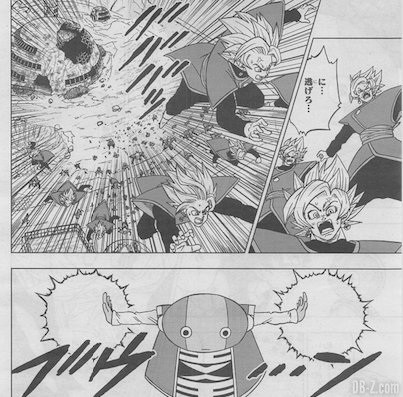 Lastly, we come to Goku himself. In the Moro arc, he removes his Galactic Patrol insignia and vows to finish the fight with Moro "as an Earthling", rather than a Galactic Patrol agent. In Goku's twisted little mind, fighting as an Earthling basically translates to giving the planet-destroying enemy a Senzu, trying to talk to talk the enemy into handing himself in, letting the enemy sprain his hand on your rock-hard abdominals just to prove yourself as the alpha chad in the situation, then finally deciding to finish the enemy, by which point the enemy has figured out a way to escape. For Goku, as always, it's his selfish desires clouding his judgments and making him unreasonably merciful even in a dire situation like this, but he rarely bothers to justify himself like he does here. This may be more of a Toyotaro plot beat, but it's fairly on-brand for "the human way of doing things" to be portrayed as less efficient than the alien/godly way.
(FYI, not even criticising that turn of events, it's one of my favourite sequences in the Super manga incidentally)
So yeah, what do you think? Is Toriyama a bit of an old misery guts sometimes? Aren't we all?