Happy Dragon Ball Day! November 20, 2014 is the official 30th anniversary for
Dragon Ball
...!
We've been working on this for a
really long time
, and it's amazing to finally launch it. One of the reasons there has not been a new podcast episode in about two months is...
We've been putting together a special magazine in celebration of Dragon Ball's 30th anniversary!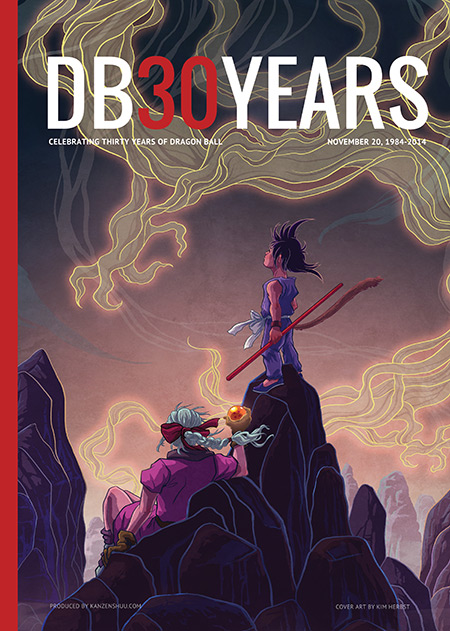 It's called "
DB30YEARS
": it's available right now, it's available for free, and it's available in a few awesome formats:
You'll see a lot of familiar names on the contributors list, maybe some you haven't seen in a long while, and perhaps a few new ones. The articles are absolutely incredible, and we can't wait for you to dive in. There's a complete list of contributors at the beginning of the magazine, as well as
on our website
. The cover art comes from
Kim Herbst
and is also featured as a part of
the art exhibit hosted by Q Pop Shop in LA
. Cool story: Kim and Meri actually went to high school together and founded the school's anime club! Small world!
In terms of us
Kanzenshuu
staff, we've also contributed material, and 99% of it is original to this publication (though, of course, a lot will eventually make its way back to the website-proper in the near future). Not only do we have editorial pieces, but also some new original research that we've been saving up. Some of this new material includes things like:
Changes made from the original WSJ serialization (Gohan's age...!!!)
Comparison with Toriyama's one-shots and Dr. Slump (Futon ga futton da!)
Deep look into the numbers behind how filler came to be and what would have happened without it (we have a chart! wow!)
Homages in American television (The Tenka'ichi Budokai is finally complete!)
... and a ton more!
Check it out, share it with friends, share it with other fans, and let us know what you think.
www.kanzenshuu.com/features/db30years/