I know there must be already a hundred of topics specifically for this, but I decided to create the "contemporary" version of it in order to prevent this thread to appear again in the official Movie 15 topic and others unrelated. Moderators/administrators feel free to either delete it or contribute with your already posted information about this subject.
To begin with, I will post every statement for every material so far.
• Movies:
I take the movies as "stories in a different dimension from the main story of the comic". I'm entirely just an audience member for them.
This is from Daizenshuu 6 when asked what is Toriyama's position in relation to the movies for his manga. They take place out of the manga continuity, therefore, all that happen in the movies do not influence the manga by any means. Example: Freeza does not have a brother. That
stupid thing
is not the Legendary Super Saiyan and etc. Movies' plots also contradict many elements from the manga. You can't set one movie within the manga without find a plothole/inconsistency and such.
And, of course, it should be noted that all those movies which are not part of the manga, range from Movie 1 (Dragon Ball) up to Movie 13 (Dragon Ball Z). There are Movie 14 (Battle of Gods) and Movie 15 (Ressurrection "F"), both these movies are said by the author himself to take place within his original work, the manga. As you can see it here:
[As with the last movie], I thought up the new story for the next Dragon Ball theatrical film as though it were a continuation of the manga when it was in serialization.
• Dragon Ball GT:
Dragon Ball GT is a grand side-story of the original Dragon Ball
.
This is from Dragon Ball GT's DVD Box, it is a message from the author, Akira Toriyama, summing GT up as to what he has done/contributed to the series. As you can see, he considers the anime as a "side-story". This word can slightly change its meaning from franchise to franchise (just like you can't use Star Wars' logic of "canon" to another franchise, as it may work differently). "Side-story" on its own does not help to claim whether the anime is or not canon, but Dragon Ball GT accepts movies continuity into his plot as you can see in the image below, and movies have been stated to be out of the manga.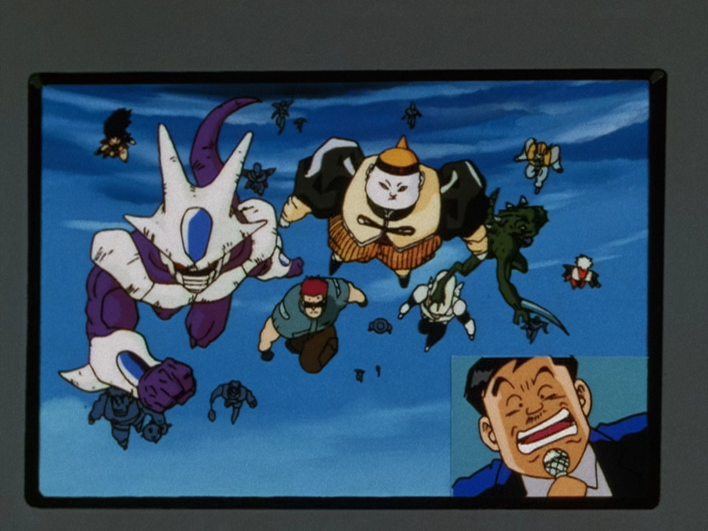 • OVA's: Dragon Ball has three OVAs (I am considering just the ones that somehow are connected to the series, those from classic Dragon Ball are not meant to be taken serious); the first - "
Dragon Ball: Yo!! Son Goku and His Friends Returned!
", the second - "
Dragon Ball: Plan To Erradicate the Super Saiyans
" and the third - "
Dragon Ball: Episode of Bardock
".
The first OVA: In the modern days, it is canon, there is no debate over it. Tarble is mentioned in Movie 14 -
Dragon Ball Z: Battle of Gods
, therefore, it takes place within the manga continuity. Until Toriyama decides to come up with a new story for Tarble, both Tarble and his OVA are to be considered.
The second OVA: It is non-canon/filler/side-story/what-if (whichever other words you can use it). Why? Because its plot accepts movies, and movies have been stated to be out of manga continuity.
The third OVA: Neutral. Though its author, Ooishi Naho, stated to be "what-if", it is not like Toriyama couldn't intepose and says "but I want it in my original work", so, unless Toriyama himself says it does not take place in his manga, you can consider this OVA. Bardock's time travel is not limited to only "time", he can totally have traveled to another dimension as well. And since there is not a single explanation about how Bardock went back in time, you can create your own explanation for it to happen.
• TV Specials: Dragon Ball has three TV Specials; the first - "
Dragon Ball Z: Bardock, the Father of Goku
", the second - "
Dragon Ball Z: Trunks, the Future Warrior
" and the third - "
Dragon Ball GT: A Hero's Legacy
".
The first TV Special: For many years it was considered canon, but now we have Dragon Ball Minus, which deeply contradicts that wonderful Special. If you are a manga lover, then it is Dragon Ball Minus for you. For all the rest, you can still consider both. Yes, Dragon Ball Minus plot takes place one month before the destruction of planet Vegeta, this can be a gap to consider some elements from the TV Special, for example: All the planet Meat conflict, that specifically scene does not contradict anything. On the contrary, if you consider that scene, then you have an explanation to why Bardock is seen using a headband in Chapter 307 of the original manga. Ultimately, there is the "Bardock vs Freeza" scene, that specifically scene is canon, there is no debate over it as it is represented in the Chapter 307.
The second TV Special: It is canon. Though it is up to you if Trunks actually achieved the Super Saiyan transformation after Son Gohan's death. Personally, I consider the TV Special canon rather than the manga, since Akira Toriyama himself admitted he has a flaw of not knowing how to write deep and strong scenes such as it is Son Gohan's death.
The third TV Special: It belongs to Dragon Ball GT, if the anime itself is a "side-story", all other things belonging to it are as well. This special itself does not contradict anything, so... I think one might consider it if one is pleased to it.
Of course, I also put my pointview of "canon/filler", it may and will contradicts your view, but there we have it. I hope I was very clear in what I intended to say, I hope even more you understood what was said, any misunderstanding can be point out and I will either correct or explain to you.