So
Kendamu
just retweeted a pretty hysterical conversation. It is what it is, and it's funny enough on its own to just consume and move on from. If that's all you want to do, that's fine. Here it is: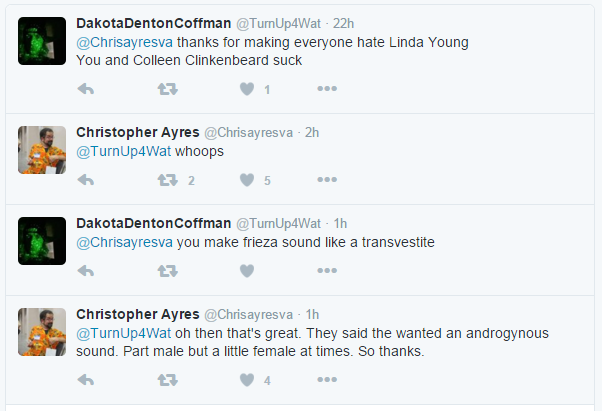 But it got me thinking a little bit.
I come from an era where, if you wanted to express an opinion online, you had to work for it. Even signing up for a Geocities or FortuneCity account was a monumental task, and you had no guarantee anyone was ever going to see it. If you were lucky enough to find an audience on USENET conversations or even on your own website (remember, there were no "blogs" yet, nevermind these social media microblogs)... well, you had an audience. Good for you!
Not so anymore. You can directly talk to the people you want to bitch at and have a pretty good guarantee they'll see it.
How has this personally affected your fandom? Do you just play the role of the casual observer, following one-off staff that you like? Frequent conversations? Tweets that go unacknowledged? One example for us at
Kanzenshuu
is that it gave us an opportunity to directly ask Yusuke Watanabe about
Battle of Gods
name puns and get an (incorrect!) answer, which led us down the rabbit hole of further exposing the insanity and multi-layered confusion among the production staff for those character names. This blows my mind: getting a real-time answer from production staff about something AS IT WAS HAPPENING was an impossible pipe-dream back when I started my website.
On the flip side, it lets you be a total asshole with zero consequence. I wonder if anyone actually thinks about this. Perhaps that's the big "we're at a point where we need to
teach
children empathy" conversation going around these days.
And on a separate note, the "sounds like a transvestite" comment in the above tweet is amazingly strange, considering
that's the exact same argument levied against Linda Young's performance
. Not saying it's a valid description, but it's the same thing. It reminds me often when I see people complain about Shunsuke Kikuchi's score as sounding like "circus music" when
that's the exact same argument we used for the Faulconer Productions score
.
Mostly just rambling, but I think looking at these examples is really good perspective and I hope you think twice before ever posting anything online ever in the history of ever no really for ever ever ever because there are decades now for other people to pull from and make you look as hypocritical and insane as they want you to look.
Have fun out there!