What's your biggest screw-up? (Names, Sagas, Covers, etc;) Mine goes as follows:
THIS is the cover box for "Fusion - Hope Returns"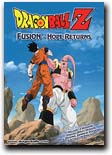 By this time I had NOT seen the parts where Son Gohan returns to Earth.
So all I know is that Goku and Gohan are on Supreme Kai's (Oh god, I'm so sorry.) Planet. I actually thought, the person that was being choked (?) was
Goku
. Because on Z-Store I saw a a VERY tiny picture of it, so I had NO idea.
So, how about you?