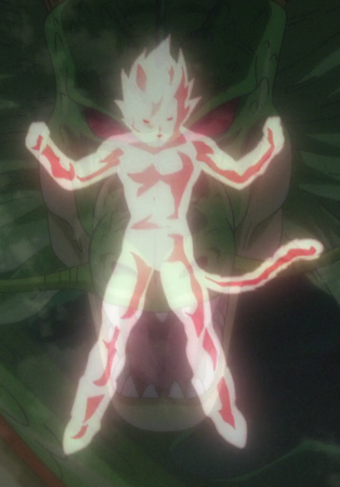 https://www.kanzenshuu.com/translation ... pecial-qa/
So from what I can gather from BoG, Super, and this interview with Toriyama both the original legendary SS and the creator of the SSG was a Saiyan named Yamoshi.
Yamoshi was a righteous Saiyan who took a disdain to the evil Saiyans who ruled over their people, so he started a rebellion against them with a group of other righteous Saiyans who shared his beliefs. Cornered by enemies, he became the first Super Saiyan, but being severely outnumbered he was eventually killed regardless. However, through supernatural forces his spirit lived on, and now sought out 6 righteous Saiyans to inherit his will through a new form the Super Saiyan God.
Apparently, according to the Book of Legends, he did find the righteous 6 he was searching for, and thus the original SSG was born through the spirit of Yamoshi. But this form had a time limit, and once it expired the righteous rebels were slaughtered by the evil Saiyans once again.
Thus ends the legend of the Super Saiyan God until Goku learns of the ritual and obtains the form many generations later.