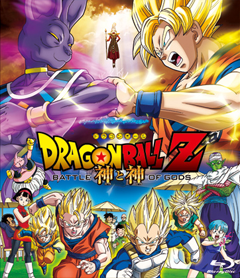 ドラゴンボールZ 神と神
Doragon Bōru Zetto Kami to Kami
Dragon Ball Z: God and God / Battle of Gods
General Information
Released:
13 September 2013
Retail:
¥5,040 (Blu-ray) / ¥3,990 (DVD)
Catalog Number:
BSTD-03677 (Blu-ray) / DSTD-03677 (DVD)
Property Holders:
Bird Studio / Shueisha / Toei Co. Ltd. / Fuji TV
Manufacturer:
Toei Video
Encoding:
Region A (Blu-ray) / Region 2 (DVD)

---

Disc(s):
1 disc
Disc Format:
Single Sided / Single Layer
Encoding Format:
H.264/MPEG-4 (Blu-ray) / MPEG-2 (DVD)
Video Format:
16:9 [1080p Hi-Def] (Blu-ray) / 16:9 Letterbox (DVD)
Running Time:
Approximately 85 minutes
Contains:
"Dragon Ball Z: Battle of Gods", plus bonus features

---

Audio Format:
Linear PCM 5.1 (Blu-ray) / Dolby 5.1 (DVD)
Language:
Japanese
Subtitles:
Japanese
Alternate Angles:
None

---

Extra Features:
— Announcement Collection
— Setting Materials Collection
Jacket Case & Slip Cover
The standard edition home video release of Dragon Ball Z: Battle of Gods is available in both DVD and Blu-ray formats, with each containing a single disc. Both releases are physically identical and come packaged in a special slip case. The DVD disc comes packaged in a standard clear translucent single DVD case, while the Blu-ray disc is packaged in a standard blue translucent single Blu-ray case. The cover, featuring the film's promotional poster illustration, is slipped in the outside sleeve of the jacket for both releases. Although the cases are translucent, there is no additional artwork behind the disc. The back of the jacket provides an introduction to the series and film, along with some screen shots, and a credit listing of the main staff and cast. The packaging illustrations, all of which were used for the film's promotion, were drawn by the film's chief animation supervisor Tadayoshi Yamamuro.



Disc / Contents
The disc features an illustration of Son Goku, drawn by Tadayoshi Yamamuro, as used in the film's promotion and featured on the back of the slip cover. The background of the disc's illustration features the 悟 (go) character, which is prominently featured in the series on the back of Goku's dōgi.



Single Disc (Blu-ray or DVD)
—
ドラゴンボールZ 神と神
Doragon Bōru Zetto Kami to Kami
Dragon Ball Z: God and God / Battle of Gods
---
Bonus Features:
Announcement & Setting Materials Collections
Bonus Features
Every theatrical trailer and promotional TV spot (12 in total) for the film have been included with this release as part of a special "Announcement Collection". A static collection of design materials is also included, which features 35 character designs from chief animation supervisor Tadayoshi Yamamuro. Some characters have multiple sheets of designs or facial expressions presented, but the majority of every major credited character in the film has been included.
Disc Menus
Following the production company animation, the disc opens to the main menu, which is simply the film's cover illustration. There are five menu options presented, including "Play Main Title", "Chapter List", "Subtitle Selection", "Announcement Collection", and "Setting Materials Collection". All menus are silent and static.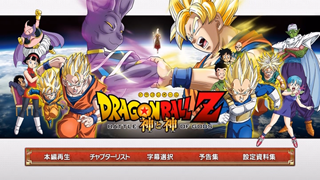 The "Play Main Title" selection plays the entire feature length film, while the "Chapter List" divides the film into 15 chapters, with the 15th being the film's closing credits. The next selection allows the viewer to turn the Japanese subtitles on or off, which are intended for those with hearing impairment. The final two menu selections take the viewer to the appropriate bonus material sections.
Each sub-menu of the DVD release features various backgrounds taken from the film, while unfortunately all of the menus on the Blu-ray release utilize the same static illustration as the main menu.