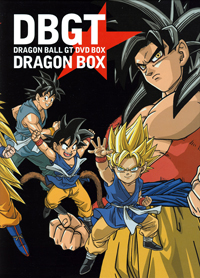 What are the Dragon Boxes?
Starting in 2003 and ending in 2005, Toei Animation, in cooperation with the DVD manufacturing company Pony Canyon, released a series of four box sets covering the entire Dragon Ball TV series property. In 2006, Toei Animation dropped Pony Canyon and released all of the Dragon Ball movie properties on their own in the fifth and final Dragon Box.
The Dragon Boxes were limited items in the truest sense of the word. An order start date would be announced several months in advance, as well as an order deadline. The ordering windows were typically several months in length, and all manufacturing of the box sets were based solely on the number of orders received. In other words, they only made enough boxes to satisfy the orders made within the given timelines, after which point production on the boxes ended indefinitely. With so few actual Dragon Boxes in circulation (most of which already in the loving arms of Dragon Ball fans), it makes finding these boxes nowadays somewhat difficult.
General Information
Order Start Date:
N/A
Order Deadline:
28 February 2005

---

Announced Date:
25 May 2005
Delayed Release:
15 June 2005
Retail:
¥52,500
Catalog Number:
PCBC-50657
Original Copyright:
1996 – 1997
Property Holders:
Bird Studio / Shueisha / Toei Co. Ltd. / Fuji TV
Manufacturer:
Pony Canyon
Encoding:
Region 2 / NTSC (Japan)

---

Discs:
11 discs + 1 special disc
Disc Format:
Single Sided / Dual Layered (discs 1-11)
Single Sided / Single Layered (disc 12)
Encoding Format:
MPEG-2
Video Format:
4:3 Standard Size
Running Time:
Approximately 1,600 minutes
Contains:
Dragon Ball GT episodes 01 through 64 (complete series), plus bonus features

---

Audio Format:
2.0ch monaural (presented in Dolby Digital)
TV Special presented in Dolby Digital stereo
Language:
Japanese
Subtitles:
None
Alternate Angles:
None

---

Extra Features:
— Specially designed box
— Picture labeled discs (uncommon for Japanese DVDs)
— 64-page book (fully colored)
— Capsule Corp. TV/DVD "Dragon Radar" remote controller
— Delay Bonus: Zenny, online questionnaire access, and a special desktop wallpaper
Box Design
The box uses a special design made specifically for the Dragon Box series. It is a large solid box, inside of which it contains a series of "DVD books". The outer box contains the Dragon Box GT logo on the front and spine, with a beautiful collage of Son Goku that wraps around the entire box. The box art was done by veteran Toei Animation artist Katsuyoshi Nakatsuru, which shows Goku's progression from a baby, right up to Super Saiyan 4. As you can also see below, when the spines of the DVD books are placed together they create a large "DBGT", with the full title of the box and number labeling right beneath it.
Box Dimensions:
Height – 10 ¾ inches
Width – 7 ¾ inches (across the front)
Depth – 2 ½ inches (across the spine)
DVD Book Designs
On the front of each book we can see some more fantastic artwork by Katsuyoshi Nakatsuru. Across the three DVD books we essentially have four main images: Child Son Goku, Super Saiyan Son Goku, Super Saiyan 3 Son Goku, and Super Saiyan 4 Son Goku. There are also a couple small images of Super Saiyan Child Son Goku, but for the most part the designs on the books follow the main theme of Son Goku's growth throughout the series. On either side of the interior of each book is a nice purple transparent plastic sheet which holds the discs in place. Under each disc is a big red star, a portion of the box's title, and the disc number. The episode titles are also listed here, but they actually wrap around the discs, making it possible to see the episodes for that respective disc without having to actually remove it (such as with the Dragon Ball Dragon Box).
DVD Book Dimensions:
Height – 10 ¼ inches
Width – 7 ½ inches (across the front)
Depth – 5/8 inches (across the spine)
Discs / Contents
The labels on the discs are a collage of images taken from the episodes present on that disc, topped off with a quote from a particular episode's title, giving you an idea of what actually happens on that disc.
Bonus Features
Special 1
One-Hour TV Special, "Goku's Side Story! The Proof of his Courage is the Four-Star Ball"
Special 2
Non-credit "Bit by Bit, You're Charming My Heart" first animation
Non-credit "I'm Not Alone" animation
Non-credit "Bit by Bit, You're Charming My Heart" first animation (Karaoke Version)
Non-credit "I'm Not Alone" animation (Karaoke Version)
Special 3
Dragon Ball GT New Program Preview
This is the episode preview that belongs at the end of Dragon Ball Z episode 291. It's nice that it was included here, but for the sake of accuracy it should have been left at the end of episode 291 on Dragon Box Z Volume 2.
Special 4
Dragon Ball GT product advertisements

Koizumi – Study Desk (full version)
Koizumi – Study Desk (condensed version)
Sure Note – GT Series School Supplies (full version)
Sure Note – GT Series School Supplies (condensed version)
Nichiryo – Dragon Ball GT Mushi Pan Snack
Carddass – Dragon Ball GT Station

Special 5
A promotional video for the Sony PlayStation 2 game, "Dragon Ball Z".
DVD Menus
The DVDs open with a little Dragon Box GT animation. The text "Shueisha, Fuji Television, and Toei Animation Presents" flies onto the screen. A Dragon Ball then smashes it apart and the full box title flies onto the screen. Two Dragon Balls then smash the title a couple times, condensing it down to just "DBGT", creating the box set's actual logo.
The main menu is an image of Super Saiyan 4 Son Goku, with asteroids and stuff flying around in space behind him. Meanwhile, a beautiful stereo version of the GT episode recap music is playing in the background, with some light "spaceship noises" on top of it. You are given the options of "All Play", "Story Mode", and "Episode Select". "All Play" simply plays all the episodes in order, while "Story Mode" plays all episodes, but removes the openings, endings, and previews. If you choose "Episode Select" the Dragon Balls above Son Goku's head will collect together, Son Goku will "instantaneously move" away, and you are taken to the episode menus. The episode menus are a static image of Shenlong in space, with a bunch of asteroids and Giru flying around in the background. The music is now gone and all you can hear is the humming of the spaceship and some beeping noises, presumably from the ships control panel.
The menu on the special disc is the exact same as noted above, except that it gives you the options of either "TV Special" or "Special Features" on the main menu. When you select "TV Special", obviously it will play, and if you select "Special Features", it will take you to a menu identical to the episode menus.
Episode Presentation
So what exactly are you getting for your money, and what sets this DVD box set apart from other releases? The answer is quite simple, and it's that with this box set you are truly getting the purest presentation of Dragon Ball GT possible.
Complete Episodes
Presented here are the full episodes from start to finish, as they aired on TV over two decades ago (and counting). This includes the complete opening credits, ending credits and episode previews, which are not available outside of the Dragon Box release (although they are now available on the Japanese individual disc releases).
Source Video
For these DVDs they actually pulled the original 16mm film reels out of cold storage, and used them as the primary source material. All previously released Dragon Ball content (even the original Fuji TV airings) were based off either the master tapes (copies of the 16mm film), or copies of the masters. Since the 16mm film is actually the original photography of the animation cels, what you are seeing when viewing these discs is essentially the original cel animation, almost as fresh as the day it was painted!
Remastering
Since the source material is the original cel photography, the picture is already as pristine as it will ever be. However, as with any film, it is bound to suffer some damage. Pony Canyon took the time to carefully remove all damage from the film, presenting us with a perfectly clean picture, yet never compromising the integrity of the actual animation. On top of this, since they have gone back to the 16mm film, they can create an all-new frame alignment!
When making the original masters for a series, it is typical to copy the film while slightly zoomed-in. This reduces the risk of catching the edge of a misaligned cel (i.e. seeing the edge of the image). However, with time, money, and new digital technology on their side, Pony Canyon has created a new print that captures more image than the original masters. In some cases this actually meant re-aligning some of the frames, which not only allowed for a larger image surface, but also greatly reduced all former traces of jitter!
Source Audio
As with the video, they have also gone straight to the source material for the audio. Unfortunately, since the series was recorded in mono, it will always have that dated feel to it, but the audio presented here is of very good quality, all things considered. The audio never gives out or cracks during high notes in a song or loud screams, and the typical background noise (that horrible "shhhhhhh" sound) is virtually nonexistent. Also, the opening and ending themes, although remaining in their broadcast mono forms, have been greatly improved and sound very close to stereo quality.
Dragon Book
The Dragon Book is 64 pages in length (how appropriate) and is closest to JIS B5 format (18.2 × 25.7 cm). The covers are soft, but are very sturdy, being printed on a thick, almost cardboard-type paper, which was then finished with a nice gloss. The actual pages in the book are in full color and are complete with a nice finish (similar to a gloss, giving thickness and durability to the paper). As with most Japanese books, the book is designed to be read from right to left.
Dragon Book Contents
A Message From Akira Toriyama-sensei (read translation)
001

What is "GT"?

002

This two page spread lists the first two series, Dragon Ball and Dragon Ball Z, and explains the idea of having a third anime-original series. It list the start/end dats for all three series, along with a brief explanation of the series' TV history, but the whole thing is more visual than anything.

Dragon Book GT Contents

004

Character GT — All of the GT Characters!!

005

Character Correlation Chart — GT Warriors Genealogy of the Soul

006

A correlation chart that lists some of the main characters and how they relate to Son Goku. It is divided up into three categories; Goku's Family, Goku's Friends, and Goku's Enemies.

Battle Characters File

008

Provides brief character profiles for the series' main characters, including both the heroes and enemies, and is divided up by story arc. It includes notes and original location sketches for the stage of each battle that occurs within the arc.

Story GT — All Disc Recorded Episode Guide (episodes 01–64)

017

The section is essentially an episode guide that examines the episodes included with the Dragon Box, which are divided up by their respective discs. Each episode listing includes the episode title, original air date, respective credits (director, scenario, animation supervisor, and artwork), episode description, and a screen shot. Each page of the episode guide includes a "GT Column" that provides a brief look at a specific point of interest from those particular episodes, such as the integration of the Dragon Radar into Giru, the different Dragon Balls seen in all three series, Toriyama's original story ideas, and previous characters fusions. Each page of the episode guide also includes several "Guest Character" pieces, which showcase some of the more minor characters on that disc. The end of this section also contains information concerning the special disc included with the Dragon Box; essentially covering the GT TV special.

Project GT — Staff Interviews Packed Full of Secrets!!

043

GT in Those Days: Interview with GT Producer Kōzō Morishita

044

This is a six page interview with Kōzō Morishita, the producer of GT, which includes several picture of him and a pile of artwork for GT drawn by Akira Toriyama.

Design Base GT — A Visual Guide of Katsuyoshi Nakatsuru's Character Designs

050

A bunch of character designs by series character designer Katsuyoshi Nakatsuru, including his original design for Super Saiyan 4. Each design includes a comment from Nakatsuru himself, usually several sentences in length. Two pages of Nakatsuru's detailed image boards are also included after the character designs.

Dragon Ball Q — Original Writer Atsushi Maekawa's Story Q&A

056

A Q&A-type interview with series scenario writer Atsushi Maekawa discussing GT's story and his own original story ideas that were incorporated into the series. Besides writing scenarios for regular series episodes, Maekawa also wrote the story for the GT TV special.

Special Columns — Getting Closer to the Truth About Goku!

Part 1 — Exploring All the Types of Goku!

016

A look at the different "types" of Son Goku; essentially his different character designs, such as Ōzaru, Super Saiyan, Super Saiyan 3, Gogeta, etc. There are actually 15 different types of Son Goku in total!

Part 2 — Goku's Obvious Secrets

042

This section asks several questions about Son Goku, and then answers them for you. So basically, it's just a feature about Son Goku.

Part 3 — "GT" Secret Material Collection

060

A collection of some rare material, which includes the original GT logo submitted by Toriyama (with instructions on coloring, etc.), a script cover (episode 61), "scenario" (it looks like an episode bill for episode 1), the planning book for the series (showing a shot from one of the pages with Toriyama's art), a page from a storyboard, and an original poster. There's also a full page with a bunch of original Dragon Box GT advertising material, and a picture of some foreign products (including a whole pile of FUNimation's GT individual discs).

TV-Size Opening & Ending Song Collection

062

This section provides credits and lyrics for all of the series' theme songs (the lyrics are TV-size, unlike in the previous Dragon Books).

Disc Index / How to View the Menu Screen

064

The "Disc Index" is essentially a quick episode reference page, which shows what DVD book, disc, and arc each episode is in (very useful, and much easier than flipping through the entire episode guide).
This is very cool… in the back of every Dragon Book there are instructions on how to navigate the DVD menus and other various junk, which is basically just a waste of a page. But in the GT book, they also included a picture of a piece of key animation from the very last scene from episode 64 (after the huge credits, where Son Goku first turns around and looks at the camera). Written on the genga is "A5 END". This was the last piece of key animation drawn for the entire series, and according to the note, it was drawn by none other than Katsuyoshi Nakatsuru himself!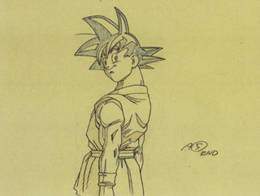 Delay Bonus
Unfortunately, the amount of orders put in for this box was much higher than Toei Animation or Pony Canyon had anticipated, causing a delay in its release. The good news was that due to the overwhelming demand for this box, as well as the resulting delay in its release, fans were treated to a little bonus gift. So what did everyone get for being such loyal fans? Money! (err, well…Zenny, that is).
With the box set came a small envelope, the kind in Japan which would normally contain money (similar to an otoshidama New Years gift). Within the envelope was a whopping 100,000 Zenny (10 x 10,000 Zenny bills), as well as a nice little note. Of course, not only is it cool to have 100,000 Zenny in official Dragon Ball currency, but it also served a purpose. In the corner of each bill was a code which you could enter into a special website to take a survey for the upcoming Dragon Box The Movies! Not only this, but upon completing the survey you would receive a special Dragon Box GT wallpaper for your computer desktop!
Included amongst the free Zenny was a note of apology for the delay from Toei Animation:
Thank you very much for purchasing Dragon Ball GT. We would also like to thank you very much for your cooperation with the change of the sale date. Once more, we thank you for this.

Though it is small, we are giving you some Zenny money from the world of Dragon Ball to show our gratitude. We hope that you will happily enjoy it! (We're sorry to say, that you cannot actually use it. Please understand this.)

Due to the delay, we will be carrying out an internet user questionnaire available from 15 June 2005 until 31 July 2005 in order to receive input on the planning of future products. You can access the questionnaire at www.jumpland.com (the questionnaire cannot be completed on a cellular phone). Though it is troublesome, we request your helpful cooperation.

Customers who cooperate will receive a Dragon Ball GT specially-made PC wallpaper as a sign of gratitude.

The Dragon Ball GT user questionnaire is provided by Shueisha, Fuji TV, Toei Animation, as well as a collaboration with the manufacturing company, Pony Canyon. Any personal information you have provided will be disposed of immediately following our review of the questionnaires.

15 June 2005
Companies: Shueisha / Fuji TV / Toei Animation
Manufacturing Company: Pony Canyon
Special Present
The main present included with this box set is definitely one of the more interesting Dragon Ball products ever made. It is a full-scale model of the Dragon Radar, which serves as a universal TV/DVD remote controller! There really isn't much to say about this product beyond the fact that it actually works and looks damn good, but here are some general points about the model.
It takes AAA batteries.
The button on the top of the radar (the "zoom" button) switches the remote from TV to DVD mode.
The remote supports multiple TV and DVD brands.
Here is a full copy of the instruction sheet for further details.
Unfortunately, the button layout on the remote is more for show and makes using it very unpractical. You generally spend most of your time looking for the buttons, which are just scattered all over the face of the remote. However, this is really just a novelty item, and even if it were ergonomically perfect, you likely wouldn't be using it to watch TV anyway.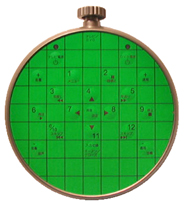 Negative Aspects
Of course, it wouldn't be fair to not list the downsides of this release, although luckily there isn't much to complain about here.
The biggest negative about this box set is the lack of "series credits" over the closing montage of Dragon Ball GT episode 64. While the credits for episode 64 are still intact, the credit roll for all three series that originally appeared as a small video montage plays at the end of the episode are not included. To be fair, nothing is really lost here, it's just an amalgamation of credits we already know from previous episodes, but still, it's unfortunate that this credit roll was not included.
Dragon Ball GT contains two opening animations and four ending animations, yet only creditless versions for one of each was included. Why is this?
The Dragon Book is loose in the box! Unlike previous boxes where the Dragon Book was contained within the last DVD book, it is instead slid in next to the DVD books. The book itself isn't actually that loose, but is actually rather "unbelievably tight" fitting, making it almost impossible to get anything in or out while the book is inside. Furthermore, the book cover is finished in a fine gloss, so actually inserting it into or out of the box causes quite a bit of scuffing. The best result is to just find a place for the book elsewhere on your bookshelf, avoiding all the aforementioned nonsense.
This is somewhat borderline picky, but in the original broadcast, episodes 63 and 64 had small Dr. Slump previews narrated by Masako Nozawa (Son Goku). To be fair, this isn't really Dragon Ball material, but seeing as how it aired during a Dragon Ball episode, was narrated by a Dragon Ball voice actress, and was property of Akira Toriyama, it wouldn't exactly have been difficult to just add the stinking videos!
NOT a Negative Aspect!
Let me just state for the record that this release not having English subtitles, contrary to popular belief, is NOT a negative. This release was intended for the Japanese public, not Dragon Ball fans who live on the other side of the planet. Arguing these sets not having English subtitles as being a negative aspect is about as logical as arguing for Korean, Portuguese, or German subtitles. Not to say that I don't sympathize with the people who want/need English subtitles, but you simply must realize that if you are so desperately in need of subtitles, then these DVDs weren't really created for you to begin with.
On to Dragon Box The Movies!
オッス、オラドラゴンボールウイズドム!
Well, after a total of 508 episodes, three TV specials, and almost 11 long years, the Dragon Ball TV series has finally come to an end! But what's this? There was more, you say? And it was filler, too?! Oh, but don't worry, this isn't shoddy filler like Dragon Ball GT, these are the movies, some of the best looking Dragon Ball material out there!
次回、ドラゴンボクスザ・ムービス:  復活のフュージョン!!フジオとDBW
――気持ちワルイ・・・