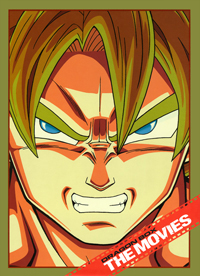 | | |
| --- | --- |
| Note: | Although almost all of the material in this box set pre-dates Dragon Ball GT, this was actually the fifth and final box to be released! Also note that the boxes' Japanese subtitle (劇場版; gekijō-ban) simply means "theatrical version", showing that these are indeed the movies as they were seen in theatres. |
What are the Dragon Boxes?
Starting in 2003 and ending in 2005, Toei Animation, in cooperation with the DVD manufacturing company Pony Canyon, released a series of four box sets covering the entire Dragon Ball TV series property. In 2006, Toei Animation dropped Pony Canyon and released all of the Dragon Ball movie properties on their own in the fifth and final Dragon Box.
The Dragon Boxes were limited items in the truest sense of the word. An order start date would be announced several months in advance, as well as an order deadline. The ordering windows were typically several months in length, and all manufacturing of the box sets were based solely on the number of orders received. In other words, they only made enough boxes to satisfy the orders made within the given timelines, after which point production on the boxes ended indefinitely. With so few actual Dragon Boxes in circulation (most of which already in the loving arms of Dragon Ball fans), it makes finding these boxes nowadays somewhat difficult.
General Information
Order Start Date:
16 October 2005
Order Deadline:
21 December 2005

---

Announced Date:
24 March 2006
Delayed Release:
14 April 2006
Retail:
¥52,500
Catalog Number:
DSTD-02536
Original Copyright:
1986 – 1996
Property Holders:
Bird Studio / Shueisha / Toei Co. Ltd. / Fuji TV
Manufacturer:
Toei Video
Encoding:
Region 2 / NTSC (Japan)

---

Discs:
8 discs
Disc Format:
Single Sided / Dual Layered
Encoding Format:
MPEG-2
Video Format:
16:9 Letterbox
Running Time:
Approximately 898 minutes
Contains:
Dragon Ball features 01 through 17 (complete theatrical release schedule)

---

Audio Format:
Principal voices in monaural (presented in Dolby Digital)
10th Anniversary Movie presented in Dolby Digital surround
Language:
Japanese
Subtitles:
None
Alternate Angles:
None

---

Extra Features:
— Specially designed box
— Picture labeled discs (uncommon for Japanese DVDs)
— 64-page book (fully colored)
— Two operational Scouter transceivers
Box Design
The box uses a special design made specifically for the Dragon Box series. It is a large solid box, inside of which it contains a series of "DVD books". The front of the box features a close-up of Son Goku's face, while the back showcases an amazing outlined Shenlong, both of which were drawn by former Dragon Ball animator Tadayoshi Yamamuro. There doesn't appear to be an exact logo for this box set, but the "filmstrip" version of the logo is visible on the front and spine of the box, and the gekijō-ban "splatter" version on the back. All the text and images on the outer box are slightly raised and have a mildly reflective finish. This really makes the box pop out and look amazing, but at the same time is not too overbearing. Along the spines of the DVD books is a simple listing of the two books, which is very nice and clean looking.
Box Dimensions:
Height – 10 ¾ inches
Width – 7 ¾ inches (across the front)
Depth – 1 ¾ inches (across the spine)
DVD Book Designs
On the front of each book we can see some more fantastic artwork by Tadayoshi Yamamuro. On the first book is Super Saiyan Son Goku firing a Kamehameha, and on the second is a shot of Son Goku forming a Genki-Dama (both scenes easily being contributed to a number of movies). On the back of each book is a listing of what's contained within, as well as the Dragon Box "splatter" logo. Inside each book is a piece of clear plastic on either side for holding the discs in place, as well as some information about the discs. Under the spot for each disc is the disc number, each movie's title, as well as the name and a screenshot of the main villain from each feature. The interior of the books uses the same "splatter" design as the gekijō-ban logo from the back of the main box and DVD books.
DVD Book Dimensions:
Height – 10 ¼ inches
Width – 7 ½ inches (across the front)
Depth – 5/8 inches (across the spine)
Discs / Contents
The labels on the discs use a pretty neat design that applies nicely to the box set. Along the left are random screen shots from the movies inside a filmstrip, and then the Dragon Box "filmstrip" logo comes diagonally across the bottom. There is also a listing of the movies directly on the disc, which was a first for a Dragon Box release, as well as the gekijō-ban "splatter".
Bonus Features
Unlike previous Dragon Box releases, the bonus features were included with each movie, as opposed to on a separate special bonus disc.
News Flash
A theatrical teaser announcing the movie, usually very brief.
Theatrical Preview
The full theatrical trailer for the movie, usually a minute or so in length.
Digest
A narration of the movie by Son Goku. These were originally produced to be included on VHS releases and are usually several minutes in length.
Poster
A still image of one of the movie's original theatrical poster.
DVD Menus
The DVDs open with the a little Dragon Box animation. A theatre curtain opens, and the text "Presented by Shueisha, Fuji Television, Toei Animation and Toei Video" flies onto the screen. Next some dragonballs sitting on the grass fly up into the air and smash through the screen. The Movie Box logo then appears on the screen and the dragonballs fly past and into the background.
On the top menu you simply select the movie poster on the right. You are then taken to the menu for that particular movie, and given the options "Play Feature, Chapters, Special, and Return". "Play Feature" simply plays the movie, while "Return" takes you back to the top menu. "Chapters" will take you to a menu with on average 5 to 7 chapters, while "Special" will take you to the bonus features menu. All menus are static and silent. It should also be noted that the images below are the 16:9 versions of the menus. All the menus on the discs are anamorphic. Therefore, if these DVDs are played on a TV set to a 4:3 ratio, the menus will actually be re-fitted to that aspect ratio, eliminating all the dead space to the left and right of the menus (and therefore avoiding having black bars at the top and bottom of the menus).
Throughout the discs there are various transitional animations that appear as you navigate between the different disc menus. Here's a breakdown of these animations, along with on which discs they can be found and between which menus you're navigating between. It is interesting to note that each animation will only play the first time you make the selection, but will not play again unless you eject and re-insert the disc. In other words, if you select movie 1 from the top menu, the animation will play, but then if you return to the top menu and select it again, the animation will not play and you will jump directly to that selection. However, you can still get the animation to play by selecting something else (such as movie 2), but then it won't play for movie 2 anymore, and so on. There is also no animation for the special menus on any disc.
Animation A: Top Menu to Main Menu — Discs 1 and 6
First you see Son Goku's hands forming a Kamehameha, which he then fires. You then see a static image of Goku firing the Kamehameha fly across the screen several times.
Animation B: Top Menu to Main Menu — Discs 2 and 8
This animation begins with a static image of Son Goku's eyes focused into a sort of orange letterboxing effect. Animation A then plays in it's entirety, and the scene ends with the same image of Goku's face exploding into a bright white light.
Animation C: Top Menu to Main Menu — Discs 3 and 4
It first starts with a still image of Vegeta and Son Goku's faces, back-to-back. You then see them flying across the screen, Goku firing the Kamehameha and Vegeta firing the Final Flash. There's a quick flash of Goku's eyes again, and the image of Goku and Vegeta settles, finishing off with a shot of Coola flying back into a bright white light.
Animation D: Top Menu to Main Menu — Discs 5 and 7
This animation is the exact same as Animation C, except that it doesn't have Son Goku's eyes flash on the screen, nor does it have the image of Coola at the end.
Animation E: Main Menu to Chapters Menu — All Discs
In this animation we see several close-up shots of the Shenlong outline from the back of the main box. It then cuts to a scene of outer space and the golden image of Shenlong materializes.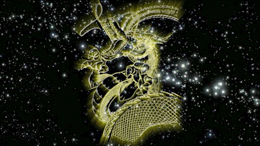 Feature Presentation
So what exactly are you getting for your money, and what sets these DVDs apart from other releases? The answer is quite simple, and it is that with this box set you are truly getting the purest presentation of Dragon Ball possible.
All Material
Here we have all 17 movies in their entirety, including all available promos, trailers, opening "digest" narrations, and even the little Anime Fair spots at the end of certain movies. This material will likely never be released to the North American audience (especially since all of the other material has already been released over here).
Source Video / Remastering / New Print
As usual they've gone back to the original film for this release, however, they've gone one step further than simply cleaning it up and made an all-new component master of the original print. This basically just means that the image comes off correctly on higher-end TVs and displays. To understand why this is relevant, consider this: although a typical Dragon Box TV episode will look amazing on an old tube TV, it will look rather shoddy on a big screen projection TV, and not the best on an HDTV. This release, however, looks fantastic right across the board, which is great news considering the current leap to HD technology!
Source Audio… Remixed?
They are obviously using the source material for this release, however, there is something else going on here. On the bottom of the box it lists the audio as "Principal voices: monaural (one part surround)". The "one part surround" is referring to the 10th Anniversary Movie, but what's intriguing here is that for everything else only the voices are listed as being in mono. Are the music and sound effects presented in stereo here? The answer is, most definitely yes! Overall, the audio on these features is absolutely stunning. All the music, voices, and sound effects have the correct amount of balance and distribution among the audio channels, and all come off crystal clear. This is, without a doubt, the best the original Dragon Ball material will ever sound! Simply amazing!
Dragon Book
The Dragon Book is 64 pages in length and is closest in size to JIS B5 format (18.2 × 25.7 cm). The covers are soft, but are very sturdy, being printed on a thick, almost cardboard-type paper, which was then finished with a nice gloss. The actual pages in the book are in full color and are complete with a nice finish (similar to a gloss, giving thickness and durability to the paper). As with most Japanese books, the book is designed to be read from right to left.
Dragon Book Contents
A Message From Akira Toriyama-sensei (read translation)
001

Movie Index

002

An index listing all 17 movie titles, the year of each respective release, and textless posters (including some of the alternate posters).

Dragon Book Contents

Main Characters

005

This section provides brief biographies for the movie's main characters, which are divided up into the four categories listed below.

Main Characters Act 1 — Saiya Warriors

006

Main Characters Act 2 — Dependable Warriors

010

Main Characters Act 3 — Goku's Friends

011

Main Characters Act 4 — Earth's Guardians

012

Story & Guest Characters

013

The section is essentially a movie guide that examines the movies included with the Dragon Box, which are organized chronologically. Each movie listing includes the movie title, main movie poster, original theatrical premiere date, respective staff credits (director, scenario, animation supervisor, artwork, producers, etc.), opening and ending theme credits, a movie description, and a few screen shots. Each page also includes an index of the main characters, an index and description of the guest and enemies characters, as well as an image and description of where the movie primarily takes place. Most of the pages also include a very brief Dragon Column looking at various aspects, such as relation to the TV series, top grossing movies, and even wacky merchandise spawned from that particular movie.

Back Stage

051

Movie Stories Q&A: Dragon Movies FAQ

052

A Q&A with series organizer and scenario writer Takao Koyama, who provides answers to the 10 question about the various movies.

Movie Original Characters: Design Lab

056

Four pages full of finalized character designs for an array of the original movie characters. Each design comes with commentary from the original designers; either Minoru Maeda (Dragon Ball and early Dragon Ball Z) or Tadayoshi Yamamuro (mid-to-late Dragon Ball Z).

Music Fighter: Hironobu Kageyama Special Interview

060

A two-page interview with famed Dragon Ball Z singer Hironobu Kageyama, including several images and a brief profile of his work. In the interview Kageyama lists his "Top 3" movie themes, which are:

#3 — "The Whole World" (Dragon Ball Z movie 03 ending theme)
#2 — "The Incredible Strongest vs Strongest" (Dragon Ball Z movie 05 ending theme)
#1 — "Dragon Power Infinity" (Dragon Ball Z movie 11 ending theme)

Dragon Ball Mystical Columns

A Successive Boss Super Analysis — Type of Defeat Manual

034

This two-page Dragon Column serves as a manual for the different types of enemies seen throughout the movies, and under which category the various villains fall. The five categories are Alien, Evil Human, Demon, Mecha Warrior, and Bio Warrior.

"Dragon Ball: The Path to Ultimate Strength" — Refined Characters

050

This short Dragon Column takes a look at the four refined character models used for the DragonBall 10th Anniversary Movie, and points out some of the differences.

Akira Toriyama Moive Illustrations Collection — Akira Toriyama Design Works

062

A collection of Akira Toriyama's original movie character designs, all of which were originally printed in Daizenshuu 6, although all of Toriyama's original notes have been removed.

Disc Index / How to View the Menu Screen

064

The "Disc Index" is essentially a quick reference listing of all movies, showing what discs they are located on, as well as what features are included with them.
Special Present
The main present included with this set is yet another piece of nifty Dragon Ball electronics. They are two transceivers (in other words, walkie-talkies), which are designed to look like scouters, although there are some slight differences with these to make them more practical. In the series the scouters just kind of stick onto your ear, but these ones have a brace that goes across the top of your head to keep it on. There's also a small mic that comes down in front of your mouth, so that you're actually talking into something. And obviously the screens are just pieces of plastic that don't serve any real function. Aside from that, though, they're pretty damn accurate to the real thing!
They take 9 volt batteries.
You simply press and hold the button on the side in order to communicate.
They have an approximate range of 10 to 50 meters (32 to 164 feet).
Here is a full copy of the instruction sheet for further details.
As a special offer, if you bought your Dragon Box from the "TOEI ANIMATION SHOP", you would receive an additional scouter transceiver. This extra scouter came in a separate box and featured a blue lens, rather than the red and green lenses of the original scouters that came with the Dragon Box.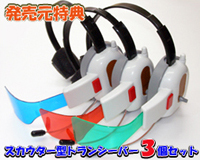 Negative Aspects
Of course, it wouldn't be fair to not list the downsides of this release, although luckily there isn't much to complain about here.
Let's talk about disc 8, shall we? This disc contains the 10th Anniversary Movie, and nothing else! Now come on, we're not asking for something mind-blowing here, but anything would have been nice, even if just to fill the void. Maybe some still images? A text interview? A look at the remastering process/comparison clips? Some movie scripts, perhaps? It's just a little annoying to put the disc in, and see the one listing for the 10th Anniversary Movie on the Top Menu (for that matter, why do they even have a Top Menu on this disc?). Come on guys, it's the final Dragon Box release, at least throw us some scraps here…
For some reason only creditless versions of some of the opening and ending animations are provided, but others have been omitted. What's particularly odd about this is that some of these creditless versions included are essentially useless (Dragon Ball Z movie 07… huh?), while movies that have original pieces of animation (i.e. Dragon Ball movie 03) don't have creditless versions available. Now if you've been paying attention you've probably noticed that creditless animations are a huge problem throughout all of the Dragon Boxes. When you look at the history of the situation, as well as the odd selection of animations for this DVD box, it's hard to not draw the conclusion that a lot of these animations simply don't exist anymore. There are simply some pieces of these creditless animations that don't seem to exist anywhere, whether it be on foreign releases (FUNimation), or domestic (Toei Animation)… they're just not out there.
The Dragon Book is loose in the box! Unlike previous boxes (except the GT Dragon Box) where the Dragon Book was contained within the last DVD book, it is instead slid in next to the DVD books. The book itself isn't actually that loose, but is actually rather "unbelievably tight" fitting, making it almost impossible to get anything in or out while the book is inside. Furthermore, the book cover is finished in a fine gloss, so actually inserting it into or out of the box causes quite a bit of scuffing. The best result is to just find a place for the book elsewhere on your bookshelf, avoiding all the aforementioned nonsense.
This isn't so much a negative as much as it's just weird for all those who've seen the FUNimation discs… Yeah, that's right, the letterboxing. I'll make this short and sweet: the movies always have been, and always will be released letterboxed in Japan. They were animated with the letterboxing in mind, they were seen letterboxed theatrically, and they were released on all forms of home video letterboxed. If you do not like the letterboxing, then you should not be buying these Japanese releases, for this is the form that they will forever be released in. VegettoEX once summed it best: "It's not so much that we're bothered by the letterboxing, but by the fact that we know there's more to the picture that we can't see."
NOT a Negative Aspect!
Let me just state for the record that this release not having English subtitles, contrary to popular belief, is NOT a negative. This release was intended for the Japanese public, not Dragon Ball fans who live on the other side of the planet. Arguing these sets not having English subtitles as being a negative aspect is about as logical as arguing for Korean, Portuguese, or German subtitles. Not to say that I don't sympathize with the people who want/need English subtitles, but you simply must realize that if you are so desperately in need of subtitles, then these DVDs weren't really created for you to begin with.
On to…
オッス、オラドラゴンボールウイズドム!
Well… that's everything! We're out of Dragon Box material to release. Seriously people, there's nothing left… go home… or check the individual disc releases!
次回、スランプボクス:  フジオちゃん誕生 と オーッス! お友たち
うほほーい!ペンギン村ようこそ!